Wichita is stocked with bar and grill options where you can order a tasty burger but if you're looking for a unique burger in Wichita, we've got 12 you should try.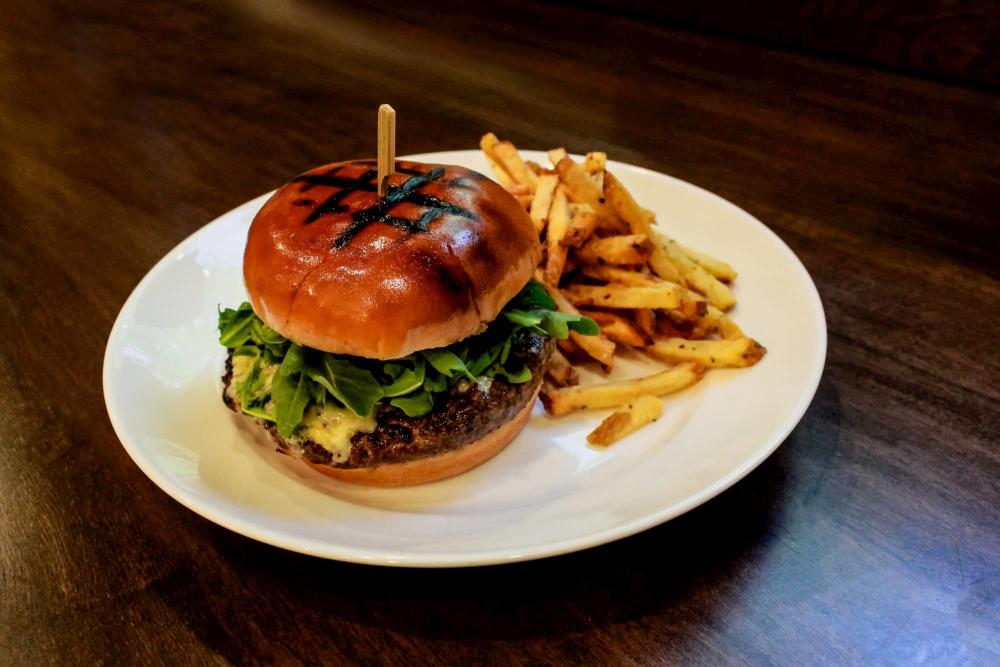 6S Steakhouse
True to its upscale American steakhouse roots, 6S Steakhouse elevates the burger on its menu. Enjoy a blend of their in-house 28-day dry-aged Ribeye, KC Strip and fillet topped with Oregon Tillamook white cheddar and wild arugula, along with house-made bacon jam and Dijonnaise. This delectable burger is served on a brioche bun.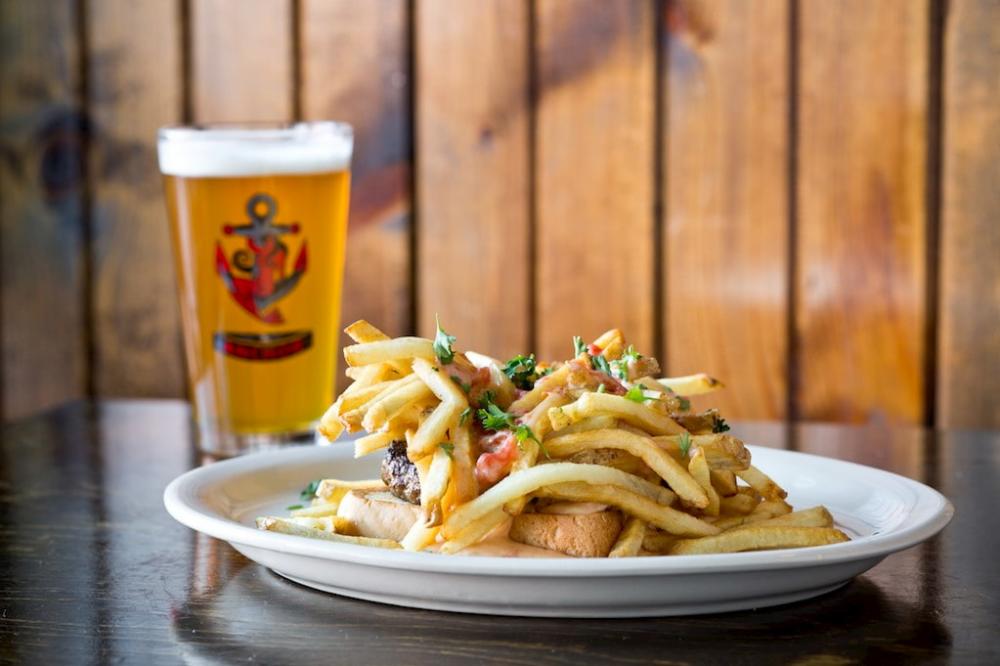 Anchor
Among the most unusual Wichita burgers is The Haystack, an open face burger – The Anchor grinds their meat daily at the adjacent butcher shop – piled with fries and queso on Texas toast. Variations include Burn Baby Burn, adding to the above chili and grilled jalapeños on toasted jalapeño bread, or the Poutine Haystack, adding white cheese curds and beefy poutine gravy to the original.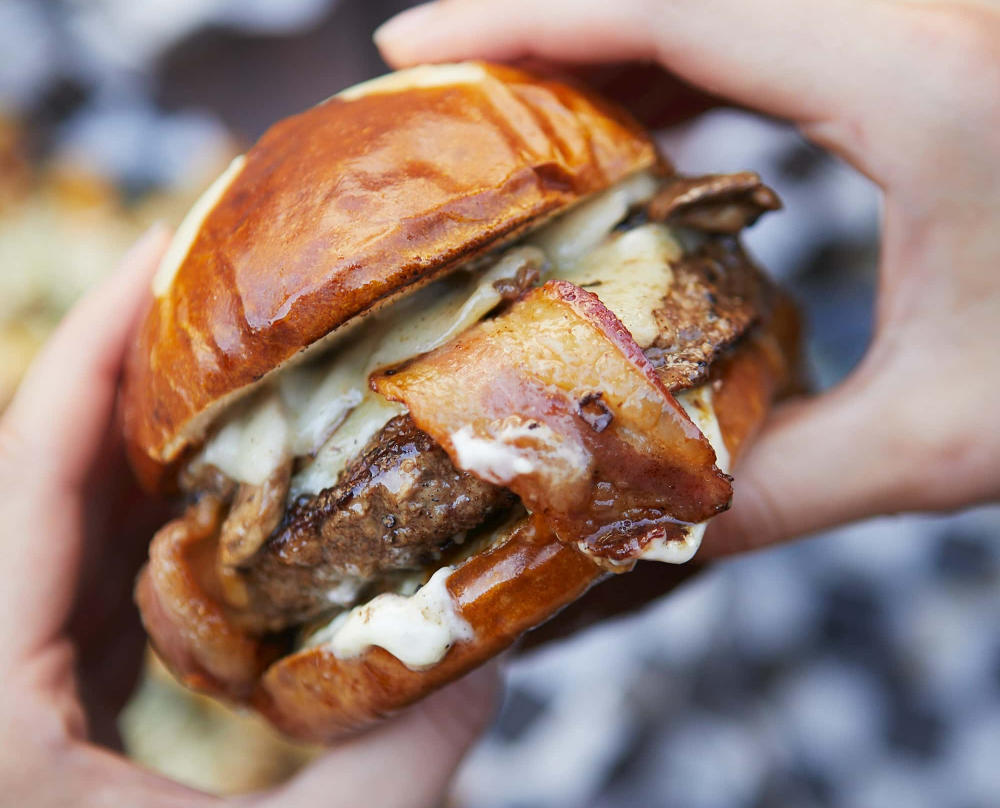 Dempsey's Burger Pub
On a menu full of burger options, one of the most distinctive is the Hot Hawaiian Kobe from Dempsey's Burger Pub. It's not the Sriracha aioli that spices things up, it's the pineapple-jalapeño chutney. The Kansas-raised Wagyu beef burger is topped with thick cut bacon, Bibb lettuce and served on a pretzel bun.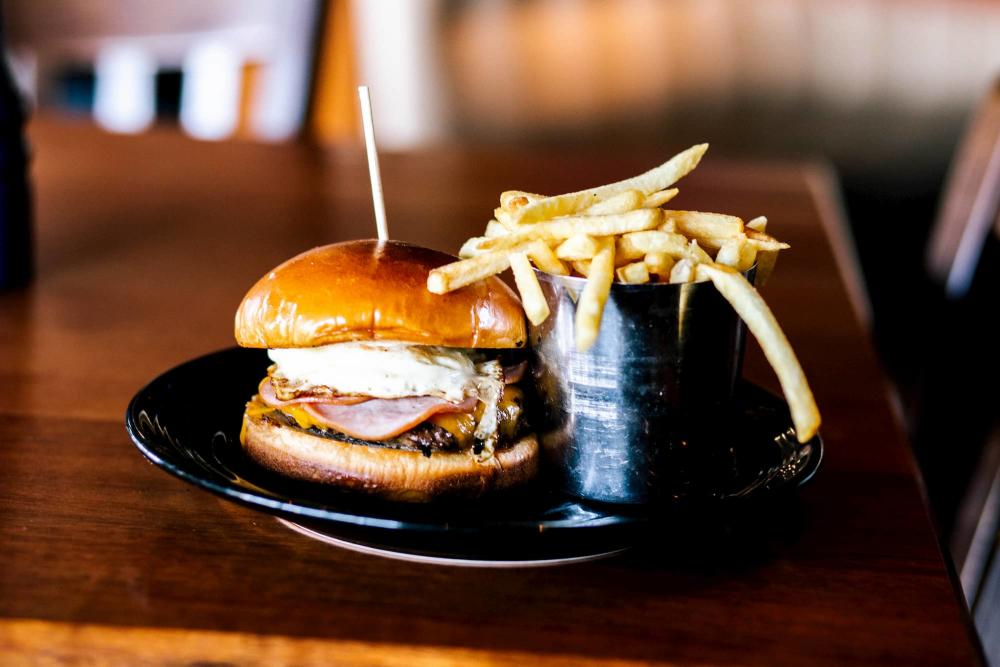 Deano's Grill & Tapworks
In addition to being known as a great place to watch a game because of their 23 big screen televisions, Deano's Grill & Tapworks is also known for their artisan wood-fired pizzas, house-made salads and mouth-watering burgers. On the unique side is their Fat Kid Deluxe, which comes with a juicy beef patty, cheddar cheese, Canadian bacon, mayonnaise and an over-easy egg all served on a butter-toasted egg Kaiser bun.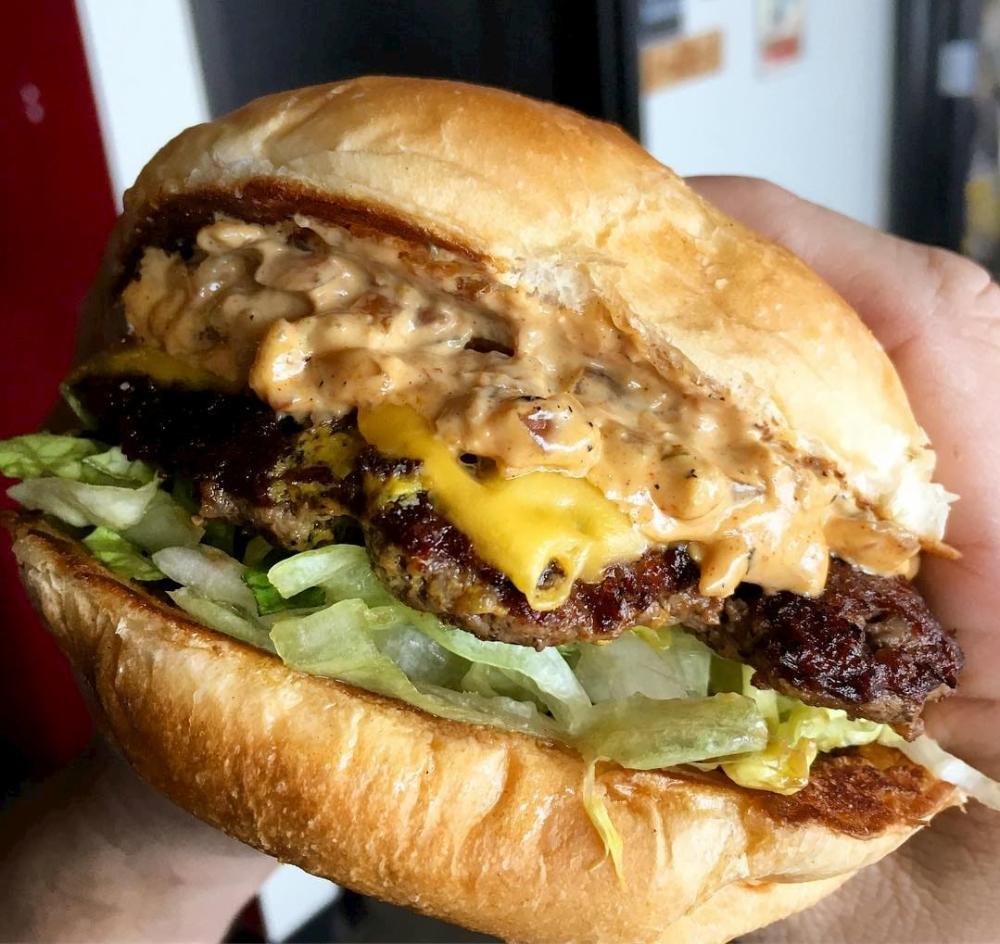 The Flying Stove
The menu constantly rotates at The Flying Stove, one of the first and longest operating food trucks in Wichita. One thing is for sure: whatever burger offering is on the menu will be exceptional. For example, the All-American burger featuring local Creekstone Farms beef, American cheese, iceberg lettuce and Stove Special Sauce.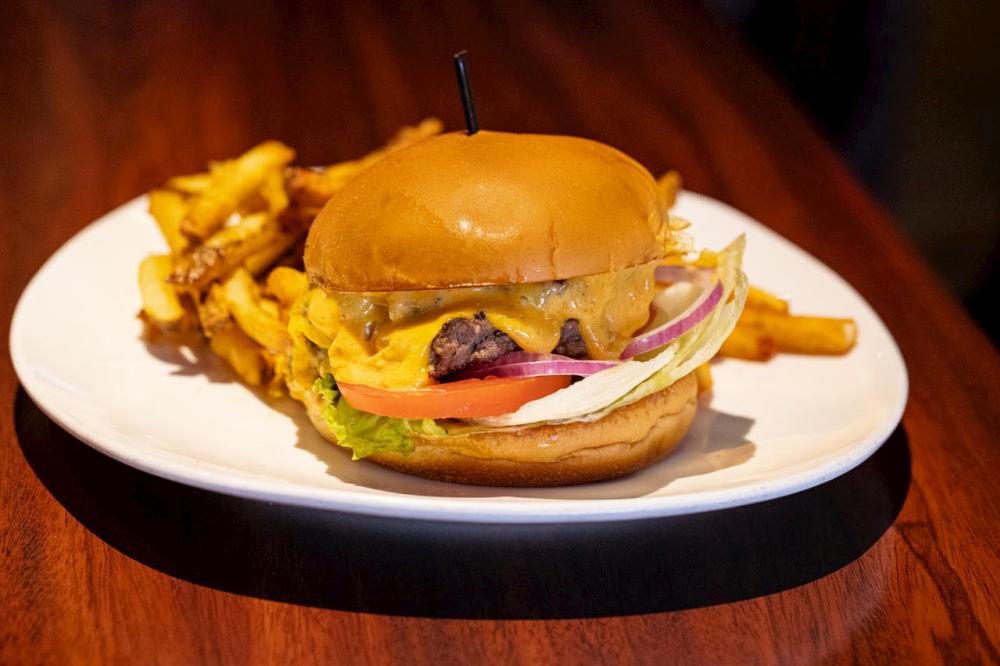 The Hill Bar & Grill
The Hill's memorable Shack-Out Burger starts with two 1/4lb. beef patties and is layered with double the American cheese, lettuce, tomato, red onion and special sauce on a potato roll.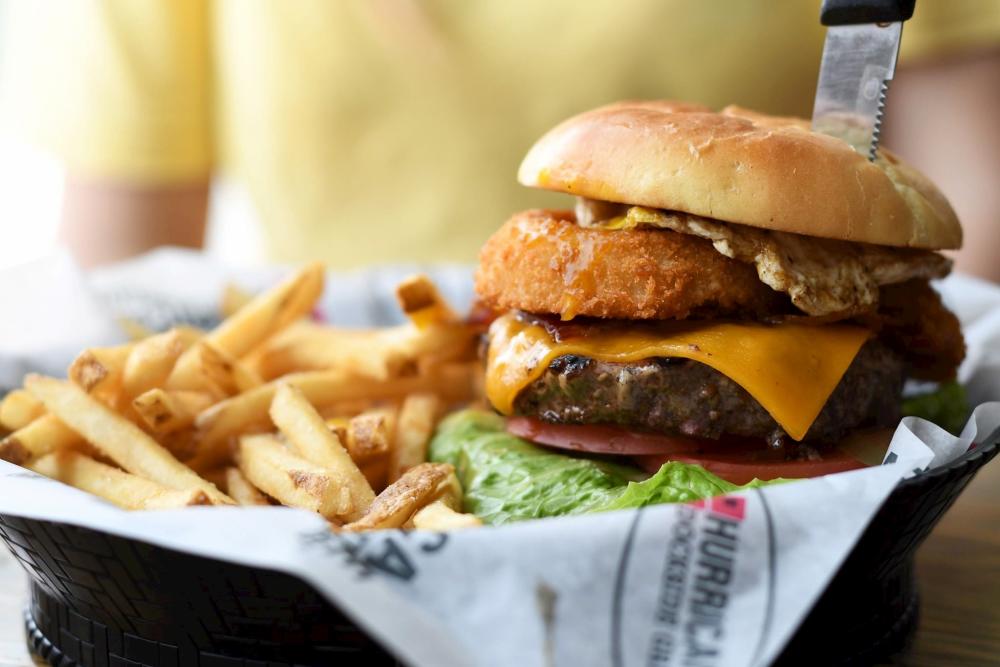 Hurricane Sports Grill
After a late night, only Hurricane's Hangover Burger will do. This unique and satisfying burger features a half-pound of ground beef with a hangover-killing combination of crispy bacon and fried egg, jumbo onion rings, tomatoes, lettuce, cheddar cheese and pickles.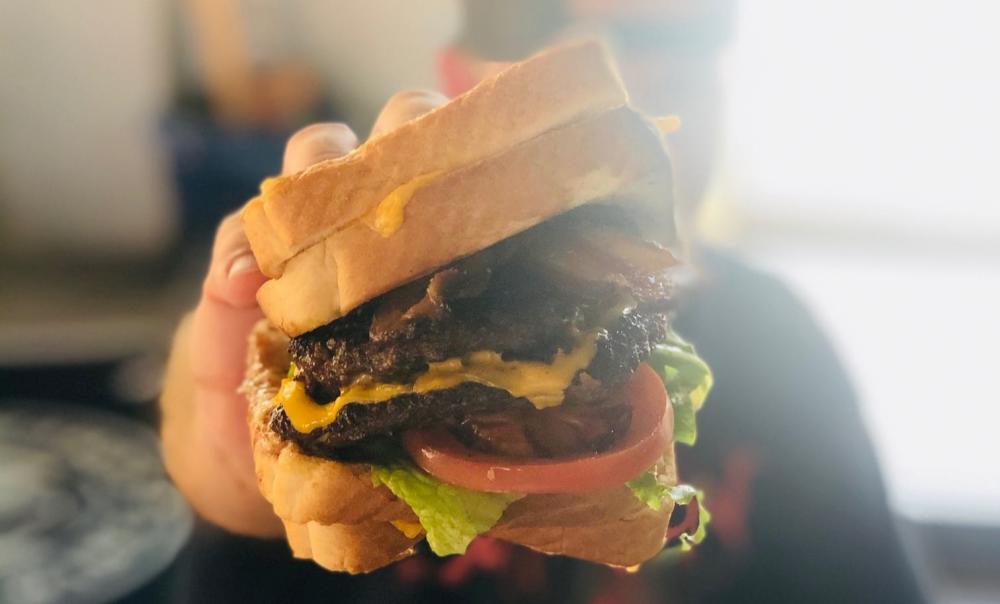 Nortons Brewing Co.
For a mouthful of unique flavor, order the Norton Burger at Nortons Brewing Co. It's a double bacon cheeseburger with two grilled cheese sandwiches for the buns. They start with two Certified Angus Beef/Short Rib blend patties, top it with American cheese and their thick cut bacon slabs and then add lettuce, tomato, mayo – all in between two grilled cheese sammys!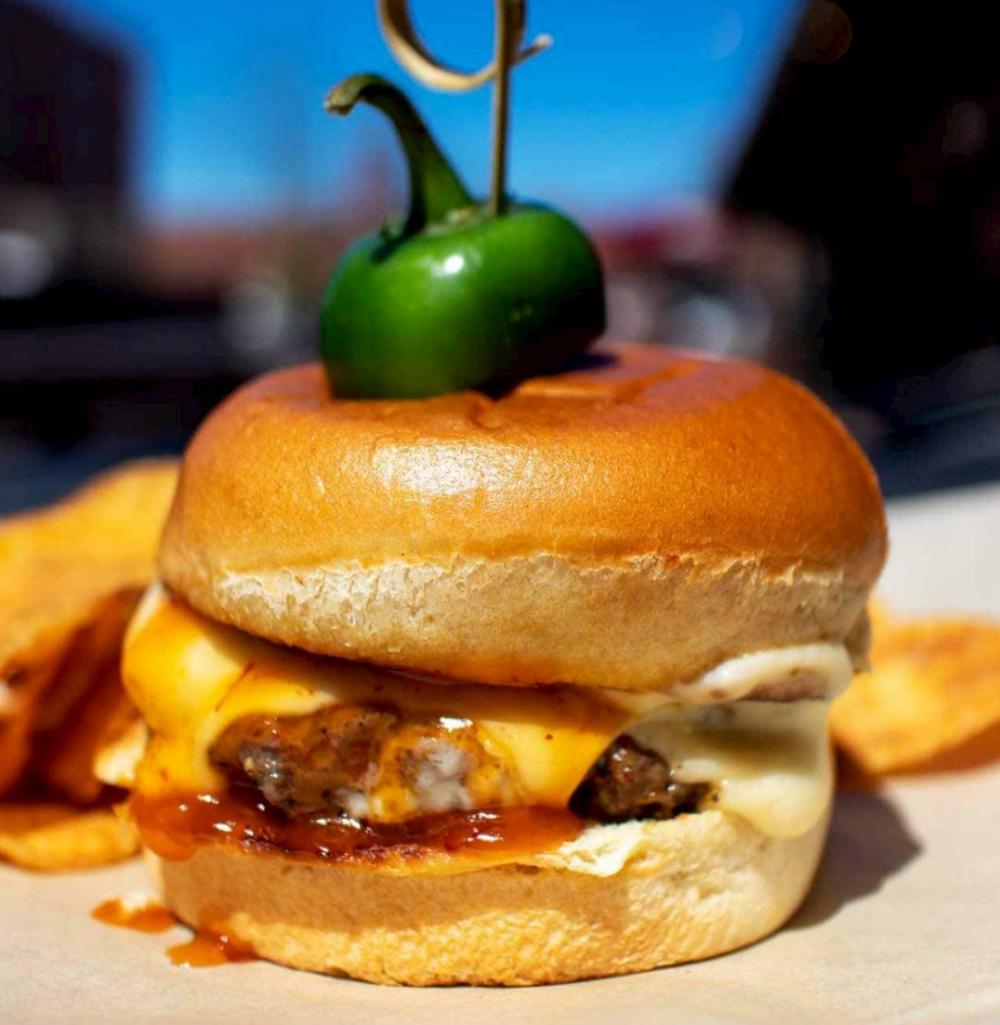 PourHouse by Walnut River Brewing Company
If you're looking for a mild burger, avert your eyes. The PourHouse Jal-ap-en-o Face Burger is stuffed with jalapenos and habaneros, then topped with habanero, ghost pepper cheese and mango habanero sauce. Lettuce, tomato, onion and pickle are optional.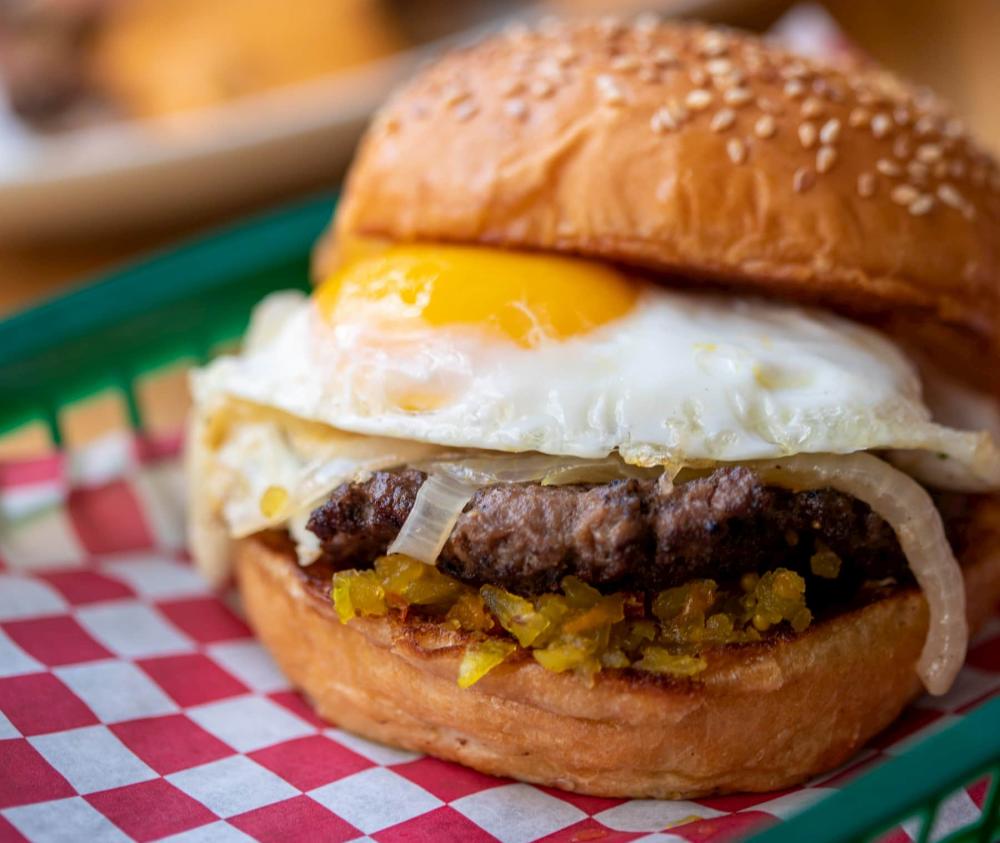 Public
Public's Smash Burger – consisting of a 1/4 lb. beef patty, American cheese, grilled onions, lettuce, secret sauce and Serenity Farms relish – has a legion of fans, and rightly so. But for most unique flavor, we're highlighting their Brunch Burger, which is the Smash Burger with a fried local egg added to it and is only available on Saturdays and Sundays during brunch. All of their burgers are seasoned with espresso and porcini and loaded with local flavor, using area farms, creameries and bakeries for the ingredients. Veggie lovers can get the same great burgers, but with a black bean patty.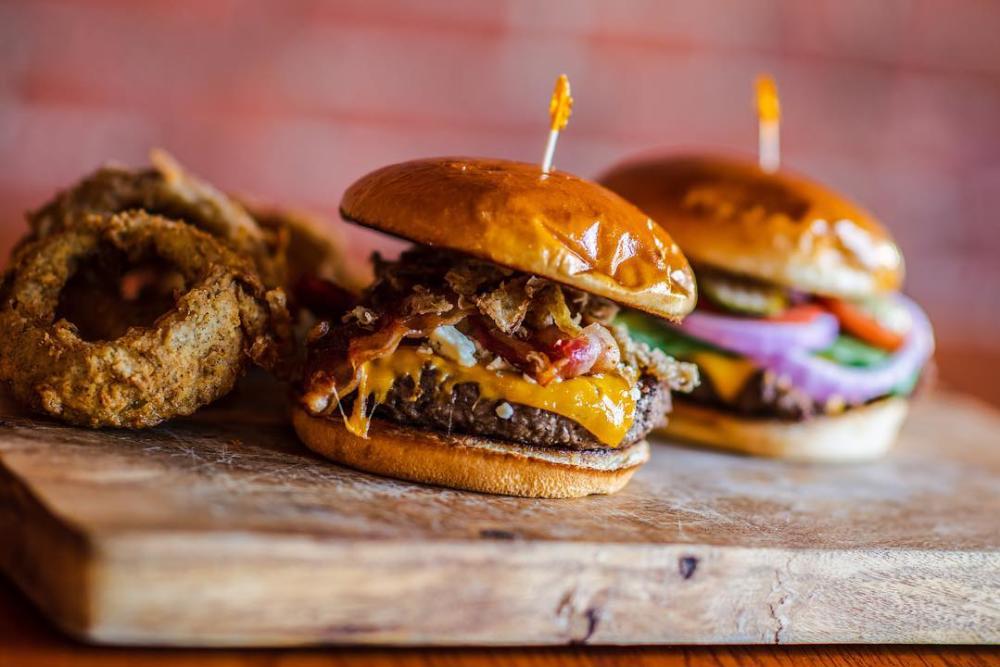 Pumphouse
Sometimes the cooking method gives the burger its distinctive flavor, and Pumphouse has been cranking out its 8-ounce Kansas beef burgers on the same seasoned flat-top since the 1980s. You can make your own unique creation here with any combination of bacon, grilled jalapeños, sautéed mushrooms, Roma tomatoes, egg and ham on their buttery, fresh-baked buns.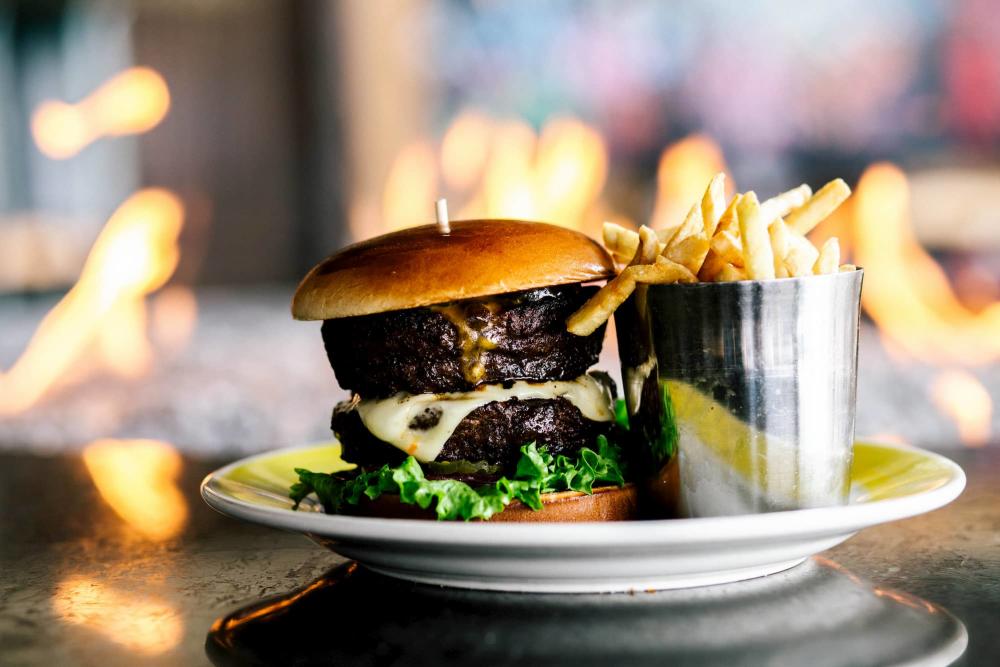 Stearman Field Bar & Grill
Some people think this burger should be called the Control Tower since its two half-pound patties stack tall and it's served within a few hundred feet of an active airstrip. While there is no control tower at Stearman Field (at the airport or in the bar & grill), they call their absurdly large burger the Big 'Merica. It's a pound of Kansas Hereford beef with pepper jack and cheddar cheese slices along with pickles, grilled onions, lettuce and their signature sauce.
Keep exploring more great restaurants in Wichita!