If you're visiting Wichita and you love brunch, we have you covered! Some eateries have been serving brunch in Wichita for years, while others are new to the city's brunch game. With so many to choose from, the hardest part will be deciding which one to try first! Get started with this list of Wichita brunch places.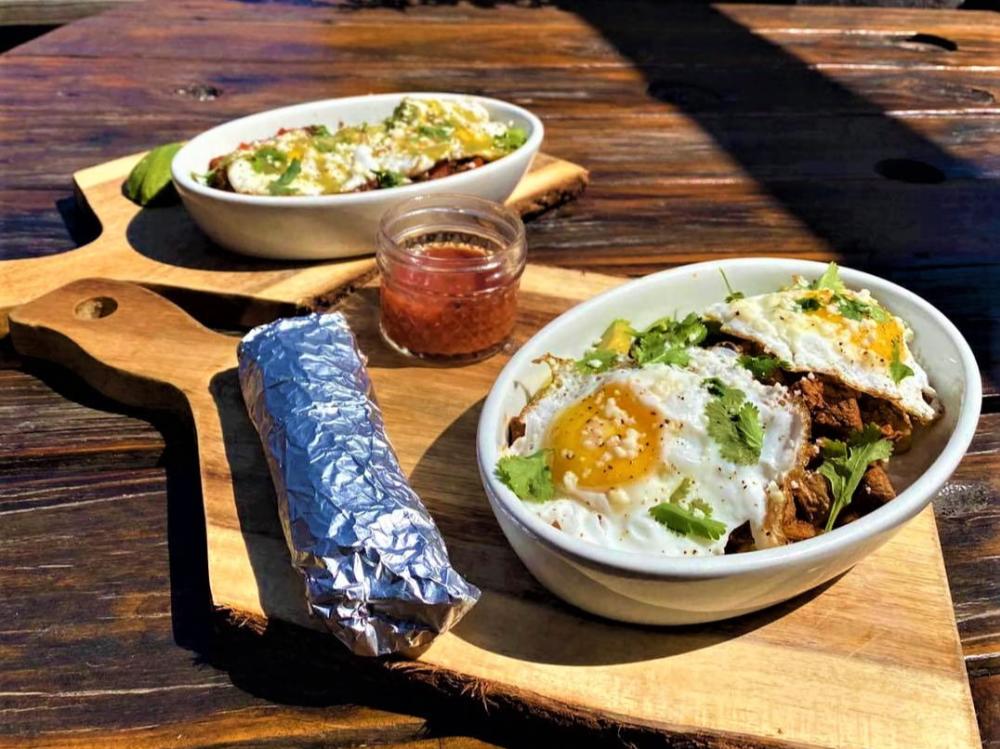 River City Brewing Co
Brunch Newcomers
Jax Restaurant & Bar
Saturdays and Sundays from 9 a.m. to 3 p.m.; patio dining available
For an unforgettable brunch, head to Jax Restaurant & Bar and try their Brunch Pasta or Chicken Biscuit Stack – layers of biscuits, pimento cheese, fried chicken, bacon, eggs and apple butter. They have traditional fare as well such as pancakes, steak & eggs and biscuits and gravy.
Mosley Street Melodrama
Sundays from 10:30 to 11:45 a.m.
Go for the live entertainment and laughs and savor the delicious brunch at the Sunday matinee performance at Mosley Street Melodrama. Not only can you choose from mimosas and Bloody Marys, but you can enjoy the brunch menu of pancakes, sausage links, biscuits and gravy, fresh fruit and more before the show begins at Noon.
Public
11 a.m. to 2 p.m. on Saturday; 10 a.m. to 3 p.m. on Sunday; patio dining available
Public is located in Wichita's Old Town District and serves traditional breakfast fare like their American Breakfast – complete with eggs, bacon, sausage, potatoes, toast and jam – as well as unique menu items such as the Breakfast Burger, a ground brisket and chuck patty, farm-fresh egg, grilled onions, swiss cheese, lettuce, dill pickles and a secret sauce. Other items to try are their biscuits and gravy with cheddar and chive buttermilk biscuits and their creative cocktails that change with the season.
River City Brewing Co.
Sundays from 9 a.m. to 2 p.m.; patio dining available
Wichita's original brew pub, River City Brewing Co., is also located in Old Town and added brunch in the summer of 2020, affectionately called "Brunch @ The Brew." The brewery offers 16 beers on tap and a set menu with items like breakfast burritos, chicken and waffles and chorizo hash. Additionally, the kitchen comes up with a special each week. So far, their chefs have created items like S'mores pancakes and a bacon-and-egg-topped "Hangover Mac."
Vora Restaurant European
Saturdays and Sundays from 10 a.m. to 3 p.m.; patio dining available
Known for its international dishes, Vora Restaurant European's Milan-born chef gets inspiration from countries like France, Italy, German, Greek and Spain. Their brunch features traditional items such as omelets, French toast and waffles while also bringing international flavor through menu items like their German Skillet, Irish Corned Beef & Hash and Italian Baked eggs, which come with Italian sausage, marinara sauce, mushrooms, onions, and peppers with three eggs – all baked in a pizza oven. Not a meat lover? They also offer a vegetarian quiche of the weekend.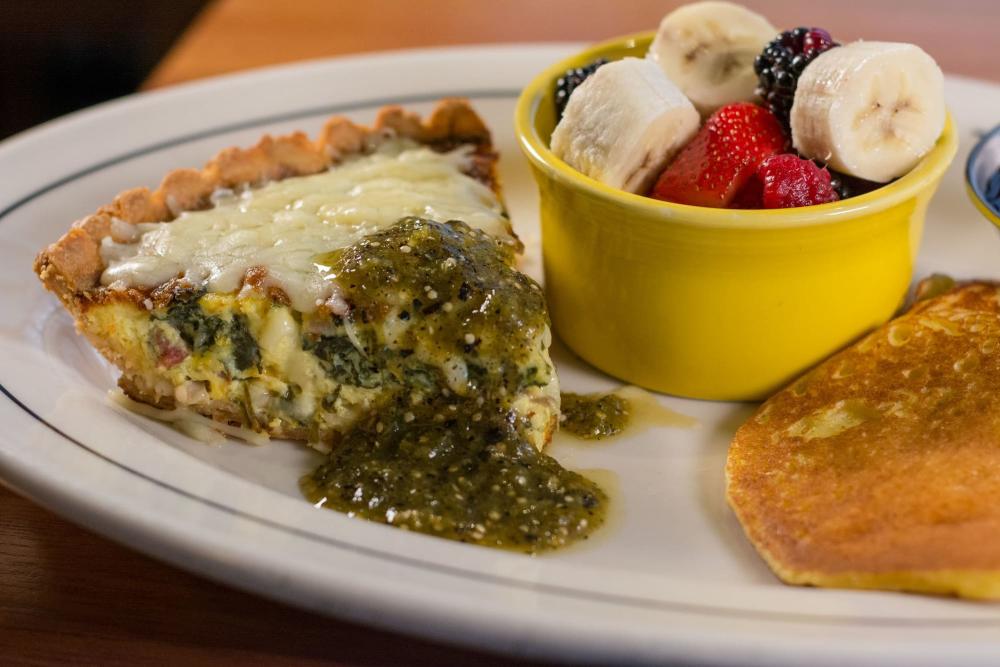 Redrock Canyon Grill
Long-time Brunch Spots
The Anchor
Sundays from 10 a.m. to 2 p.m.; patio dining available
Often described as "bar brunch," you'll find everything from biscuits and gravy to a Brunch Burger, complete with locally sourced pork and bacon, a fried egg and cheese, on The Anchor's brunch menu. They even have a Brunch Haystack, named after their most popular burger the Haystack, an open-faced patty on Texas toast with French fries and queso piled on top. They grind all their meat in-house daily via the Meat Market next door, so carnivores are sure to be satisfied. Additionally, The Anchor has the largest selection of beer on tap in the city and has been recognized for three years in a row - 2018, 2019 and 2020 - as best beer bar in Kansas by Craftbeer.com.
Dempsey's Biscuit Co. at Crutch BBQ
9 a.m. to 8 p.m. Sunday through Thursday; 9 a.m. to 10 p.m. on Friday and Saturday
Brunch is served all day and night at Dempsey's Biscuit Co. Their fresh and delicious biscuits are included with their biscuit and gravy dishes as well as their Salmon Benedict and Sausage Benedict. Stay long enough to enjoy a craft cocktail and top it all off with a bite of something sweet like their Belgium Waffles, which are fluffy and covered in whipped cream and bourbon maple syrup.
The Hill Bar & Grill
Saturdays and Sundays from 11 a.m. to 2 p.m.; patio dining available
When you want a sports bar atmosphere and a smattering of delicious brunch options, The Hill Bar & Grill checks all the boxes. Keep it simple with their Traditional Eggs Benedict or All-American Breakfast. Spice it up with Carnitas Hash or Chilaquiles, a tasty combination of eggs, served over a bed of tortilla chips and spicy serrano salsa and your choice of carne asada, chorizo or pork carnitas.
Homegrown Wichita
Seven days a week from 6:30 a.m. to 2:30 p.m.; patio dining available
Kindness and brunch are served with love at all three HomeGrown Wichita locations (Bradley Fair, Downtown, & West). Serving breakfast items every day, this brunch spot specializes in fresh juices, coffee, cocktails, and of course, fresh ingredients in their food items. You'll find omelets, Eggs Benedict, pancakes, avocado toast, homemade poptarts – and even vegetarian and gluten-free options!
Newport Grill
Sundays from 10 a.m. to 2 p.m.; patio dining available
If you've never had an X-rated Bloody Mary, it's time to change that. At Newport Grill, you can choose from a variety of premium cocktails and an array of unique menu options like their Lobster Eggs Benedict and the N.P.G. Omelet, stuffed with bell peppers, caramelized onions, goat cheese, arugula and smoked bacon.
Two Olives
Saturdays and Sundays from 10 a.m. to 2:30 p.m.; patio dining available
Two Olives' Sunday brunch is so good you may want to visit Wichita every weekend! On Saturday, they feature a brunch beverage bar and a Build Your Own Brunch section, complete with eggs, meats, sides, sauce, and breads as well as an ever-changing selection of entrees ranging from chicken enchiladas to baked kibbe. On Sunday, their brunch boasts entrees such as prime rib, smoked salmon, lamb and seafood. Plus, they offer a full Mediterranean and vegan spread and a dessert bar with treats from Bagatelle Bakery.
Redrock Canyon Grill
Saturdays and Sundays from 11 a.m. to 3 p.m.; patio dining available
Located in Bradley Fair, an upscale shopping and dining center in east Wichita, Redrock Canyon Grill is the perfect spot for brunch. Filled with sweet and savory brunch menu items like quiche, Huevos Rancheros, breakfast quesadillas, French Toast and Chicken Pot Pie, there's something on the menu for everyone.
Siena Tuscan Steakhouse Restaurant
Saturdays and Sundays from 7 to 11 a.m.; patio dining available
Housed inside the trendy Ambassador Hotel Wichita in downtown Wichita, Siena Tuscan Steakhouse Restaurant is a sophisticated, Italian-style restaurant serving decadent options like the Three Egg Omelet, waffles with seasonal berries and avocado toast. For a taste of the cuisine of Tuscany, try their Tuscan Eggs Benedict, complete with grilled zucchini, Capicola, poached eggs, confit tomato, basil and Hollandaise on an English muffin.
Sweet Allie B's Limestone Beer Co.
Saturdays from 10:30 a.m. to 2 p.m.; patio dining available
You haven't brunched in Wichita until you've had the Potato Sausage Cheese Casserole – made with free range organic eggs – from Sweet Allie B's Limestone Beer Co. It's just one of the many made-from-scratch menu items, you'll come to love. In addition to $5 Bloody Marys, mimosas and Baileys & Coffee, Sweet Allie B's brunch also features breakfast burritos, French Toast, Sweet Potato Biscuits & Green Chili Sausage Gravy and more.
Wine Dive
Sundays from 10 a.m. to 3:00 p.m.; patio dining available
Nested in College Hill, Wine Dive is the perfect spot to satisfy your brunch appetite. From 10 a.m. to 3 p.m., order a Brunch Mimosa and then get ready to treat your tastebuds! Wine Dive's brunch features everything from Cajun Eggs Benedict to Duck Hash – a potato hash with sliced onions, asparagus, locally sourced eggs and pan-seared, 10-hour braised duck leg. A variety of vegetarian and traditional breakfast items are available to order as well.
YaYa's Eurobistro
Sundays from 10 a.m. to 2:00 p.m.; patio dining available
The Sunday brunch at YaYa's Eurbositro is legendary in Wichita. With crepes, waffles and omelets made to order, a prime rib station, Eggs Benedict, a salad bar loaded with dips and fresh fruit and a lavish pastry spread – it's the stuff brunch dreams are made of.  
If you're a morning person looking for even more dining options, you'll find them here. With more than 1,200 restaurants across the city, we're certain you won't leave hungry.