If you're looking for brunch in Wichita, we have you covered! Many of our 1,200-plus restaurants offer an Easter brunch and other special holiday brunch buffets, but the eateries below are known as year-round brunch spots. With so many to choose from, the hardest part will be deciding which Wichita brunch to try first!
Bagatelle Bakery
8 a.m. to 5 p.m. Monday through Thursday; 8 a.m. to 7 p.m. on Friday and Saturday; 8 a.m. to 2 p.m. Sunday
Order something from the bakery—ham & cheese croissant, apple turnover, fruit tart—or something from the fast-casual café—empanada, quiche, soup, sandwich—or both! Bagatelle Bakery is a longstanding family bakery that makes a terrific brunch spot for the entire family. They bake fresh daily and open at 8 a.m. every day, including Sunday when they are open until 2 p.m. and draw a large brunch crowd.
Chicken N Pickle
11 a.m. to 2 p.m. Sunday
Brunch. Beer. BINGO. Doesn't get better than that! Chicken N Pickle's weekly Brunch & BINGO runs 11 a.m. to 1 p.m. every Sunday; the brunch menu is available until 2 p.m. and includes drink specials plus their Chicken N Waffles, Junkyard Burrito, avocado toast and biscuits & gravy dishes.
Chisholm's American Beef & Ale House
6 to 9 a.m. Monday through Friday; 7 to 10 a.m. Saturday and Sunday
A breakfast menu available seven days a week makes Chisholm's American Beef & Ale House an excellent choice for brunch in Wichita. They offer omelets, biscuits & gravy and other traditional plates, plus eggs Benedict dishes, bananas foster pancakes, crème brulee French toast and more.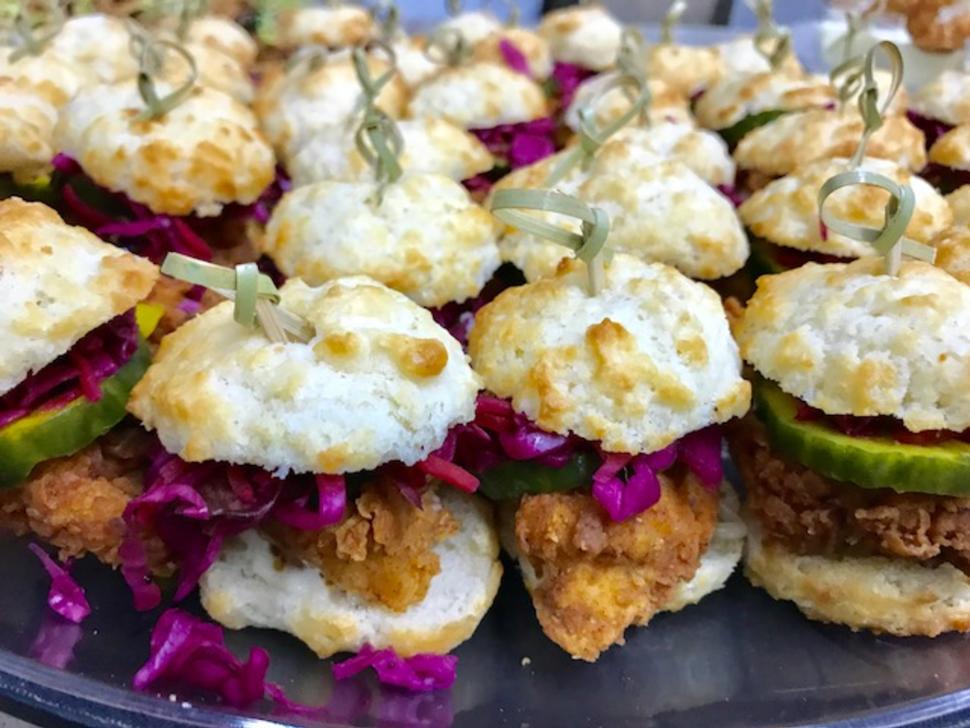 Dempsey's Biscuit Co. at Crutch BBQ
9 a.m. to 8 p.m. Monday through Thursday; 9 a.m. to 10 p.m. on Friday and Saturday; 9 a.m. to 3 p.m. Sunday
Enjoy brunch any time with Dempsey's Biscuit Co.'s "Brunch All Day" menu. Their fresh and delicious biscuits are the focus of many of their brunch dishes, from their biscuit and gravy topped with either a sausage or mushroom gravy to their salmon Benedict and sausage Benedict. They also serve breakfast burritos and quesadillas as well as waffles and pancakes.
Doo-Dah Diner
Wednesday through Friday 7 a.m. to 2 p.m.; Saturdays and Sundays from 8 a.m. to 2 p.m.
Breakfast is served all day at this downtown Wichita favorite, making it a great option for brunch anytime. Doo-Dah Diner serves scratch made gourmet comfort food and their breakfast house specialties include Banana Bread French Toast (gluten free), Crispy Corned Beef Hash and Tanya's Benny. If you can't decide, order the Triple D—a half serving of those three best-sellers—or dine in on Sunday when they offer a brunch buffet instead of the regular menu. Call ahead seating is recommended, especially on weekends.
The Hill Bar & Grill
Saturdays & Sundays from 11 a.m. to 2 p.m.
When you want a sports bar atmosphere and a smattering of delicious brunch options, The Hill Bar & Grill checks all the boxes. Keep it simple with biscuits and gravy or their All-American Breakfast. Spice it up with Carnitas Hash or Chilaquiles, a tasty combination of eggs served over a bed of tortilla chips and spicy serrano salsa and your choice of carne asada, chorizo or pork carnitas. The Hill's regular lunch menu is available in addition to the brunch items.
Homegrown Wichita
Seven days a week from 6:30 a.m. to 2:30 p.m.; seasonal patio dining available
Kindness and brunch are served with love at all three HomeGrown Wichita locations (Bradley Fair, Downtown & West). Serving breakfast items every day, this brunch spot specializes in fresh juices, coffee, cocktails and food dishes made with the freshest ingredients. If you have a sweet tooth, you'll want to start with a square of their famous coffeecake (comes with a warm buttermilk caramel sauce pour-over) and order one or three of their housemade pop tarts to go! The menu offers omelets, Eggs Benedict, pancakes, avocado toast, a great kids selection plus vegetarian and gluten-free options! Be sure to check out their "Flavors of the Season" menu for some of their most inventive creations.
Mosley Street Melodrama
Sundays from 10:30 to 11:45 a.m.
Go for the live entertainment and laughs and savor the delicious brunch at the Sunday matinee performance at Mosley Street Melodrama. Not only can you choose from mimosas and bloody marys, but you can enjoy the brunch menu of pancakes, sausage links, biscuits and gravy, fresh fruit and more before the show begins at noon.
Newport Grill
Sundays from 10 a.m. to 2 p.m.; seasonal patio dining available
If you've never had an X-rated Bloody Mary, it's time to change that. At Newport Grill, you can choose from a variety of premium cocktails and an array of unique menu options like their Lobster Eggs Benedict and the N.P.G. Omelet, stuffed with bell peppers, caramelized onions, goat cheese, arugula and smoked bacon. Reservations are recommended at this Sunday brunch hot spot.
Public
11 a.m. to 2 p.m. on Saturday; 10 a.m. to 3 p.m. on Sunday; seasonal patio dining available
Known for using regionally sustainable ingredients, Public in Old Town serves a variety of items on its weekend brunch menu: a traditional American breakfast plate, a breakfast burger, a breakfast burrito, an eggs Benedict dish, French toast, avocado toast, a yogurt parfait and biscuits and gravy featuring their cheddar and chive buttermilk biscuits. Lunch items are available starting at noon.
Redrock Canyon Grill
Saturdays and Sundays from 11 a.m. to 3 p.m.; seasonal patio dining available
Located in Bradley Fair, an upscale shopping and dining center in east Wichita, Redrock Canyon Grill is the perfect spot for brunch. Filled with sweet and savory brunch items like quiche, Huevos Rancheros, breakfast quesadillas and French toast plus many of their dinner house specialties, there's something on this menu for everyone.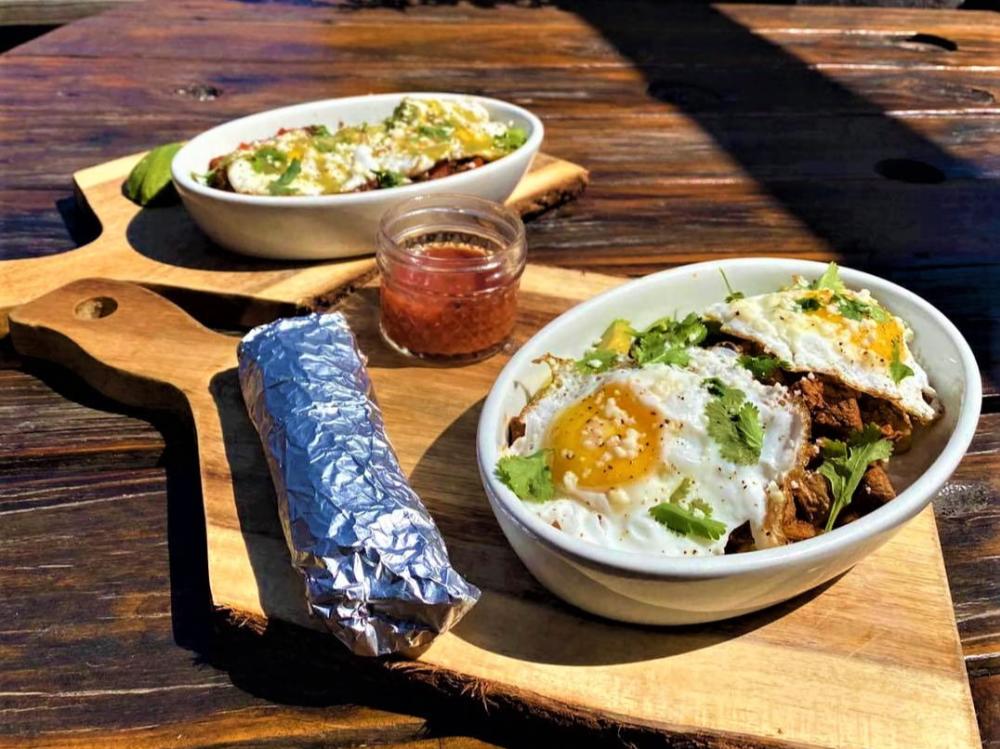 River City Brewing Co.
Sundays from 10 a.m. to 2 p.m.; seasonal patio dining available
Wichita's original brew pub, River City Brewing Co., offers 16 beers on tap and is a great Old Town brunch spot. Their brunch menu is served from 10 a.m. to 2 p.m. on Sunday and features items such as breakfast burritos, breakfast pizzas, chorizo hash, hangover mac & cheese, brunchy cocktails and, of course, beer!
Siena Tuscan Steakhouse Restaurant
Saturdays and Sundays from 7 to 11 a.m.; seasonal patio dining available
Housed inside the trendy Ambassador Hotel Wichita in downtown Wichita, Siena Tuscan Steakhouse Restaurant is a sophisticated, Italian-style restaurant serving decadent breakfast options like the Tuscan Eggs Benedict, complete with grilled zucchini, Capicola, poached eggs, confit tomato, basil and Hollandaise on an English muffin. Other specialties are an avocado toast and an egg white frittata. You'll also find classic breakfast items on the menu.
Stearman Bar & Grill
Sunday from 9 a.m. to noon ;seasonal patio dining available
How about brunch on a private airport where aircraft land 20 yards from you? Stearman Field Bar and Grill serves breakfast starting at 7 a.m. seven days a week and offers a breakfast buffet on Sunday from 9 a.m. to noon featuring cheesy eggs, spinach eggs, biscuits & gravy, sausage links, bacon, French toast sticks, fruit, assorted pastries, a pancake topping station and more.
Sweet Allie B's Limestone Beer Co.
Saturdays from 10:30 a.m. to 2 p.m.; seasonal patio dining available
You won't want to miss the Saturday-only brunch at Sweet Allie B's Limestone Beer Co. that features $5 bloody mary, mimosa and Baileys & coffee drinks. The Potato Sausage Cheese Casserole—made with free range organic eggs—is just one of the many made-from-scratch menu items, you'll love. The menu also includes burritos, sandwiches, French toast, Sweet Potato Biscuits & Green Chili Sausage Gravy and more.
Vora Restaurant European
Saturdays and Sundays from 10 a.m. to 2 p.m.; seasonal patio dining available
Vora Restaurant European's menu is influenced mainly by France and Italy but also has German, Greek and Spanish dishes. Their a la carte brunch menu features many of their regular lunch favorites as well as brunch items ranging from traditional omelets, quiche, sandwiches and waffles to inventive dishes such as the German Skillet and Italian Baked Eggs, a dish of Italian sausage, marinara sauce, mushrooms, onions, peppers with three eggs baked on top in a pizza oven. Not a meat lover? They also offer a vegetarian quiche of the weekend.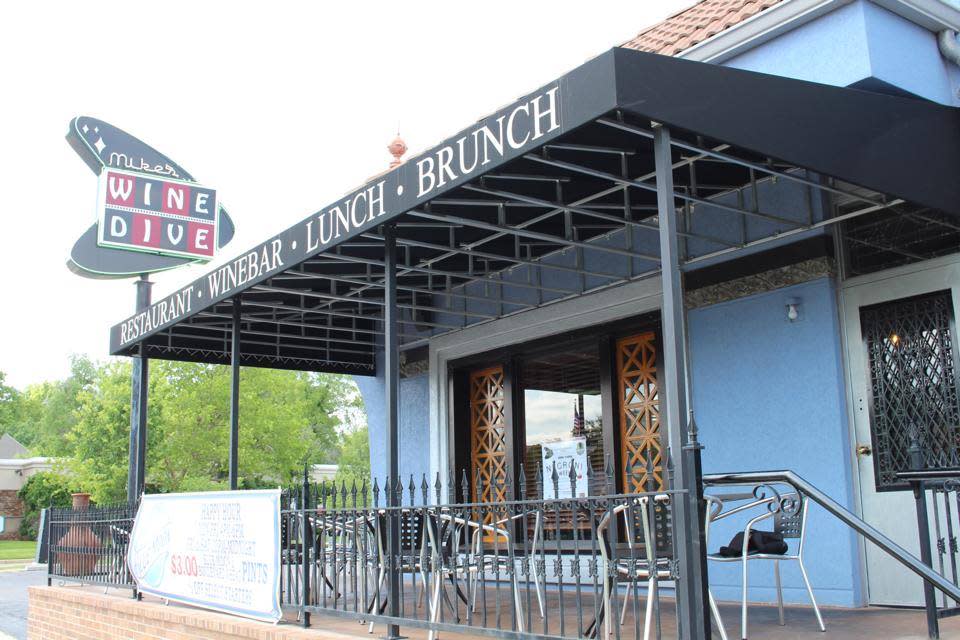 Wine Dive
Sundays from 10 a.m. to 3 p.m.; seasonal patio dining available
Wine Dive is a College Hill neighborhood favorite and the perfect spot to satisfy your brunch appetite. From 10 a.m. to 3 p.m., order a Brunch Mimosa and then get ready to treat your tastebuds! Wine Dive's brunch features everything from Cajun Eggs Benedict to Duck Hash – a potato hash with sliced onions, asparagus, locally sourced eggs and pan-seared, 10-hour braised duck leg. A variety of vegetarian and traditional breakfast items are available to order as well.
YaYa's Eurobistro
Sundays from 10 a.m. to 2 p.m.; seasonal patio dining available
The Sunday brunch at YaYa's Eurbositro is legendary in Wichita. With crepes, waffles and omelets made to order, a prime rib station, seafood, Eggs Benedict, a salad bar loaded with dips and fresh fruit and a lavish pastry spread—it's the stuff brunch dreams are made of.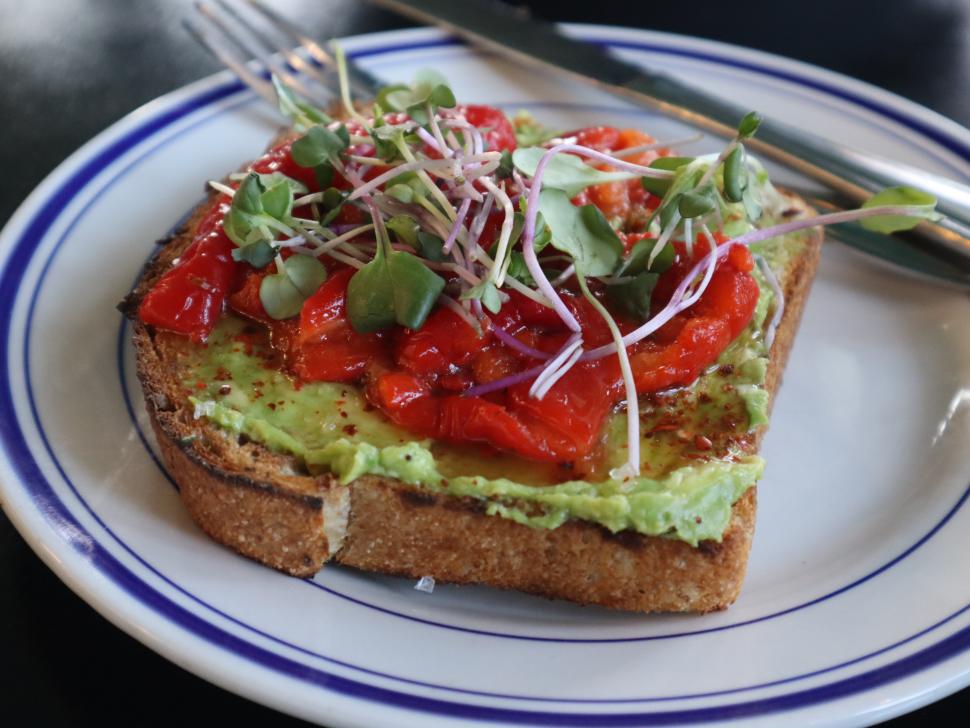 Our city has many more restaurants and coffee shops serving delicious breakfast fare, although technically not labeled a brunch. From breakfast sandwiches at Fairmount Coffee Co. and Il Primo Espresso Caffe to overnight oats and avocado toast at Leslie Coffee Co. and burritos and waffles at Kookaburra Coffee, you'll find a tasty start to your day at any of these Wichita breakfast spots.