In addition to many pet-friendly hotels, did you know we also have a number of dog-friendly restaurants in Wichita along with other activities you can enjoy with Fido? We've gathered a list of where to eat in Wichita with your dog and other dog-friendly activities to consider. Remember to be courteous to others by keeping dogs on a leash and cleaning up after them.
Restaurants
Bring the leash and head to the patio at one of Wichita's dog-friendly restaurants.
You feel like you're in a friend's backyard when you sit with your pup at the patio outside Ziggy's Pizza – Clifton Square or the nearby Dempsey's Burger Pub – Clifton Square. Also, across Douglas Avenue from Clifton Square, Dempsey's Biscuit Co. has a dog-friendly patio. There's also outdoor seating for all at Ziggy's Pizza – West and Ziggy's Pizza – Northeast.
Enjoy brunch on the patio with your hound at your feet at Wine Dive or The Hill Bar and Grill in the College Hill neighborhood.
Check out the Historic Delano District with your dog and stop for a spell on the expansive patio at Monarch, home of the largest craft bourbon and whiskey collection in the state as well as a delicious food menu.
Experience the Old Town District atmosphere with your four-legged friend on the huge patio at Pumphouse or take the pooch with you for delicious Mexican fare at Adios Nachoria inside WAVE. This unique indoor-outdoor venue doesn't allow dogs during concerts and events but you can bring them when you're having a meal, ordering a drink or just hanging out in their backyard environment. They even have a dog run.  
Craft Breweries
Order a craft beer and some grub while your best friend is hanging out with you on the outdoor patio at Wichita Brewing Co. & Pizzeria – West, Wichita Brewing Co. & Pizzeria – East and Nortons Brewing Co. Most of Wichita's craft breweries with outdoor spaces allow dogs, though not all have full kitchens.
Order Fido a Treat at the Drive-Thru
If you're grabbing a drive-thru meal with a furry passenger, ask for a special pet treat at one of these seven area locations of Wichita-founded Freddy's Frozen Custard & Steakburgers: East, Northeast, Northwest, West, Southwest, Derby, and El Dorado.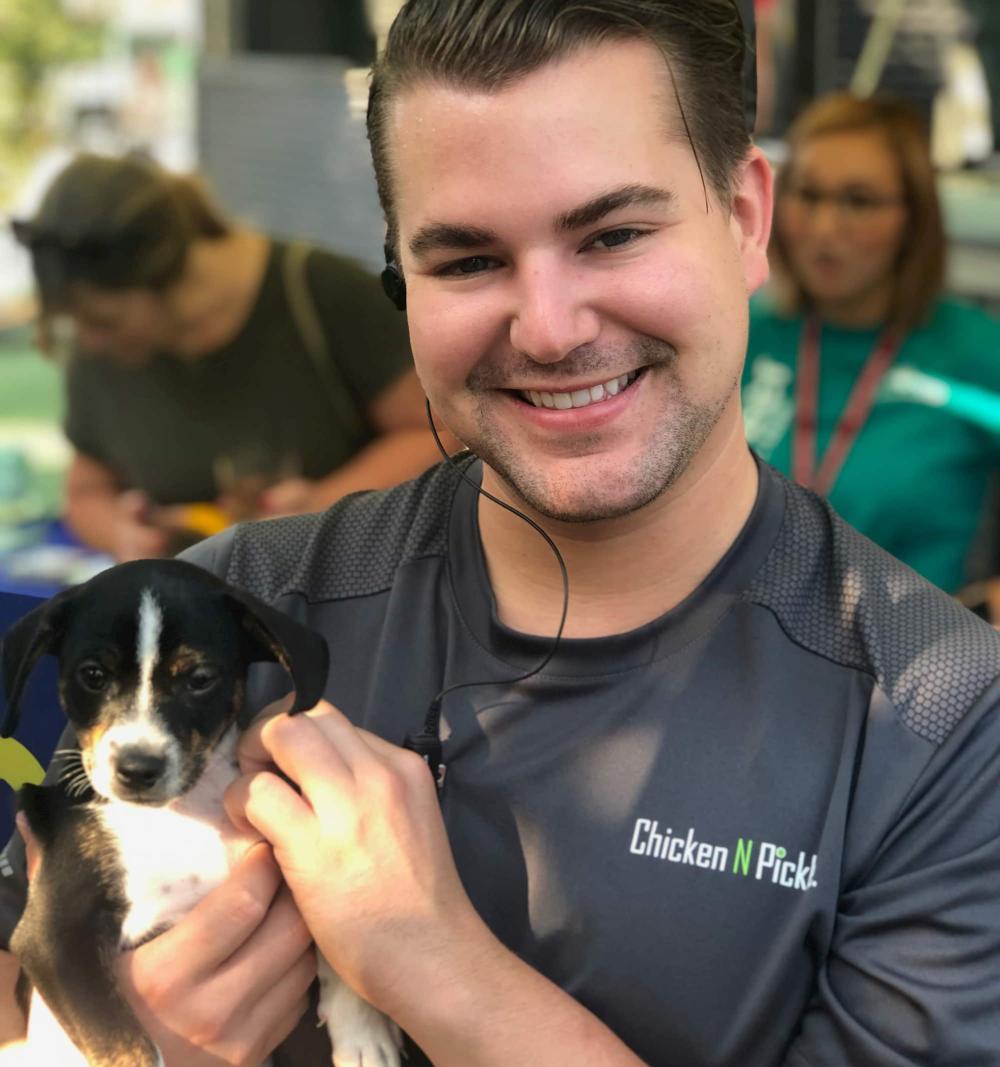 Game Time
Chicken N Pickle is the perfect setting for you, your friends and your pooch to hang out. The entertainment complex has fast casual dining restaurant, 10 pickleball courts (six indoor and four outdoor), two bocce ball courts, four shuffleboard courts, a bar and entertainment space that includes outdoor lawn games and a dog run. Dogs are allowed in all outside areas at Chicken N Pickle.
Wichita Dog Parks
Let your pup get some exercise and socialize at one of the four off-leash dog parks operated by the city of Wichita:
Chapin/Ashley Dog Park, 2400 E. MacArthur
Harrison Dog Park, 1300 S. Webb
K-9 Rooster Dog Park, 2127 N. Meridian
Murfin Dog Park, 3313 N. Hillside
Hang Out in Downtown's Naftzger Park
Naftzger Park, reopened in 2020 after an extensive redesign, offers exciting outdoor entertainment opportunities like concerts, movies, pre-events for INTRUST Bank Arena and activities for both people and pets. There's even a dog run on the southern end of the park near William Street. The urban park is a unique space that creates togetherness for our city's residents and visitors.
Doggy Daycare, Pet Lodging and Grooming
Sydney's Pet Resort & Spa is a one-stop-shop for socialization, entertainment and supervision of your pet. Sydney's offers doggy daycare, grooming and pet lodging. They have indoor and outdoor areas, so this is a year-round, safe place to leave your pet if you've got a busy day planned.