Wichita has a thriving public art scene and offers many ways to celebrate it from taking part in First Friday to visiting a gallery or museum or creating art first-hand. The public displays in the city offer visitors an opportunity to see phenomenal art – for free! While there are many more art installations to mention, we've compiled a quintessential list of the most unique urban art spaces in the city.
Alley Doors
View the stunning work of Kansas-based artists on the alley doors of downtown Wichita buildings via the Alley Doors project. What is sometimes an overlooked space becomes a focal point for visitors looking for brightly painted mini murals.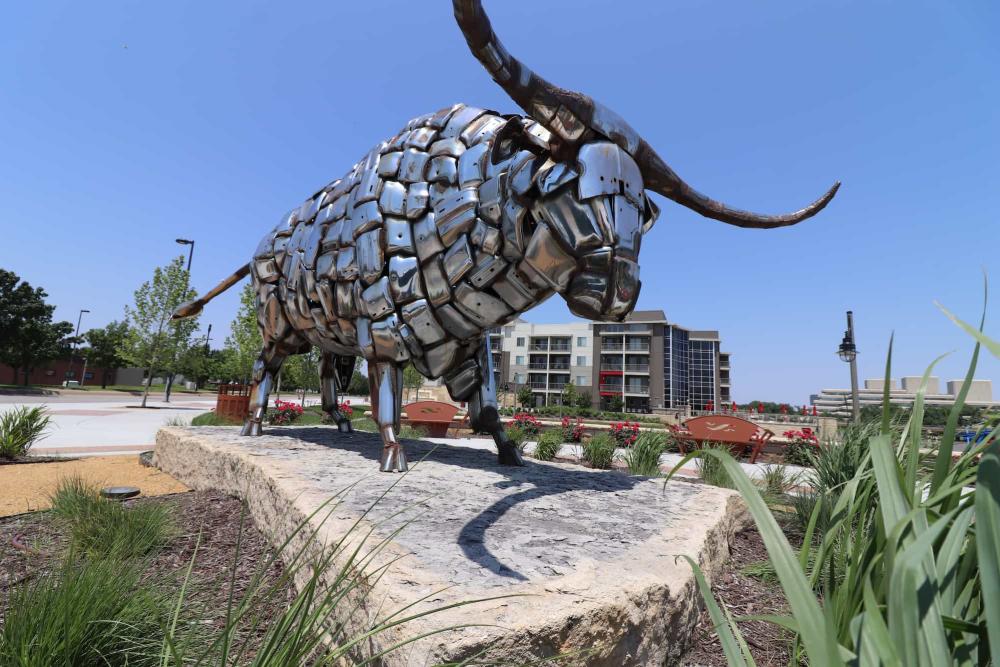 Chrome Bumper Sculptures
When exploring Wichita, you may see a variety of life-sized, shiny animal sculptures throughout the city. These metal sculptures are comprised of auto bumpers sourced from a garbage dump and sculpted by artist John Kearney. You'll find bulls, a horse and even a pig! The bull located near the Historic Delano District and former Chisholm Trail serves as a tribute to the historical cattle drives that once came through the area.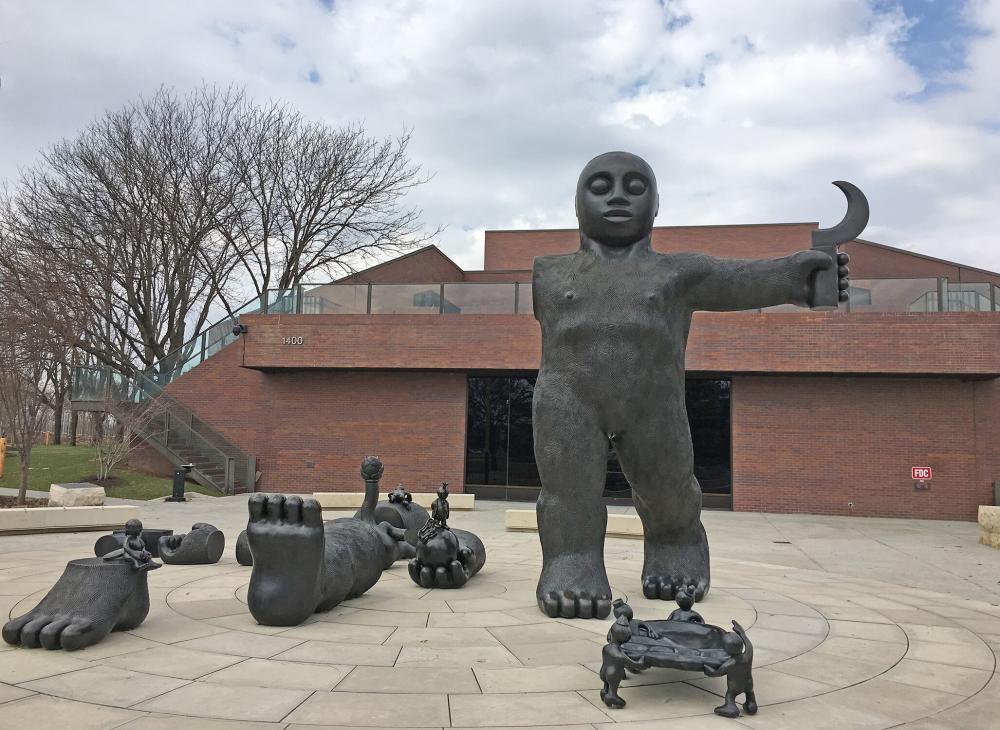 Dreamers Awake
Tom Otterness' sculpture, "Dreamers Awake" at the Wichita Art Museum is considered one of the 8 Wonders of Kansas Art. The artist created the 15-foot-tall sculpture to stand over smaller elements that also reflect his artistic style. He is considered to be one of America's most prolific public artists. The museums' Art Garden gives visitors the chance to explore concepts such as shape, scale, space, and texture. Guided tours are available to groups when the weather permits.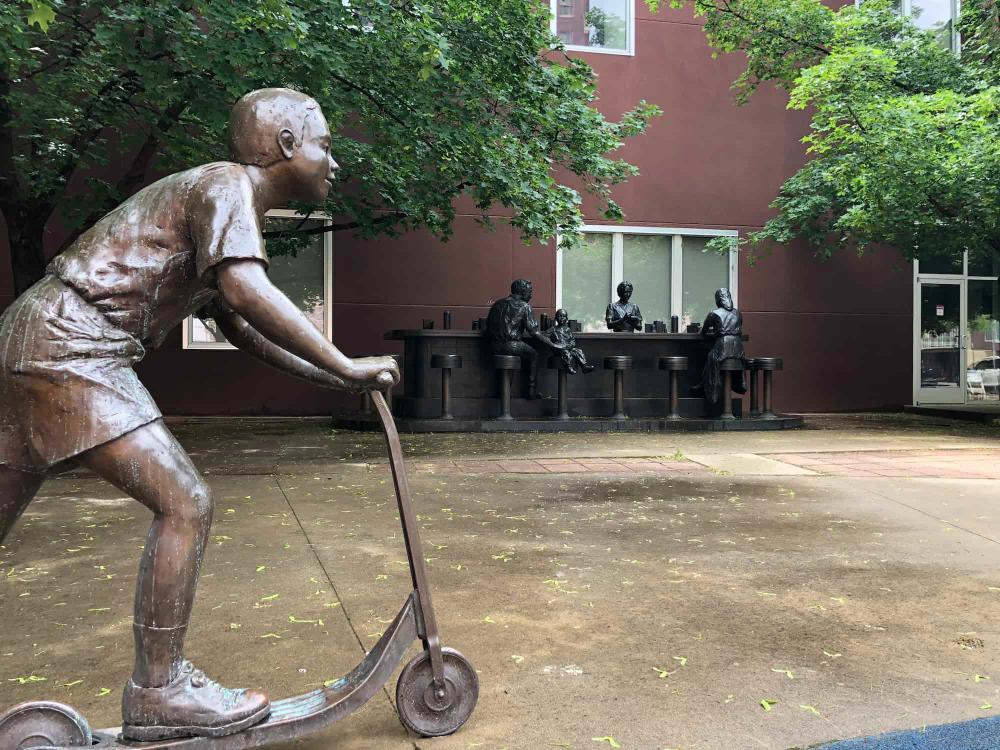 Streetscape Bronze Sculpture Collection
Washington artist Georgia Gerber was commissioned by the DeVore Foundation to create a public sculpture series along Douglas Avenue within a four-block area of downtown Wichita. The bronze sculptures include a soda fountain near where a Woolworth five-and-dime store once stood. It memorializes the 1958 anti-segregation lunch counter sit-in that took place at the Dockum Drugstore nearby. Gerber's smaller sculptures along Douglas Avenue show people and animals at play.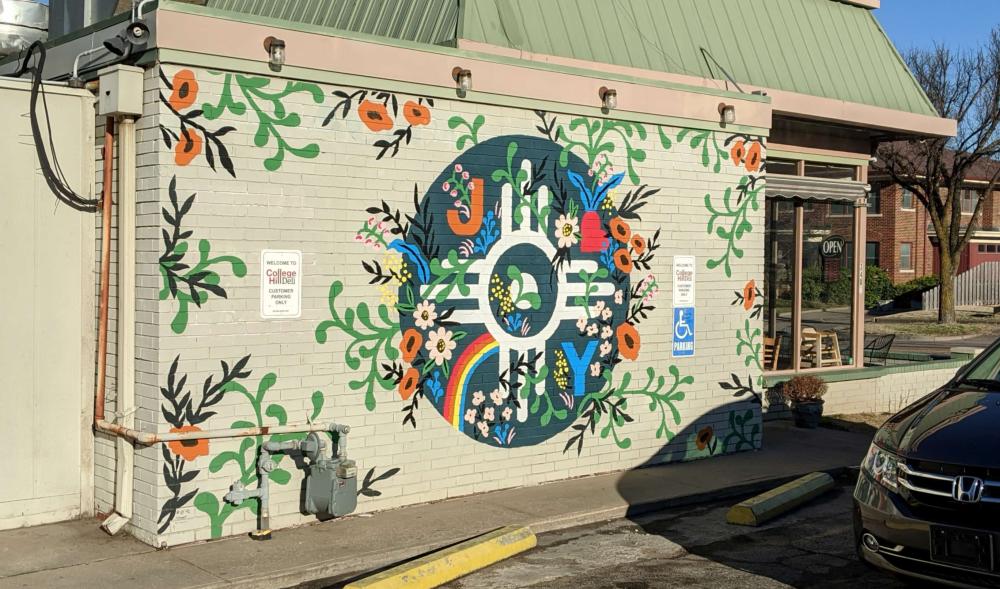 Douglas Design District Murals
Plan your mural tour along Douglas Avenue in the Douglas Design District to check out the city's largest collection of street art. Every artist showcases their style and skillset as a part of dozens of murals that adorn local businesses. From building facades to light poles and crosswalks to trashcans, colorful designs catch the eyes of passersby. Plan your route using this mural guide.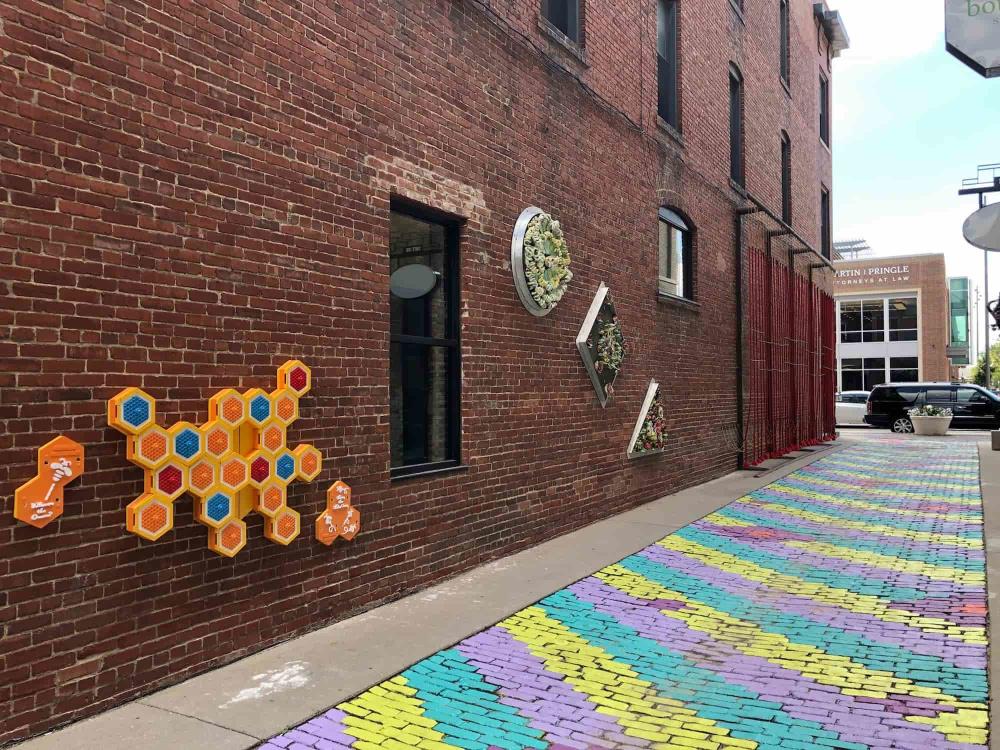 Gallery Alley
Nestled between two historic buildings on Douglas Avenue sits Gallery Alley where visitors can experience an interactive art installation by local artist Mike Miller as well as a brightly-colored ground mural. Support local artists by touring downtown Wichita's unique public art installation space — a fantastic destination to take a selfie or group photo!
New artwork is being presented at the First Friday event in July (2nd)! The new sculptures from 5 local artists will introduce an intersensory art experience to the space in an effort to serve all visitors, including those with low to no vision.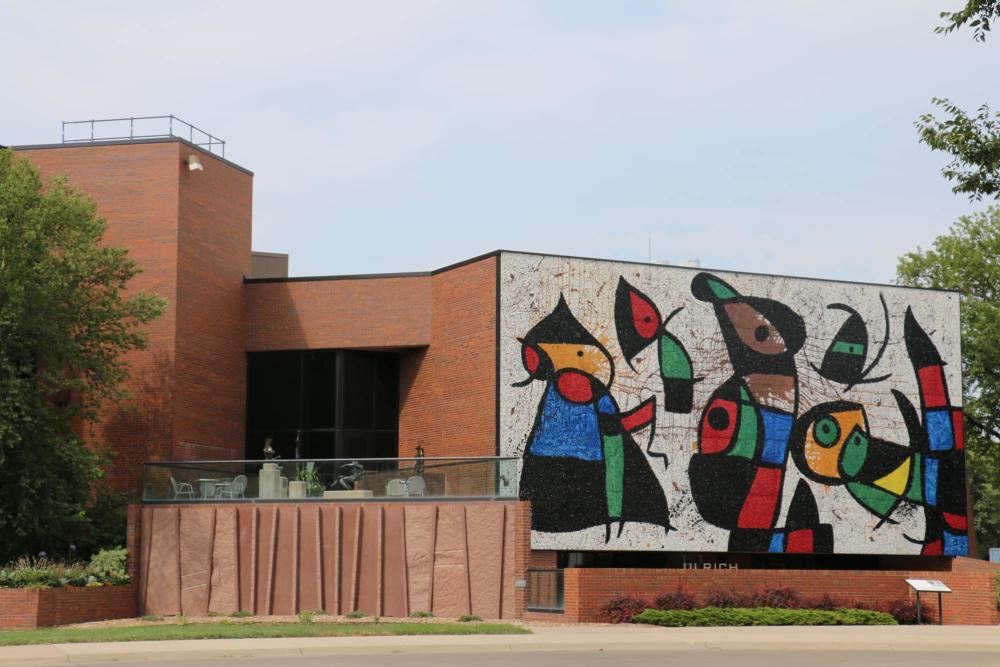 Personnages Oiseuax
More than 150,000 Venetian marble and glass pieces make up this mural by Joan Miró covering the facade of the Ulrich Museum of Art on the Wichita State University campus. The mosaic spanning 28 by 52 feet took the artist six years to create and is titled "Personnages Oiseuax," which translates to "Bird People." Onlookers can appreciate the piece up close or from a distance using a telescope positioned across the street near the bronze arthropod sculpture, "Millie." The mural is part of the Ulrich's more than 80-piece Martin H. Bush Outdoor Sculpture Collection spread across the 300-acre campus. Download the Outdoor Sculpture Collection app to take a self-guided tour and make sure to find the latest art installation in the collection, "Twister."
Keeper of the Plains
Designed by Wichitan and Native American artist Blackbear Bosin, the Keeper of the Plains is a towering 44-foot tall steel sculpture that sits at the confluence of the Big and Little Arkansas rivers in downtown Wichita. Considered a must-see attraction, visitors and locals alike appreciate the Keeper of the Plains Plaza where they can view the artist's creation and see the surrounding "Ring of Fire" lit up the night.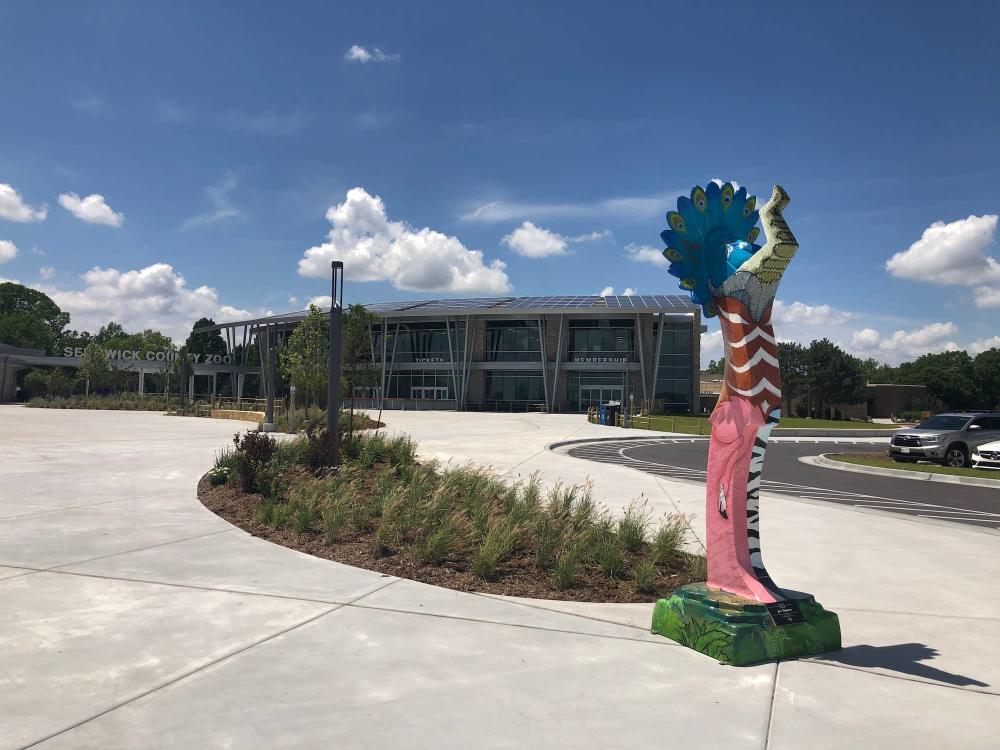 Keepers on Parade
Over a dozen artists were chosen to paint the Keeper 150 statues as a part of a public art project by Together Wichita to celebrate the city's milestone birthday. Each 10-foot tall fiberglass Keeper of the Plains statue is a uniquely painted "mini" version of the city's iconic downtown sculpture.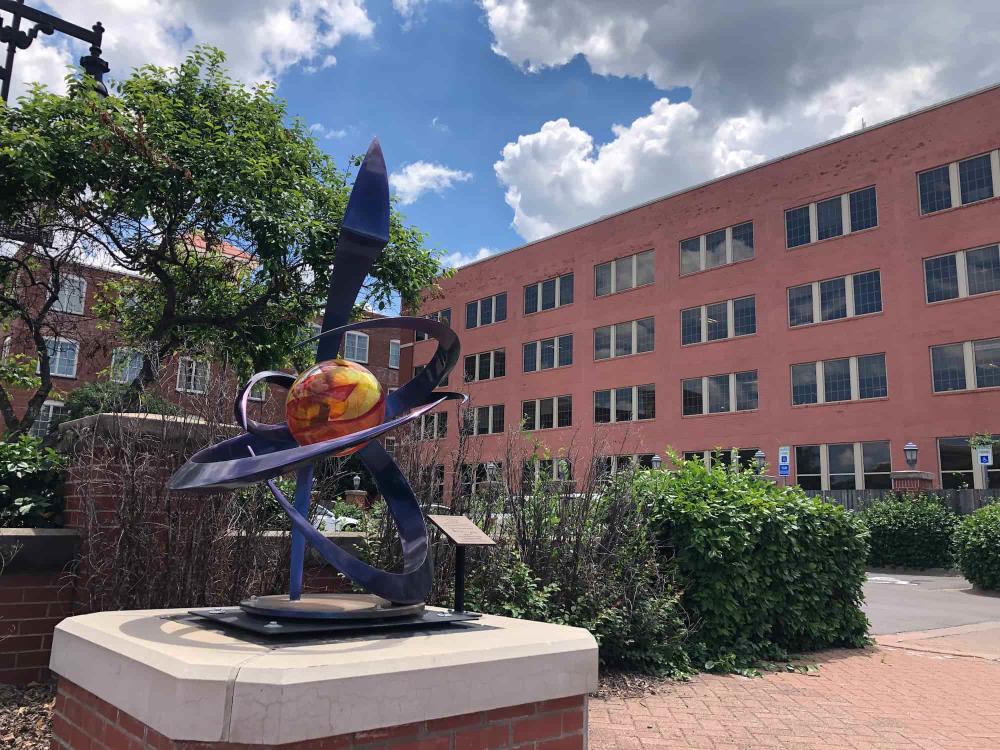 Old Town Sculptures
Distinctive sculptures dot the landscape of Wichita's Old Town District. Art enthusiasts can stroll brick-lined streets on a self-guided sculpture tour to appreciate the work of regional artists. On May Day the Arts Council hosts the Sculpture WalkAbout to honor their contributions.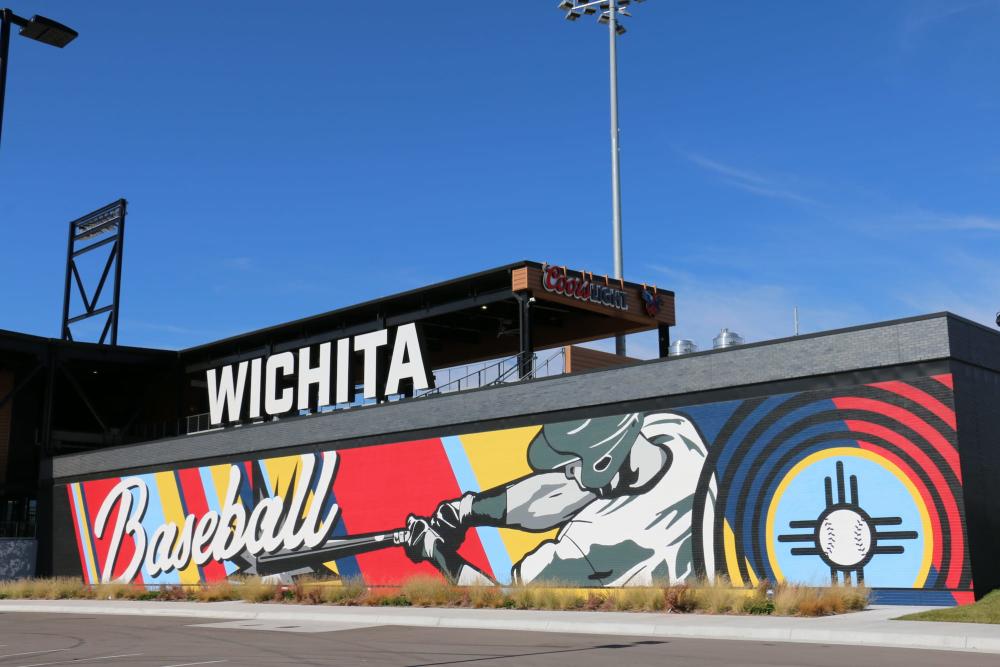 Riverfront Stadium
An added bonus to watching a baseball game at Riverfront Stadium, home of the Wichita Wind Surge, is discovering the incredible art installations on display that are a central part of its design. While some pieces are front and center like the expansive outdoor mural designed by Brickmob, other additions can be found in places you wouldn't necessarily expect within the stadium. Together, the artwork conveys a central theme, a movement of shape while acknowledging baseball and the neighborhood surrounding the stadium.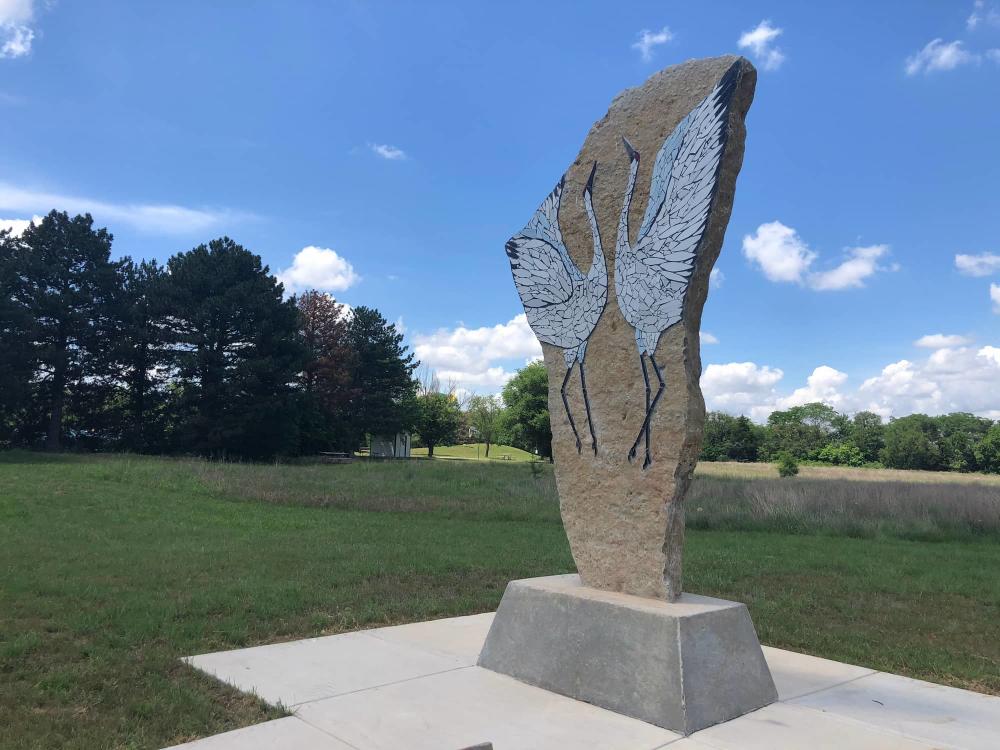 Sedgwick County Art Walk
The interactive art park located inside Sedgwick County Park near the 13th Street entrance is a gateway to fun. Turtle Maze, designed by local artist Tobin Rupe, is a walkable path made of Kansas limestone that ends at a stone featuring a medallion and a riddle. Visitors will appreciate strolling the 20-acre meadow designated the Sedgwick County Art Walk for its "family-friendly environmental art" with numerous sculptures to enjoy.
From live music and concerts to art museums and galleries, get more ideas here and see all the ways Wichita's art and entertainment scene can wow you.