By MeLinda Schnyder
MeLinda Schnyder is a Wichita-based travel writer who also has explored the Arkansas River on a raft near Cañon City, Colorado. She is a member of The Society of American Travel Writers and the Midwest Travel Journalists Association.
Did you know you can enjoy a National Water Trail in downtown Wichita?
The Arkansas River is one of the longest rivers in the country, starting near Leadville, Colorado, and flowing nearly 1,469 miles through four states to its confluence with the Mississippi River in eastern Arkansas. A 192-mile section of the river – from Great Bend, Kansas, to the Kansas/Oklahoma border – is designated a National Water Trail by the U.S. National Park Service. This stretch meanders through prairie, pastures and farmland, and passes through small towns as well as Wichita, the state's largest city.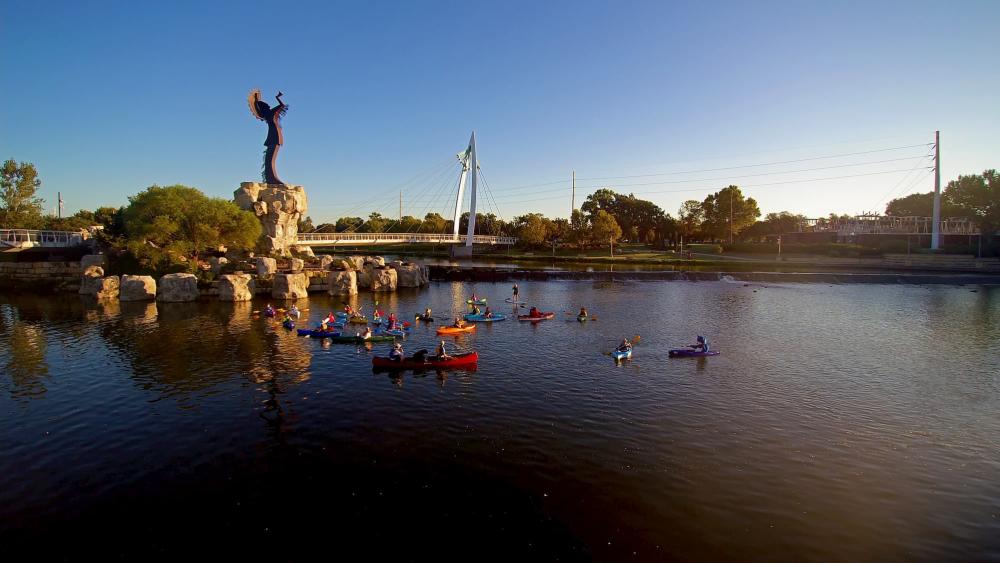 My husband and I don't own kayaks or paddleboards and we wanted to see the Keeper of the Plains at sunset from the water, so we signed up for a tour offered by Wichita Park & Recreation. On a summer Friday evening, we headed downtown after work and met others who had pre-registered for the Floatin' on the River Sunset Tour. About a dozen people chose kayaks and another dozen were on paddleboards, each group getting a brief training before launching into the water from the ramp just south of the Wichita Boathouse.
It's just a mile to the Keeper of the Plains, but remember there can be wind that makes this more strenuous than it sounds. I think those of us in kayaks had it easier than those on SUPs on this particularly windy evening, but nobody on either type of vessel took a dip in the water!
There were several guides along the route to answer questions about the river, the area and to offer kayaking tips. They also just let you paddle on your own if that's what you prefer. They timed it just right to get us to the Keeper in time for photos with the sun nearing the horizon for a spectacular backdrop.

The Keeper of the Plains is among the most photographed spots in all of Kansas. The iconic 44-foot-tall steel sculpture by Blackbear Bosin is beautiful when you see it against a bright blue sky full of puffy clouds, gorgeous at sunset and striking during the nightly Ring of Fire lighting, too. Guides took photos of friend and family groups, and there was plenty of time to take your own photos of the sculpture, the dramatic outline of Exploration Place and the Wichita skyline before paddling back to our starting point.
The entire trip lasted about 75 minutes. Once back on land, we walked over to the Wichita Boathouse and enjoyed a barbecue dinner on the patio that was part of the $35 per person tour price. With equipment and food included, this was a fun, affordable way to see Wichita from a new viewpoint.
Wichita Park & Recreation is offering several Floatin' on the River tour options this summer and early fall: sunset, glow (timed with the Ring of Fire lighting at Keeper) and a senior tour. All tours cost $35 per person and pre-registration is required. Space is limited so sign up early or check for a cancellation if you are visiting and were not able to register early. Find out more on their River Recreation webpage or facebook.com/WichitaParkandRec.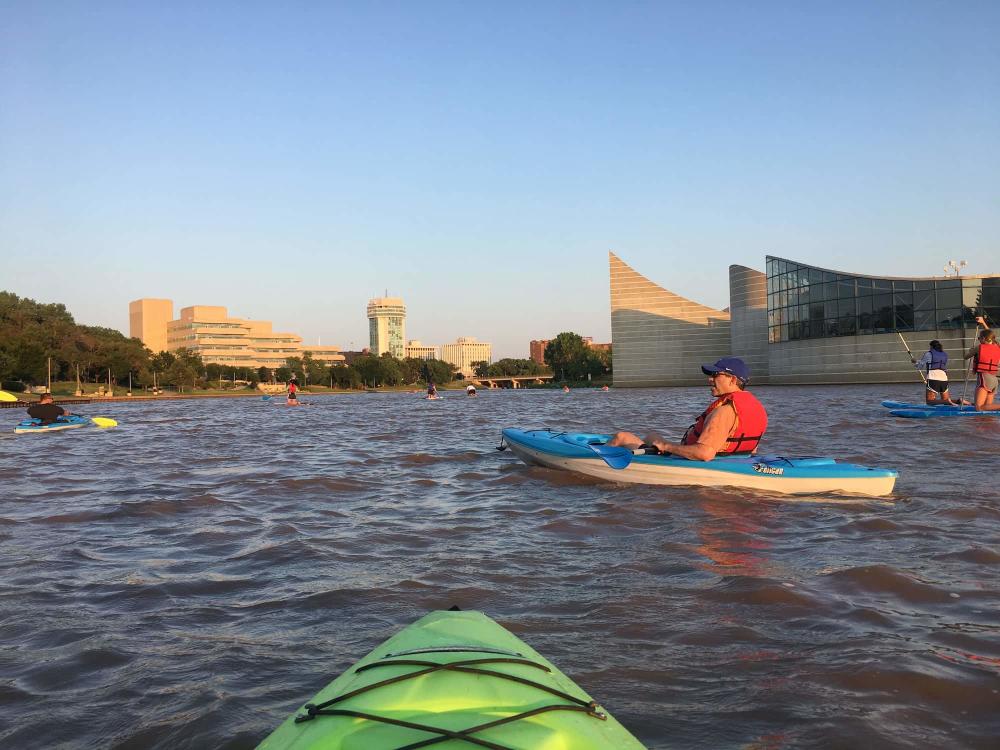 Watercraft Rentals
Of course, you can bring your own non-motorized watercraft to enjoy the Arkansas River in Wichita. You also can rent equipment right on the river. Always check current river conditions; rainfall can cause high water levels and fast currents that close the Arkansas River to recreational use. The city regularly updates the river status here.
Boats & Bikes is an outdoor fun rental company operating from a 240-foot public dock on the Arkansas River near the Douglas bridge. The operation is run by Wichita State University's rowing program and among their offerings are youth and adult paddleboards, pedal boats, kayaks and rowing shells.
Rentals range from $10 to $30 per hour depending on the equipment. Also, be sure to check out their season passes, group discounts and special events. Reservations are suggested and can be made by emailing boatsandbikes@wichita.edu or calling 316-265-9359.
Boats & Bikes is open daily from Memorial Weekend through October, and by reservation outside those dates. Hours of operation are subject to change due to weather or special activities in the area. Hours may also change to accommodate peak and down-times of the rental equipment. Watch their social media outlets (Facebook and Twitter) for updates on hours of operation.
Additionally, Wichita Park & Recreation offers kayaking options through special tours and self-service rentals. For the self-service rentals, simply scan the QR code on the cage to reserve and pay for a kayak rental for a specific amount of time at that location. Stations are available at OJ Watson Park and two locations on the Arkansas River at the Ralph Wulz Riverside Tennis Center and near the Kellogg Drive bridge. Find pricing and more details here.