Many of us enjoy getting outside and taking in fresh air while traveling, and Wichita is a nature lover's dream with plenty of opportunities for travelers to explore the outdoors.
The Heart of the Country offers something for everyone – from peaceful hiking through nature to paddling on the Arkansas River in downtown Wichita. And if you like a cold pint and a satisfying meal after a long day of adventure, unique breweries and eateries are around every corner of the city.
But where do you start? We put together a list of popular outdoor adventures. Pick one – or all of them – and start planning your next trip to Wichita.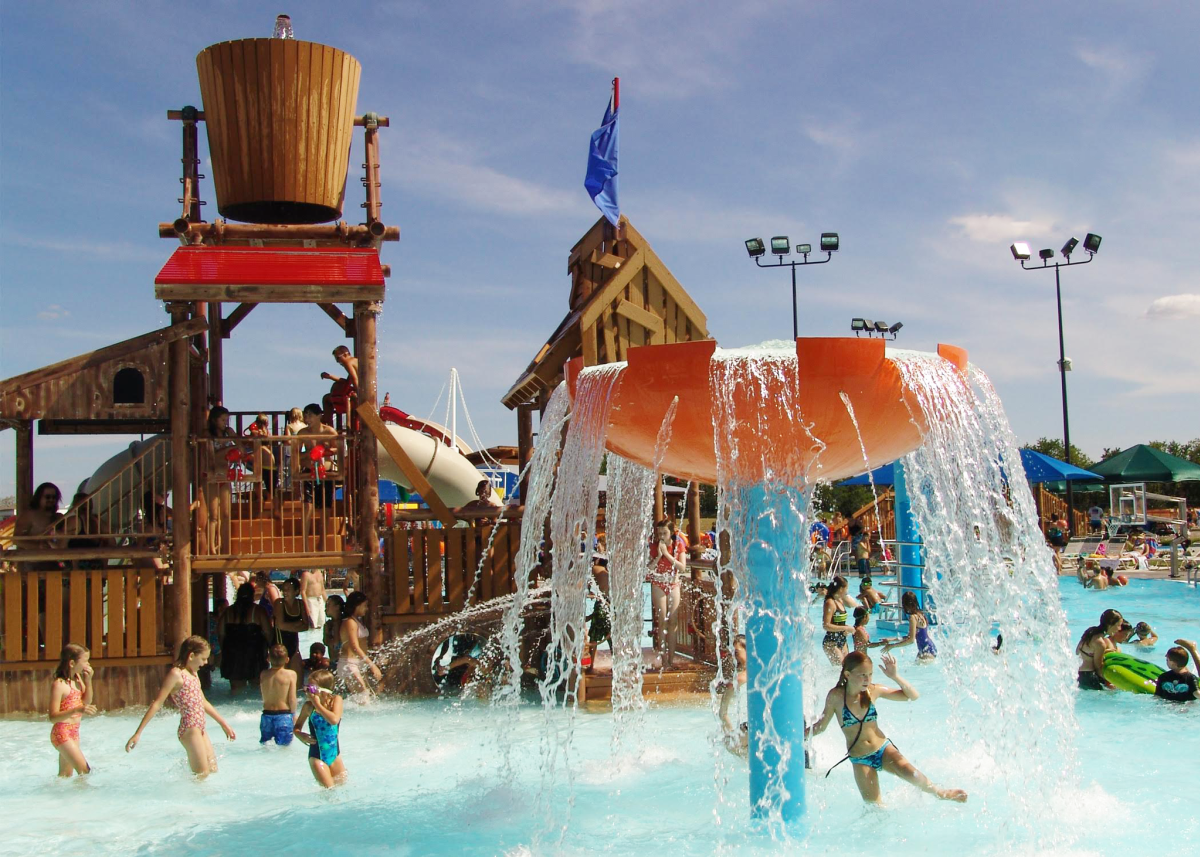 Outdoor Attractions
Wichita is home to many outdoor attractions, from outdoor family fun venues to sports and recreation and parks and wildlife experiences! Among visitor favorites:
With more than 24 acres loaded with 26 attractions and activities from batting cages to go karts and miniature golf, take the family to All Star Adventures or All Star Sports. Each location has multiple outdoor activities plus some indoor options.
As the No. 1 motocross track in the state of Kansas, Bar2Bar MX Park offers outdoor racing on a sandy loam track and the perfect spot for adrenaline junkies to watch races or riders to practice.
No matter the season, head to Botanica Wichita to explore more than 30 themed gardens and exhibits, including giant sea creature sculptures made of ocean debris in the "Washed Ashore: Art to Save the Sea" display through Oct. 23. The gardens host special events throughout the year and staging more performances at their new Grand Lawn & Stage in the recently completed Carousel Gardens.
Chicken N Pickle is a fast casual restaurant, sports haven and entertainment complex that appeals to sports fans and foodies of all ages. The complex consists of 10 pickleball courts (six indoor and four outdoor), two bocce ball courts, four shuffleboard courts, a bar and entertainment space, outdoor lawn games like Jenga and corn hole, and a game room with ping pong and TV screens to catch your favorite game. Throughout the year, Chicken N Pickle organizes themed pop-up rooftop bars. Look for their Ice Pond at the Plazzio, which allows guests to enjoy ice skating, curling and hockey in the winter months.
Experience the largest dinosaur theme park in the country at Field Station: Dinosaurs in Derby. A short drive south of Wichita will land you in a magical zone where 40+ animatronic dinosaurs come to life as you learn about each of them, plus a themed maze and a miniature golf course.
Explore nature at the Great Plains Nature Center, which includes Chisholm Creek Trail paths.
Step back in time to the days when Wichita was a booming cattle town at Old Cowtown Museum.
Bring your family and friends to spend a day splashing, soaking, sliding and sunning yourself at Rock River Rapids, a full-service water park just south of Wichita. The park features six water slides, a lap pool as well as an area with diving boards, a 600-foot lazy river, a zero-depth pool, play structures, aqua climbing walls and a treehouse-themed spray-ground.
Sedgwick County Zoo houses more than 3,000 animals and 400 species in its 215-acre outdoor environment. See exotic creatures from all over the world including red pandas, rare okapis and an impressive number of apes. Recent additions include the Slawson Family Asian Big Cat Trek featuring Amur leopards, snow leopards, Amur tigers and red pandas as well as the Stingray Cove experience.
Splash Aqua Park is located on a 27-acre lake and features inflatable slides, runways, jumping bags, trampolines and extreme fun.
Tanganyika Wildlife Park has more than 500 animals in the park and offers more than 15 interactive animal experiences, including feeding lemurs, giraffes, okapi and pygmy rhinos. Their newest addition is Tanganyika Falls, a 5,000-square-foot animal-themed paradise filled with awesome aquatic features such as slides, water tipping buckets, climbing structures, waterfalls, large animal characters and a giant water-spewing giraffe.
The Wichita Wind Surge is the Double-A affiliate of the Minnesota Twins. The minor league baseball team plays home games from April to September at the new Riverfront Stadium on the west bank of the Arkansas River in downtown Wichita.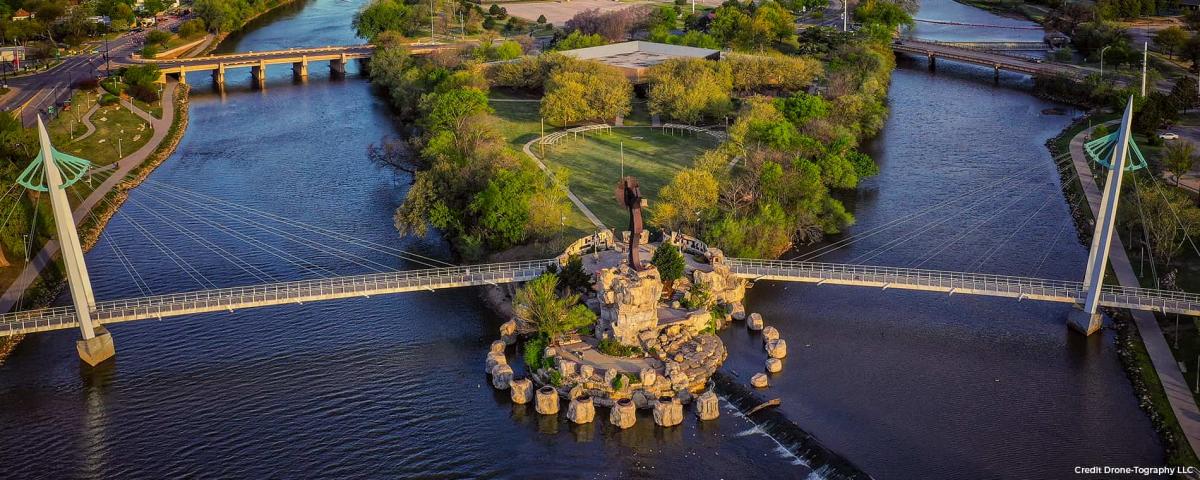 The Keeper of the Plains
The Keeper of the Plains is a must-explore area in Wichita. One of the most iconic images in the state, the Keeper of the Plains stands at the confluence of the Big and Little Arkansas rivers. This 44-foot, 5-ton weathered steel sculpture sits atop a 30-foot pedestal overlooking the city. Don't miss the nightly Ring of Fire when the firepots surrounding the Keeper are lit for 15 minutes (starting at 9 p.m. during spring and summer months, weather permitting).
Surrounding the Keeper is a plaza with exhibits that depict the Plains Indians' way of life and representing the four elements essential to life – earth, air, water and fire. Access to the plaza area is by two bow-and-arrow-inspired cable-stay bridges or through the Mid-America All-Indian Museum during the day. The entire area is wheelchair accessible. From the plaza, paths for walking, biking and more are available on both banks of the Arkansas River.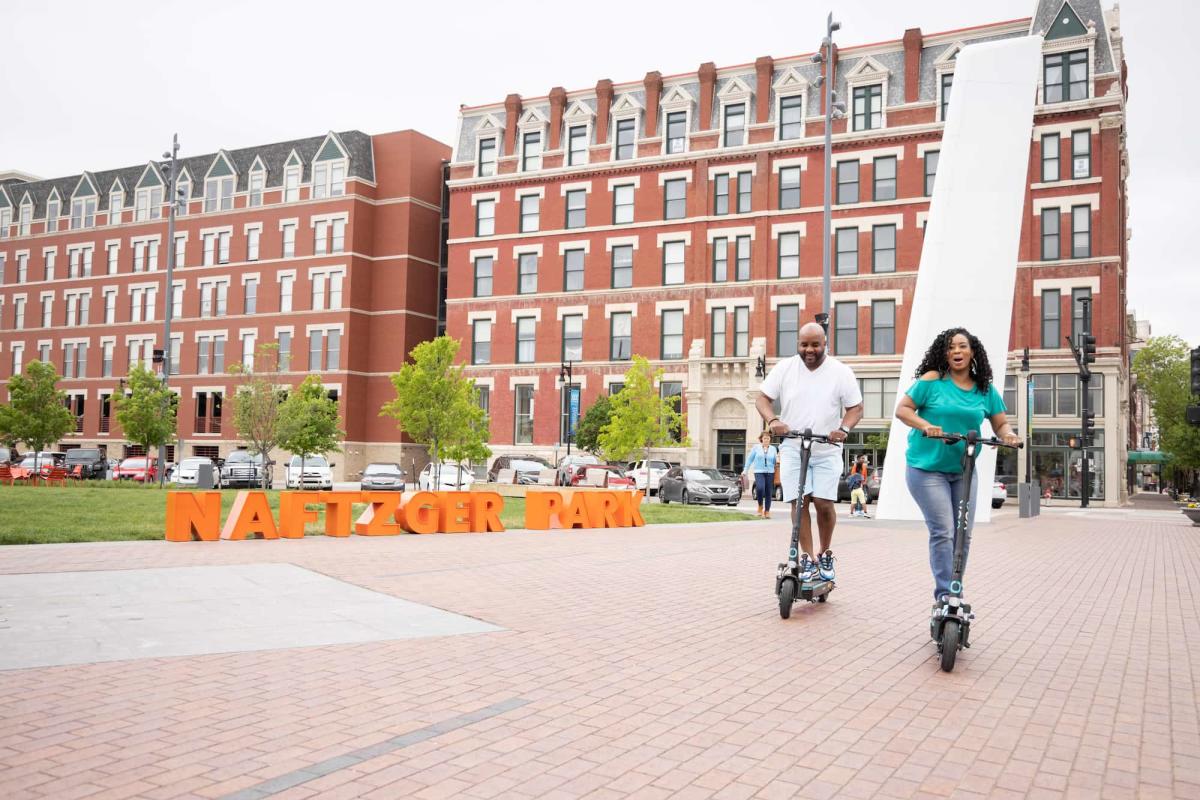 Walking, Biking and Riding Electric Scooters
Wichita offers up a variety of ways to enjoy the outdoors, including more than 140 parks and greenways covering more than 5,000 acres. Bike Walk Wichita has many resources for walking and biking the city. You can download the Bike Walk Wichita app for free to access its collection of self-guided walks and rides, complete with points of interest and historical information to enjoy as you explore. Among the group's featured bike paths are scenic trails you'll enjoy whether you prefer the solitude of a rail-trail, the bustle of an urban trail or mountain biking. If you don't have your own wheels, try Wichita's bike-sharing program, Bike Share ICT, which offers more than 200 bicycles at 40 stations across the city, or a rental from Boats & Bikes. Wichita also has electric scooter rentals through Bird or VeoRide.
Have fun exploring one of our parks or one of the routes you find through Bike Walk Wichita. The Wichita Public Library also offers the PocketSights app, which allows users to explore Wichita's history with the Wichita History Walk.
Additionally, fishing lakes and wildlife areas at Kansas State Parks are open to the public, including campgrounds and boat ramps. There are 28 state parks, and the closest to Wichita are Cheney State Park and El Dorado State Park.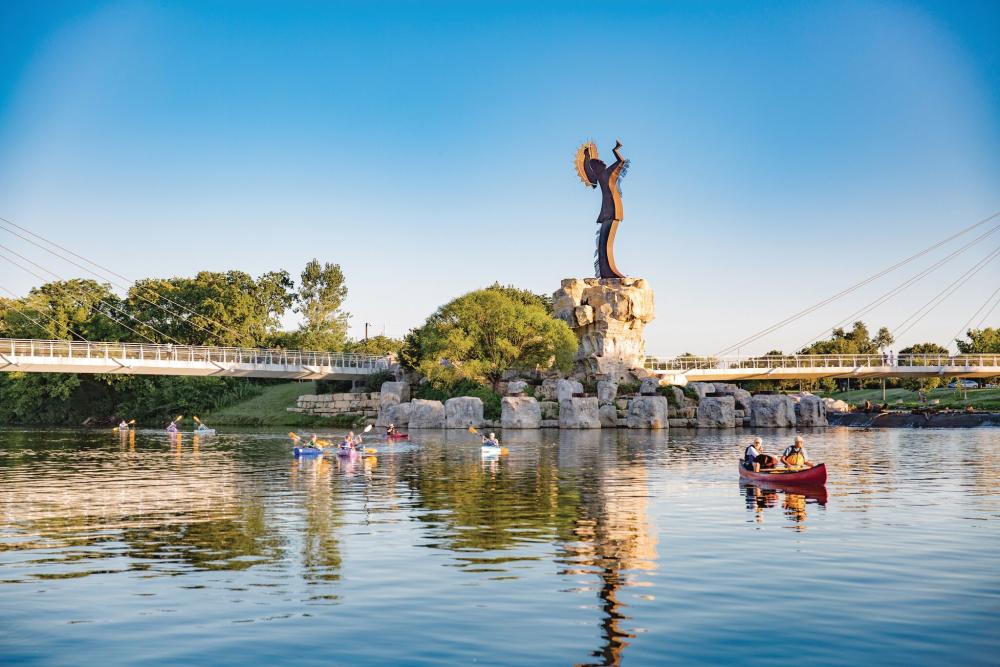 Kayaking and SUP
Boats & Bikes, located at the dock near River Vista Apartments, offers season passes and hourly rentals for kayaking and other water activities such as pedal boats and stand-up paddle boards (SUP) from May through September. From their dock, it's easy to make your way to the Keeper of the Plains in downtown Wichita, which is among the most photographed spots in all of Kansas. The iconic sculpture is beautiful when you see it against a bright blue sky full of puffy clouds.
Wichita Park & Recreation also offers fun kayaking options through special tours and through regular rentals during summer and fall months. Check their website for operating hours at O.J. Watson Park and on the Arkansas River in downtown Wichita (at the boat launch near the Maple Street bridge).
Remember always check the river status here before you head out.
Self-guided Mural Tours
Wichita has seen an influx of murals throughout the community over the last few years. Projects like Alley Doors and Avenue Art Days have inspired local and traveling artists to enliven our neighborhoods with vibrant creations.
Explore our gallery of some of the most photogenic murals around Wichita, and visit your favorites with your own tour using this map of more than 100 murals that includes GLeo's largest mural in the world painted by a single artist and the mosaic mural "Personnages Oiseaux" by Joan Miró.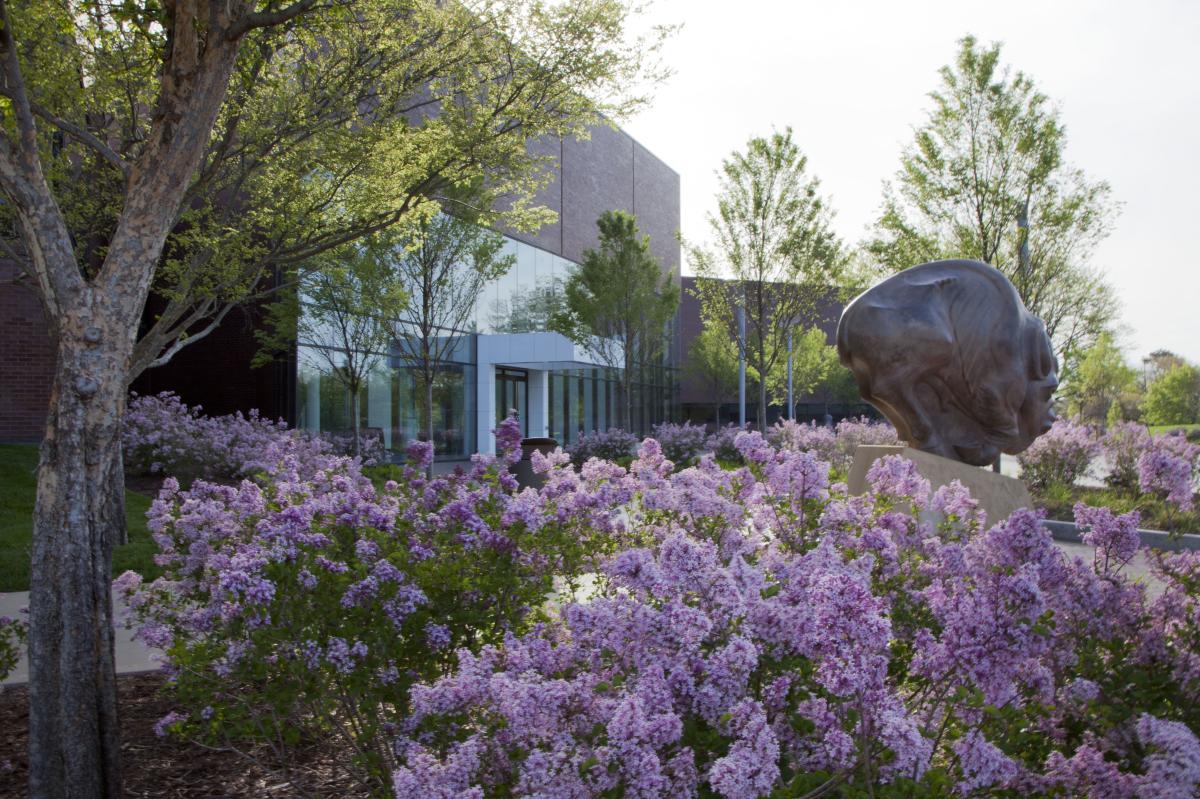 Public Art Installations
You can also explore Wichita's art scene by taking a tour of public art installations in Wichita. In a four-block area in the heart of downtown Wichita, you'll find a collection of 31 lifelike bronze sculptures by Washington artist Georgia Gerber. They range from animals to a street musician to a woman and boy pointing up at a building.
Other unique public art to view in Wichita includes the many Keepers on Parade, the Art Garden at the Wichita Art Museum and the more than 80-piece Martin H. Bush Outdoor Sculpture Collection on the campus of Wichita State University.
Kansas State Parks
Additionally, fishing lakes and wildlife areas at Kansas State Parks are open to the public, including campgrounds and boat ramps. With 28 state parks, there is an endless amount of outdoor adventure.