When the temperatures heat up this summer in Wichita, there are several options for keeping cool while getting out and (safely) having fun. Enjoy these Wichita swimming pools, water parks, and water playgrounds.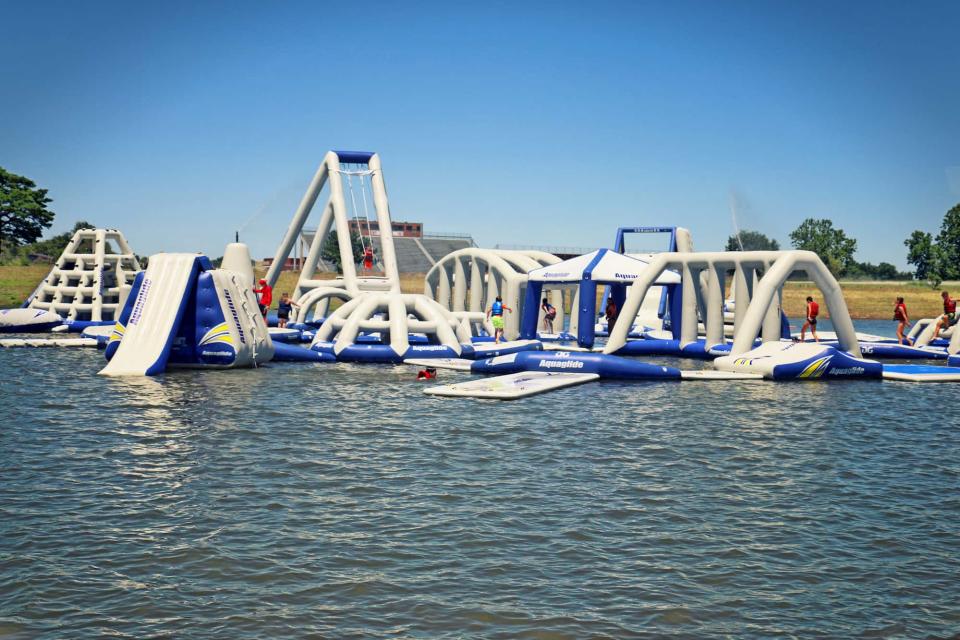 Splash Aqua Park
Splash Aqua Park is Wichita's newest way to cool off. From Memorial Day weekend through the end of September, guests can enjoy the uniqueness of this inflatable water playground for ages 5 and up. The park's experience brings a series of inflatable slides, runways, jumping pillows, trampolines, bouncers, swings, jumps, ladders and even stand-up paddleboards to a 27-acre lake.
All guests must be at least 5 years old, sign a waiver and go through a safety course before entering the park. The park offers one-hour sessions beginning at 11 a.m. daily and closes at 7 p.m. Splash Aqua Park will be open daily through Labor Day. Admission starts at $15/hour.
To help swimmers have fun safely, the park is limiting capacity to 30 people in the park at a time. Aqua Guides will be spraying sanitizer during shifts on all equipment. All life jackets will be sprayed with sanitizer after each use. Guests may bring in their own personal Coast Guard Approved life vest.
Additionally, tickets can be purchased online and waivers can be signed in advance on personal devices prior to arriving to the park to reduce lines.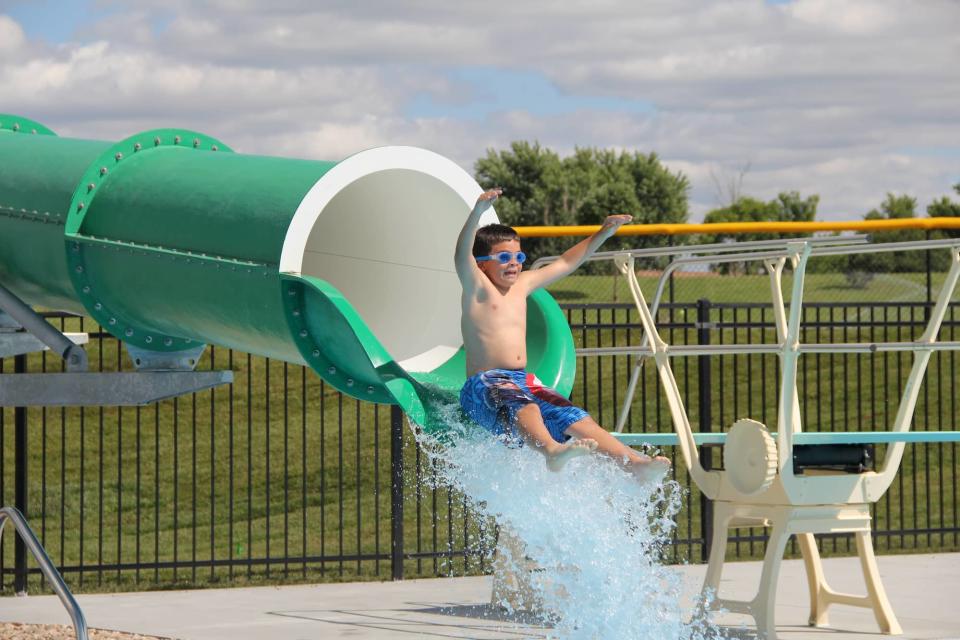 Greater Wichita YMCA
Four of the Greater Wichita YMCA's locations (Andover, North, Northwest and South) have outdoor water parks offering group fitness classes, open swim and play on the pool features. Summer 2020 will only see the North and Northwest outdoor parks opening. Each water park is different and can include slides, wave pools, lazy rivers, spray grounds, body slides, climbing walls and more. The North water park completed a renovation in 2017 which now provides more open water for older kids and more features. Indoor pools are open daily at their nine branches with aquatic centers.
The YMCA is membership based, but non-members and visitors can purchase a day pass for $10 per person or $18 per family that gives full access to classes and facilities. The two water parks will be open daily (weather permitting) through Aug. 9, and on weekends from Aug. 15-Sept. 7 (Labor Day).
They will have enhanced safety procedures in place to help ensure the health and safety of guests and staff.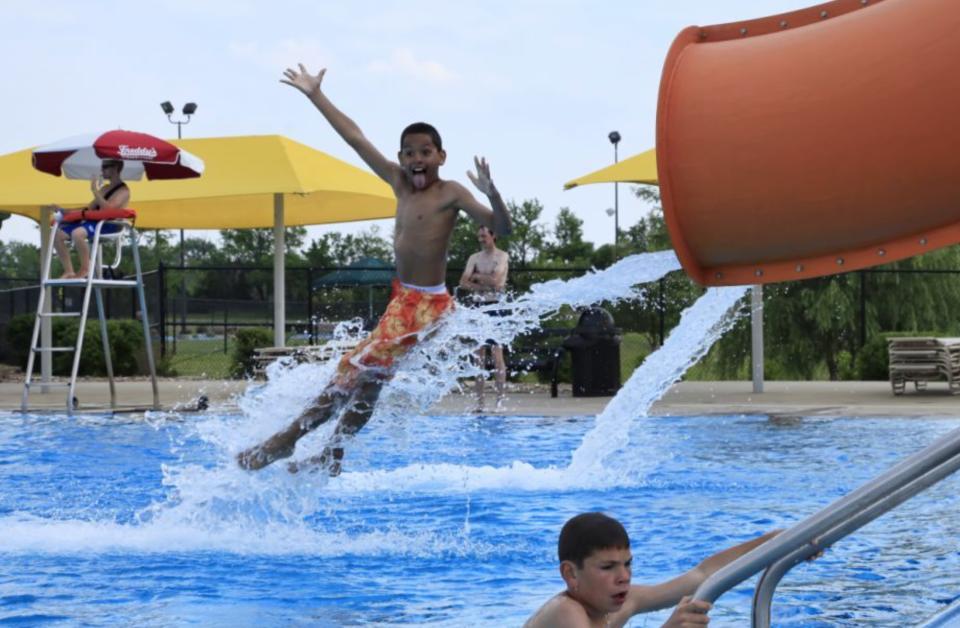 Rock River Rapids
Rock River Rapids is a full-service water park just south of Wichita in Derby that features six water slides, a lap pool as well as an area with diving boards, a 600-foot lazy river, a zero depth pool, play structures, aqua climbing walls and a treehouse-themed spray-ground.
At this time, tickets must be purchased online before coming to the park. Season ticket holders must reserve their spot online as well. They are offering two sessions each day the park is open. The first session is from 12:30 to 4 p.m. From 4 to 5 p.m., the park will be cleaned and surfaces will be sanitized to get ready for Session 2, which is from 5 to 7:00 p.m.
Safety measures at the water park are in place such as social distancing, lounge chairs unavailable (welcome to bring your own), concession stands closed, and more. There is a 750-capacity limit in the park to adhere and exceed the CDC guidelines for social distancing.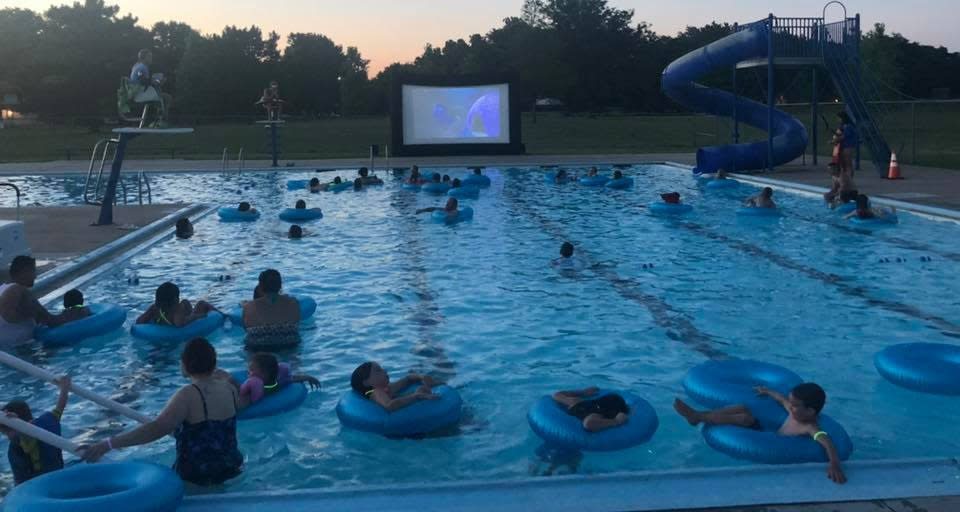 Community Swimming Pools
Currently Closed: The City of Wichita is not anticipating pools or splash pads will open until 2021 (announcement).
Wichita has nine community pools throughout the city.
Aley, 1803 S. Seneca
Boston, 6655 E Zimmerly St
College Hill, 304 S. Circle Dr.
Evergreen, 2700 N. Woodland
Harvest, 9500 W. Provincial
Linwood, 1901 S Kansas Ave
McAdams, 1329 E 16th ST N
Minisa, 704 W 13th St N
Orchard, 4808 W 9th St N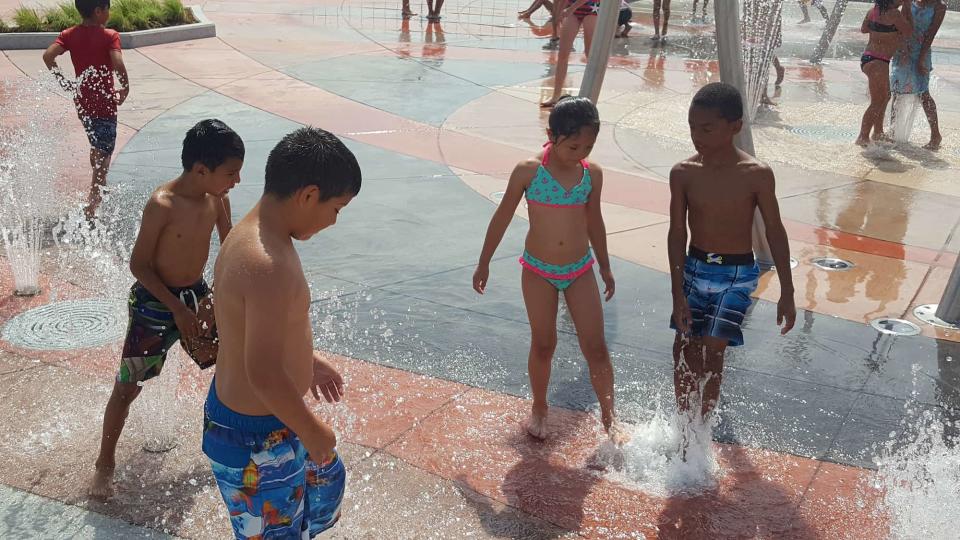 Water Playgrounds/Splash Pads
Currently Closed: The City of Wichita is not anticipating pools or splash pads will open until 2021 (announcement).
Wichita also has six interactive fountains that are open to the public and do not charge an admission fee.
Buffalo Park, 10201 W. Hardtner
Fairmount Park, 1647 N. Yale
Lincoln Park, 1323 S. Topeka
Old Town Plaza, 301 N. Mead
Osage Park, 2121 W. 31st St. S.
Riverside Central Park, 720 N Nims
After cooling off, enjoy many of the other things to do in the city.