You'll likely see the state flower of Kansas growing along the highway if you make a road trip here in the summer. However, what you really want to see are the cultivated farms planted in the Sunflower State for visitors to explore massive blooms you won't see in the wild and providing access to take Instagram-worthy photos amongst these beautiful sunflowers. Road-trippers driving along Highway 54 east of Wichita near Pratt, Kansas, this August will see a grand gesture of 1.2 million sunflower seeds a man planted to surprise his wife of 50 years.
The sunflower was connected with Kansas well before statehood (1861) when traders on the Santa Fe Trail documented the blooms, according to the Kansas Historical Society. It was 1903 when the sunflower became the official state flower, and today Kansas is the nation's fifth leading producer of sunflowers.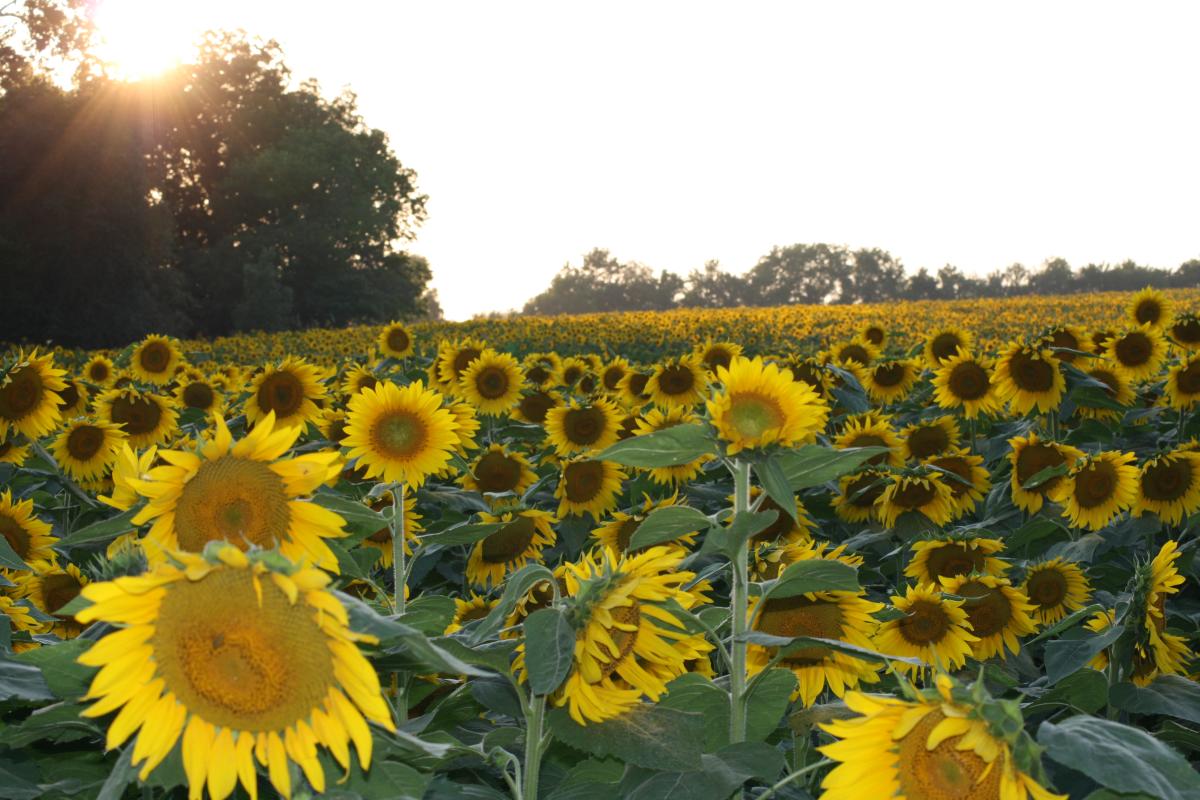 Wondering when and where to see a sunflower field in Kansas? Cultivated sunflowers generally bloom for just one to two weeks, mostly from June through September. Here are the closest fields to Wichita that are open to the public:
Klausmeyer Dairy Farm and Pumpkin Patch, 8135 S. 119th St. W., Clearwater, KS, 67026
Klausmeyer Farm, 13 miles south of the Wichita Dwight D. Eisenhower National Airport, staggers its plantings in order to have sunflowers blooming from July through late September, dependent on weather. For 2023: Field 1 has already finished blooming, Field 2 is blooming in early August and Field 3 will bloom in late September, coinciding with the opening of the family farm's annual pumpkin patch season.
They are open daily sunrise to sunset while the sunflowers are in bloom. Look for the green food truck "Grub Hub" for directions on parking and paying. The fee is $2 per person to visit the sunflower field, $1 per sunflower you want to take home. Because Field 3 will bloom during pumpkin season, visitors in September will pay $8 weekdays/$10 weekends, which includes all patch activities. Get updates on their Facebook page.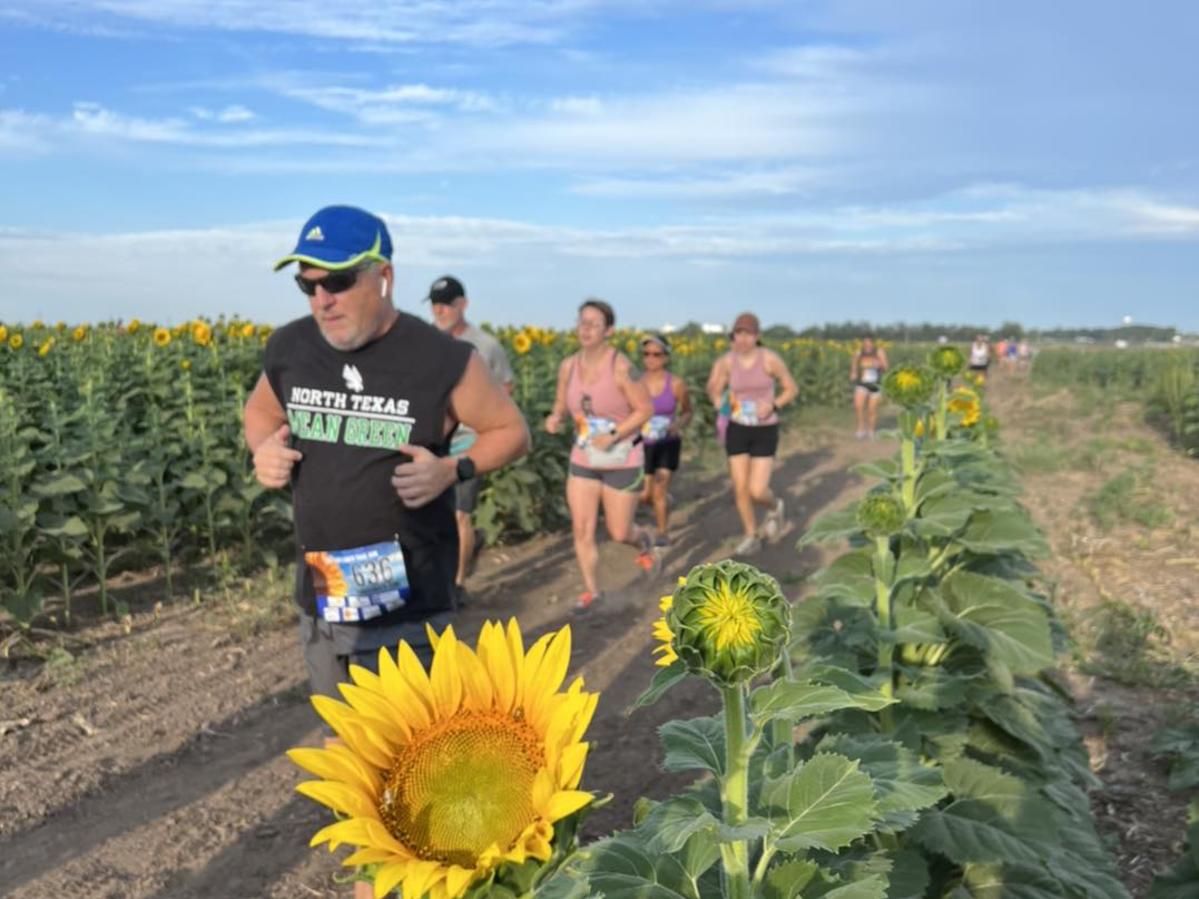 Sunflower Festival at Gaeddert Farms, 13209 E. 82nd Ave., Buhler, KS, 67522
For 20 years, the Gaeddert Family entertained thousands of families at their Kansas Maze corn maze, pumpkin patch and fall festival at their Buhler farm about 50 miles from downtown Wichita. Beginning in 2019, the family moved away from its corn maze and created the Sunflower Festival with more than 20 acres of sunflowers and 600,000+ blooms. They estimate the 2023 season to be Aug. 19 to Sept. 3, with exact dates determined by blooms.
In addition to being able to walk through the sunflower fields and take photos at various props provided, visitors can also enjoy a playground with a sand volleyball pit, giant lawn games, a jumping pillow and other fun attractions. Special events include the 5th annual Sunflower Trail Run 5K & 1 Mile on Aug. 26, the 4th annual Sunflower Market featuring 100+ vendors on Sept. 2 and Art in the Sunflowers painting classes offered at various times. There are also themed days, for example grandparents day or military, police and first responder week.
Track the progress of the blooms and get details of their sunflower-related events on Facebook. Regular admission is $10 per person for ages 4 and older and hours are 5-8 p.m. from Wednesday through Friday, 2-8 p.m. on Saturday-Sunday and on Labor Day.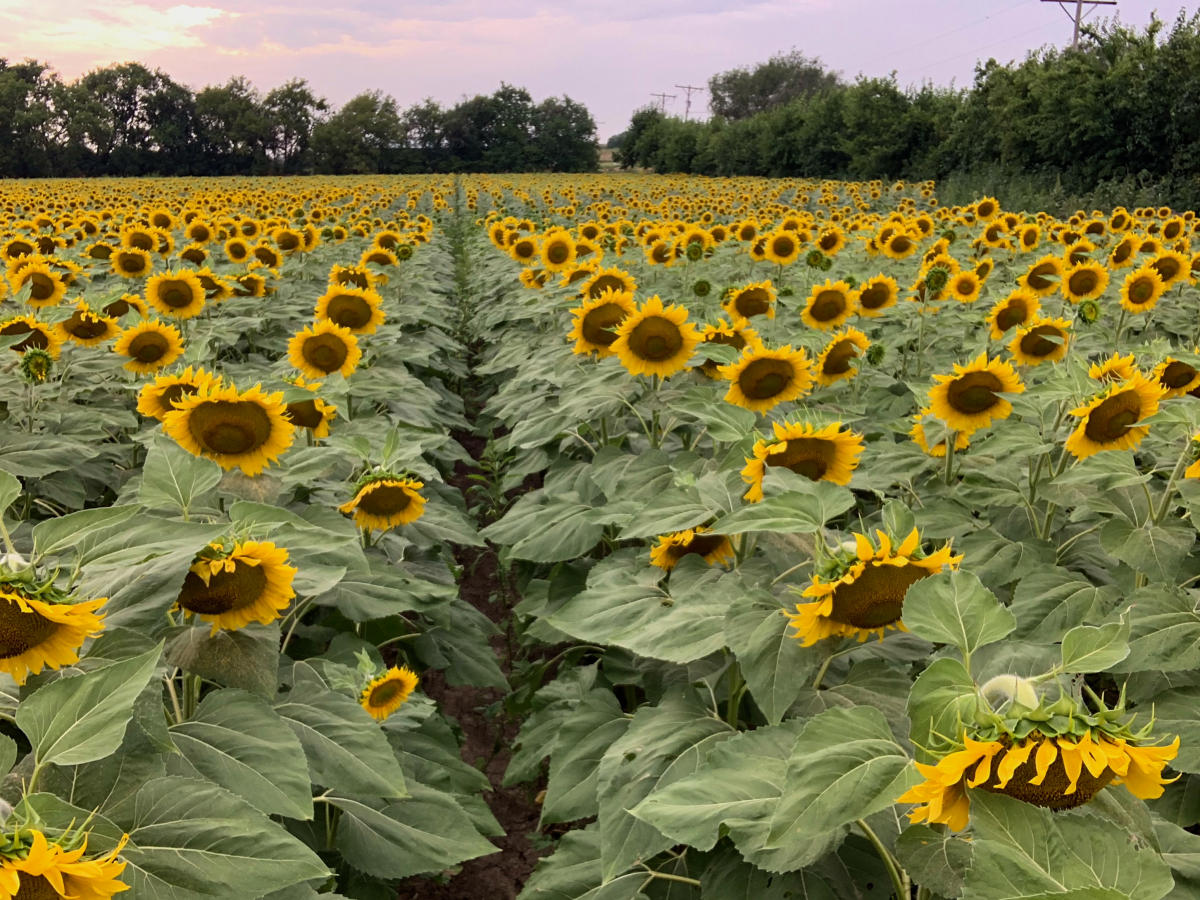 Diana Burress/ B. Realty's Sunflower Field, 9251 SW 115th St., Augusta, KS, 67010
Travel about 20 miles east of downtown Wichita for this sunflower field planted by realtor Diana Burress and her family. There is no fee to walk through the flowers and take photos there or by the sunflower mural painted on a silo. Blooms are expected in late August; watch her Facebook page for updates. There is a designated parking area and visitors should not park along the road.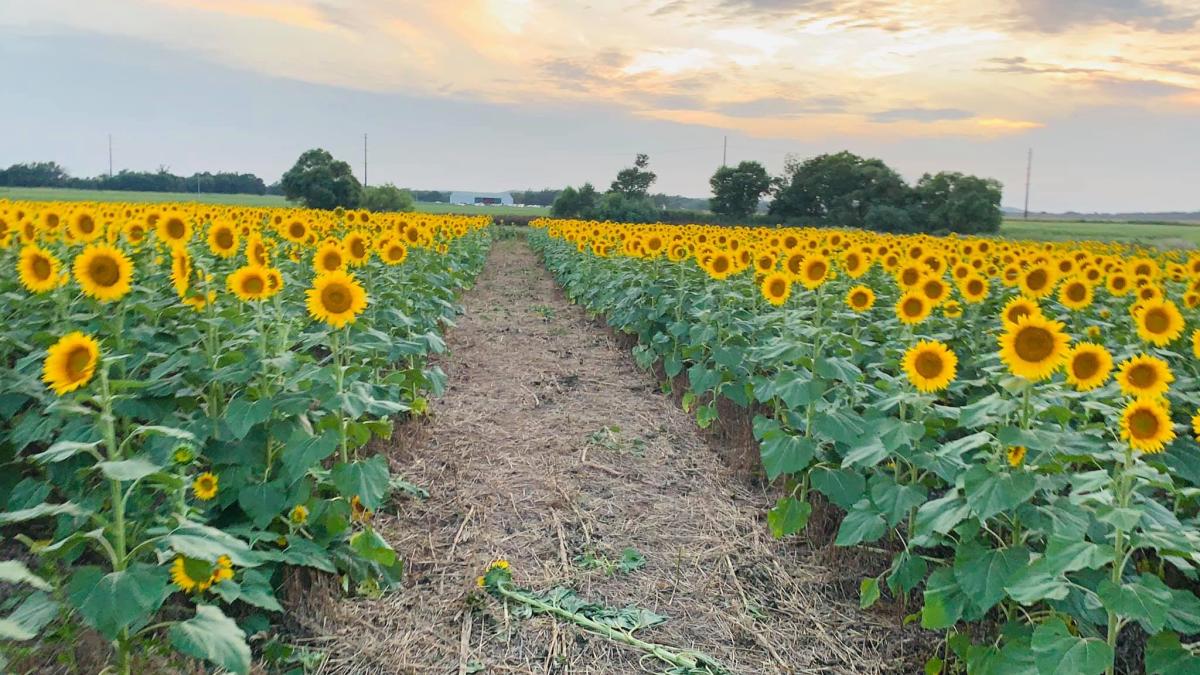 Peterson Farm Brothers' Sunflower Trails, ½ mile south of 2951 13th Ave., Lindsborg, KS, 67456
The Peterson Brothers, known for producing entertaining and educational videos on social media, farm together on the fifth generation family farm about 75 miles north of downtown Wichita. Their double crop of sunflowers are expected to bloom in late August and into early September. They welcome visitors to walk their sunflower trails and take photos with the sunflowers; cost is $5 per person or $10 per family (up to five people and $2 additional per extra family member). Stay updated on the field's progress via their Facebook page.
Cedar Creek Farm, 6100 N. 119th St. W., Maize, KS, 67101
Since 2019, the Smith family has invited other families to come unplug at their Cedar Creek Farm & Pumpkin Patch. In 2023, their sunflower fields did not materialize but check their Facebook page next year, when they should open in late July or early August. In the past, they've been open starting at 5 p.m. each evening and charged $5 per person or $20 per carload.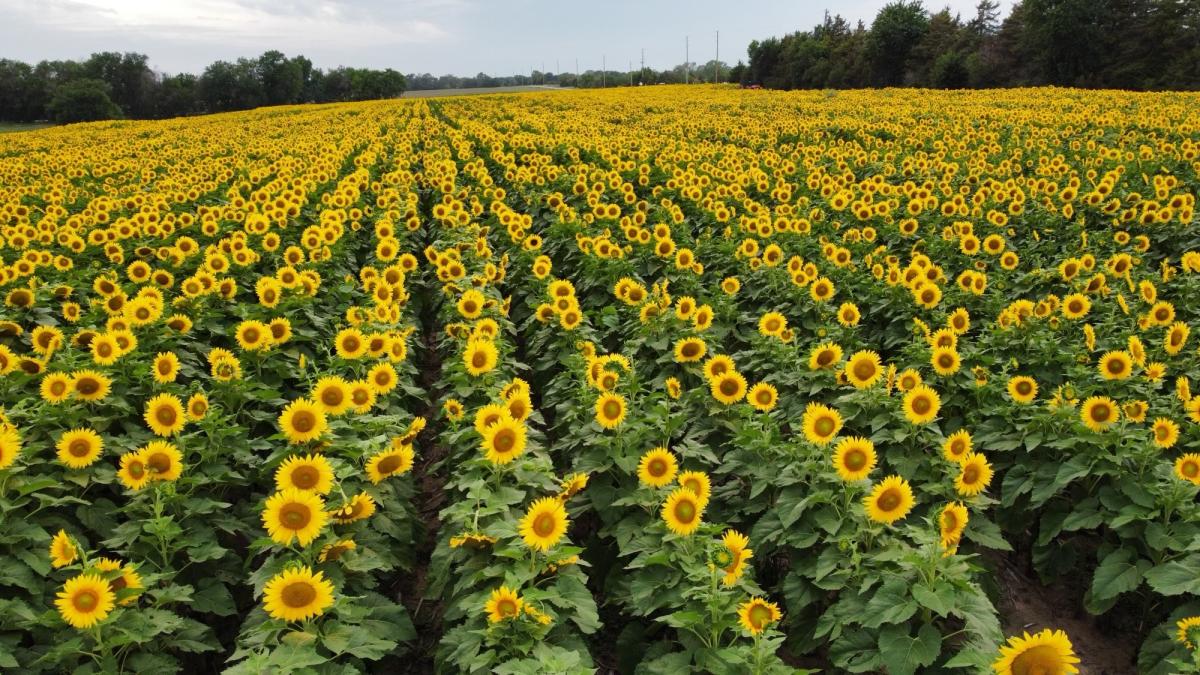 Photo provided by Pam Rogers
LBR Family Farm, 14465 W. Pawnee St., Wichita, KS, 67227
This family farm is open for viewing from 6-9 p.m. during bloom season, which is typically in July each year. Their 2023 season ended in the third week of July. Follow them on Facebook for more information.
Always respect private property, and for these farms open to the public, please follow their guidance on parking and visiting their property.
Check out our website if you're looking for more outdoor adventures in the Wichita area.