Affiliated Minor League Baseball returned to Wichita in 2021 at Riverfront Stadium. The newly constructed stadium is home to the Wichita Wind Surge, the Double-A affiliate of the Minnesota Twins.
Wondering where to park near Riverfront Stadium? Want to know what else you can do around Wichita's downtown stadium? Ready to look into the ticket options for Wind Surge baseball? We've put together this guide of everything you need to know about attending a Wichita Wind Surge game at Riverfront Stadium.
Meet the Wichita Wind Surge
The Wichita Wind Surge is a player development team at the second highest level for Major League Baseball's Minnesota Twins, which baseball pundits consider to have a top 10 farm system in terms of the quality of players.
In their inaugural season, the Surge won their division of the Texas League and qualified for the league's championship playoffs. They lost the best-of-five series to the Northwest Arkansas Naturals. Manager Ramon Borrego earned the league's Manager of the Year honor and he returns to lead the 2022 ballclub.
Opponents in the North Division include the Arkansas Travelers (Mariners), Northwest Arkansas Naturals (Royals), Springfield Cardinals (Cardinals) and Tulsa Drillers (Dodgers). Teams in the league's South Division are the Amarillo Sod Poodles (Diamondbacks), Corpus Christi Hooks (Astros), Frisco Roughriders (Rangers), Midland Rockhounds (Athletics) and San Antonio Missions (Padres).
Schedule 
The Surge open their second season on Friday, April 8 at Riverfront Stadium against divisional opponent Tulsa Drillers. This is the season's only three-game series; all remaining homestands will be six games in length, starting on Tuesday and ending on Sunday.
The lone exception is a series against the Amarillo Sod Poodles, which will begin on Monday, July 4 followed by an off day on Tuesday with the series continuing on Wednesday.
The 138-game regular-season runs through Sunday, Sept. 18, with the Wind Surge finishing their 69-game regular season home schedule on Sept. 11. The team faces off against several Texas-based teams in the Texas League for the first time in franchise history with home-and-away series in 2022 (Corpus Christi, Frisco and San Antonio).
Most weekday games start at 7:05 p.m., Saturday games start at 6:05 p.m. and first pitch on Sundays is 1:05 p.m. The three exceptions: two weekday matinee games—starting at 12:05 p.m. on Wednesday, April 20 and Wednesday, July 13—and an Independence Day game with first pitch at 6:35 p.m. Gates usually open 60 minutes before first pitch but check windsurge.com to confirm gate times for your specific game. See the full schedule here.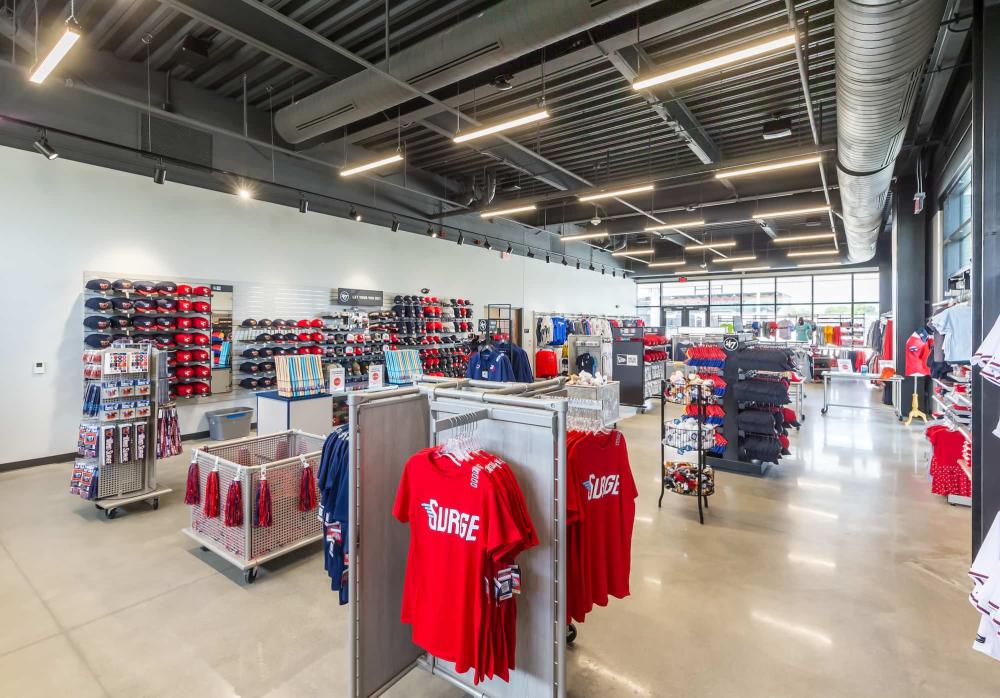 Promotions and Giveaways
The Wichita Wind Surge home schedule is packed with fireworks, theme nights, weekly promotions and giveaways.
Among the season's giveaways will be a replica jersey (May 7) and a stadium replica (Sept. 10). Theme nights range from Princesses & Pirates Night (May 21) to Summer Halloween (July 15) and Christmas in July (July 16).
Weekly Riverfront Stadium promotions (subject to change) include:
Two for Tuesdays (presented by Dillons and 105.3 The Buzz): Get two tickets for the price of one every Tuesday home game when you show your Dillons Shopper Card or the Dillons App at the Wind Surge Box Office.
Military Wednesdays (presented by Davis-Moore): $5 off of field box tickets for all military members and their families when showing military ID or DD-214. Must be purchased in-person at the Wind Surge Box Office.
Thirsty Thursdays (presented by Corona): Enjoy half-priced select beers and regular fountain sodas every Thursday.
Fireworks Fridays: Stick around after every Friday Wind Surge home game for a fantastic fireworks show over the Arkansas River.
Surge Saturdays: From giveaways to character appearances, to theme nights and fiestas, there is something for everyone on Saturdays at Riverfront Stadium.
Sunday Family Fun-Day: Bring the whole family out for an afternoon matinee baseball game, complete with pre-game catch on the field and post-game Kids Run the Bases presented by Sonic.
See the full promotion schedule here.
Tickets
Single game tickets, season tickets, voucher packages, mini plans and group seating are on sale here. Individual ticket prices start at $10 for advanced berm GA tickets and $15 for advanced reserved field box tickets. Group pricing also is available.
Kids Play Area
The Credit Union of America Kids Play area will be fully open for the first time during the 2022 season. It is on the concourse behind centerfield.
Fans will also want to watch for appearances by Windy, the winged horse mascot of the Wichita Wind Surge.
Wind Surge Kids Club
Kids 12 & under are invited to join the free Wind Surge Kids Club, presented by Quantum Credit Union, Pizza Ranch and Kona Ice. Members get an official membership card, tickets to select Sunday games during the regular Surge season, a FastPass to be automatically placed at the front of the line during Kids Run the Bases following each Sunday home game, along with other exclusive member perks.
Merchandise
Stock-up on Wind Surge gear at the Team Store at the River Plaza entrance along McLean Blvd. The Team Store is open Monday through Friday from 9 a.m. to 5 p.m. when the team is away. When the team is home, the Team Store is open to the public 10 a.m. to 4 p.m. Monday through Saturday and is open during games for fans in attendance. The Team Store along the first base line on the concourse is open to fans in attendance during all Wind Surge games.
You can also shop their official online store.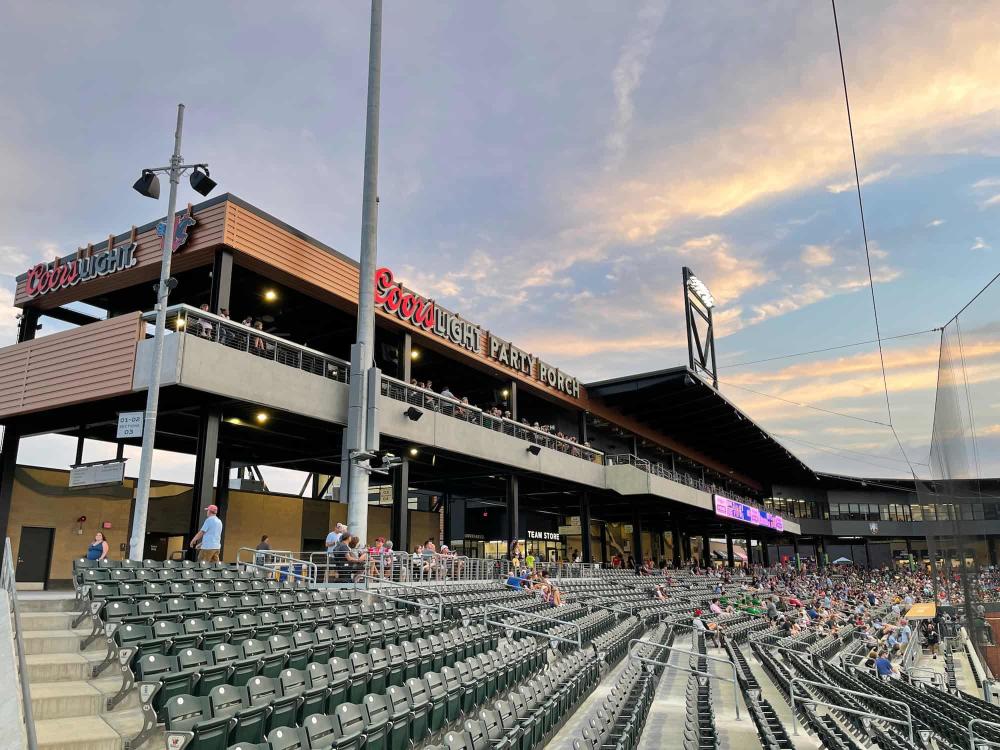 Meet Riverfront Stadium
Riverfront Stadium is a $75 million state-of-the-art, multi-purpose venue on the west bank of the Arkansas River near downtown Wichita, on the former site of Lawrence-Dumont Stadium (1934 to 2018). While the stadium is most widely known as the home of the Wichita Wind Surge, it was built with many uses in mind.
Officials say there could be as many as 100 additional public events each year beyond the minor league games. There have been college baseball and football games to date. The stadium has unique indoor-outdoor meeting spaces that also will attract private events ranging from corporate gatherings to weddings.
Seating
Riverfront Stadium can seat 6,500 in the seating bowl plus 3,500 more on berms and picnic areas for a baseball game. As many as 18,000 people can attend a concert or other events when the field is used for sitting or standing.
Fan comfort was built into the stadium, from drink rails to uninterrupted views of the field from the concourse. Seats average 21 inches wide, making them some of the widest among minor league ballparks in the country, and roomy rows in the seating bowl mean you don't have to get up each time someone walks out of the row. Riverfront Stadium was the first stadium built with a design that included a protective net around the entire field for safety during baseball games.
What's the best seat in Riverfront Stadium? That's subjective and depends on your preferences, but there's not a bad view anywhere in the stadium. Among the seating options: reserved field box seats, loge boxes, premium rail seats in right field, the grassy berm in left field, Fidelity Bank Bravely Onward Club seats and nightly suite rentals. Learn more about group outings.
Special Event Space
The stadium hosts gatherings on game days as well as non-game days. Among the premium hospitality spaces available to rent: Fidelity Bank Bravely Onward Club, Dillons Picnic Patio, Coors Light Party Porch, Emprise Bank Pavilion, two private suites and a left field bar with garage doors that open.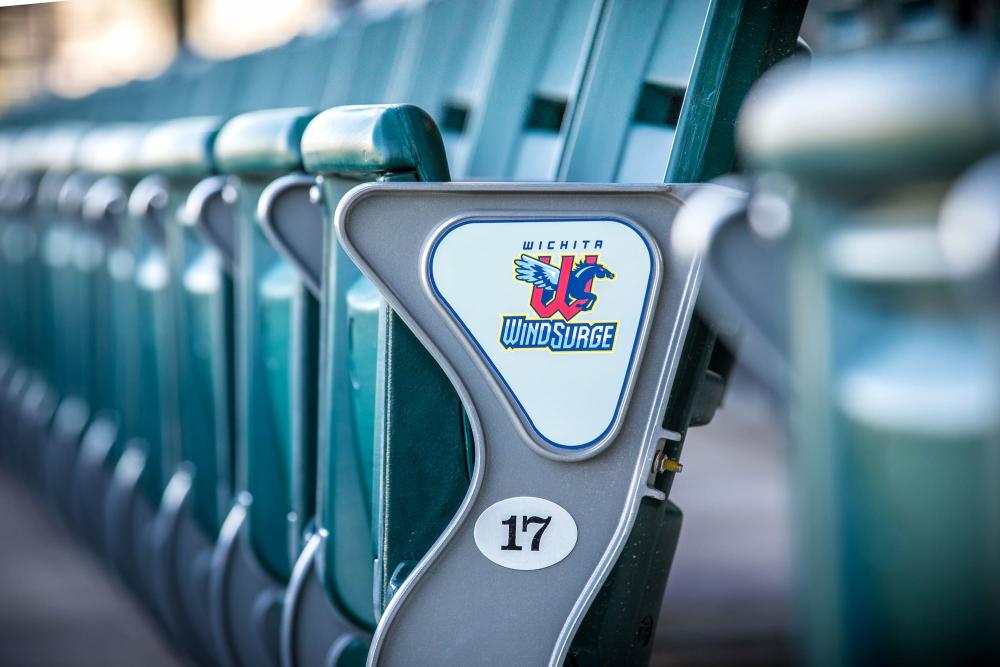 Food & Drink
Fans can bring in one 16 ounce sealed water bottle and otherwise are not permitted to bring outside food or beverages into Riverfront Stadium.
Concession stands throughout the stadium sell hot dogs, burgers, pizza, ice cream, popcorn and other ballpark favorites. A food court area in the concourse behind home plate also has a stand featuring Freddy's Frozen Custard & Steakburgers, a national chain started by Wichita entrepreneurs. There is full bar service, specialty cocktails and local craft beer on tap.
The stadium has an in-house food and beverage team offering upscale menu items in the private suites and for special events at Riverfront Stadium. There are brand new food items being offered this year. 
Cashless Transactions
Riverfront Stadium operates as a cashless facility, including food/beverage, merchandise, tickets and parking. This helps limit direct contact between employees and guests. Fans with cash wanting to exchange for a prepaid card can find a ReadyStation cash-to-card kiosk in either Team Store.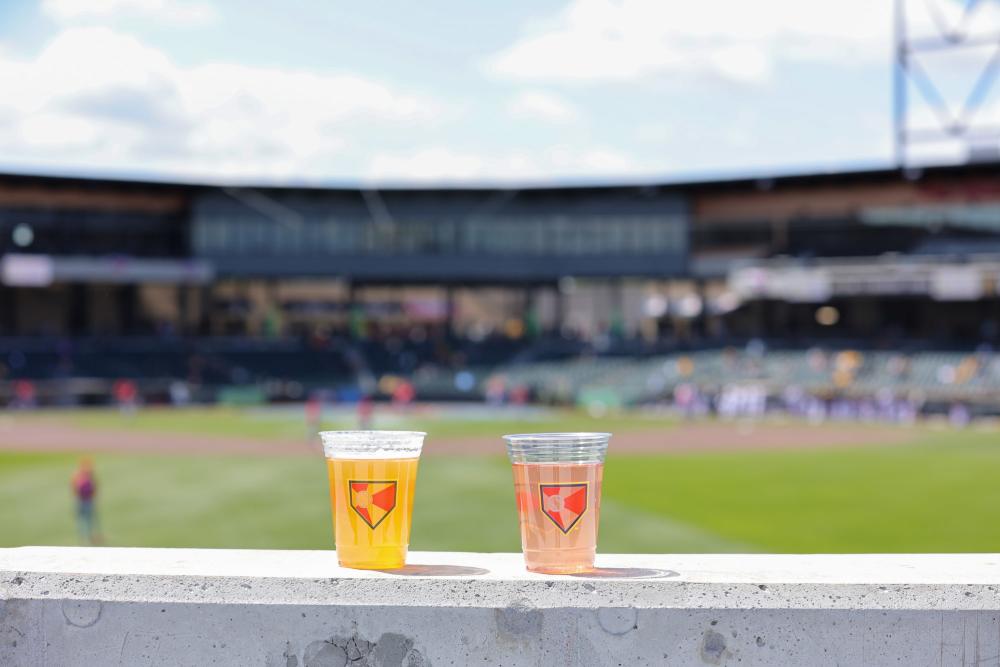 Parking
With more than 9,000 parking spaces near the stadium and along a downtown shuttle route and free Q-Line downtown transportation route, visitors can find ample parking for events. As roads may be congested, it is best to plan ahead when you drive. Identify where you plan to park and map your routes both to your parking location and the stadium. Find a map and other resources here. Parking lots and garages may have fees to park, especially during high demand times.
Handicap parking stalls are available on-site. Limited on-street parking is available around the stadium. The Delano and Downtown areas are walkable, with the Maple and Douglas bridges offering pedestrian walkways to parking areas east of the Arkansas River.
Art
You'll find public artworks by 12 local and regional artists in and around Riverfront Stadium.
There's a unique baseball scene along the Sycamore Street fence that requires you be at just the right angle to fully see it and a cast concrete frieze from the city's former stadium has been incorporated into an artwork called "Point Of Convergence" that welcomes visitors on the south exterior wall of the stadium.
Walk around the exterior of the stadium to see the art installed at each entrance: the Maple Street entry is flanked by a vivid baseball history mural by Brickmob as well as a hanging sculpture as you walk into the stadium; Derek Porter's 30-foot tall shimmering "Faceted Column" has nearly 5,000 faceted mirror surfaces that collect and recast images of the surroundings outside the McLean Boulevard gate; the Delano Street entrance has a pedestal where a new sculpture will be mounted every year.
Inside, notice the decorative art elements throughout the concourse and home plate food court and don't miss the murals in the concourse restrooms by Lupoli Collective.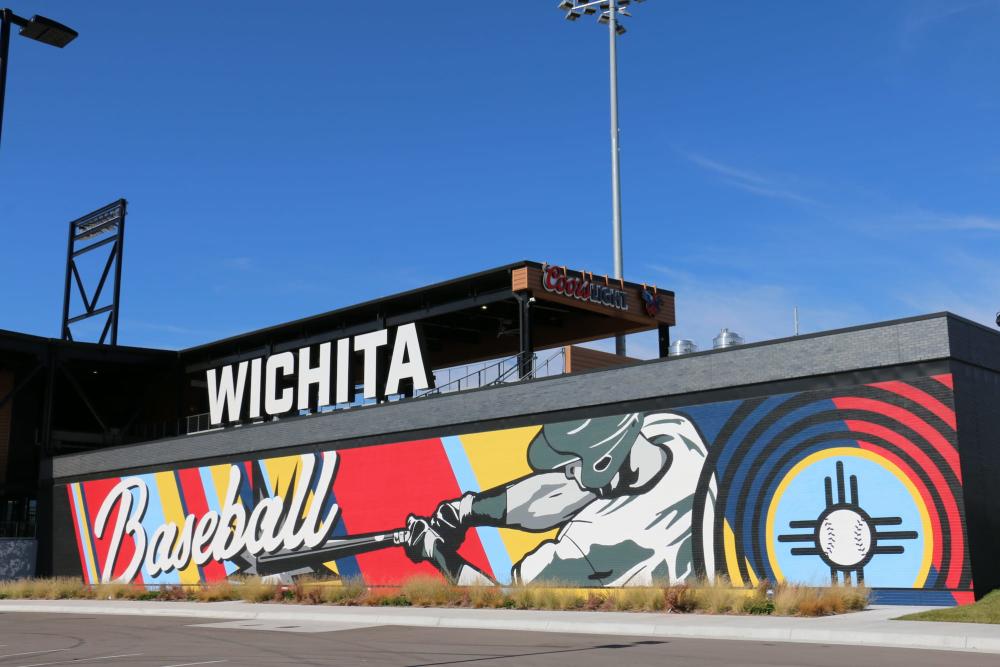 Future Features
Look for the Wichita Baseball Museum to open at Riverfront Stadium summer 2022. Housed in the team's administrative building off the right field concourse and accessible from the River Plaza entrance along McLean Blvd., the museum will honor the history of baseball in Wichita, including past minor league teams and National Baseball Congress World Series legends.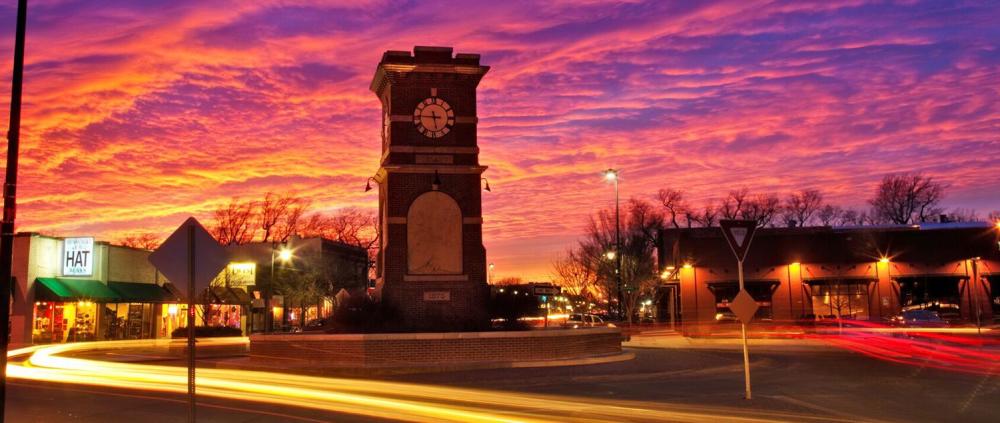 The Neighborhood
Riverfront Stadium is in Wichita's Historic Delano District, an area that has witnessed a boost of energy in the past decade while retaining its historic charm of being part of the Chisholm Trail cattle drives and early aircraft manufacturing. You'll find places to play, stay, eat, drink and shop with our handy Guide to the Delano District blog post and our Things to Do Around Riverfront Stadium blog post.
Whether you're a die-hard baseball fan or looking for affordable fun for the family, a Wichita Wind Surge game at Riverfront Stadium is just the ticket!