To assist with public safety, please remain diligent in adhering to safe practices outlined by the CDC like wearing a face covering and social distancing when out in the community and stay home if you feel ill. We recommend confirming details and verifying requirements and/or safety procedures for guests before visiting a local shop, attraction, eatery or other business.
 
There's a long history of minor league baseball in Wichita, though it's been more than a decade since affiliated baseball has been played in the city. With much excitement, affiliated minor league baseball in Wichita is back and the recently constructed Riverfront Stadium in downtown Wichita is home to the new Wichita Wind Surge Double-A team. Opening day is set for May 11, 2021.
Wichita will be the Double-A club for the American League's Minnesota Twins and will play host to the Amarillo Sod Poodles on opening night as part of the team's first season in Wichita, delayed a year by the pandemic. The very first and much-anticipated pitch in the stadium will take place on April 10 when the Wichita State Shockers take on the Houston Cougars.
Wondering where to park when going to an event at Wichita's new stadium? Want to know what else you can do around Riverfront Stadium? Ready to look into the ticket options for Wind Surge baseball? We've put together this guide of everything you need to know about attending a Wichita Wind Surge game at Riverfront Stadium.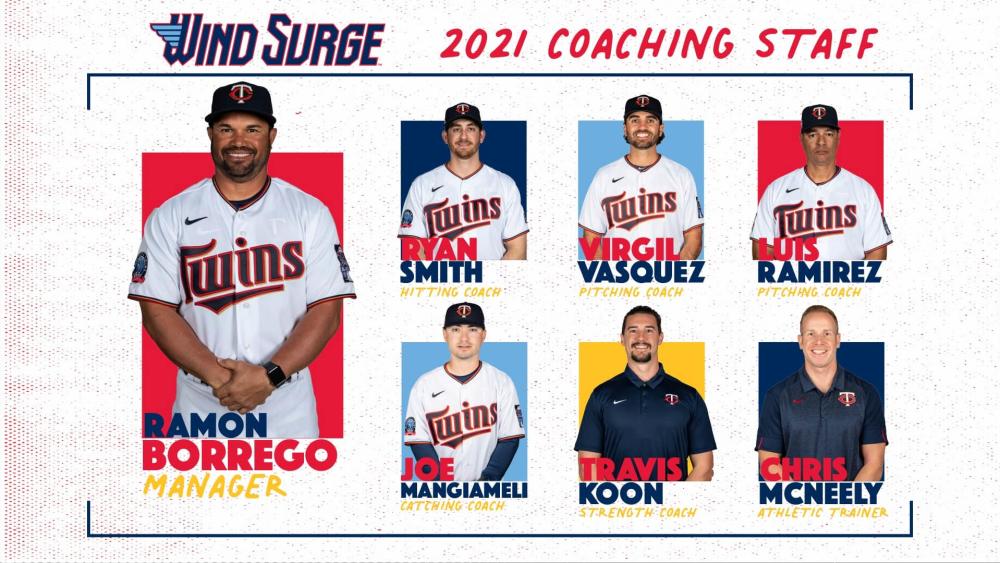 Meet the Wichita Wind Surge
The Wichita Wind Surge is the Double-A affiliate of the Minnesota Twins, which baseball pundits consider to have a top 10 farm system in terms of the quality of players.
The Surge will compete in the newly formed 10-team Central League, which baseball fans will notice is similar to what was once the Texas League. The Surge will play in the North Division that also includes the Arkansas Travelers (Mariners), Northwest Arkansas Naturals (Royals), Springfield Cardinals (Cardinals) and Tulsa Drillers (Dodgers). Teams in the league's South Division are the Amarillo Sod Poodles (Diamondbacks), Corpus Christi Hooks (Astros), Frisco Roughriders (Rangers), Midland Rockhounds (Athletics) and San Antonio Missions (Padres).
Schedule
The 2021 baseball season has been amended to meet pandemic restrictions and precautions. The Surge will play a 120-game schedule from May through September with two six-game homestands each month. They open the season May 4 in Springfield, Missouri, and play the first home series against Amarillo May 11-16.
Games are played Tuesday through Sunday. First pitch happens at 7:05 p.m. on weekdays, 6:05 p.m. on Saturdays and 1:05 p.m. on Sundays. Gates open 90 minutes before first pitch. 
Watch for information on promotional giveaways and in-game promotions (food and drink specials, fireworks, live music, etc.) on the team's social media channels.
 
Tickets
Like the schedule, ticketing for 2021 also will be unique. Riverfront Stadium will open with limited capacity seating to follow COVID-19 safety protocols recommended by local health officials and Major League Baseball.
Individual game tickets will go on sale later in April and will start at $8 along with mini ticket packages, season tickets (currently on sale), group packages and hospitality areas. The team will also be contacting fans who purchased tickets for 2020 Wind Surge games.
Merchandise
Get ready for the season by stocking-up on Wind Surge gear at the Team Store located at the Emprise Bank Pavilion. Find everything from hats and jerseys to gift cards and novelties like keychains and license tags. The store is open 10:00 a.m. to 6:00 p.m. on weekdays, and 10:00 a.m. to 2:00 p.m. on Saturdays. You can also shop their official online store.
Wind Surge Kids Club
Kids 12 & under are invited to join the free Wind Surge Kids Club, presented by Quantum Credit Union. Members get a free grass berm ticket to every Sunday game in July, August and September and a FastPass to be automatically placed at the front of the line during Kids Run the Bases following each Sunday home game, along with other exclusive member perks.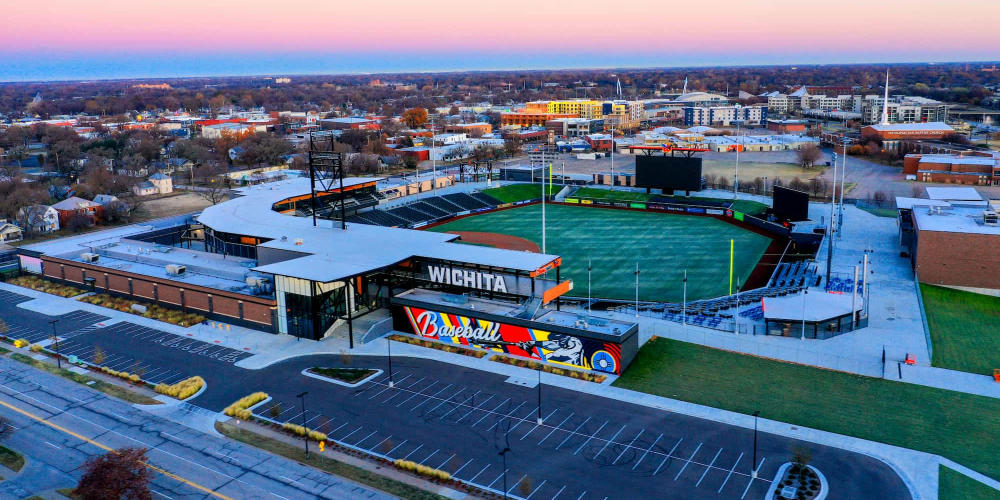 Photo: Drone-tography
Meet Riverfront Stadium
Riverfront Stadium is a $75 million state-of-the-art, multi-purpose venue on the west bank of the Arkansas River in downtown Wichita, on the former site of Lawrence-Dumont Stadium (1934 to 2018). While the stadium is most widely known as the home of the Wichita Wind Surge minor league baseball team, it was built with many uses in mind.
Officials say there could be as many as 100 additional events each year beyond the baseball games. They've hinted at football games, an outdoor hockey game featuring the Wichita Thunder minor league hockey team, an outdoor skating rink, movie screenings, concerts and festivals. The stadium has unique indoor-outdoor meeting spaces that also will attract private events ranging from corporate gatherings to weddings.
Safety
Face masks are currently mandatory for all fans and employees while at Riverfront Stadium. Regulations and protocols are changing often, so be sure to check the team's safety updates for the latest procedures before attending an event at Riverfront Stadium, including their clear bag policy.
Please do not attend an event at Riverfront Stadium if you have been knowingly exposed to COVID-19 in the 14 days prior to an event or if you are feeling ill.
Seating
Without capacity limitations, Riverfront Stadium can seat 6,500 in the seating bowl plus 3,500 more on berms and picnic areas for a baseball game. As many as 18,000 people can attend a concert or other events when the field is used for sitting or standing.
Fan comfort was built into the stadium, from drink rails to uninterrupted views of the field from the concourse. Seats average 21 inches wide, making them some of the widest among minor league ballparks in the country, and roomy rows in the seating bowl mean you won't have to get up each time someone walks out of the row. Riverfront Stadium is the first stadium to build with a design including a protective net around the entire field for safety during baseball games.
What's the best seat in Riverfront Stadium? That's subjective and depends on your preferences, but there's not a bad view anywhere in the stadium. Among the seating options: reserved field box seats, loge boxes, premium rail seats in right field, the grassy berm in left field and Fidelity Bank Bravely Onward Club seats.
Special Event Space
The stadium is expected to host gatherings on game days as well as non-game days. Among the spaces available to rent: Dillons Picnic Patio, Fidelity Bank Club, Coors Lite Party Deck, Emprise Bank Pavilion, two private suites and a left field bar with garage doors that open.
Food & Drink
Concession stands throughout the stadium sell hot dogs, burgers, pizza, ice cream and other ballpark favorites. A food court area in the concourse behind home plate also has a stand featuring Freddy's Frozen Custard & Steakburgers, a national chain started by Wichita entrepreneurs. There is full bar service as well as local craft beer on tap.
The stadium has an in-house food and beverage team that offers upscale menu items in the suites and for special events at Riverfront Stadium.
Cashless Transactions
Riverfront Stadium will operate as a cashless facility, including food/beverage, merchandise, tickets and parking. This will help limit direct contact between employees and guests. If you do not have a credit or debit card, you will be able to exchange your cash for a card at one of two locations in the stadium.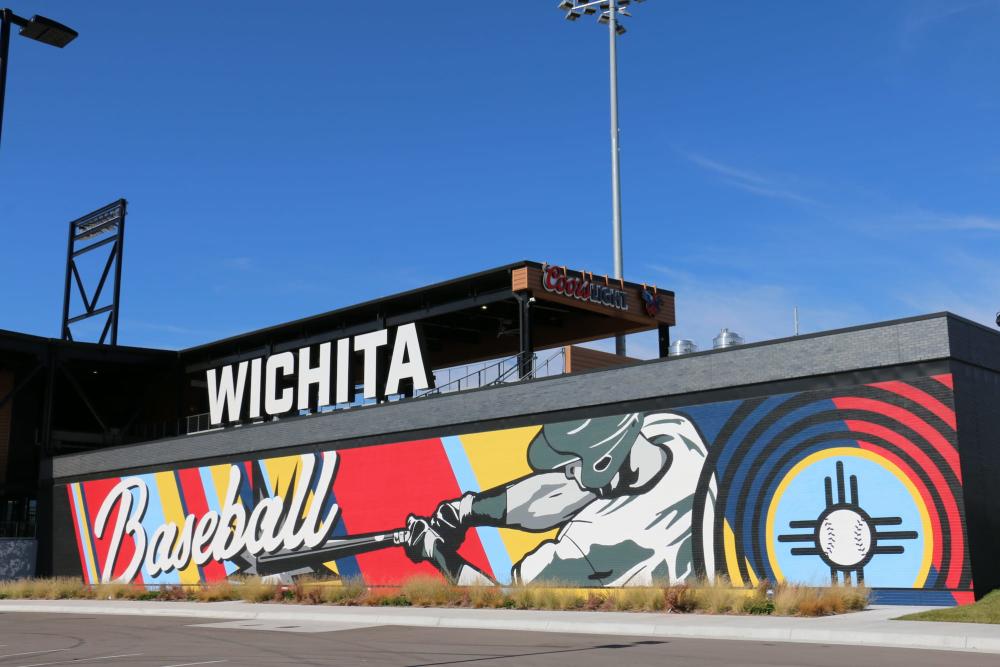 Art
You'll find nine public artworks by 12 local and regional artists in and around Riverfront Stadium.
There's a unique baseball scene along the Sycamore Street fence that requires you be at just the right angle to fully see it and a cast concrete frieze from the former stadium has been incorporated into an artwork called "Point Of Convergence" that welcomes visitors on the south exterior wall of the stadium.
Walk around the exterior of the stadium to see the art installed at each entrance: the Maple Street entry is flanked by a vivid baseball history mural by Brickmob as well as a hanging sculpture as you walk into the stadium; Derek Porter's 30-foot tall shimmering "Faceted Column" has nearly 5,000 faceted mirror surfaces that collect and recast images of the surroundings outside the McLean Boulevard gate; the Delano Street entrance has a pedestal where a new sculpture will be mounted every year.
Inside, notice the decorative art elements throughout the concourse and home plate food court and don't miss the murals in the concourse restrooms by Lupoli Collective.
Future Features
Several features planned for the new stadium won't be in place for the 2021 season. Look for a museum honoring baseball in Wichita in 2022 as well as references throughout the stadium to historic Wichita baseball and National Baseball Congress legends.
Because of distancing restrictions, the outfield Credit Union of America Kids Zone also is paused.
Parking
While limited seating capacity is in place, there likely will be plenty of free parking in surface lots and some parking structures surrounding Riverfront Stadium. Eventually when the 10,000 seat capacity for games is used, the plan is to utilize the Q-LINE downtown transportation service to connect between the stadium and parking areas east of the river. The area is also walkable, with the Maple and Douglas bridges offering pedestrian walkways. Another walkable option is free street parking throughout the Historic Delano District.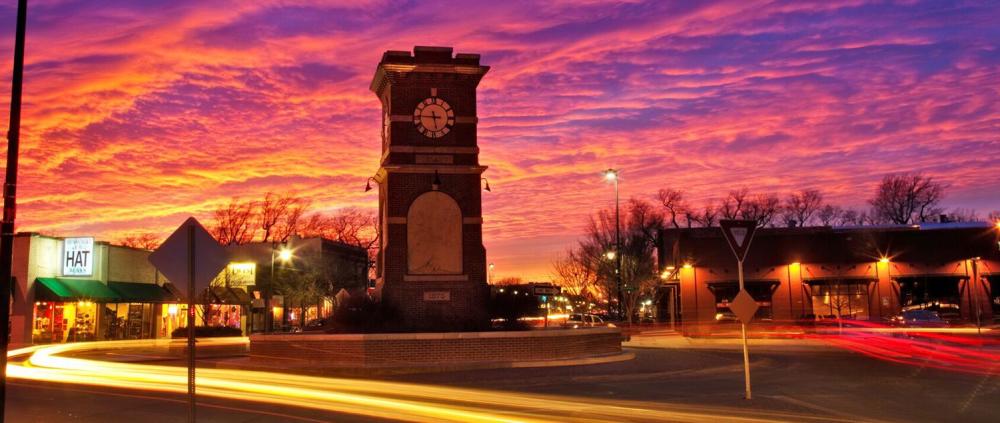 The Neighborhood
Riverfront Stadium is adjacent to Wichita's Historic Delano District, an area that has witnessed a boost of energy in the past decade while retaining its historic charm of being part of the Chisholm Trail cattle drives and early aircraft manufacturing. Pop into Hatman Jack's for headwear, grab a pre-game drink at Monarch or schedule a lane at Blade & Timber. Walk the district along Douglas Avenue to explore other retail shops, eateries, bakeries, bars, entertainment venues and service businesses.
From Riverfront Stadium, you're also not far from the Keeper of the Plains and the Museums on the River. Just head north on the walking path along the Arkansas River and you'll encounter these five museums and Wichita's most iconic landmark: Exploration Place, Mid-America All-Indian Museum, Old Cowtown Museum, Wichita Art Museum and Botanica Wichita.
Whether you're a diehard baseball fan or looking for affordable fun for the family, a Wichita Wind Surge game at Riverfront Stadium is just the ticket! If you're looking for more to do, check out our calendar of events, restaurants, hotels and other attractions in Wichita.