Photo: Dockum Drug Store circa 1955. Credit: Edgar B. Smith, wichitaphotos.org
It helped change the course of history – but few people knew about it. The 1958 Dockum Drug Store Sit-in was an effort to end segregation in Wichita and the United States. This quiet movement spoke loudly to the passion of the students who led it, making it one of the first organized sit-ins in the country.
The Dockum Drug Store (owned by Rexall) was one of the most popular eating establishments in downtown Wichita, which like many of the other restaurants and stores of the day only served white people. African Americans could order food to go, but were forced to order from the end of the counter and leave after getting their food or stand in the corner to eat.
One day, Carol Parks-Hahn and her cousin Ron Walters decided to test the limits of the segregation rules. They wanted to know what it felt like to be served a drink in a glass, rather than disposable containers. Walters had read about a sit-in in California and found this peaceful measure could lead to desegregation.
On July 19, 1958, the two and their friends began going to the drugstore every day, sitting at the counter and ordering a soda. The students were quiet and respectful, but management continued to refuse them service. Walters said he wanted to make sure the group showed up at "a business level," and were not viewed as disruptive patrons. At one point, the drugstore closed the counter because white customers refused sit next to the Black students.
The group returned every day for nearly a month, until on Aug. 11, 1958, the owner finally said, "Serve them – I'm losing too much money." Their peaceful and unrelenting protest was a huge victory for the abolishment of segregation in Kansas. Soon after the students were served in Wichita, Rexall stores across the nation followed suit and desegregated, first in Oklahoma City on Aug. 19, 1958, and then in Greensboro, North Carolina, on Feb. 1, 1960.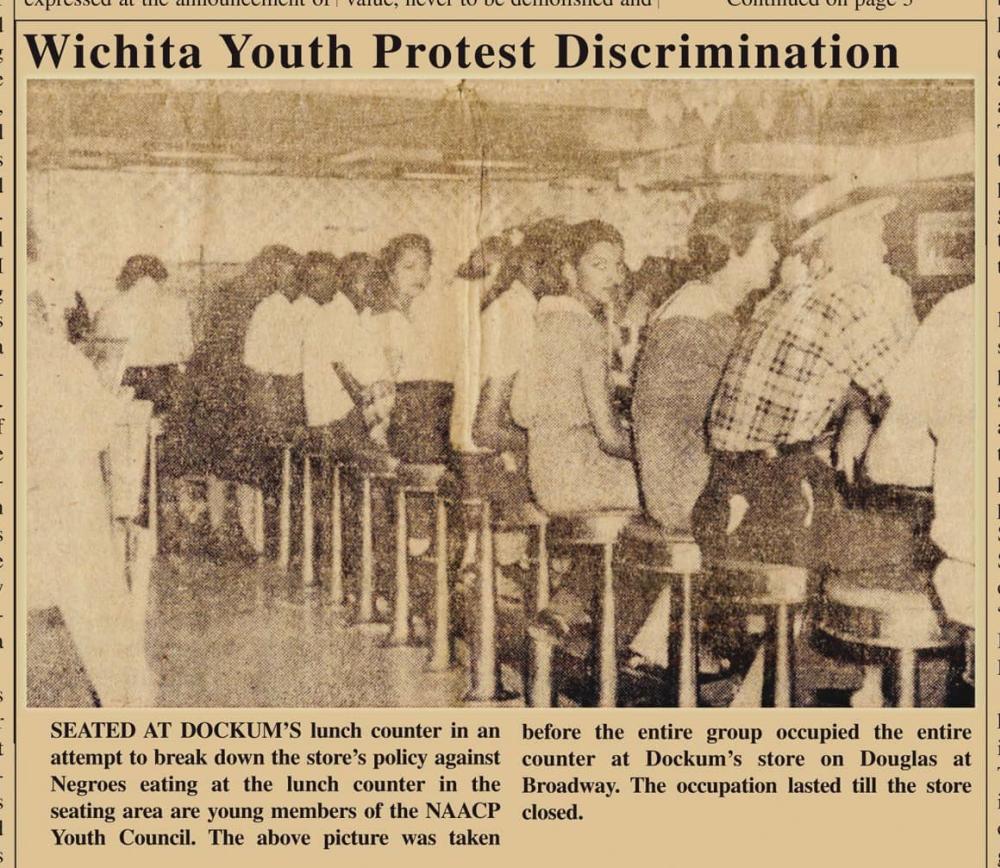 "The Enlightener" newspaper clipping from August 7, 1958. Credit: Wichita-Sedgwick County Historical Museum Facebook
Locally, unless a person was involved with the sit-in or witnessed it downtown, not many knew what was happening at Dockum Drug Store. There were no media inquiries aside from a single photo in the Wichita Enlightener – the city's black newspaper, few television interviews and police officers were given specific orders to keep out of it.
WATCH:
Co-host of NBC's TODAY and Wichita-native Sheinelle Jones talks with Dockum Drug Store sit-in participants in the 2021 series titled Changemakers. The series aims to "highlight the accomplishments of Black Voices who are leading in their communities and working to inspire change." Read the full story and view the series here.