From a traditional or unique spin on the classic burger and fries to finger lickin' barbecue, Wichita has options galore for restaurants serving American cuisine. The city has comfort food, farm-to-table options and so much more. You'll find an array of settings, too, from sports bars to family-friendly diners to white tablecloth bistros.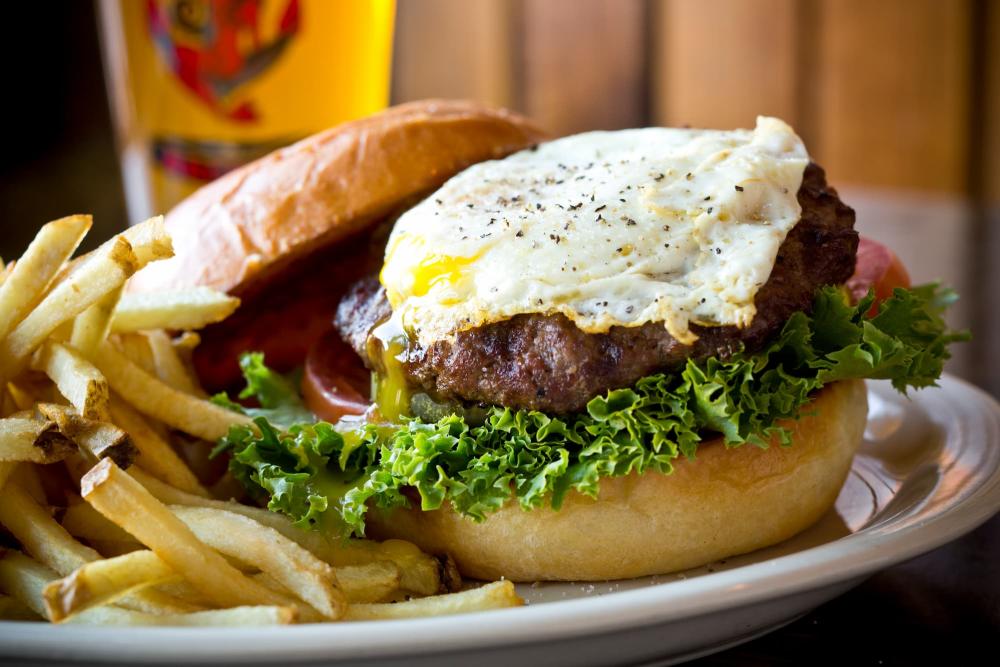 Burgers
Since 2004, The Anchor has been serving up an exceptional menu, including some of the best burgers and sandwiches in Wichita, a wide selection of craft beers and cocktails and a distinctive atmosphere. They specialize in their House Burger, a Heritage Lamb Burger, Sriracha Pork Burger, plus more than 10 other varieties of burgers on their menu.
The most popular burger is the Haystack, an open-faced patty on texas toast with french fries and queso piled on top. They grind all their meat in-house daily via the Meat Market next door and serve locally sourced meats. Additionally, The Anchor has the largest selection of beer on tap in the city and has been recognized multiple times as best beer bar in Kansas by Craftbeer.com.
Here are a few more eateries serving mouth-watering burgers:
Deano's Grill & Tapworks
Dave & Busters
Dempsey's Burger Pub
Emerson Biggins Old Town
Green Mill Restaurant & Bar
Hurricane Sports Grill
Jax Restaurant & Bar
Monarch
Nortons Brewing Co.
PourHouse by Walnut River Brewing Company
Pumphouse
River City Brewing Co.
The Rusty Nail
Saltgrass Steak House
Stearman Field Bar & Grill
The Flying Stove – Food Truck
The Hill Bar & Grill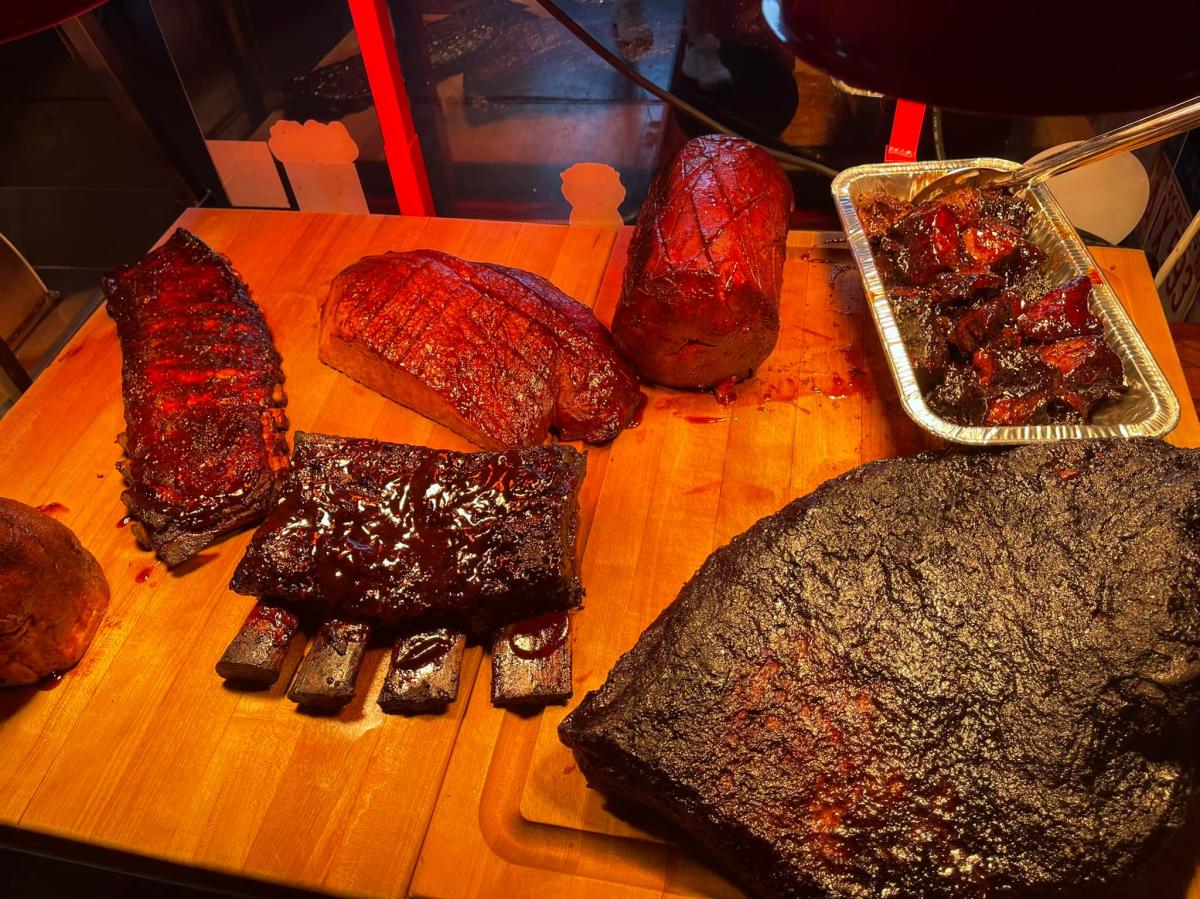 Barbecue
Looking for barbecue in Wichita? You won't have to search high and low to find it. Wichita takes it seriously. You'll find BBQ on many restaurant and food truck menus all across the city.
New to Wichita's barbecue scene, but already making a name for themselves, is Station 8 BBQ. Located in a historic 1920s firehouse, this barbecue joint not only serves slow-crafted meats like brisket, pulled pork, glazed ham and St. Louis-style ribs and hot links, but they also take pride in their fresh, homemade sides such as traditional slaw, broccoli slaw, potato salad, barbecue beans, smoked mac and cheese, honey glazed carrots and corn bread pudding.
Other Visit Wichita barbecue partners:
B & C Barbeque Pub & Grill
Delano Barbeque Company
Hog Wild Pit Bar-B-Q (east, northeast, north, northwest, west and south)
Two Brothers BBQ (east and west locations)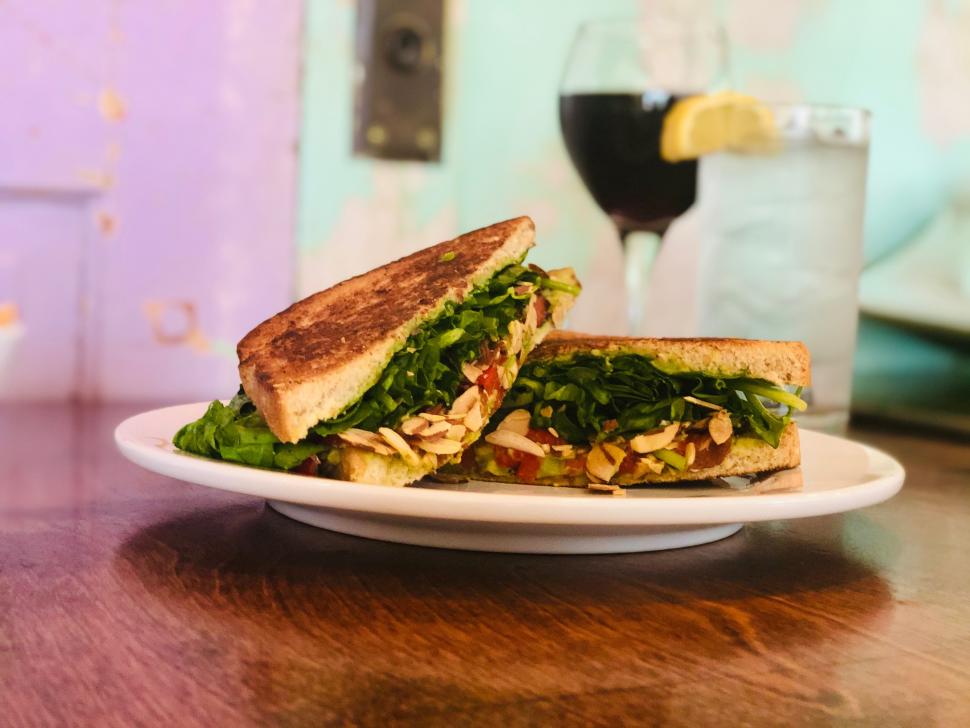 Vegetarian and Vegan
Many of Wichita's more than 1,200 restaurants have vegetarian and vegan options using fresh, organic ingredients and all-natural flavors and combinations.
Tanya's Soup Kitchen is a local favorite! Located in Wichita's Douglas Design District, this soup kitchen serves up unique, tasty, handcrafted soups, sandwiches and salads. Tanya's is a favorite among vegan, vegetarians and carnivores alike. They have a versatile menu; they source their ingredients locally and rotate the menu seasonally for optimum freshness.
Their small batch soups change daily and rotate seasonally. You're sure to find something you like here, but if you can't decide, opt for a flight of soups. This is a sampling of the four daily selections they have available. One of their recent daily lineups were their chicken tortilla, tomato basil bisque, Spanish gazpacho, vegetable chickpea and red lentil, and creole shrimp chowder.
Here are a few additional local restaurants where you can find vegetarian and vegan dishes and other menu items:
Dōma
Fartleks
First Mile Kitchen and First Mile Canteen
The Flying Stove Food Truck
GROW Giesen Plant Shop/Botanic
Mokas Cafe
Sweet Allie B's/Limestone Beer Co.
Tanya's Soup Kitchen
The Kitchen
Delis & Diners
Nationally known Doo-Dah Diner, has been a favorite for many through the years. It has been voted as the best restaurant in Kansas for 2019 and also featured in People's magazine. The diner offers house made gourmet comfort food that will take you back to your childhood. Some of their popular dishes are their delicious Banana Bread French Toast and their classic Chicken Fried Steak.
More diners and delis:
Dempsey's Biscuit Co.
Jimmie's Diner (northeast and south locations)
Old Mill Tasty Shop
Archichoke Sandwichbar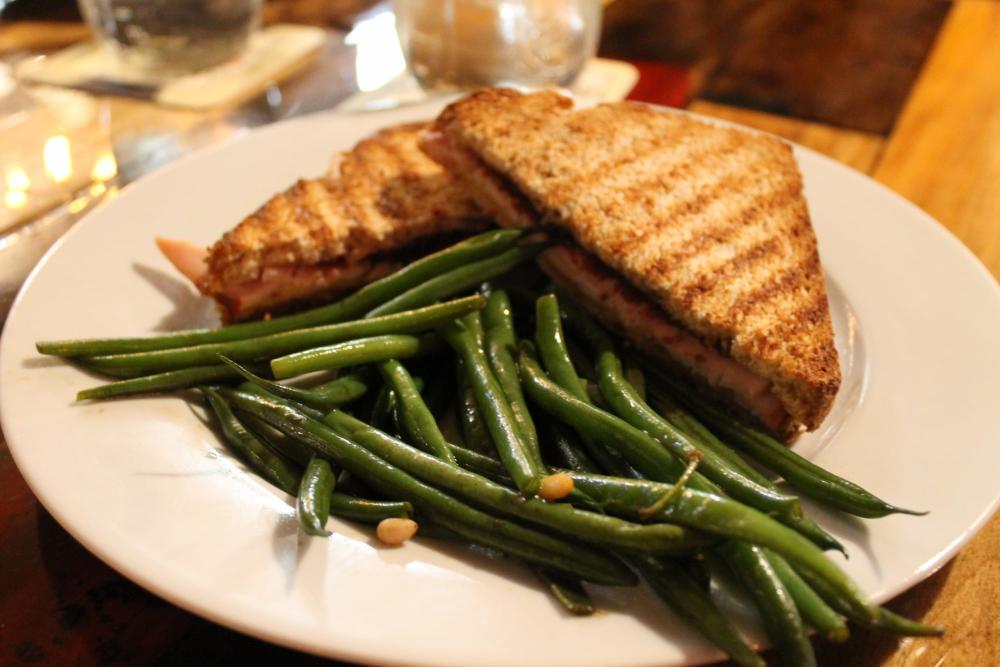 Farm-to-Table
If finding seasonally inspired and locally sourced ingredients in your meals is important when traveling, you won't be disappointed in Wichita's selection of farm-to-table restaurants.
Located in Old Town, Public not only brings the charm and has one of the most popular patios in Wichita, but also boasts creative, farm-to-table dishes. Their bison chili is served with a homemade cinnamon roll and the brisket tacos are made with brisket from Kansas beef, house pickles, made-from-scratch crema and tortillas from local tortilleria, Pinole Blue. They also offer a variety of artisan pizzas like Bar Blue Que, which you can order at the restaurant or also come frozen and sealed for easy curbside pickup.
No visit to Public is complete without trying their housemade pickles with a charcuterie featuring assorted meats, local cheeses, jam and roasted nuts. Wash it all down with one of the many local beers on tap or one of their hand-crafted cocktails.
Other farm-to-table eateries:
Dōma
First Mile Kitchen and First Mile Canteen
The Flying Stove Food Truck
Harvest Kitchen | Bar
Homegrown Wichita (downtown, east and west) 
Tanya's Soup Kitchen
The Kitchen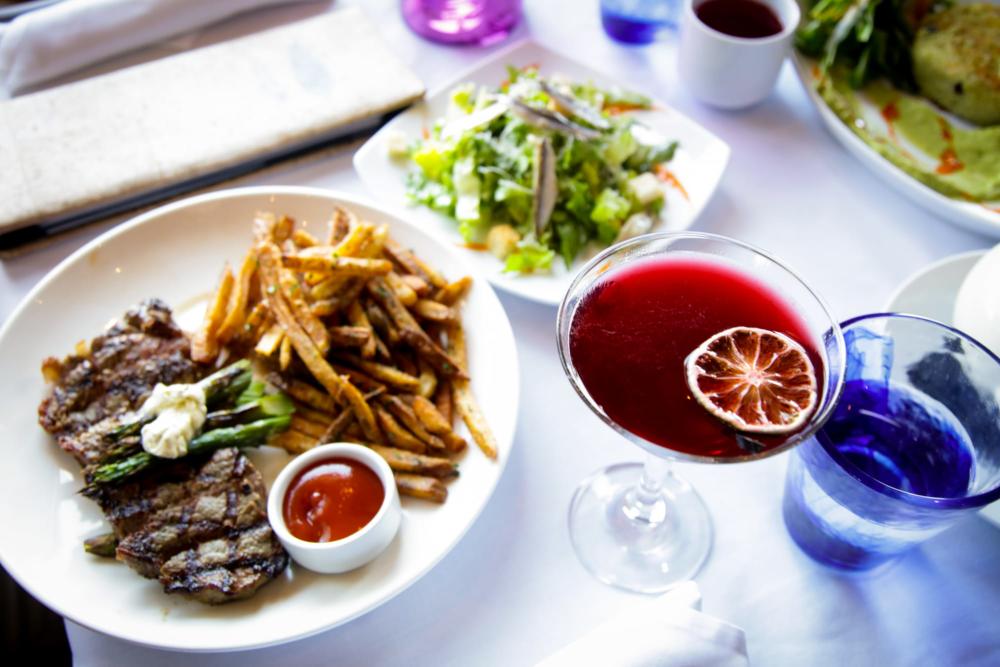 Upscale Dining & Steakhouses
Do your taste buds crave the finer things in life, from delicate appetizers to freshly caught seafood? You can find it all in Wichita's upscale dining scene. 
If you want seafood in landlocked Kansas, Newport Grill is the place to go. Located in Bradley Fair, a shopping and dining center in east Wichita, this upscale steak and seafood restaurant features a wide variety of fresh cuts from filet mignon to Hawaiian ahi tuna to Maine lobster tail, and also impressive salads like their lobster cobb and Bartlett pear & blue cheese.
Don't miss out on their popular happy hour and brunch options! Their Lobster Eggs Benedict is served with avocado, Canadian bacon, Maine lobster and hollandaise. There are several omelets to choose from as well. Additionally, the restaurant has one of Wichita's largest and most attractive patios. It's two-tiered, faces a small lake and has lots of shade.
Other Visit Wichita upscale dining steakhouse partners include:
6S Steakhouse
Chester's Chophouse & Wine BarChisholm's American Beef & Ale House
Fireside Grill
Doma
First Mile Kitchen
Redrock Canyon Grill
Saltgrass Steak House
Scotch & Sirloin
Wine Dive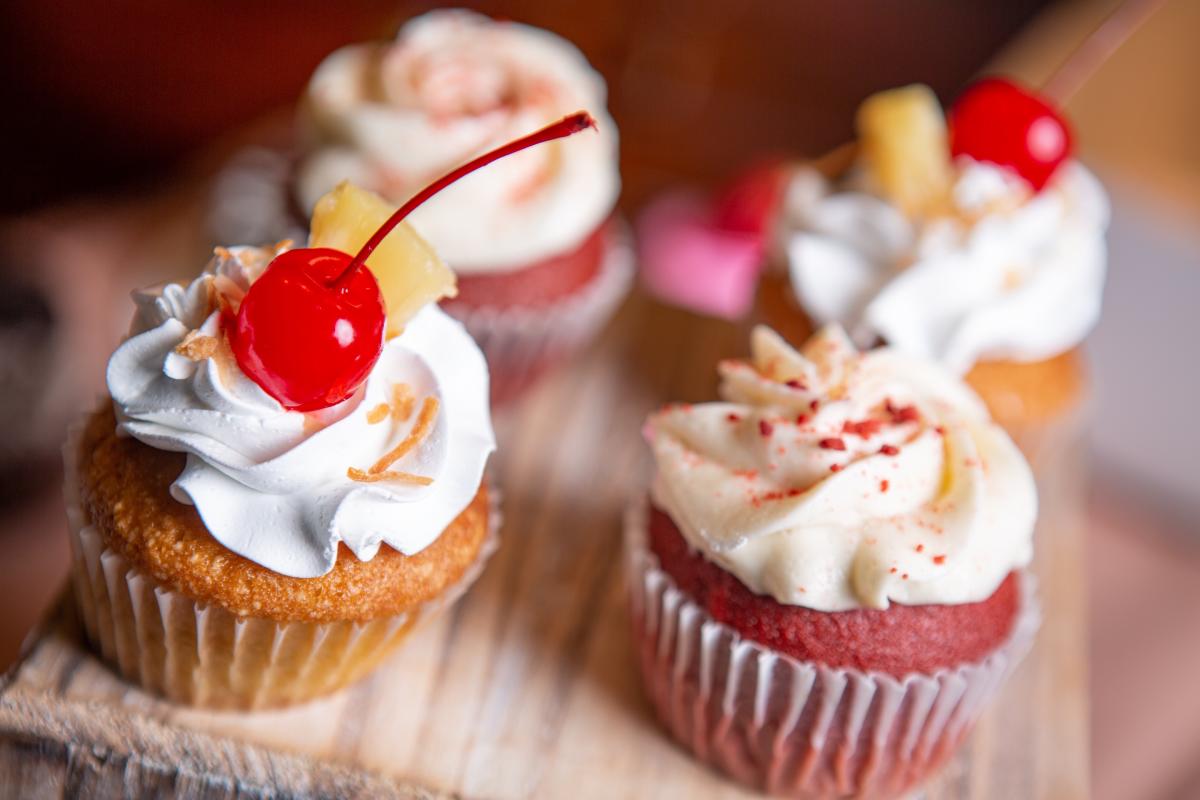 Sweet Treats
Wichita has plenty of ice cream parlors, gourmet bakeries, chocolate shops, popcorn makers and candy shops to satisfy any sweet tooth.
When it comes to specialty sweet treats, Monica's Bundt Cake really does take the cake. They offer baked-from-scratch desserts, cupcakes, cookies and cakes at their shop in Revolutsia, a shipping container shopping and dining area.
Locally and family owned, it's a go-to for Wichita flag-themed cakes. There's a good chance you will also find hand-crafted candies and popsicles to try, which are made in-house by the owner's daughter.
Other Wichita sweet shops include:
Bakesale Treat Parlor (coming July 2022)
Cocoa Dolce Artisan Chocolates (downtown, east and west)
Kernel's Popcorn Express
Monica's Bundt Cake
Nifty Nut House
Old Mill Tasty Shop
The Brown Box Bakery Food Truck
Il Primo Espresso Caffe-Epic Center & Il Primo Espresso Caffe
The Popcorner (east and west locations)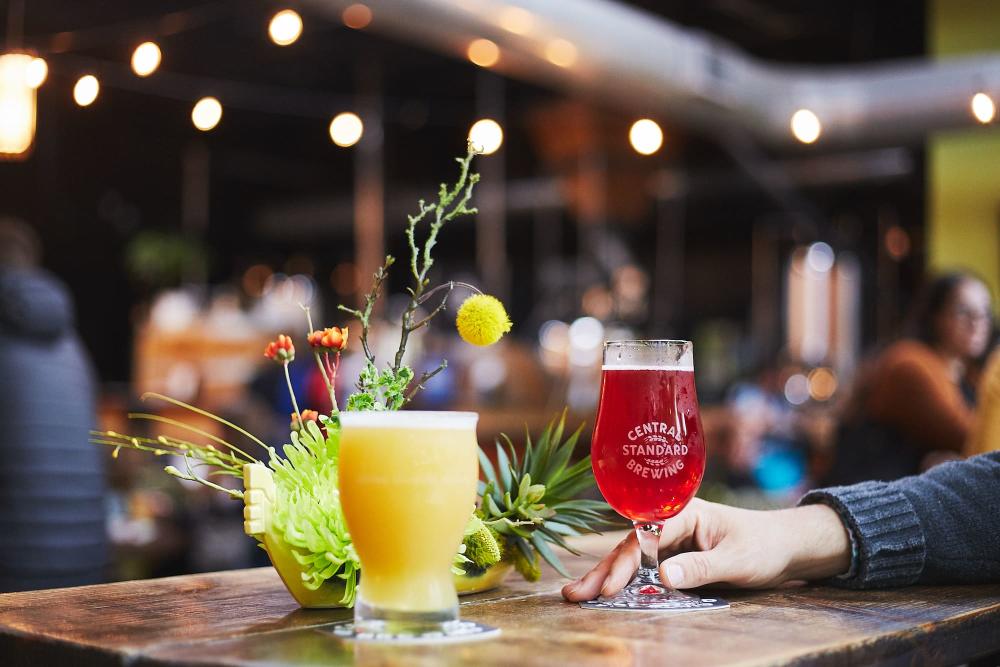 Brews & Cocktails
All this food might make you thirsty, and Wichita has the perfect way to quench your thirst. Grab a drink at one of our many local breweries, wineries or favorite cocktail spots.
Here are just some of the options:
Apollo Fermentations
Bricktown Brewery (east and west locations)
Central Standard Brewing
Dockum
Grace Hill Winery
GROW Giesen Plant Shop/Botanic
Headshots Bar & Grill
Hopping Gnome Brewing Company
Inspirit Kombucha Brewing Co.
Jenny Dawn Cellars
Mort's Martini & Cigar Bar
Nortons Brewing Co.
PourHouse by Walnut River Brewing Company
River City Brewing Co.
The Rusty Nail
Third Place Brewing
White Crow Cider Company
Wichita Brewing Co. & Pizzeria (east and west locations)
Looking for a different flavor? Find a delicious international restaurant!