Wichita sees an average of more than 220 days of sunshine per year and is home to more than 1,200 restaurants. One of the best ways to enjoy our wonderful weather is with a meal on a patio. Wichita boasts a variety of outdoor patio options at casual and fine dining establishments, bars, breweries and more. Review our list to choose the perfect patio option for your occasion.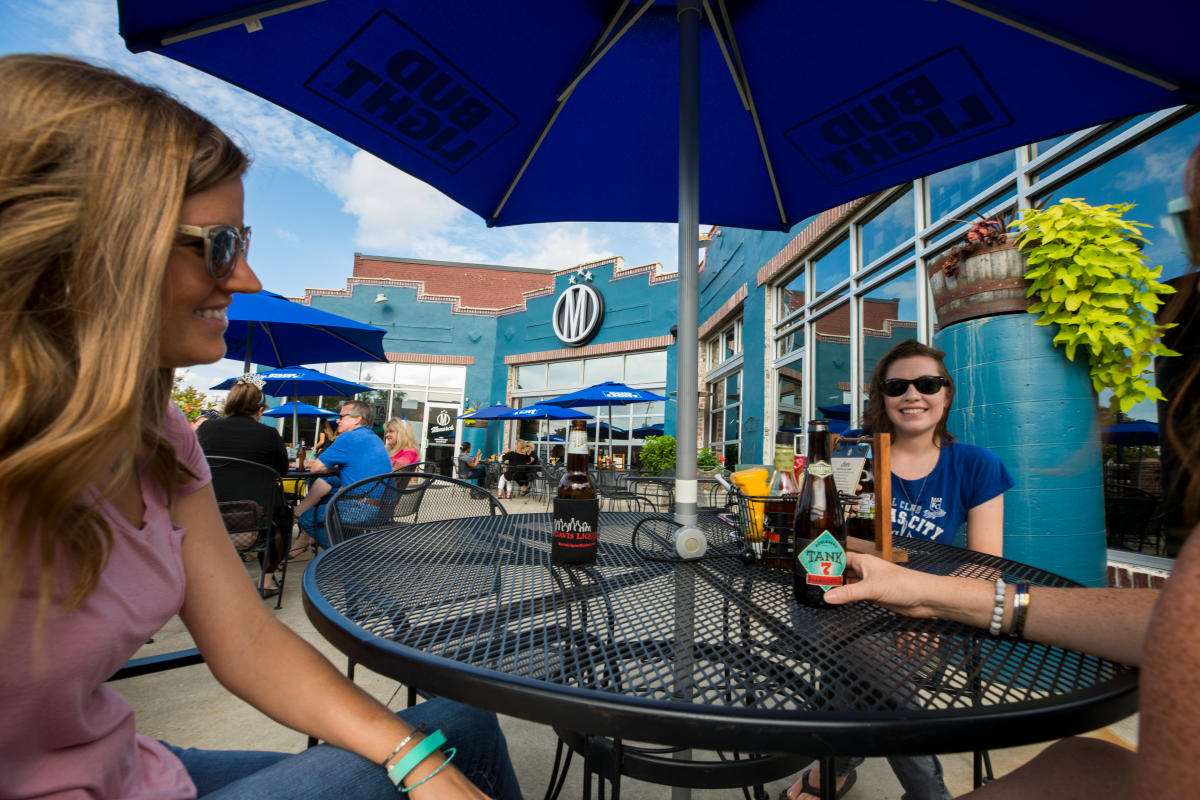 Patio at Monarch
Casual Dining
Monarch, at the roundabout in the Historic Delano District, is home to the largest craft bourbon and whiskey collection in the state of Kansas. But it's also widely known among locals for its lively and spacious patio, which puts diners streetside with a view of Delano's clock tower and the hustle and bustle in the heart of the city. 
You will feel like you're in a friend's backyard when you sit at picnic tables on the patio outside Ziggy's Pizza – Clifton Square. When the Verbeckmoes family opened their second, third and fourth locations, they incorporated patios at Ziggy's Pizza – Northeast, Ziggy's Pizza – West and Ziggy's Pizza - Auburn Hills.
Savor your meal or just drinks on the spacious patio of Brickyard, an outdoor music venue connected to restaurant Public. The courtyard features patio seating in a peaceful setting in Wichita's Old Town District during the day where diners can enjoy food from area farms, or a lively outdoor entertainment setting at night.
When it comes to outdoor seating, Chicken N Pickle in east Wichita has you covered. They not only serve up delicious food but plenty of indoor and outdoor fun too. This restaurant and entertainment complex has multiple open-air spaces to choose from and a variety of lawn games and activities like shuffleboard, bocce ball and pickle ball that are perfect for a party of any size.
The Kitchen is the perfect place to grab a quick bite at lunch with coworkers, enjoy a date night and cocktails or fill up before a concert. This eatery serves up delicious sandwiches, salads, burgers and more either inside or on the patio, which overlooks the beautiful Union Station and is just a short jaunt to INTRUST Bank Arena.
HomeGrown Wichita serves breakfast, lunch, brunch and cocktails with outdoor seating at all three Wichita locations, from parkside tables at HomeGrown Wichita - Downtown in Naftzger Park to cozy patios at HomeGrown Wichita - West and HomeGrown Wichita - Bradley Fair.
Sharing an outdoor patio space with twinkling lights in east Wichita is Meddys Northeast, serving authentic Mediterranean, and Oak & Pie, featuring wine and signature pizzas.
Also consider these other casual dining and drinking spots with patios: The Anchor, Bakesale Treat Parlor, Carlos O'Kelly's Mexican Cafe - South, Cocoa Dolce (Downtown, Bradley Fair and New Market Square locations), Dempsey's Burger Pub, Fairmount Coffee Co., First Mile Kitchen, Fizz Burgers & Bottles, Headshots Bar & Grill, HomeGrown Wichita - Bradley Fair, HomeGrown Wichita - Downtown, HomeGrown Wichita - West, Il Primo Espresso Cafe, , Kirby's Beer Store, Kookaburra Coffee, La Chinita Mexican Restaurant, Lucky's Everyday, Meddys Southwest, Meddys Northwest, Meddys Downtown, Mokas Cafe, Monica's Bundt Cake, Oasis Lounge, Prost, Reverie Coffee Roasters, Revolutsia, Station 8 BBQ, The Sweet Spot, Tanya's Soup Kitchen, Viola's Pantry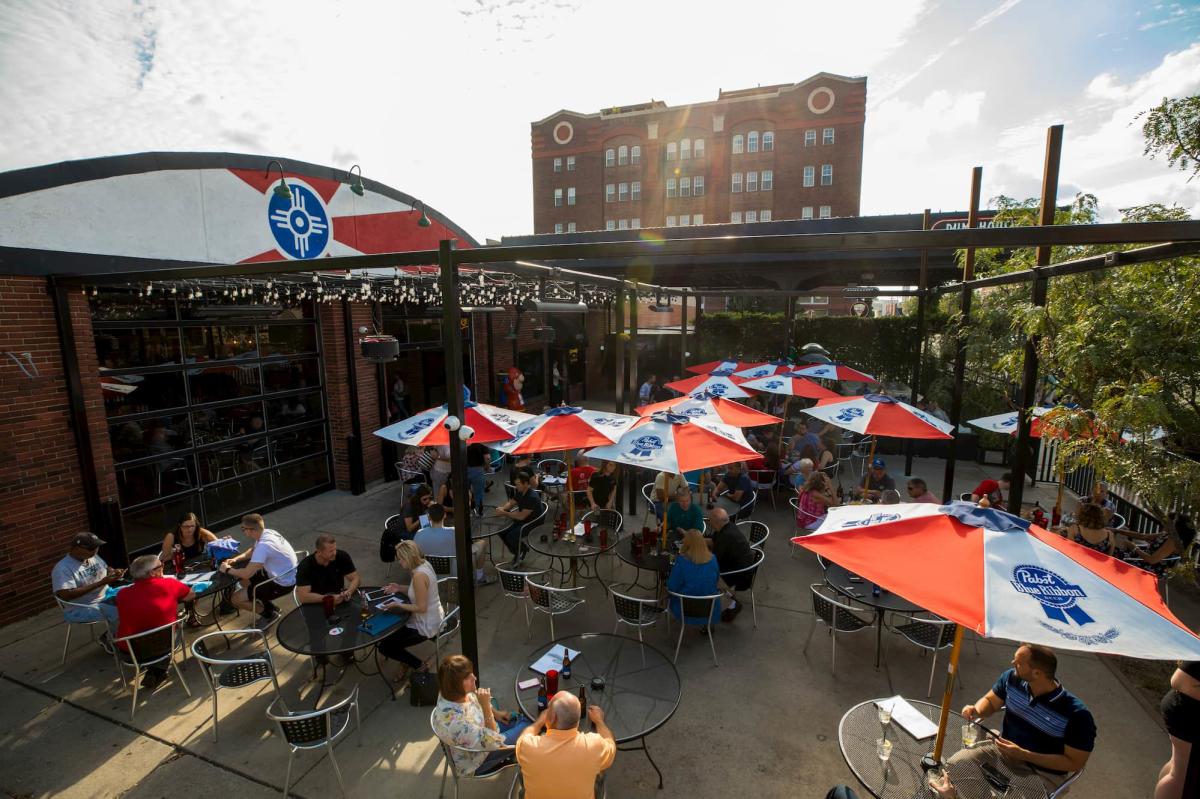 Patio at Pumphouse
Sports Bar & Grills
On Wichita's west side, Hurricane Sports Grill delivers a laid-back island vibe with a patio made comfortable with fans for the heat and a fireplace for the cool nights. Outdoor TVs ensure you won't miss any of the action! The tasty menu includes chicken wings, 30+ signature sauces, tacos, burgers, seafood and more.
A large patio packed with big-screen TVs right in the heart of Old Town can be found at Pumphouse, a former gas station turned sports bar. Choose from 16 beers on tap, a selection of pizzas, burgers, sandwiches and a variety of other pub favorites. Stay warm even when the weather turns cool in several heated sections.
Other bar and grills with patios to consider: Deano's Grill & Tapworks, Emerson Biggins Old Town, The Hill Bar & Grill, The Rusty Nail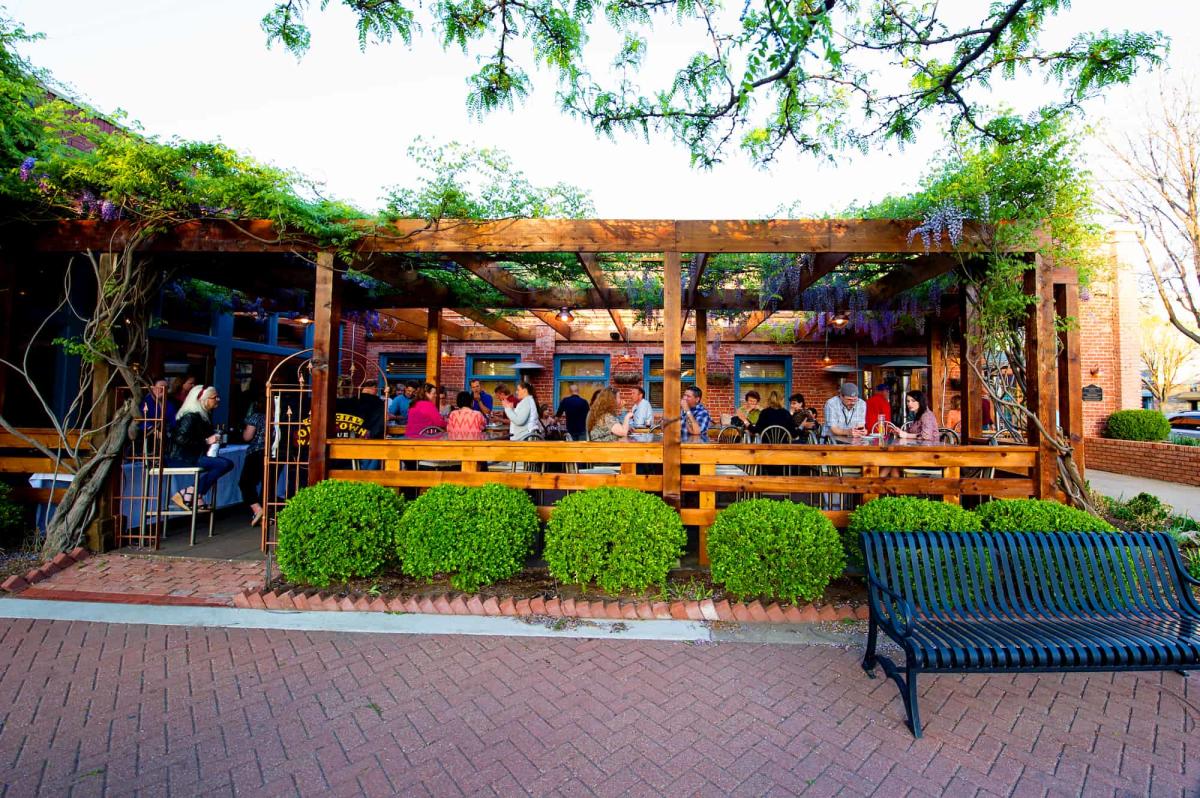 Patio at Larkspur
Upscale Dining
Enjoy worldly Mediterranean, French, Italian and American dishes under the trellised terrace at Larkspur Bistro & Bar in Old Town. It provides the perfect atmosphere for a romantic date night or a laid-back evening with friends.
Come for the European-American food and modern cocktails and stay for the ambience of YaYa's Eurobistro at Bradley Fair and enjoy one of the city's largest courtyards. The patio here is a fun spot for dining, imbibing or appreciating live music on Wednesdays, Fridays and Saturdays (seasonally).
It's tough to beat the view from Newport Grill's patio overlooking the Bradley Fair pond in east Wichita. This is one of Wichita's largest and most attractive patios. It's two-tiered, faces a small lake and has lots of shade.
One of the newest and trendiest patios in town is the large indoor/outdoor lounge at Dōma in east Wichita. This vibrant, fun lounge space has garage doors that open during warm weather, comfortable outdoor seating and string lights to set the mood for dining and drinking from the modern American menu.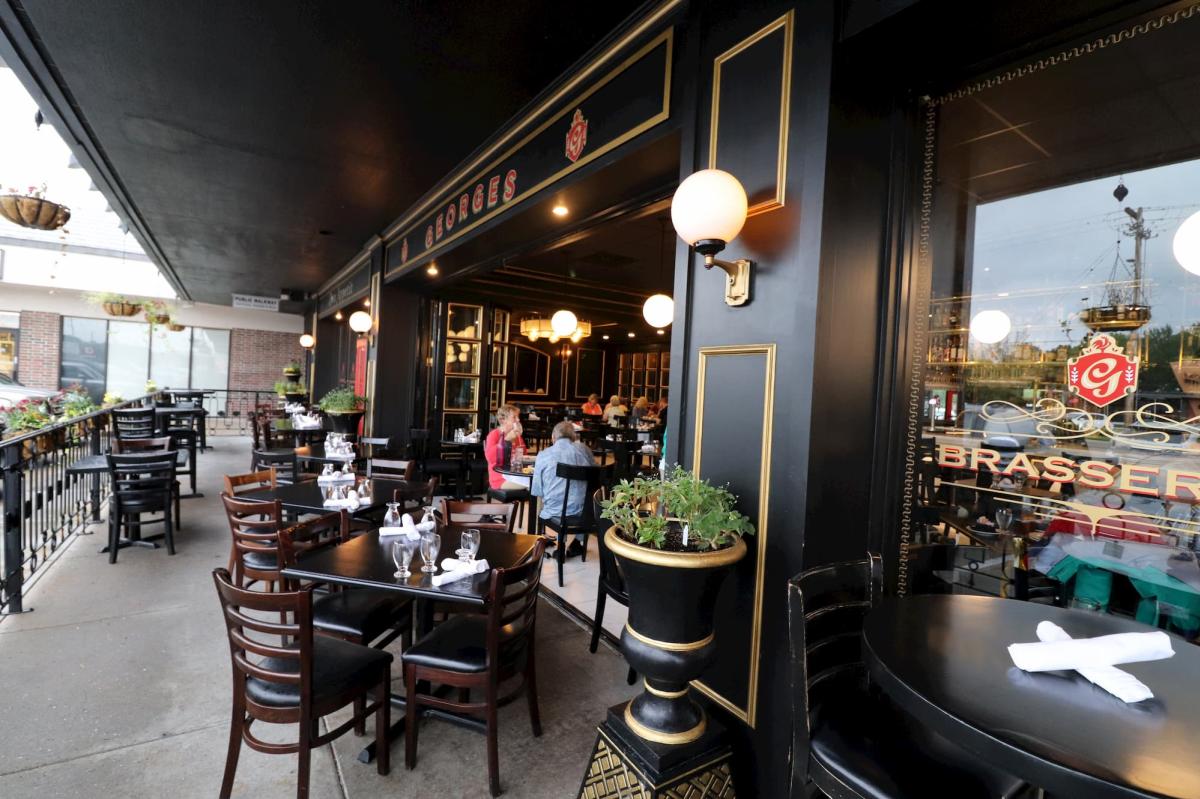 Patio at Georges French Bistro
Step into a little slice of France when you dine at Georges French Bistro. Even from the patio, you can hear the cheerful sounds and smell the enticing aroma of modern French dishes being cooked fresh in their open kitchen.
Piatto Neapolitan Pizzeria, in the Douglas Design District, is known for its light and airy pizza made from scratch with hand-selected ingredients. They have two patio spaces: one alongside Douglas Avenue and a back patio featuring a unique Wichita mural.
When you're planning your next brunch or date night, Redrock Canyon Grill at east Wichita's Bradley Fair should be in your sights. Brunching al fresco with your friends or dining under the stars with your sweetie on this upscale eatery's patio is sure to be memorable.
Other upscale dining spots with patios to consider: 6S Steakhouse, Sabor Latin Bar and Grille, Siena Tuscan Steakhouse, Vora Restaurant European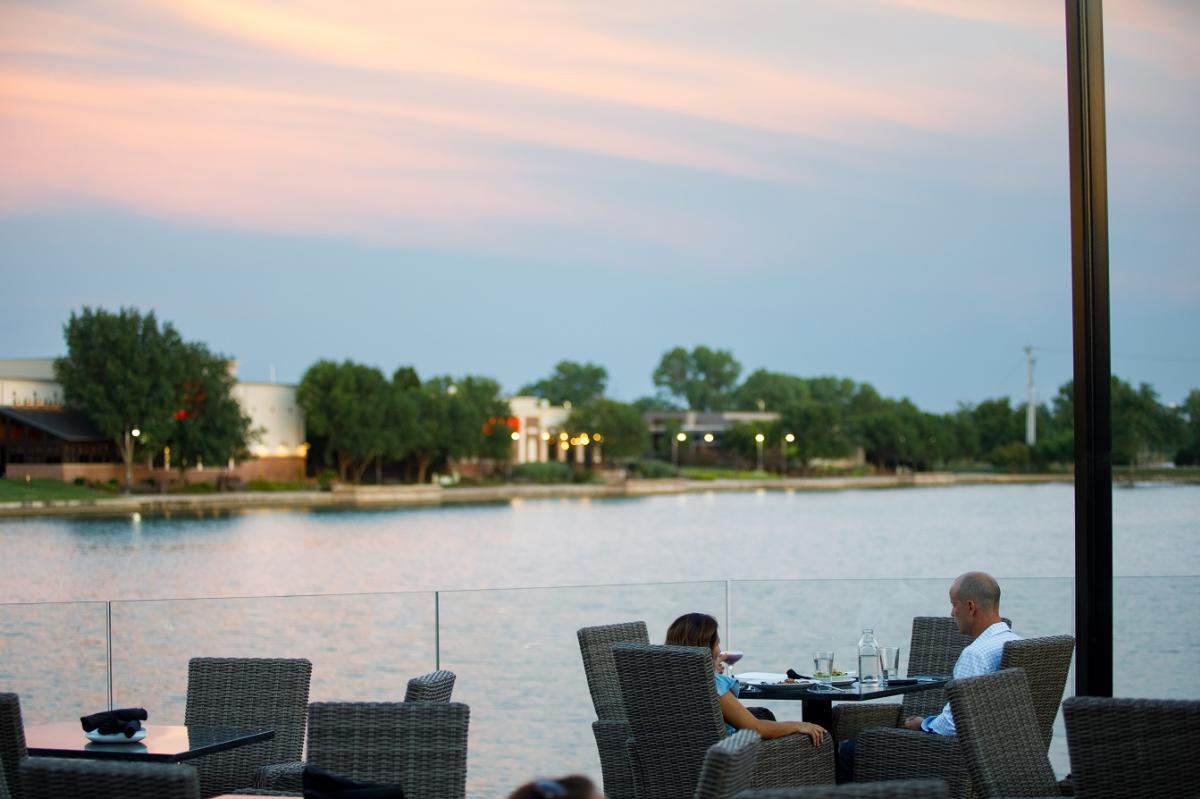 Patio at Chester's Chophouse and Wine Bar
Wine-Centric Dining & Wineries:
Head out east to Chester's Chophouse and Wine Bar to enjoy dinner and drinks (a 1,000-bottle wine cellar and 50 offerings by the glass) at the Waterfront, a lakeside shopping and dining area. Chester's patio includes 120 seats, movable glass doors, an outside bar and heating and air conditioning to allow for use year-round.
Just north of Wichita, you can escape to Napa Valley while enjoying dinner and wine in the vineyard of Grace Hill Winery. They have a 2,000-square-foot vineyard-side patio and an outdoor bar. The winery also offers a tasting room and event venue. Wine enthusiasts can enjoy live music Friday through Sunday beginning at the end of April.
Located in the Old Town District, Mort's Martini & Cigar Bar is known for the live music playing from their patio and their impressive menu of more than 160 martinis, an extensive beer selection and cigars. Their covered, heated patio allows you to enjoy Mort's no matter the season.
Nestled in Wichita's College Hill neighborhood is the relaxed ambiance of Wine Dive, named one of Open Table's choices for the Top 100 Wine Lists in America. Their streetside patio is the perfect setting to enjoy table s'mores–marshmallows, chocolate bars and graham crackers served hibachi-style.
Alzavino Wine Tavern in the Delano District is a must for wine lovers. They have a quaint outdoor patio along with indoor seating where patrons can sip on wines on tap from around the world.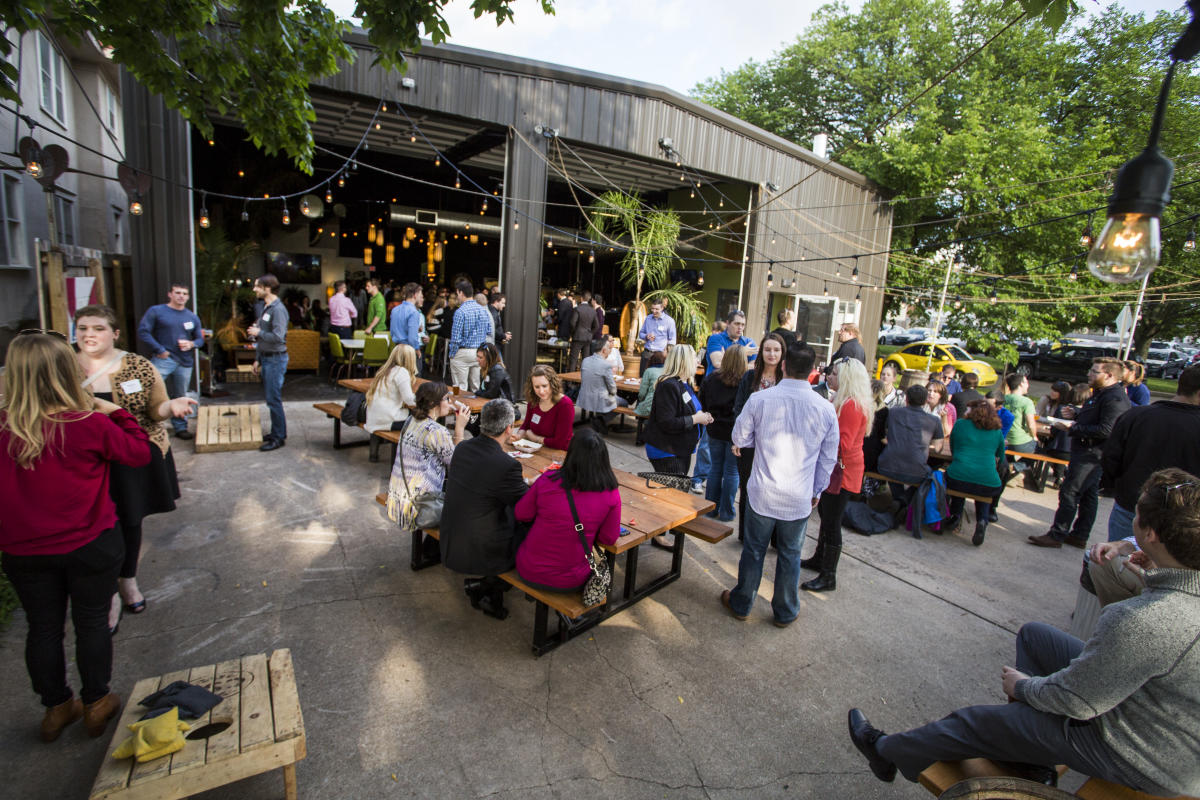 Patio at Central Standard Brewing
Breweries
Pro tip: Well-behaved, four-legged friends are welcome at all brewery patios!
Central Standard Brewing is a popular place to hang out with friends and enjoy a few drinks. On nice sunny days, you'll find the garage doors open and people enjoying the large outdoor gathering space.
After dinner at neighboring Piatto Neapolitan Pizzeria, pop over to Hopping Gnome Brewing Company. They have a patio along Douglas Avenue and by Summer 2023 will be opening a large covered patio behind the taproom and an additional outdoor beer garden with indoor and outdoor seating options.
Sit in a swing, share a picnic table or engage in some friendly yard game competition on the patio with a backyard feel at Nortons Brewing Co.
In addition to dozens of beers on tap and tasty menu items like cheese curds and fish and chips, PourHouse by Walnut River Brewing Company serves up a great view of Wichita's Union Station and the Great Plains Transportation Museum. 
River City Brewing Co. has been serving craft beers and pub favorites like pizza and big shell mac n' cheese for almost years. You'll find stellar outdoor seating right in the heart of Old Town.
If you love hand-crafted food and German and Belgium-style beer, you'll be right at home at Sweet Allie B's Limestone Beer Co. The peaceful patio at the edge of downtown Wichita is the perfect place for a quiet lunch.
Nestled next to the train tracks that run through downtown Wichita is Third Place Brewing. In addition to a friendly taproom, you'll find an outdoor patio alongside the Santa Fe train tracks. It's a great place to find live music and food trucks.
Other breweries with patios to consider: Bricktown Brewery - East, Tor Brewing, Wichita Brewing Co. & Pizzeria West, Wichita Brewing Co. & Pizzeria East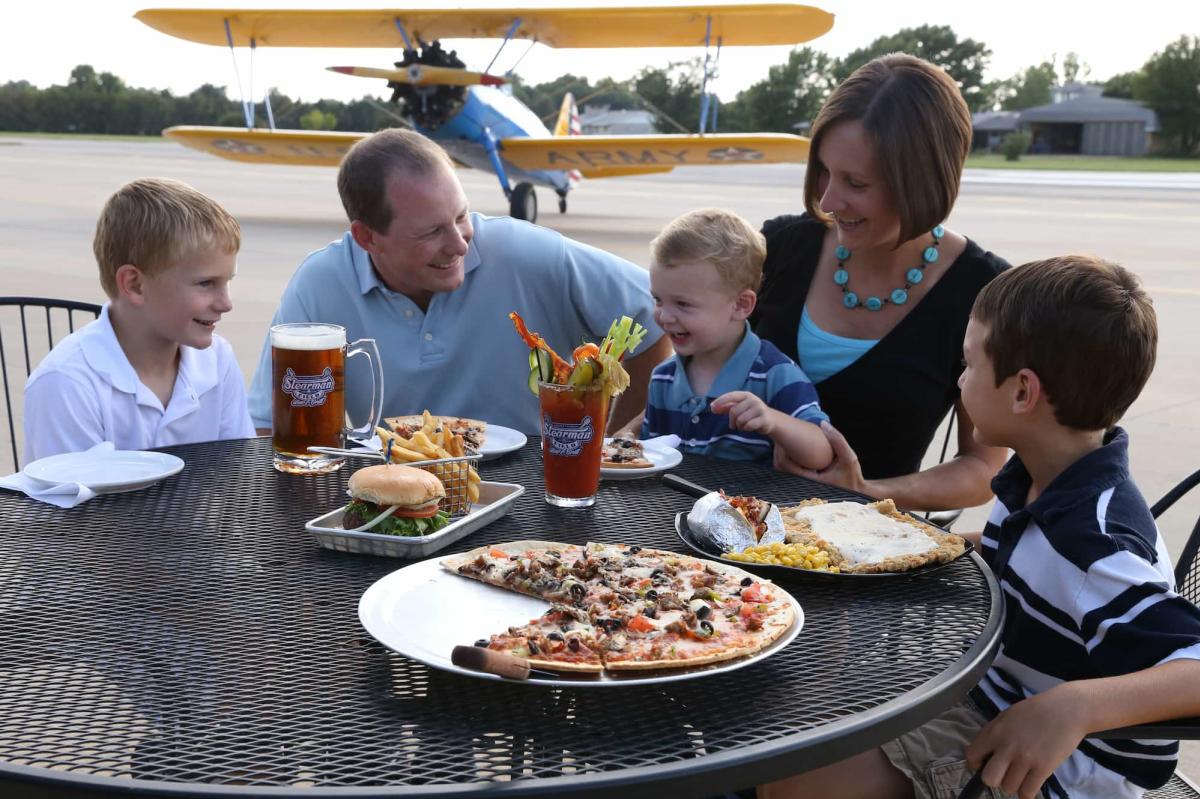 Patio at Stearman Field Bar & Grill
Just Outside the City
A one-of-a-kind patio experience awaits you just outside of Wichita at Stearman Field Bar & Grill where you can dine just 20 yards from an airfield. They have true outdoor seating, plus they can open the hangar doors to make their entire dining room have an indoor-outdoor feel with giant fans swirling above. It's the perfect outdoor venue for friends or family.
Find even more delicious Wichita restaurants and savor the flavors of the Heart of the Country.