Wichita's newest minor league basketball team is taking the hoops side of things seriously and wants to be a serious force in The Basketball League (TBL).
The Wichita Sky Kings roster is comprised of former Division I stars and overseas pros. Wichita State fans might remember Teddy Allen. Center Justin Moss played for The Basketball Tournament's Blue Collar U, the 2022 champions of the $2 million summer basketball tournament. And Charlie Marquardt played for the G-League's Brooklyn Nets in 2017-18. Last season, Marquardt hit 14 three-pointers in a single TBL game.
But it isn't what the Sky Kings are doing on the court that's intriguing, it's what they're doing before and during games that will elevate the fan experience.
"We're providing cost-effective family entertainment and high-level basketball," said Ben Hamd, owner of the Wichita Sky Kings. "It's a chance to see pro players for really cheap, meet them up close and personal and meet celebrities – all for one-fourth the cost to see one movie. Plus kids under 10 are free."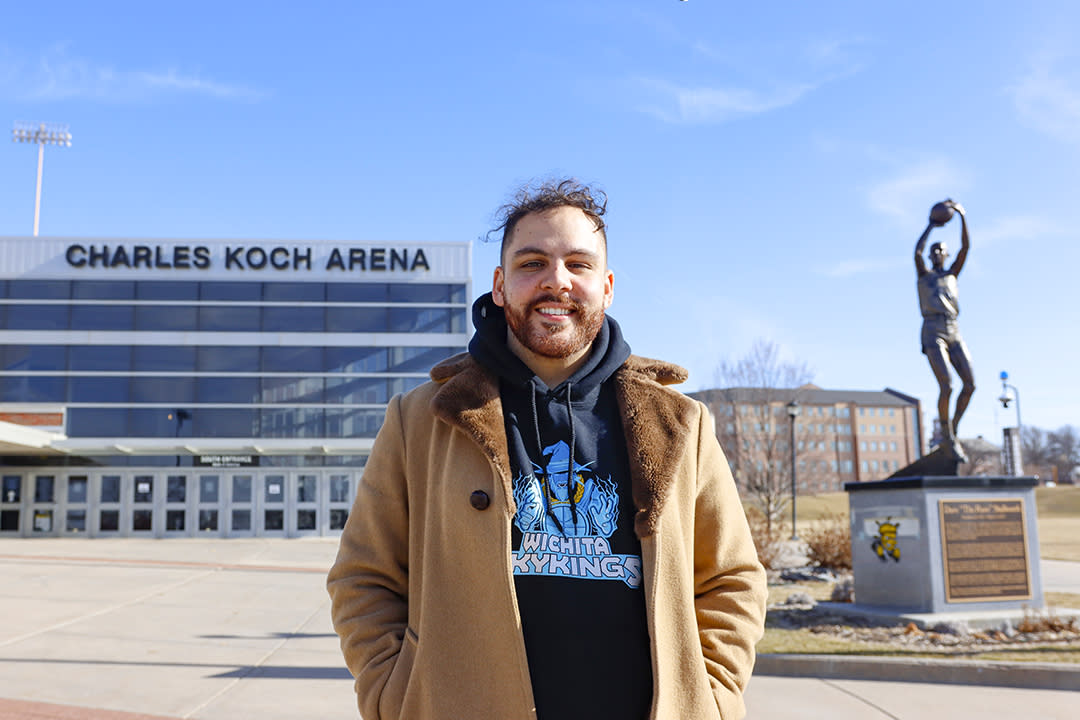 The vibe of a game is similar to the movie "Semi-Pro." If you haven't seen Will Ferrell's movie "Semi-Pro," it's a comedy about a fictional 1970s ABA basketball team, the Flint Tropics. The team is on the brink of dissolving, so Ferrell's character Jackie Moon, the team owner, coach and starting forward, hatches a marketing campaign that gets crazier and crazier to attract fans. The team goes from pancake night and free corndogs to a wrestling match with a bear.
While Hamd doesn't plan on wrestling bears any time soon, he does plan on creating a fan experience that can attract basketball and non-basketball fans alike.
The biggest news to excite non-basketball fans is learning what celebrities will be in attendance from game to game. Hamd's hoping to have a celebrity appearance at every game and has already booked a strong lineup.
Brian Baumgartner (Kevin Malone from TV show "The Office") is already confirmed to be in attendance for both the March 17 and 19 games.
Richard Kern Wilson (Al Borland from TV show "Home Improvement") is confirmed for the March 31 game.
Larry Thomas (Soup Nazi from TV show "Seinfeld") is confirmed for the April 15 game.
Efren Ramirez (Pedro from movie "Napoleon Dynamite") does not have a confirmed date yet.
"Celebrity appearances are fun, and we're about making this a fun family friendly experience — so for basketball and non-basketball fans alike, they'll enjoy it," Hamd said. "We'll have celebrities, music from DJs and mini games in the hallway for kids and adults."
The Sky Kings play 13 home games from March 17-May 28 (not including playoffs) at Charles Koch Arena. Season tickets are on sale now.
General admission season tickets are $99.
Courtside season tickets are $299.
Gameday courtside tickets are $99.
Gameday general admission tickets are $29.
Kids under 10 are always free.