Wichita State University's improbable run to the 2013 NCAA men's basketball Final Four followed by an amazing undefeated regular season in 2014 put a national spotlight on the Shockers, their enviable home court at Charles Koch Arena and the atmosphere created by the city's loyal fan base.
In 2018, Wichita first hosted the Midwestern and Pacific Coast Synchronized Skating Sectional Championships at INTRUST Bank Arena and promptly welcomed the event back two years later in 2020.
During these years, the city continued its momentum, shattering sales records and nearly tripling previous attendance records for The Basketball Tournament in the summer of 2019.
Sports planners around the country have taken notice that Wichita, the largest city in Kansas, is not only a central site to hold an event, it has incredible sports facilities and a built-in base of sports-loving residents. Wichita has flourished as a sports city in recent years, attracting national events, building new facilities such as the new downtown Riverfront Stadium that's home to Double-A baseball, investing in a new airport terminal at Dwight D. Eisenhower National Airport, and continuing to build an impressive roster of hotels, restaurants and things to do to keep competitors and fans busy away from the game.
If you haven't yet taken time to explore Wichita as a possible site for your sporting event, start here to get to know the Visit Wichita Sports Team and hear what makes Wichita worthy of your event.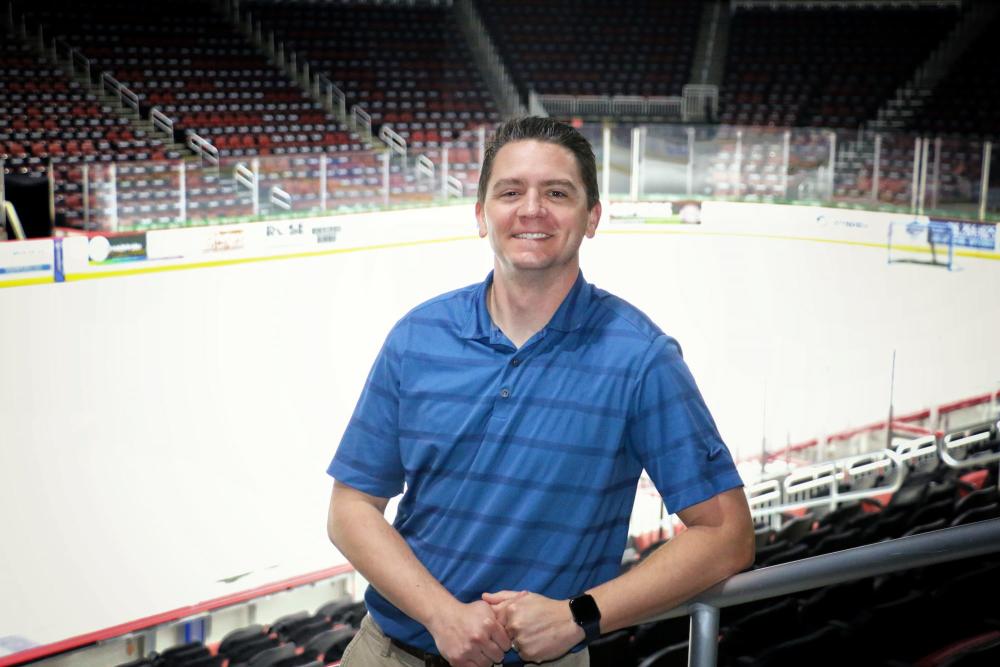 Josh Howell, Sports Sales Manager
What are sports event planners most impressed with after hosting in Wichita for the first time?
Most don't realize just how big of a city Wichita is and they are impressed by the fan support. When Wichita hosted the NCAA men's basketball tournament in 2018, we were the first host city to sell out our ticket allotment. The 2018 U.S. Water Ski National Championships were one of the best attended in that event's history. No matter the event, the Wichita community loves their sports and event planners can see that firsthand when they bring an event to town.
What is a Wichita amenity most appreciated by sports planners?
They appreciate that Wichita offers big city amenities with small town charm and hospitality. We are big enough to fill venues, sell tickets and fulfill the needs of your event, but small enough where your event will be one of the main happenings in the city, likely making the nightly news.
Name an under-the-radar Wichita sports facility:
We are fortunate to have three sheets of ice in downtown Wichita, two at the Wichita Ice Center and one at INTRUST Bank Arena, all within a one-mile radius of each other. These facilities have hotels between them, which is very attractive for figure skating and hockey tournaments. I also have to mention Riverfront Stadium, an all-new $75 million baseball stadium, which will house the Wichita Wind Surge and will be a great venue to host a variety of other events.
What sporting event are people surprised to hear Wichita hosted?
We are proud to tell people we hosted the first and second rounds of the men's NCAA basketball tournament in 2018 for the first time since building the new 15,000-seat INTRUST Bank Arena in downtown Wichita. We will again host men's first- and second-round games in 2025. We also hosted first- and second-round games of the 2011 women's tournament, and in 2022 the women's Sweet Sixteen and Elite Eight are headed to Wichita, as we will be one of four regional sites.
When was a time when a curve ball was thrown at you when prepping for an event and how did you adjust?
In March 2021, we hosted the NAIA Men's Wrestling National Championships for a second straight year, although the 2021 event looked much different. First, we COVID-tested all 500+ student-athletes, coaches and traveling parties. We also checked the temperature of all spectators upon entry, provided social distancing in the seating bowl and implemented many more unique safety protocols. In the end, it was a very rewarding experience to see that event through, and we learned a lot about adapting, being nimble and making sure the event we hosted was safe for all parties involved.
Name an organization that is invaluable when it comes to collaboration?
We have SO MANY great partners it's hard to narrow it down to just one. However, our relationship with the City of Wichita's Parks and Recreation Department has been critical for so many of the events we've hosted. From helping us with the 2018 NCAA Fan Fest event to assisting us in hosting various championship events at Stryker Sports Complex or sometimes just calling them for advice, we greatly appreciate our relationship with their team and are thankful for all they do to partner with us.
Name one Wichita attraction you consider a must-see for out-of-towners:
The Keeper of the Plains sculpture down on the Arkansas River during the nightly lighting. It's a mesmerizing spot and a great place to get outdoors, explore and take in the beauty of the river in downtown Wichita.
Get to Know Josh
First major sports memory: Shagging balls during batting practice for the California Angels and hanging out in the locker room after games with my dad, who played 11 years in the big leagues. Looking back, I can see just how special and unique those moments were.
Most memorable sports event you've attended: My little brother was celebrating his 13th birthday at a Dallas Cowboys game in 2000 and I was there with my family. The Cowboys were playing the 49ers and as Terrell Owens celebrated his TD at midfield on the Star, Dallas safety George Teague proceeded to lay him out. Might not be a historic game but any Cowboys fans will remember that one!
He's cheering: Arizona Wildcats, Wichita State Shockers, Arkansas Razorbacks, the Wichita Thunder, Los Angeles Angels, Dallas Mavericks and Wichita Wings. Oh, and how 'bout them Cowboys
He's watching: "Tin Cup," reruns of "Jeopardy" and all things ESPN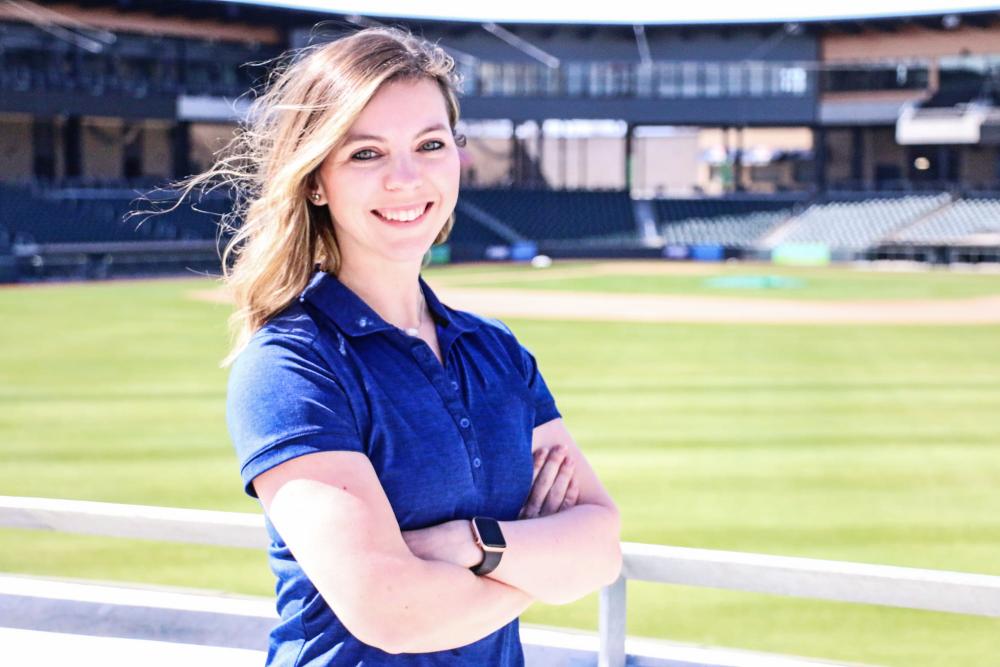 Kelli Elmore, Sports Event Manager
What are sports event planners most impressed with after hosting in Wichita for the first time?
We are a very family-friendly city, with a ton of affordable options, which makes it easy to take Wichita to the board as a potential host.
What is a Wichita amenity most appreciated by sports planners?
Close proximity to everything around Wichita. Most events that take place downtown not only have the options of everything to do within the core of the city and the historic Delano District, they are also close to shopping and dining on both the east and west sides of town.
Name an under-the-radar Wichita sports facility:
Stryker Sports Complex has been recently renovated, offering 11 turf soccer fields, all with lights, including a championship field and an indoor field. Just north of Wichita, Hartman Arena is a 6,500 seat facility that can host a range of sporting event and is capable of customizing the arena to fit each event's unique needs.
What sporting event are people surprised to hear Wichita hosted?
The week-long USA Track and Field Junior Olympics, bringing close to 8,000 athletes to town from all over the country.
Name one Wichita attraction you consider a must-see for out-of-towners:
Chicken N Pickle has so many activities for both adults and kids, you can spend hours there! It has become a popular spot during site visits too. I also love taking people to Wichita's breweries. Each one has its own unique twist, and the variety of options is impressive.
When was a time when a curve ball was thrown at you when prepping for an event and how did you adjust?
When the pandemic hit, we had to completely rethink how we hosted events. In fact, Visit Wichita was in the middle of hosting the 2020 Wheelchair Basketball National Championships when events and activities came to a halt. We adjusted game schedules, officials' travel plans and canceled portions of the competition that were no longer safe. We leaned on our relationship with Sedgwick County to gather as much information about the virus as possible and rounded up as much hand sanitizer and disinfectants as possible, all while making sure we were in regular contact with our hoteliers and the facility as things changed continually. Looking back on the craziness of that week, I really believe we did everything we could to work through a very uncertain and difficult time.
Get to Know Kelli
First major sports memory: I missed the first half of the 2008 NCAA Men's Basketball National Championship game because I was playing high school softball, but we got home in time to see Mario Chalmers hit the game-tying three and then win the game.
Most memorable sports event she's attended in Wichita: Wichita State women's basketball vs. Southwest Missouri State (now Missouri State). I grew up idolizing Jackie Stiles, so even though I should have been rooting for WSU, all I was doing was watching how she played. 
She's cheering: University of Kansas, Wichita Force, Kansas City Chiefs and the Wichita Wind Surge
She's watching: "A League of Their Own," reruns of "Friends" and "The Office," and "Paw Patrol" on repeat with my kids
If you're a sporting event planner and Wichita isn't on your consideration list, it should be. Contact us to learn more!