If you have kids who love animal experiences, we have two attractions in Wichita that they will absolutely love – Sedgwick County Zoo and Tanganyika Wildlife Park. There is no sense in picking one over the other when they both provide fun, unique experiences.
The Antimi Family visited both animal attractions in July with their kids ages 5, 8 and 12. Here is a recap of their experience and their tips.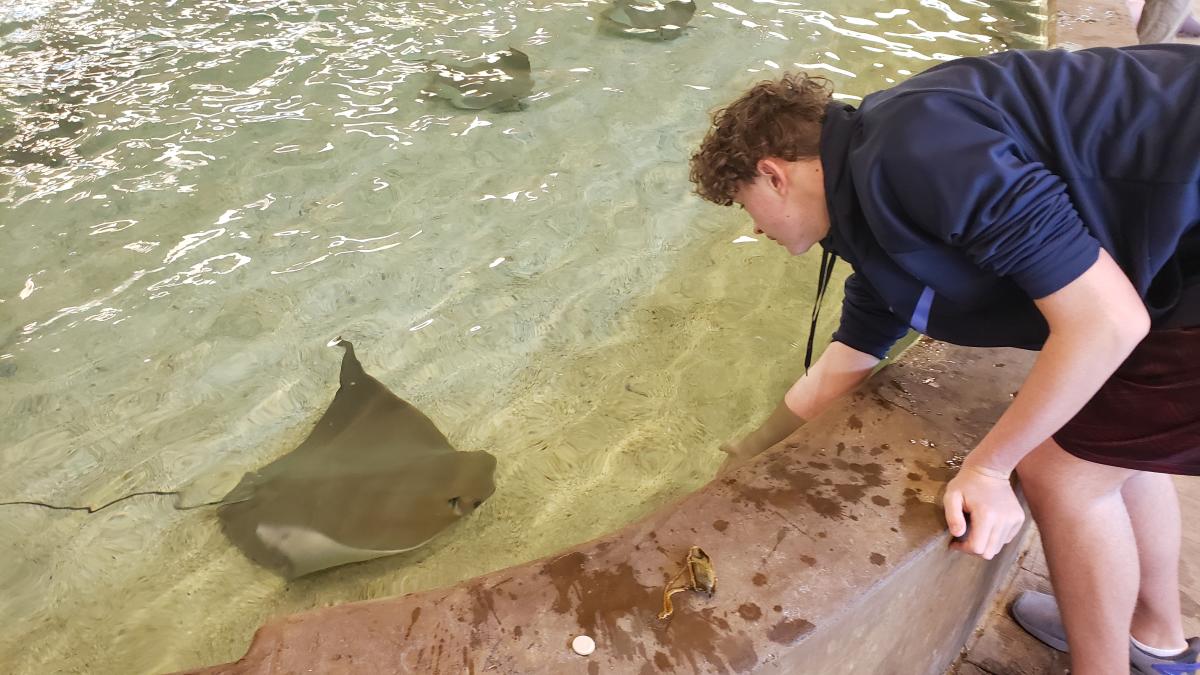 We got to the Sedgwick County Zoo at 9 a.m. on a Sunday morning to take advantage of cooler temperatures and to beat some of the crowds. We used the stroller rental to push the two youngest around because this is a big zoo, the seventh largest zoo in the U.S.!
We appreciated the many shaded areas throughout the zoo's nearly 250 acres and the number of animals we saw; it's amazing to realize 3,000 individual animals of nearly 400 species call the Sedgwick County Zoo home. Despite its size, it is easy to navigate. We were told that if you stay to the right when you enter, you can walk 4 miles and see everything.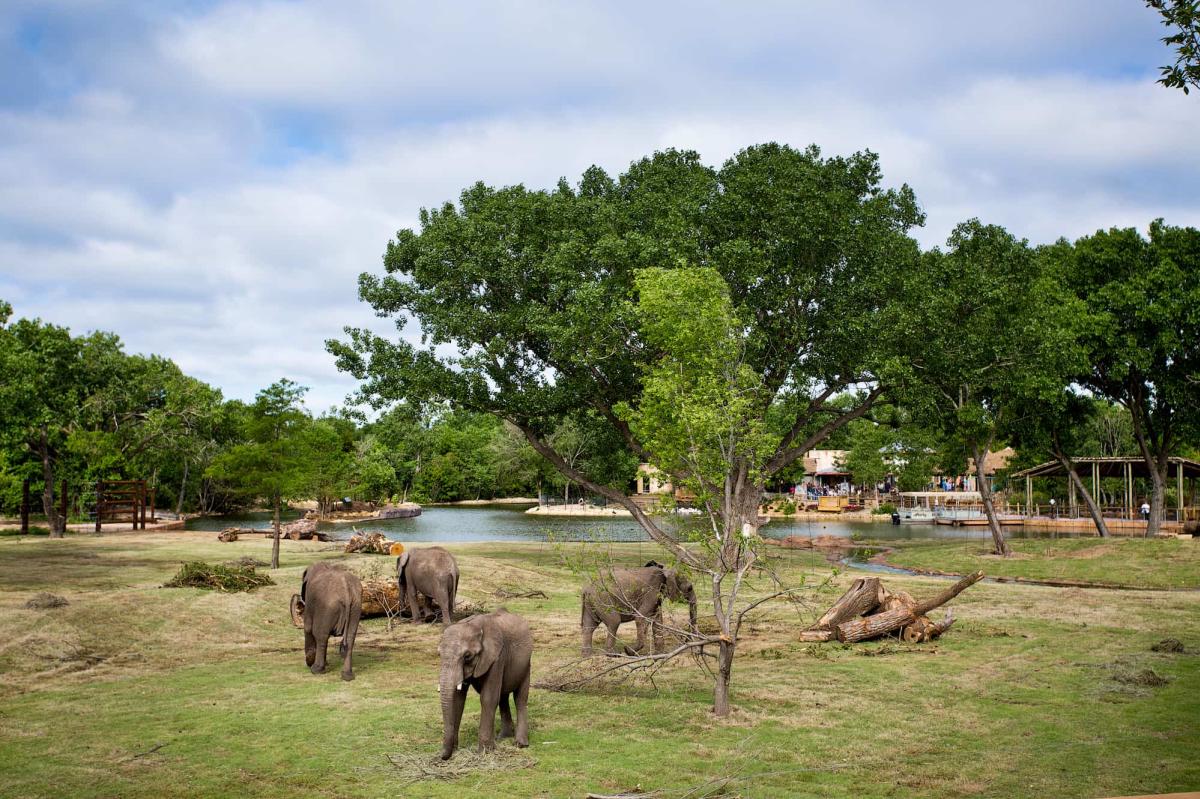 We skipped around to see everyone's favorites. We found the Mexican wolves, the river otters and the bears in the North America section. We visited Africa to see the giraffe, lions and Reed Family Elephants of the Zambezi River Valley, a 5-acre exhibit that opened in 2016 as the third largest elephant habitat in the country.
We also explored the zoo's other geographic areas and stopped at the Children's Farms and the Amphibians & Reptiles Building. Our visit lasted about three hours.
There are several attractions inside the zoo that have extra charges. Each has specific days and timeframes they are available. You can buy single attraction tickets for $5 each or buy a $20 GO WILD attraction pass to get five attraction tickets for the price of four. The attractions include:
giraffe feedings;
a boat ride that floats under the Downing Gorilla Forest Bridge to the North American Prairie and in the same water where the elephants have access to swim;
a new Stingray Cove attraction where you can touch and feed a variety of stingrays and small sharks all swimming in a shallow saltwater pool;
and the Martha C. Buford Safari Express electric train ride that opened in July and offers never-before-seen views behind the scenes at the zoo.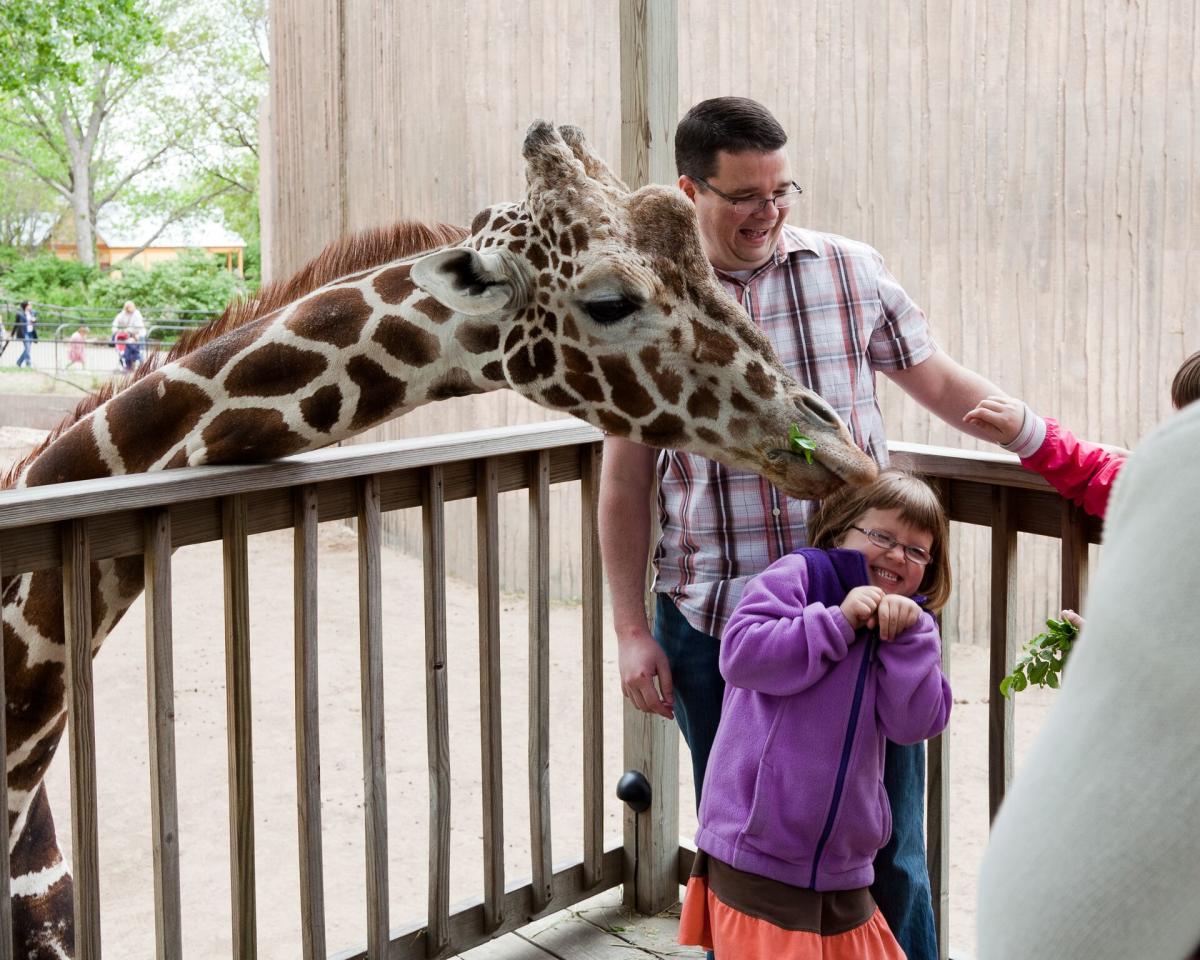 Additionally, there also are Wild Encounters that are seasonal and must be scheduled in advance. These include small-group encounters with Humboldt penguins, rhinos, the African Elephant herd, giant Aldabra tortoises, ectothermic animals and horses, donkeys and other equines.
If you're planning to go to the zoo and Tanganyika on the same weekend like we did, we recommend going to the zoo first. While there are interactive options at the zoo, Tanganyika is built around interactive stations and the younger kids in your group will ask when they get to ride the camel if they've experienced Tanganyika first!
Be sure to check the zoo's schedule online to see the activities you can do that day, including free zookeeper chats and watching animals being fed by their keepers.
Learn more and get the answers to some of the Sedgwick County Zoo's most frequently asked questions. 
Tanganyika Wildlife Park uses the tagline "Wildly Different" and that pretty much sums up our experience. It's smaller than the Sedgwick County Zoo and you can see their nearly 40 exhibits by walking less than a mile. You'll be able to enhance your visit with interactive experiences.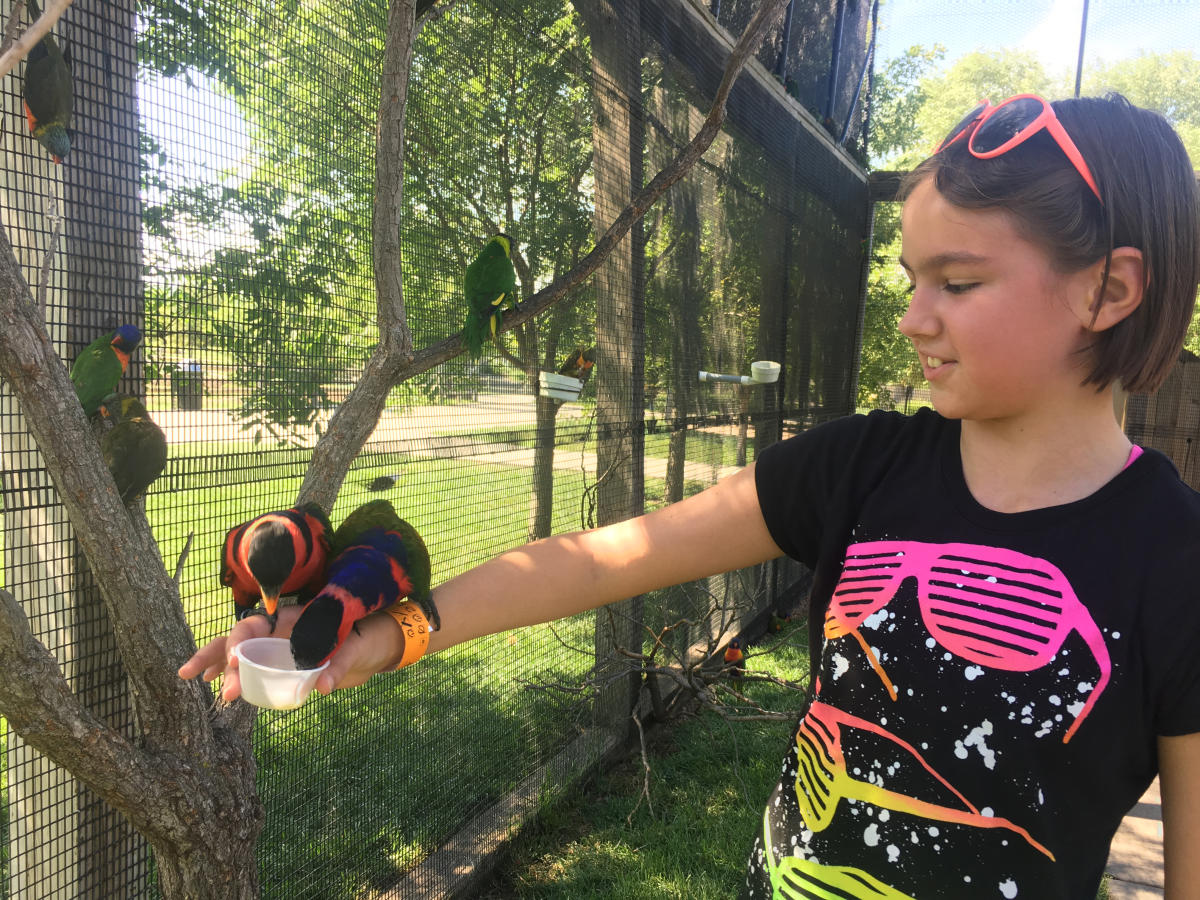 Before buying your tickets online, look through the list of feeding stations and animal experiences to decide your interests. You can buy a general admission ticket that allows each guest up to five animal feedings or you can buy passes that include unlimited animal feedings and other perks.
Be sure to ask at the gate what stations are open the day you are there and if any will be closing at specific times, especially if there is an animal that is a must-see for your group. Of course with any animal experience like this, it's up to the animals whether they want to participate or not!
The giraffe feeding was a big hit with the 5-year-old, and we got a great family photo with one of the giraffes bending over our heads. If you don't have someone there to take a photo for you, ask the Tanganyika staff, they are very friendly and willing to help.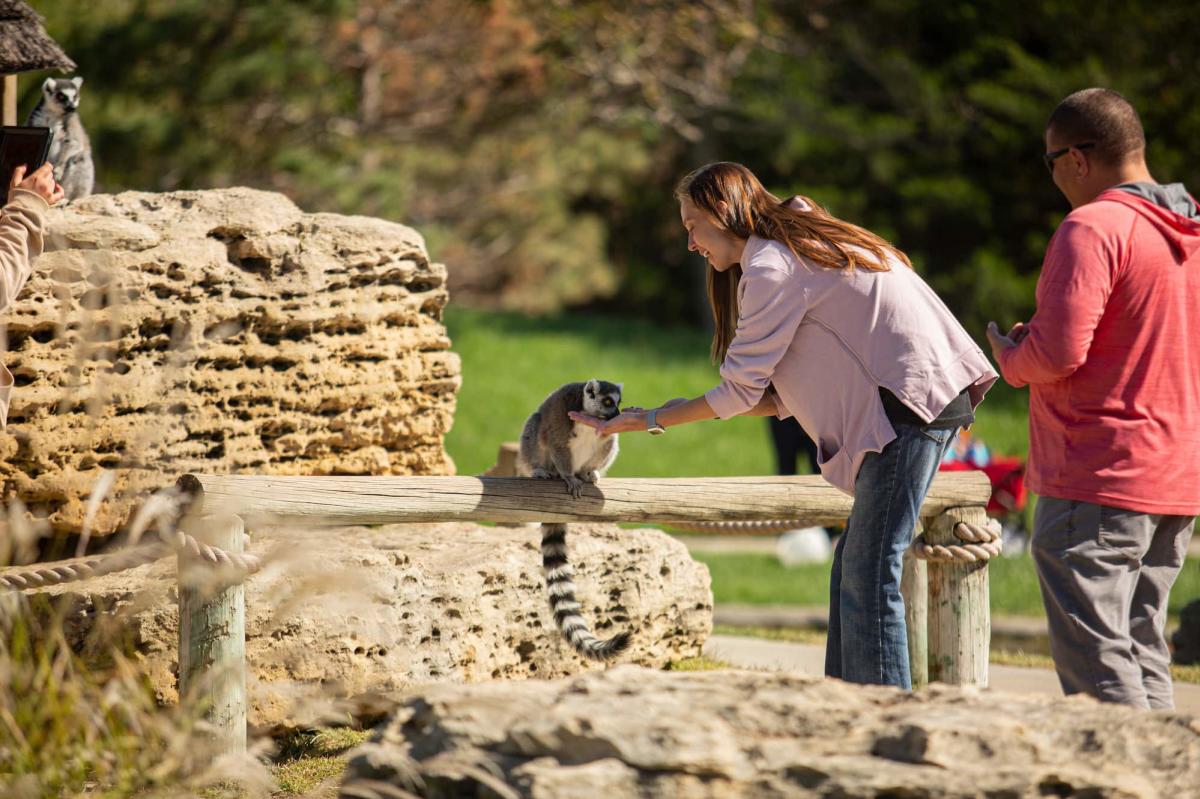 The most popular of the stations is Ring-Tail Lemur Island, where you can sit on a boulder and have the lemurs walk across your lap while you feed them a treat.
The whole family enjoyed the lorikeet feeding station, although some were more enthusiastic about the birds landing on their heads than others! This was one that we came back to and repeated a few times. The kids loved holding the small cups of nectar and waiting for a bird or two or three to perch on their arm and drink. Near the lorikeets, we also fed bunnies, guinea pigs and tortoises. Check online to see which encounters require a reservation; currently the list includes feeding lemurs, pygmy hippos and Indian rhinos as well as camel rides.
Beyond the feeding stations, there are at least 15 experiences you can book. This includes Monthly Exclusive Experiences such as:
learning about and touching a 13-foot Burmese python;
Animal Meet & Greets with an owl monkey, otter, penguin, red-ruffed lemur, African serval or Eurasian lynx;
and Behind the Scenes tours that give you an up-close, interactive experience with a sloth, giraffe or penguins.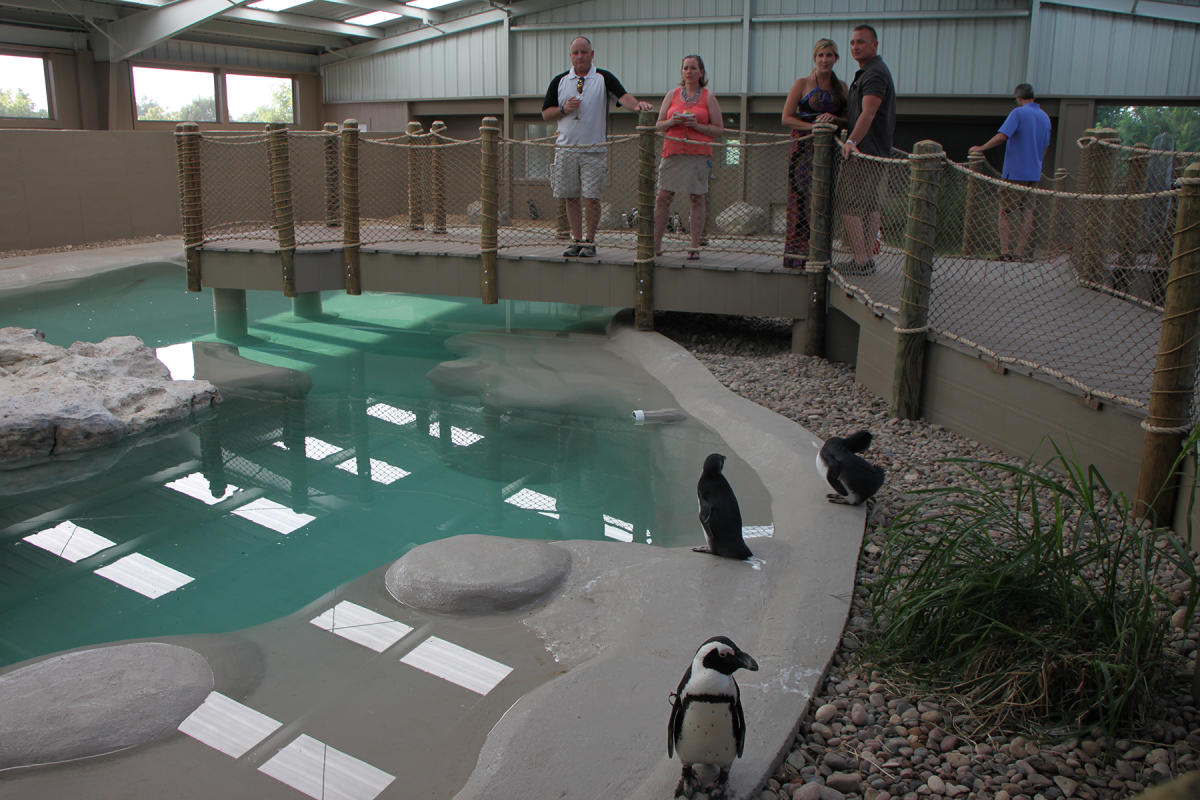 Going to Tanganyika is like getting two parks in one with the addition of Tanganyika Falls Splash Park. This seasonal area includes three waterslides, dancing water fountains, an animal-themed playground and shade where you can enjoy snacks or meals from the nearby Luna's Canteen or adult beverages from the Thirsty Sloth. For a semi-private space to relax while the kids play at the splash park, rent a cabanalow.
Learn more and get the answers to some of Tanganyika Wildlife Park's most frequently asked questions. 
Go into the wild with your family and have a transformative animal experience on your next visit to Wichita. Sedgwick County Zoo and Tanganyika Wildlife Park offer adventures that kids and kids-at-heart can enjoy.