Soon, traveling across the country will look differently as REAL ID laws take effect nationally Oct. 1, 2020 for any airline traveler over the age of 18. These changes are based on the 2005 REAL ID Act enacted by Congress after September 11. It is a set of minimum-security standards for states to issue identification, such as driver's licenses. The new forms of ID will be required to enter or pass through all airports, military bases and other federal facilities in the United States.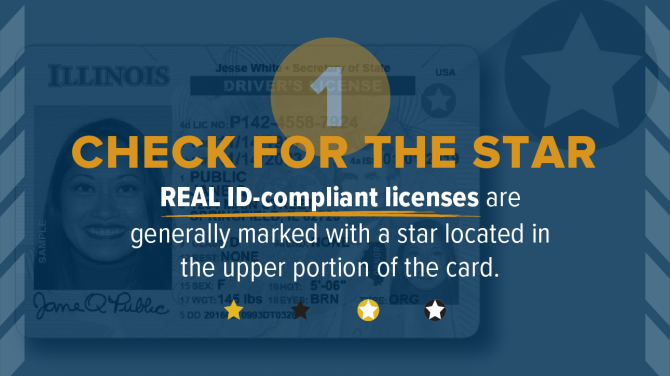 What it looks like
In order to change over to this form of identification, individuals will need to bring in more paperwork when updating their licenses. The cards will be created with new technology, and will include a black or gold star in some design in the upper corner of the ID. If your license does not have this icon, it may not be REAL ID compliant. In Kansas, the gold star will appear in a circle in the upper right corner of your driver's license.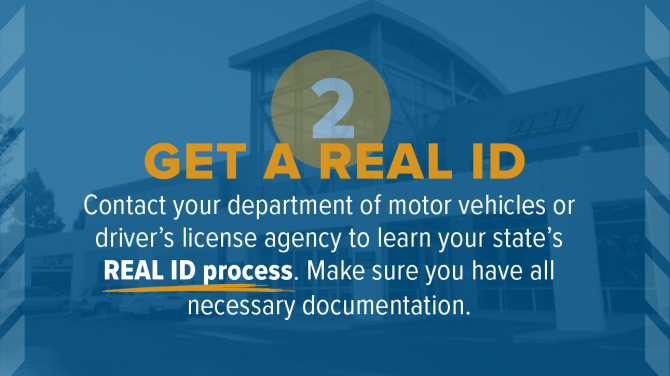 How to Change ID
In Kansas, adults ages 18+ will need to appear in person at a local DMV and provide proof they are a legal U.S. citizen, such as a state-issued birth certificate, valid passport (not expired) or valid permanent residence card. You will also need a copy of your Social Security Card, current W-2 or 1099 with full social security number or current pay stub with full social security number showing.

All adults must also provide two proofs of current Kansas residential address such as a utility bill, vehicle registration, rent or lease agreement, bank statement, deed or mortgage statement.

Additionally, if your name is different than on your birth certificate (because of adoption, marriage, divorce or other name-change reason), you must provide proof of the name change such as a marriage license, divorce decree or legal adoption paperwork. All documents must be originals or certified copies and may not be photocopies.

Kansas is currently REAL ID compliant, which means you are able to change over your license right now. REAL ID updates and license renewals in Kansas are $26 for a six-year license.

For those coming from other states, be sure to check the rules in your state on how to obtain a REAL ID.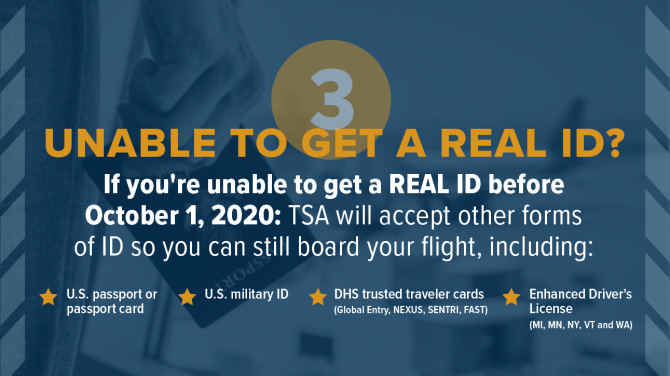 Who Needs a REAL ID
Other forms of IDs could still be accepted when boarding a flight if you're unable to change over your ID before that date. Here is a list of all people who will be affected by the change, including ALL commercial travelers:
Travelers over the age of 18 who are planning to fly on a commercial airline
Those who only fly with state issued ID
Those who do not have a valid passport or other TSA-approved ID
Those who may need to visit a secure federal facility, like a military base or nuclear plant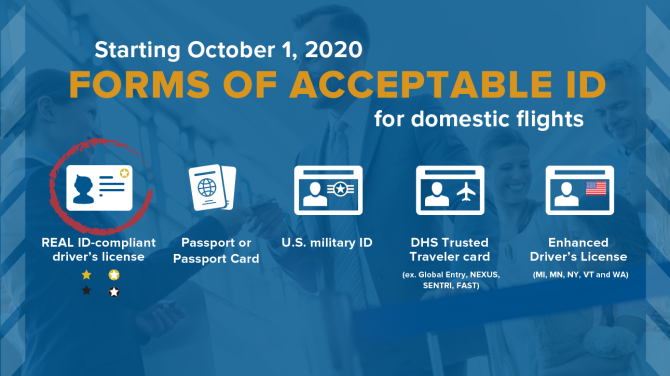 Alternative forms of TSA-approved IDs
If you do not want to update your license to a REAL ID compliant license, there are other forms of identification TSA will accept for you to fly:
Valid U.S. passport
Valid U.S. passport card
Permanent residence card
Border crossing card
Federally recognized, tribal-issued photo ID
U.S. Department of Defense ID (including IDs issued to dependents)
DHS trusted traveler cards (Global Entry, NEXUS, SENTRI, FAST)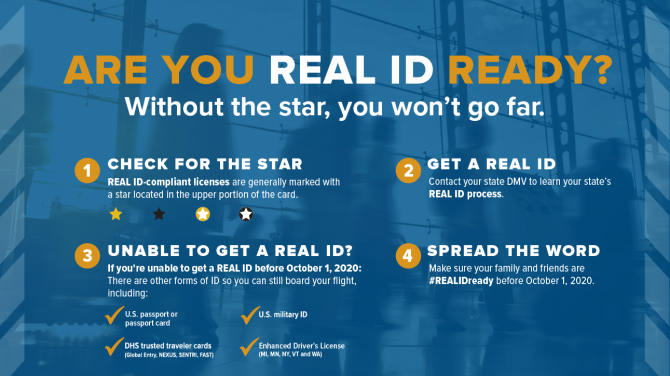 If you have additional questions about how the REAL ID process works or how to get the process started, you may email REALID@hq.dhs.gov or visit your local DMV.