Kansas' largest party of the summer is turning 50 years old this year. Visitors can expect all of the perennial Wichita Riverfest favorites along with a few new events and activities – plus some throwback fun – on the jam-packed schedule of music and arts performances, river activities, cultural experiences, festival food, kids activities and athletic competitions.
This year is the first since 2019 for Riverfest to be back to its traditional nine-day early summer schedule: June 3-11 in and around the Arkansas River in downtown Wichita. From the first celebration in 1970 – in honor of the city's 100th birthday – to this year's 50th festival, the goal has always been to bring the community together, build community pride and focus on Wichita's beautiful natural resource, the Arkansas River.
Besides being the state's largest and longest-running community festival, Riverfest is one of the most affordable and family-friendly events in the Midwest. More than 100 activities are included in the cost of the admission button, including nine days of headlining performances.
Here is your guide to enjoying the 50th edition of Wichita Riverfest.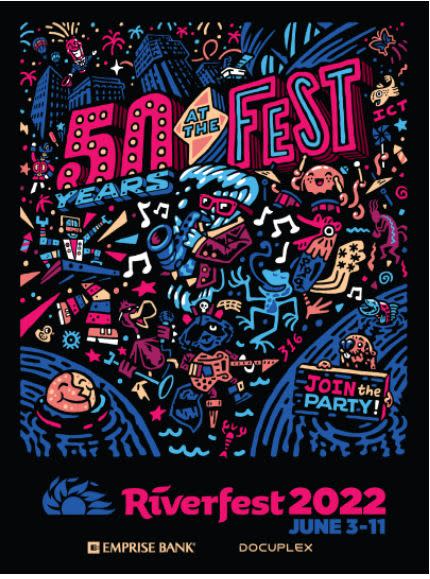 Get your button
Admission to every Riverfest concert and most activities are included in the price of your button. Early-bird button sales ended May 5 so current pricing is: $15 for adults, $5 for children, free for ages 5 years old and younger. Purchase buttons at any local QuikTrip or at one of the four red SiteBoxes during the event.
A few of the activities that have a separate fee include Cajun Food Fest ($10), Admirals' Pancake Feed ($3-$5), helicopter rides ($40) and the team competitions such as the kickball tournament and cardboard regatta.
Download the app
Each button comes with a printed program that includes a map of the festival, fest etiquette, food court info and a schedule overview. You'll find a more detailed schedule and activity descriptions on the festival website but the best way to ensure you have the latest information is to download the free Riverfest mobile app available for Apple or Android.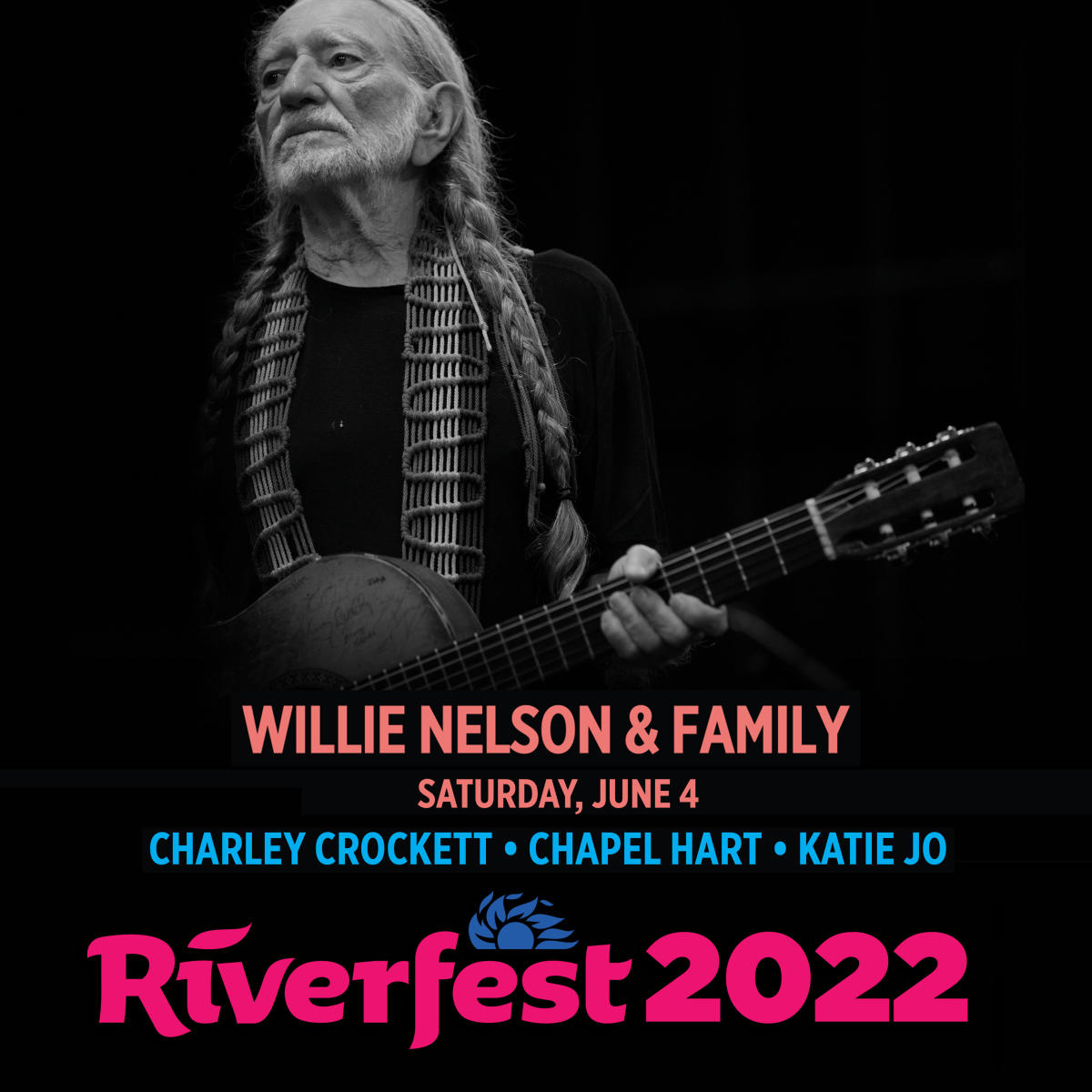 Check out the concert schedule
One of the major draws of Riverfest is its lineup of nationally recognized musical acts. The cost of one button allows festival-goers access to nine days of concerts across a variety of genres. Willie Nelson & Family is the headliner on the first Saturday of the festival and psychedelic funk legends The Family Stone take the stage on the final Saturday of Riverfest. See our concert blog post for the full list of performers.
Sponsors and partners help keep the price affordable and the quality of the entertainers high for the event. All concerts are general admission – bring your own seating or blankets and find a great spot for your group at the Acura Stage on the north side of Century II.
A limited number of VIP upgrades are available for some of the top performers coming this year. The VIP area includes access to a cash bar and port-o-pots and runs $25 to $50; click here to see the VIP ticket options.
Map out your activities
With well over 100 activities and events included in the button, Riverfest offers non-stop fun every day. We have a preview of events with dates and times on our Riverfest webpage.
Daily activities include a Kids Corner and inflatables, a carnival, getting on the Arkansas River in paddleboats at Boats & Bikes and Wagonmaster river tours, among others.
Featured events that happen on a specific date include the opening day Safelite Autoglass Sundown Parade and Textron Aviation Opening Night Fireworks, participatory events like the bathtub races on the river and River Run, a two-day pop-up ArtFest inside Century II the first weekend of the festival, a Classic Car Show inside Century II the final weekend and Capitol Federal Closing Night Fireworks.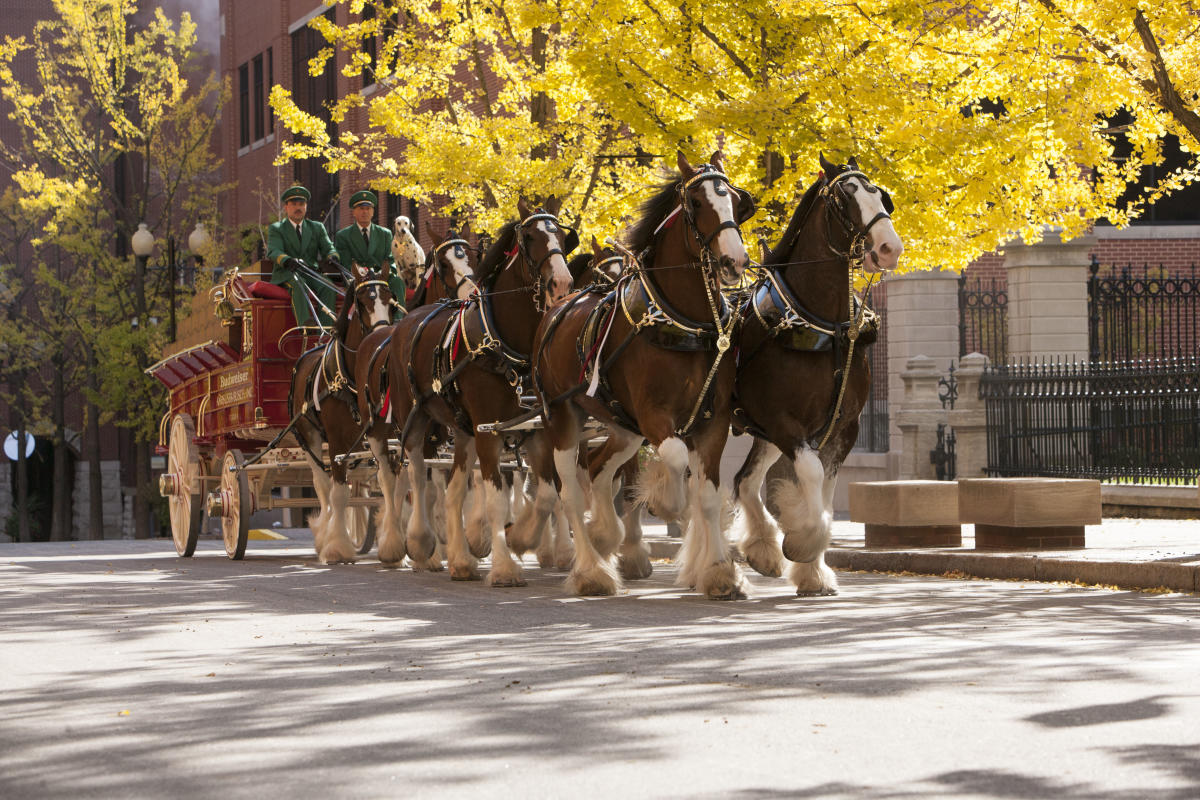 See what's new
There will be special 50th anniversary guest appearances throughout the festival by a full hitch of majestic Budweiser Clydesdales. Fireworks fanatics will appreciate a return to two fireworks events, plus opening weekend also will feature Wichita's first drone light show on June 4 and 5. The "fireworks of the future" show will provide breathtaking views of 200 synchronized drones fully choreographed with music; it will be visible throughout the festival grounds and an exclusive experience is available to purchase at Exploration Place.
Another new flagship event planned for this year brings back some past festival favorites. Downtown Get Down from 1 to 7 p.m. on Saturday, June 5 will happen on Main Street from Douglas to English. There is a full schedule of activities along the street: bathtub races, celebrity egg toss, cornhole contest, eating contests (funnel cakes and wings), mascot parade, book giveaway and more.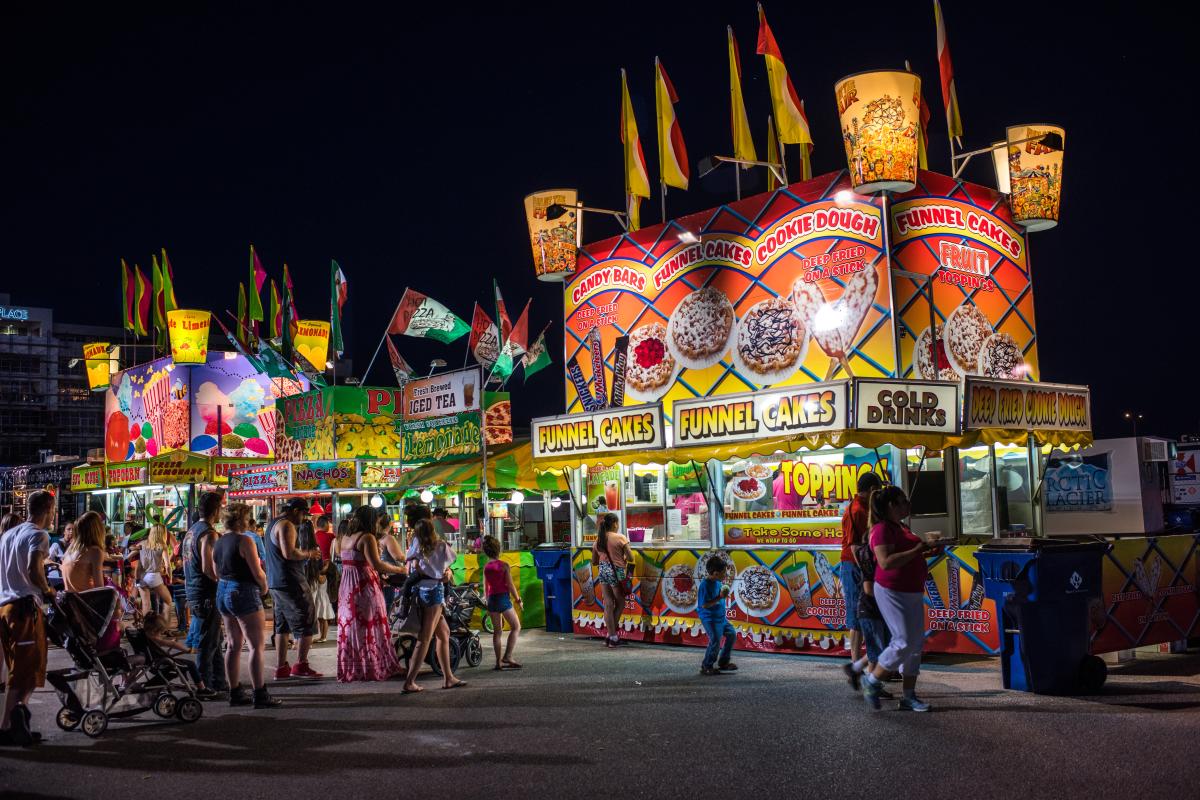 Plan your meals
You can't Riverfest without experiencing the state fair-type deliciousness served daily in the Quantum Credit Union Food Court. You can find classic fare as well as over the top options, and lots of sweet treats, too. Beverages range from water, soft drinks and fresh-squeezed lemonade to a broad selection of beers, wines and cocktails served at the Beer Garden plus mobile bars: Bud Light Seltzer Jeep and Bud Bar.
See a list of vendors and find menus in the Riverfest app. The concessionaires take tickets; cash is available from Fidelity Bank ATMs and booths sell tickets. The food court is open 11 a.m. to 10 p.m. daily, and they stay open one hour later on Friday and Saturday. Each weekday from 11 a.m. to 2 p.m. you can stop at the food court even if you don't have a button and enjoy lunch.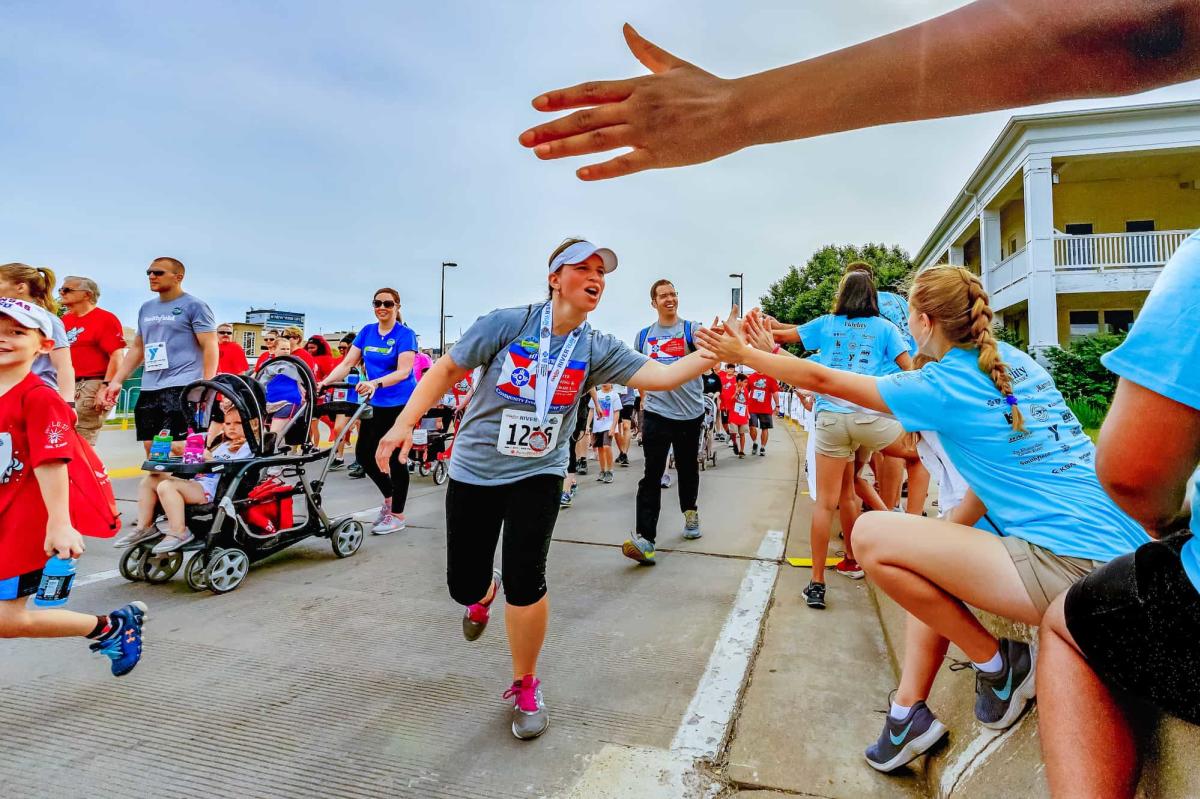 Sign up for the Fidelity Bank River Run
With a race for everyone, River Run is a great way to enjoy a morning of fun and fitness with friends and family – plus, this year there is a special edition medal and race tee to commemorate the festival's 50th. Options include: 10K, 5K, 5K wheelchair, 2-mile fun walk/jog and a tot trot for ages 2 to 7. Learn more here.

Take advantage of attraction discounts
Many area museums and attractions offer discount admission and other specials exclusively for Riverfest attendees. Most are $5 and $2 off regular admission; a few offer half-price or free admission. You'll find the list in the program that comes with your button, which is your ticket to the discount.
For more information on what's going on during the 2022 Wichita Riverfest, visit our Riverfest webpage.