Wichita has a lot to offer those ready to ditch their flip-flops for jackets and boots. Pumpkin patches, corn mazes and family-friendly events provide a variety of safe, fun outdoor activities to enjoy. There are also plenty of haunted houses and Halloween events for those looking for more of a scare this year, so be on the lookout for our blog covering those.
We've rounded up a list of events and activities happening in and around Wichita this fall, so take a look and start making plans to enjoy autumn in and around Wichita!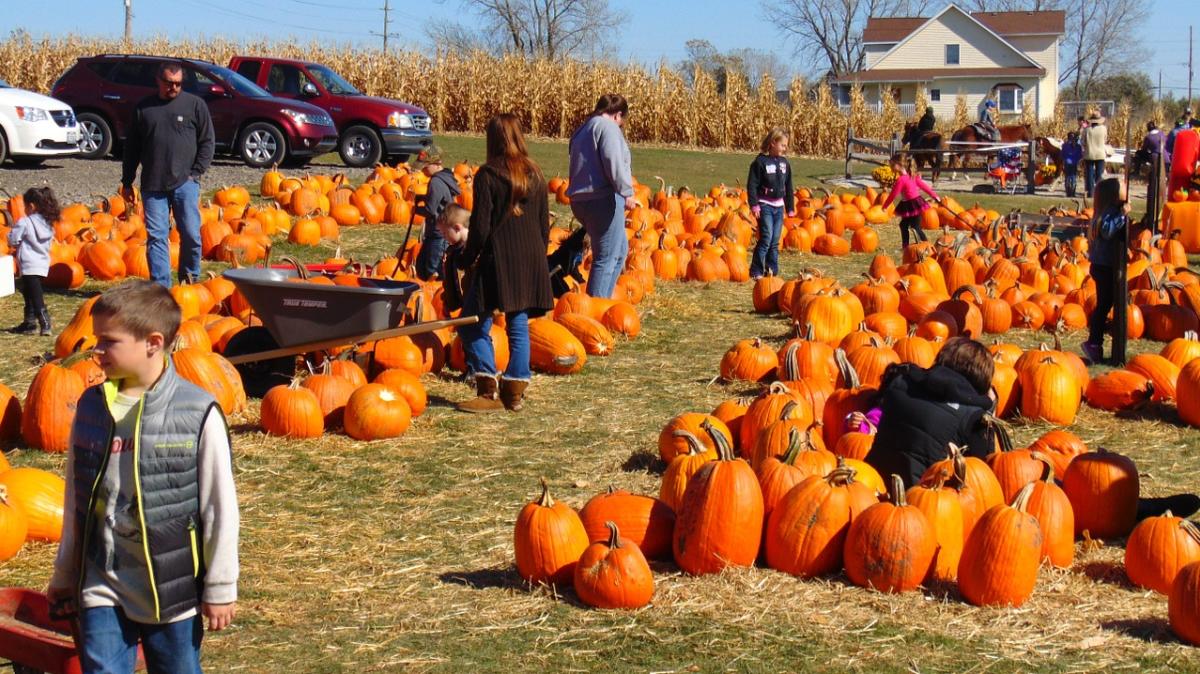 Applejack Pumpkin Patch
Sept. 30-Oct. 29
With tons of activities for all ages, Applejack Pumpkin Patch offers a variety of free and paid packages great for ages 2+. Just east of Wichita in Augusta, kids will enjoy the inflatable jump pad, corn bin, giant slide and other activities. Pumpkins are sold by the pound at market value. In the offseason, Applejack Pumpkin Patch is home to free outdoor artisan markets, a Santa experience and even has an event center perfect for booking events and parties. Many features such as the corn maze and obstacle course are free with admission, and some like the pumpkin cannon and goat food feeders are available for an extra fee. Open during pumpkin patch season Wednesday through Sunday.
Cedar Creek Pumpkin Patch
Sept. 23-Oct. 29
With a focus on unplugging from the bustling ways of life and focusing on real, authentic family fun, Cedar Creek Farm & Pumpkin Patch offers an all-ages experience on the northwest side of Wichita. Admission comes with a wristband to be used at a variety of activities such as the barrel train, corn maze, petting zoo and pony rides. Pumpkins are sold by the pound. They also offer fire pit rentals for groups to enjoy for $35. Look for special events throughout September and October. On Oct. 29, come out for their 4th annual trick-or-treat event, Halloween Hootenanny.
Klausmeyer Dairy Farm & Pumpkin Patch
Sept. 17-Oct. 31
The family-friendly fun extends past Wichita's city limits to Clearwater (southwest of Wichita) where Klausmeyer Dairy Farm & Pumpkin Patch offers activities for everyone. Be sure to take a look at special events, including the 7th Annual Halloween Costume Contest Oct. 28-29, a free movie on Sept. 23 and discounted weekend ticket prices for grandparents, first responders, teachers, veterans and more. Some of the activities free with admission include pig races, milking demonstrations and a hay bale maze. Barrel rides, zombie paintball and other features are available for an additional fee. New activities this year include a toddler race, a music wall, additional carnival games and playgrounds and more.
Marietta Farm Pumpkin Patch
Sept. 22-Oct. 31
Head just east of Wichita for an exciting pumpkin patch with activities for all ages that is open through October. This pumpkin patch sits off Kellogg Avenue/Highway 54 and has tons of free activities for all ages. Buy extra tickets in packages for all the additional fun or spend the day enjoying fall with a collection of free activities at Marietta Farm Pumpkin Patch in Andover. Just a few of the activities included free with admission: Corn pit, tricycle races, inflatable bouncers, tire swings, wagon rides, water races, hay bale bowling and zip line.
Meadowlark Farm Pumpkin Patch
October
Pick your own apples, peaches, pumpkins and other fruits during other seasons at Meadowlark Farm Pumpkin Patch. With activities for all ages, parents will love to sit back and relax on a gorgeous fall day at a picnic space as the kids experience the playground area or explore the nature trail. An entry fee of $2.50 per person gets you picking buckets, baskets, totes, access to the patch and a ride on the tractor out to the pumpkin patch on Saturday and Sunday where you can find the perfect pumpkin to complete your fall décor. For an extra fee, purchase apples, pumpkins, gourds and other produce, snacks, hard cider and more.
Mr. Gourdman's Pumpkin Patch
Sept. 30-Oct. 29 (weekends; weekdays by appointment)
Great for a family outing away from the hustle and bustle of city life, Mr. Gourdman's Pumpkin Patch sits near a 15-acre lake and a working horse ranch. Visit the pumpkin patch and enjoy a variety of activities including hay rack rides, canoes, boats and kayaks (dependent on water level). You'll also find a picnic area, so pack a cooler and enjoy a meal in a serene farm setting. While concessions, pumpkins and produce are available for purchase, activities like fishing (bring your own tackle), a corn maze and hayrack rides are free.
P and M Pumpkin Ranch 
Sept. 23-Nov. 5
Take the 45-minute drive north of Wichita to Moundridge and experience P & M Pumpkin Ranch. Adults and kids alike will have no problem finding hours of fun on this sprawling family farm. Visitors can shoot hoops in the P & M Sports Barn, bounce around on one of three jump pads, enjoy miniature golf, slide down the Outlaw Chute Slide, feed goats, watch pig races and much more. Most activities are included with admission, which is $15 per person (ages 2 and under free). Food and sweet treats including hot dogs, burgers, kettle corn and funnel cakes are available for purchase. Private campfires, perfect for entertaining groups, can also be reserved.
Walter's Pumpkin Patch
Sept. 16-Oct. 29
Named the state's top pumpkin patch by Reader's Digest, Walter's Pumpkin Patch offers 70 acres of play areas and endless fun for kids and adults of all ages Wednesday-Sunday through Oct. 29. There's always fun to be had at this popular pumpkin patch like romping on the mountains and playground, paddle boats, exploring the walking trail, petting the animals, having some great pumpkin soup or a hot dog, or browsing their unique gift shop. Located approximately 45 minutes northeast of Wichita, Walter's Farm also hosts numerous events during the fall to keep the fun going! This year, the farm is partnering with Tanganyika Wildlife Park for four days of interactive animal experiences.

Family-Friendly Halloween Events
In addition to pumpkin patches, Wichita has these family-friendly fall events – and many other happenings – to offer.
Find more Halloween fun for adults and kids alike in Wichita.