For decades, the brick building that housed the world's first Pizza Hut was simply a drive-by attraction in Wichita. It had been relocated from its original location at the corner of Bluff and Kellogg to the campus of Wichita State University in 1986, but visitors could only see the building's exterior and a plaque noting its significance to Wichita, a world of pizza lovers and America's entrepreneurial spirit.
Over the past three years, a group organized by the Wichita State University Foundation raised $1.2 million to relocate and renovate the building and turn its 500 square feet into a museum to tell the historical, cultural and entrepreneurial story of Pizza Hut.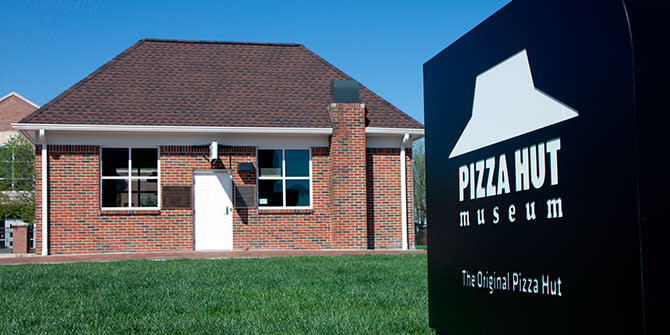 The Pizza Hut Museum is located just south of the Marcus Welcome Center, where visitor parking is available. It is free and open to the public during set hours and also available for group tours arranged in advance. From September through May, hours are 9 a.m.-4 p.m. Monday and Friday and noon-4 p.m. Tuesday-Thursday. From June through August, hours are noon-4 p.m. Monday-Friday. Email pizzahutmuseum@wichita.edu four weeks in advance to schedule a visit if the dates or time you plan to visit fall outside regular museum hours.
"We get thousands of visits every year from prospective students and their families, and we think the museum will inspire students and visitors alike," said Wichita State University Foundation vice president Keith Pickus.
Borrowing $600 from their mother, brothers Dan and Frank Carney turned a beer tavern into a pizza restaurant in 1958. At the time, Dan was a Wichita University graduate and Frank was still enrolled. The brothers took a gamble on pizza, then relatively unknown to most diners. Just a year later, they expanded into franchising. Pizza Hut went international in 1970 and the brothers sold it to PepsiCo for $300 million in 1977. Today it is a subsidiary of Yum! Brands and there are 7,500 Pizza Huts nationally and another 10,000 internationally.
The museum tells the story of how the Carneys turned their idea for a small pizza restaurant into the most recognized pizza brand. You'll see relics like the original sauce recipe written by Dan on a napkin, an early rolling pin used for dough and one of the restaurant's first tin serving pans. There are interactive kiosks playing commercials from the past 60 years and interviews with entrepreneurs discussing the early days of building the business.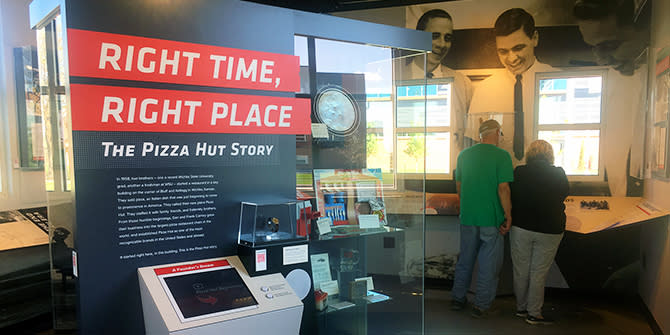 Displays hold memorabilia donated by Gayla and Dan Carney as well as from the Yum! Corporation, and they will change out about every six months in order to rotate through the museum's collection of promotional items.
You'll want photos with the cutout of Pizza Pete – the restaurant's first icon used in advertising – or sitting at the café table under a vintage light fixture from one of the early restaurants.
While much is behind glass inside the museum, there are a few displays that encourage interaction. "Reflections" invites visitors to write their Pizza Hut memories on a napkin and pin them on a board for others to read. A tactile library features 3-D prints of key artifacts in the collection that you can touch. GoCreate, a makerspace on the WSU Innovation Campus, created prints of a Pizza Pete piggy bank, a mini red roof replica, an original Pizza Hut pan and several other items.
Pickus said the museum exists because the building represents one of the most successful entrepreneurial ventures in history, which makes an extraordinary gateway to Wichita State University's new 120-acre Innovation Campus. 
Innovation Campus is an interconnected community of partnership buildings where organizations establish operations and reap the rewards of the university's vast resources, laboratories that give students access to real-world applications and the training needed to effortlessly assimilate into the workforce, a community makerspace that gives students and non-students access to the technology and services that helps facilitate product development and mixed-use areas that provides everyone with a place to eat, sleep, play, shop and share.