Fall often brings spooky Halloween ghost stories, haunted houses and horror movies, but if those traditions aren't your style, there are many options for family-friendly events in Wichita that celebrate a more fall festival feel. 
QUICKLIST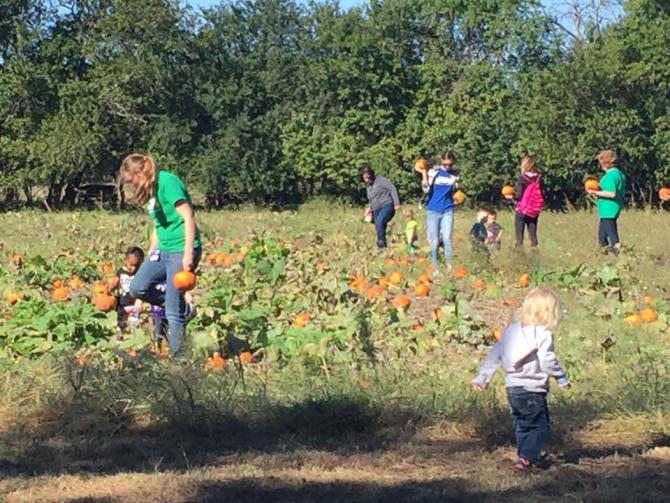 Applejack Pumpkin Patch
With tons of activities for all ages, Applejack Pumpkin Patch offers a variety of free and paid packages great for ages 2+. Adventure seekers can ride the zip line over the patch or work on motor skills at the balance course. Younger kids will enjoy the inflatable jump pad, corn bin, giant slide and other activities. Pumpkins are sold at market value. In the offseason, Applejack Pumpkin Patch is home to free outdoor artisan markets, a Santa experience and even has an event center perfect for booking events and parties.

Free with admission: Hayrack rides to pumpkin patch, corn maze, duck races, playgrounds, petting zoo, corn crib crawl, jump pad, hill slide, cornhole, sad diggers, tricycle track, catfish dock, zip line, obstacle course, tire swings, calf roping, wooden train, rat racers

Extra fee: Adult pedal cars (weekends only), barrel trains (age restriction), pumpkin cannon, gourd gun, paintball gallery, slingshot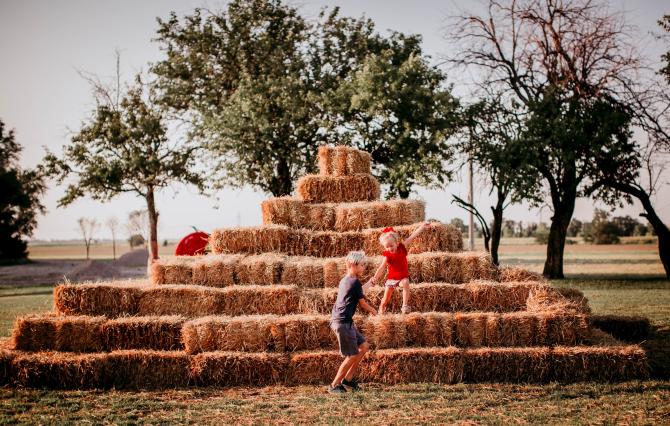 Cedar Creek Pumpkin Patch
With a focus on unplugging from the bustling ways of life and focusing on real, authentic family fun, Cedar Creek Farm & Pumpkin Patch offers an all ages experience on the northwest side of Wichita. Admission comes with three tickets to be used at a variety of activities. Get your season passes now for $20 per person and three tickets for extra activities.

Free with admission: Pumpkin patch, fire pit, photo opportunities, playgrounds, corn pit, hay bale climbing

Extra fee: Barrel train, corn maze, petting zoo, pony rides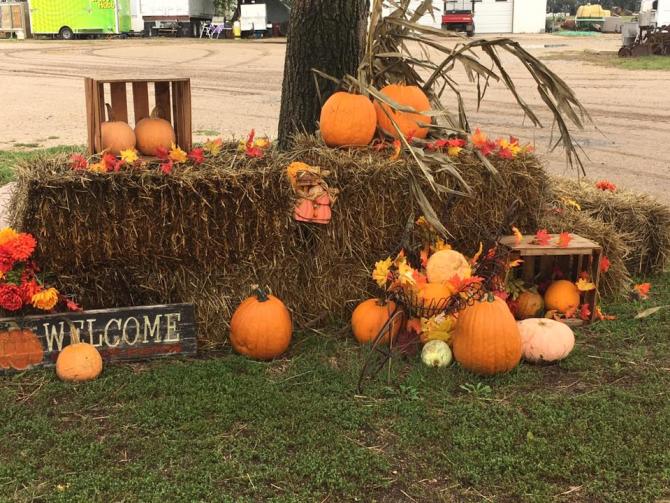 Klausmeyer Dairy Farm & Pumpkin Patch
The family-friendly fun extends past Wichita's city limits to Clearwater (southwest of Wichita) where Klausmeyer Dairy Farm & Pumpkin Patch offers activities for everyone. Be sure to take a look at special events, including the showing of a free movie for Halloween and discounted ticket prices for first responders and veterans.

Free with admission: Pig races, milking demo, dairy tours, jumping pillow, hay bale maze, sorghum maze, fossil dig, campfire, wagon rides, educational movies, sand pile, playgrounds, cotton pit, corn pit

Extra fee: Barrel rides, barn of fear, gem mining, Farmer Ninja Warrior obstacle course, zombie paint ball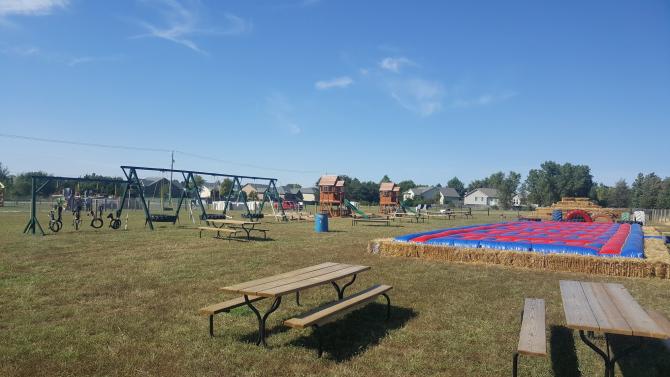 Marietta Farm Pumpkin Patch
Head just east of Wichita for an exciting pumpkin patch with activities for all ages that is open through Halloween. This pop-up pumpkin patch sits off Kellogg Avenue/Highway 54 and has tons of free activities for all ages. Buy extra tickets in packages for all the additional fun or spend the day enjoying fall with a collection of free activities at Marietta Farm Pumpkin Patch in Andover.

Free with admission: Corn pit, playgrounds, grass maze, picture backgrounds, inflatable bouncers, tire swings, petting zoo, wagon rides, water races, tricycle races, hay bale barnyard, dairy cow, hay bale bowling, pumpkin house, teeter totters, zip line

Extra fee: Corn cannon, cow train, pumpkin slingshot, bungee bouncer, train ride, paintball, pumpkin cannon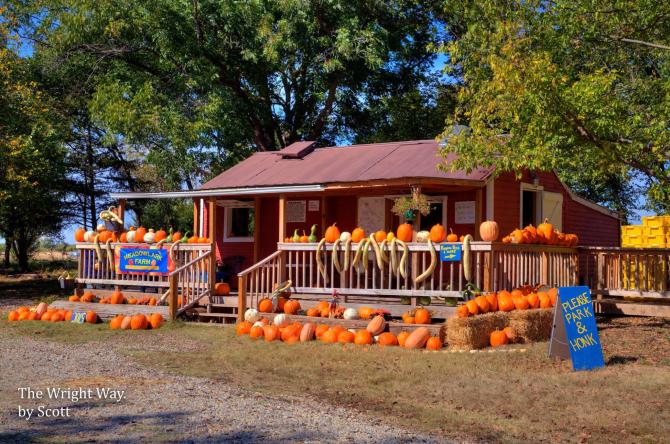 Meadowlark Farm Pumpkin Patch
Pick your own apples, pumpkins and other fruits during other seasons at Meadowlark Farm Pumpkin Patch. With activities for all ages, parents will love to sit back and relax on a gorgeous fall day as the kids experience the playground area. Ride the tractor out to the pumpkin patch and find the perfect pumpkin to complete your fall décor.

Free with admission: Playground, picnic sites

Extra fee:  Tractor ride to pumpkin patch, garden carts to pumpkin patch, snacks, pumpkin carving sets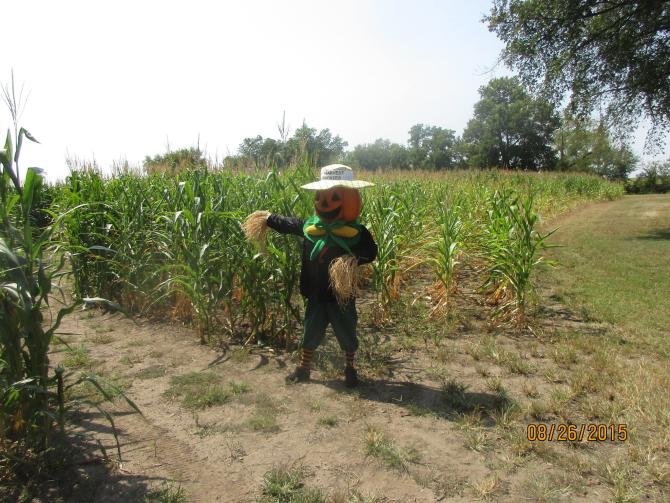 Walter's Pumpkin Patch
Named one of "America's Best Pumpkin Farms" by Travel + Leisure, Walter's Pumpkin Patch offers endless fun for kids and adults of all ages. With several new features in 2019 such as a giant Adirondack chair,  a wishing well for charity donations supporting K-State's Johnson's Research Center, a new field scarecrow that weighs your pumpkins, a new pumpkin PLINKO game and a new tree house, Walter's offers a unique way to celebration the fall season. Walter's Farm also hosts numerous events during the fall to keep the fun going!

Free with admission: Corn maze, hayrack ride to pumpkin patch, jumping pillows, play areas, bag swings, Mountain Boo underground slide, hay bales for climbing, horse walker with swing, tricycle track, corn bin, pedal boats, culvert swing, Pumpkinland game, Adirondack chair, wishing well, scarecrows, pumpkin plinko, treehouse

Extra fee: Hi-Striker, zip line, punkin' chunkin', barrel train, duck races, mining for gems, Walter's Express, flashlight maze, haunted cannery
Looking for more Halloween events? Try these family-friendly Halloween events in Wichita or explore some of the city's most haunted places. For specific holiday-themed events, check out the calendar of events.