Wichita embraces a rich tapestry of diverse ethnicities, individuals, communities and cultures, among them a thriving and expanding Asian population. Here are some several avenues to immerse yourself in the captivating Asian heritage, each offering a unique and intimate cultural encounter.

Chinese Garden of Friendship at Botanica Wichita
A visit to Botanica Wichita, you will get to see the Chinese Garden of Friendship which is an absolute must. This enchanting garden showcases an array of indigenous flowers from various Asian nations. With its vibrant hues and sprawling floral landscapes, this serene haven offers an ideal setting for capturing memorable photographs. The garden holds immense significance in Wichita, drawing families who relish immersing themselves not only in nature but also in Asian culture.

Can't-miss Festivals 
For an authentic Asian cultural immersion, there is no better approach than fully immersing oneself in the festivals. Fortunately, Wichita boasts a multitude of festivals that provide precisely that opportunity: to be enveloped by people, cuisine and culture. If you're in search of an Asian-centered festival, explore these selections.
Wichita Asian Festival
Indulge in an enchanting night filled with cultural celebrations at the Wichita Asian Festival, presented by the Wichita Asian Association. Mark your calendar for the 42nd installment of this annual extravaganza, scheduled from 5-10 p.m., Oct. 28, 2023. The festivities will unfold at Century II Performing Arts & Convention Center, conveniently nestled in the heart of downtown Wichita. Anticipating a crowd of over 10,000 visitors, this remarkable festival promises an assortment of captivating cultural performances, pageants and an array of more than 40 food and craft vendors representing diverse traditions. Keep yourself in the loop with the latest updates and announcements by following the Wichita Asian Association on Facebook.
Lunar New Year Festival
Celebrate the arrival of the Lunar New Year in February, a splendid opportunity to delve into culture and culinary delights. This highly revered festival stands as one of Wichita's paramount celebrations, traditionally spanning three joyous days and encompassing various venues. Immerse yourself in a vibrant ambiance that includes captivating lion dances, traditional Asian garments, melodious music and delectable, authentic cuisine. Save the date for the upcoming Lunar New Year extravaganza, Feb. 10, 2024, and prepare to embark on an unforgettable cultural journey.
Asian Night Market
Transport yourself to the lively late-night bazaars of Asia with a can't-miss experience at the Asian Night Market. Against a backdrop of a refreshing summer breeze and a bustling crowd, immerse yourself in the enchanting atmosphere. The highly anticipated 2023 Asian Night Market is scheduled from 5-10 p.m., May 27, at Riverfront Stadium. This event serves as a melting pot, bringing together individuals from all walks of life to savor local Asian food and drinks, as well as admire mesmerizing art. By showcasing the talents of local performers, chefs and entrepreneurs, the night market strives to promote community unity and empowerment. Stay tuned for an extensive lineup of vendors set to dazzle at the 2023 event!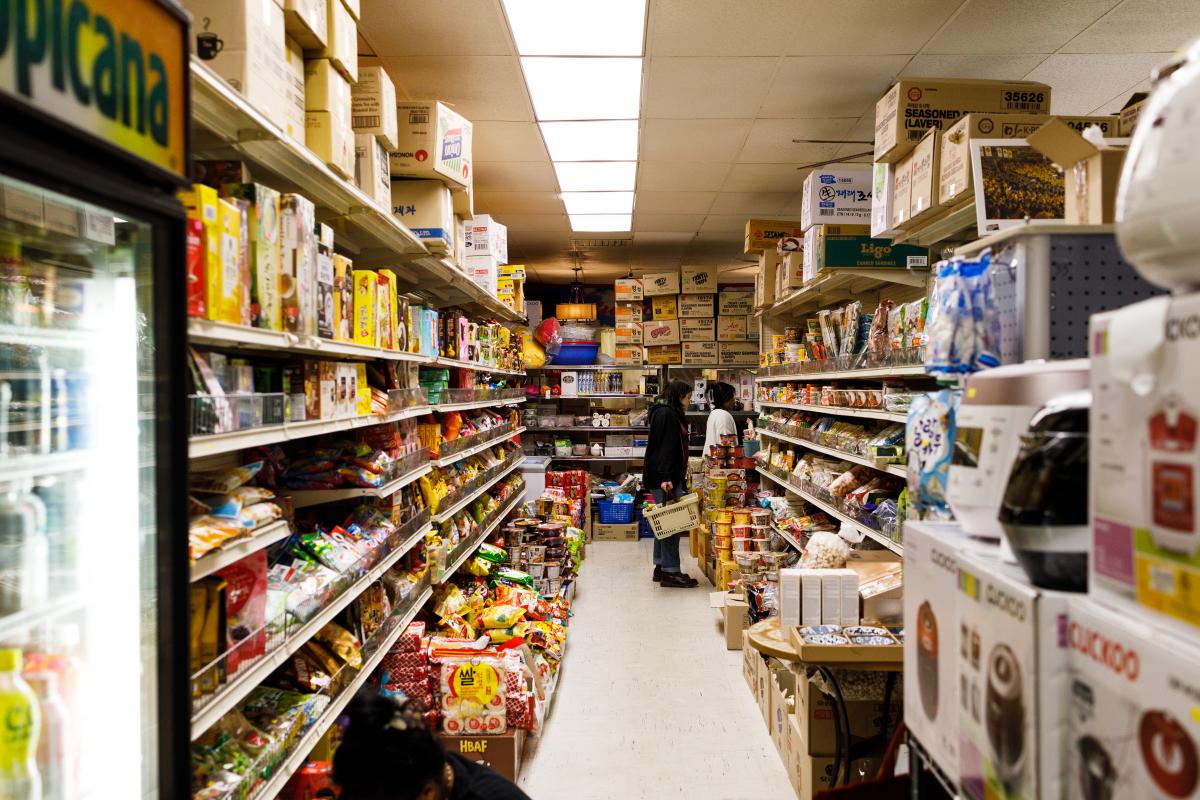 Grocery stores
Embark on a foodie adventure by experimenting with a fresh Asian recipe or satisfy your cravings with popular Asian snacks available at various Asian grocers in Wichita. These diverse stores are stocked with an extensive array of authentic ingredients sourced from different regions of Asia. Don't hesitate to visit your nearest Asian grocery store today and explore the tantalizing flavors and culinary delights awaiting you!
Grace Market, 1030 Oliver, Wichita, KS
Grace Market is an Asian grocery store that offers a wide variety of Asian food products from different regions, including Japan, Korea, China and Southeast Asia. They specialize in fresh seafood, meat and produce, as well as traditional Asian snacks, candies and beverages. Grace Market also has a deli section that serves Korean-style fried chicken and other ready-to-eat dishes.
Thai Binh, 1530 W. 21st St., Wichita, KS
Thai Binh is an Asian grocery store that caters to the Vietnamese community. They offer a range of Vietnamese ingredients, including fresh herbs and vegetables, noodles, sauces and spices. Thai Binh also has a selection of prepared foods, such as banh mi sandwiches and spring rolls, as well as Vietnamese coffee and tea.
Dong Huong, 10939 E. Harry St., Wichita, KS
Dong Huong is a Vietnamese grocery store in Wichita that stocks a range of Asian products, including Vietnamese, Chinese and Thai food items. They have a selection of fresh produce, meat and seafood, as well as dried goods, snacks and beverages. Don't forget to stop and grab a traditional Vietnamese pastry or dessert from their bakery on your way out!
Discover more of Wichita's hidden Asian culinary gems
Check out this list of local restaurants to discover even more Asian flavors.
Little Saigon Café, 1015 N. Broadway St., Wichita, KS
A Vietnamese restaurant offering traditional Vietnamese dishes like pho, banh mi and rice vermicelli.
Yokohama Ramen Joint/Mr. Lion Tea, 613 W. Douglas Ave., Suite A, & Yokohama Ramen Izakaya, 6434 E. Central Ave., Wichita, KS
Japanese restaurants specializing in authentic ramen noodles and other Japanese dishes.
Tuptim Thai Restaurant 2121 N. Rock Rd., Suite 300, Wichita, KS
A Thai restaurant offering classic Thai dishes like pad thai, curry and tom yum soup.
Pho MC, 1675 S. Rock Rd., Suite 109, Wichita, KS
A Vietnamese restaurant serving traditional pho and other Vietnamese dishes.
Tuta's Teriyaki, 1212 S. Tyler Rd., Wichita, KS
A restaurant specializing in Japanese cuisine. They offer chicken and pork teriyaki, combination fried rice dishes and more.
Gangnam Korean BBQ and Sushi Bar, 210 N. Washington St., Wichita, KS
This interactive cook-it-yourself restaurant serves a variety of dishes, including raw seasoned beef. Customers can cook their food to their liking at the table or choose from a menu of prepared dishes and sushi.
New Paradise, 1648 S. Rock Rd., Wichita, KS
Serving Indian cuisine, New Paradise's most popular dishes include chicken tikka masala, lamb biryani, curry and more.
For more events happening visit Wichita Asian Association.