Landlocked does not mean out of luck when it comes to fresh seafood in Wichita KS. You'll find fresh fish and seafood that is flown in daily at Wichita restaurants and markets.
Check out these Wichita spots to order fresh seafood:
This popular market moved to a bigger space at end of October. Find them in Cambridge Market, 9747 East 21st St. N. #111, where they offer fresh options from their seafood case Monday through Saturday. You can also pick up fresh heat-and-eat or take-and bake from-scratch dishes. Each Friday they offer lunch to go from 11 a.m.-2 p.m.
If you have ordered seafood at an area restaurant, owners say, you've likely already eaten seafood from Wichita Fish Company. They provide seafood to many Wichita restaurants.Also at 1601 W. Douglas is a small restaurant they operate with a menu featuring their fresh seafood.
This southern California inspired eatery at Bradley Fair, 1900 N. Rock, is known for fresh seafood. The menu offers freshly caught, sustainable and wild seafood delivered from the docks to their door, then simply prepared. Don't miss the happy hour $1 oysters, flown in fresh daily.
All seafood at the upscale Greystone, 9719 E. 21st, is flown to Wichita and hand-cut by the head chef, making this an east-side steak and seafood destination.
From delicious fish entrees to the popular raw bar, Chester's is known for its flown-in-daily seafood options as much as its entrees featuring Midwestern beef. On the menu at this Waterfront restaurant, 1550 N. Webb, you'll find inventive main dishes (maple mustard salmon), delicious sides (King Crab mac and cheese) and a selection of oysters from Mid Atlantic, Cape Cod, Pacific Coast and North Atlantic.
Located at 4714 E. Douglas, this Douglas Design District favorite has a menu stocked with seafood appetizers and entrees, from smoked trout deviled eggs to grilled mahi mahi to the rich lobster, shrimp and crab mac & cheese.
Fresh seafood stars on the menu at this Old Town favorite at 904 E. Douglas. You'll find fresh homemade crab cakes, steamed mussels as well as a large selection of entrees and salads featuring fish.
This Wichita tradition at 5325 E. Kellogg could be called Scotch & Sirloin & Seafood. Whether you're turning your steak dinner into a surf & turf or ordering from the large selection of fish and shellfish entrees, you'll be happy you chose this world-class dining experience.
Diver scallops, Rocky Mountain trout and shrimp & salmon linguini are just a few of the mouth-watering entrees featuring fresh seafood at this Bradley Fair hotspot, 8115 E. 21st.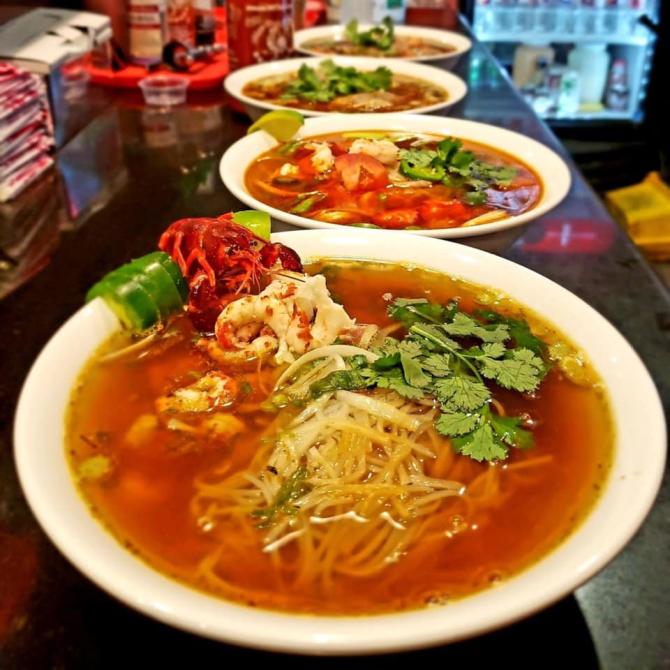 In addition to the above upscale and fine-dining restaurants, these Wichita seafood restaurants have a loyal following: Krab Kingz Seafood, 784 N. West, is a Texas-based chain that recently opened in Wichita. They serve crab, shrimp, sausage and, of course, crab legs. Mama Nith's Crawfish is a local chef-driven venture that has evolved from pop-up crawfish boils to a bricks-and-mortar location that will soon open downtown at 604 S. Topeka.
Looking for sushi or craving something else? Visit our restaurant listings to see the variety among Wichita's more than 1,000 restaurants.