Gourmet street cuisine at The Flying Stove, decadent creme-filled cupcakes from The Brown Box Bakery, locally sourced coffee drinks and snacks from Sunflower Espresso, cooked-to-order steakburgers on the Freddy's Frozen Custard & Steakburgers food truck, tasty adult beverages poured from Shaken or Stirred Bartending's booze truck and Peace, Love & Pie artisan desserts dished out from Clementine, the pie van.
Is your mouth watering yet?
Wichita's fleet of food trucks feature creative menus and are easy to discover. You'll find them parked outside businesses and taking part in markets, fairs, festivals and special events throughout the area nearly every day of the week.
The best way to track a food truck in Wichita is through its social media accounts, where you'll find menus and schedules. More than 20 food truckers belong to a coalition that maintains a Facebook page and a website with photos, maps and quick links to each member's online outlets.
Here are events and locations where you'll find a gathering of Wichita food trucks:

Food Truck Rallies
You can often find details of Wichita area food truck rallies under the events tab on the Wichita Food Truck Coalition's Facebook page or individual participating trucks. Here are scheduled events that happen regularly. Always check social media sites before heading out as details often change with food truck schedules!
Food Trucks at the Fountains
Catch Food Trucks at the Fountains at Wichita WaterWalk, 515 S. Main, on the final Sunday of each month. It regularly draws more than 20 trucks for a mega-rally from 11 a.m. to 2 p.m. that includes yoga before lunch and musical entertainment during lunch. 2021 dates are: May 30, June 27, July 25, Aug. 29, Sept. 26 and Oct. 31.
Night at the Fountains
Night at the Fountains, also at Wichita WaterWalk, started May 21 and will continue through October on the third Friday of each month. The exception is September, when the date is moved to accommodate Riverfest. Plan on a variety of food trucks and live entertainment from 6 to 9 p.m. This is also a great opportunity to catch the Fountains at WaterWalk, an amazing water, light and music production referred to as liquid fireworks (noon, 7, 8, 9 and 10 p.m. during warm months when the fountains operate). The remaining 2021 dates for the food truck rally are: June 18, July 16, Aug. 20, Sept. 10 and Oct. 15.
Food Truck Thursdays at Exploration Place
Wichita's science center Exploration Place is launching a ticketed Food Truck Thursdays from 5:30 to 9 p.m. every Thursday June 3 through July 1. Tickets are $15 in advance or $20 at the gate (museum members are free) for live music, access to all exhibits inside Exploration Place, food trucks and bar (separate purchase from admission) and ending with the Ring of Fire lighting at the Keeper of the Plains. Some seating will be provided, but lawn chairs and blankets are encouraged.
Old Town Farm & Art Market
The Old Town Farm & Art Market has expanded for the 2021 season and now has room for up to 10 food trucks during its weekly market that typically runs 8 a.m. to 1 p.m. on Saturdays from April through October in front of the Museum of World Treasures at 1st and Mosley.
The Workroom's 2nd Saturday Artisan Market
The Workroom's 2nd Saturday Artisan Market occurs each month from 10 a.m. to 2 p.m. at 150 N. Cleveland and typically includes several food trucks alongside the market and live music. See the schedule and details for the markets on The Workroom's event page.
South Side Food Truck Rally
A South Side Food Truck Rally happens 11 a.m. to 2 p.m. on the first Saturday of each month year-round during a vintage market organized by reBorn Boutique & Marketplace at the Blood Orchards urban farm, 6346 S. Broadway.
Final Friday Art Show & Food Truck Rally
An Art Show & Food Truck Rally can be found in and around the Wichita Boathouse, 515 S. Wichita St. on the last Friday of the month through October. Up to five food and booze trucks participate alongside 25+ local artists and vendors. The event is 6-11 p.m. with live music from 7-10 p.m. The 2021 events are May 28, June 25, July 30, Aug, 27, Sept. 24 and Oct. 29.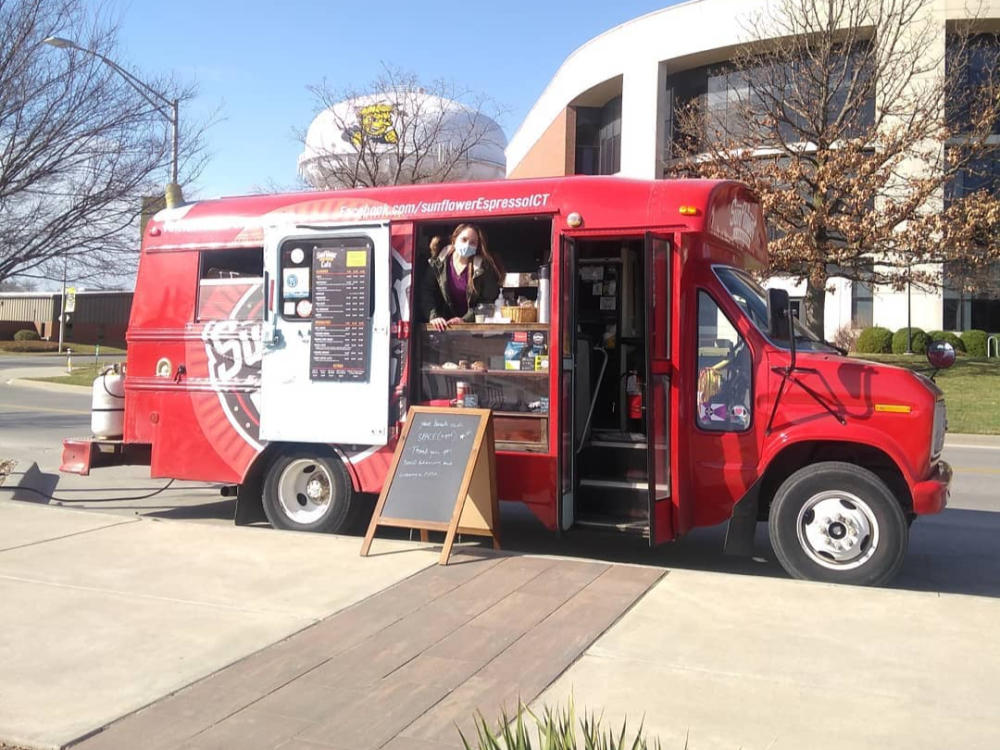 Food Truck Plaza
Wichita State University's Food Truck Plaza has room for up to four trucks. Lunch is almost always available from 11 a.m.-1:30 p.m. on weekdays only, along with breakfast service from 8 a.m.-noon several days a week. The schedule is less regular when the fall or spring semesters are not in session; be sure to consult the schedule before going. The plaza is across the street from the National Institute for Aviation Research at the intersection of Wheatshocker Drive and Perimeter Road.
Looking for more dining options while visiting Wichita? We've got something for everyone with more than 1,200 restaurants across the city.