To assist with public safety, please remain diligent in adhering to safe practices outlined by the CDC like wearing a face covering and social distancing when out in the community and stay home if you feel ill. We recommend confirming details and verifying requirements and/or safety procedures for guests before visiting a local shop, attraction, eatery or other business. 
 
There are many ways to celebrate Valentine's Day in Wichita, whether you are spending time with your sweetheart, the children in your life or a group of friends. Here is a collection of ways to make your day or someone else's day special, from events and activities to romantic dinners and gift ideas.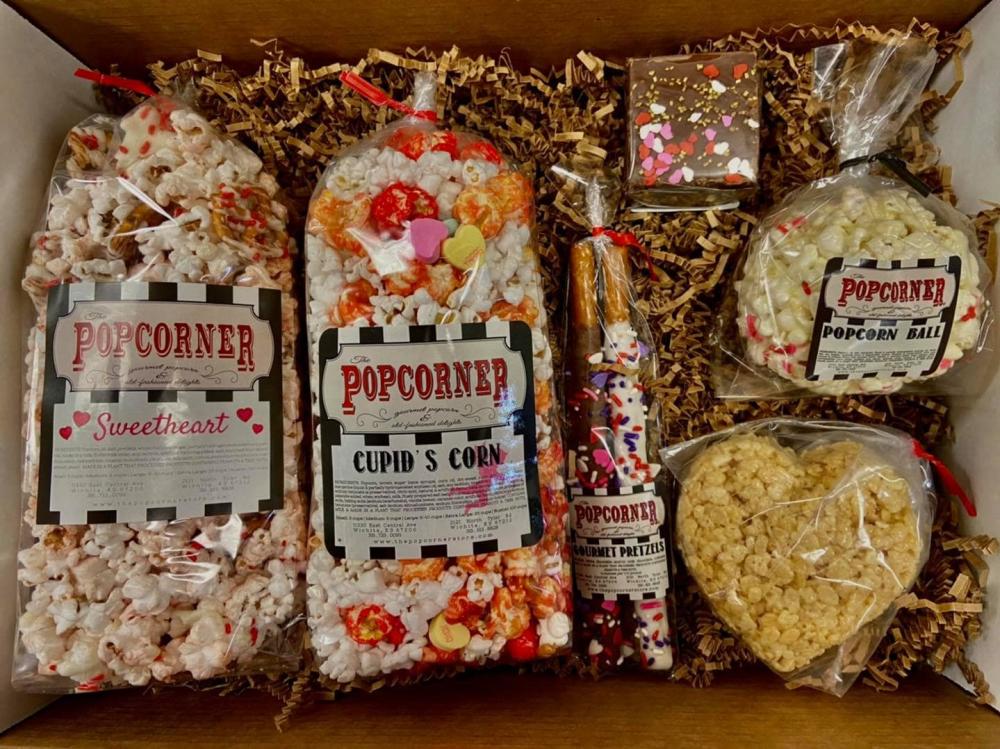 Valentine's Day Gift Ideas​
Order your sweetheart a custom bouquet from Hundred Acre Floral
Start Valentine's Day with donuts from Paradise Donuts (Old Town or West) or The Donut Whole
Create a custom candy, nut or snack mix to satisfy your sweetheart's sweet tooth at The Farris Wheel, Nifty Nut House, The Popcorner (East or West) or Kernel's Popcorn Express
Pre-order chocolate covered strawberries to pick up on Feb. 13 or 14, or stop by one of the three Cocoa Dolce Chocolates locations (Old Town, Bradley Fair & New Market Square) for a box of chocolates or a selection of specialty items including strawberry cheesecake, strawberry cake pops and macarons
Promote self care with a selection of scented soaps, scrubs, lotions and other bath and body products at Zeep or Bungalow 26
Find the perfect piece of jewelry at The Workroom, Kendra Scott, Lucinda's or many of our museum gift shops
Give the gift of a spa day at Bohemia Healing Spa, encourage health and wellness with a CBD-infused gift from The Health Connection or pamper your loved one with a gift certificate for services and products at A. Jay Health and Wellness
Look for the perfect new or antique gift at shops in Towne West Square, Towne East Square, Revolutsia, Paramount Antique Mall, Old Town District, New Market Square, Generations Antiques & Artisans, Douglas Design District or Bradley Fair
Have fun shopping and supporting local boutiques and specialty shops including The Spice Merchant & Company, Hatman Jack's, Standard Issue Co., Urban Interiors and Uniquities Home
Create your own or purchase a gorgeous glass-blown masterpiece at Infinity Art Glass and Karg Art Glass
Sign up for a Pick Your Project Workshop at the studio, a virtual workshop or book a private event to make a DIY wood sign or craft at  Board & Brush
Grab a bottle of wine from Wichita's local urban winery, Jenny Dawn Cellars
Mix your own custom wine and have your bottle labeled with a personal photo at Grace Hill Winery, or stop by one of their pop-up booths for samples and bottle sales at Towne East Mall on Feb. 12 & 13
Romantic Night Out or a Special Meal Brought Home
Most Wichita restaurants are open for in-person dining (with a variety of protocols implemented to provide a safe dining experience) and many also offer to-go family meals, curbside pickup and delivery as options. You'll find a wide range of cuisine and budgets. Here are few options to inspire; browse our full list for more restaurants.
Try international-inspired cuisine at YaYa's Eurobistro, Vora Restaurant European, Sabor Latin Bar & Grille, Lola's Bistro, Larkspur Bistro & Bar, Georges French Bistro, Café Bel Ami  or Bella Vita Bistro
Enjoy local and regional ingredients and elite service at 6S Steakhouse, Scotch & Sirloin, Newport Grill or Chester's Chophouse & Wine Bar
Enjoy the ambiance and downtown setting at Siena Tuscan Steakhouse, then head downstairs in the Ambassador Hotel Autograph Collection to Dockum for after-dinner drinks in a speakeasy
Order a farm-to-table family meal from the Elderslie Farm kitchen
Pair your dinner and drinks at one of our local breweries including River City Brewing Co., PourHouse by Walnut River Brewing Company or Hopping Gnome Brewing Company (where you can order a pizza next door at Piatto Neapolitan Pizzeria)
Visit the state's only chocolate lounge at Cocoa Dolce Chocolates (Old Town, Bradley Fair & New Market Square) for wine and chocolate pairings or alcohol-infused chocolates and chocolate lava cake perfect for sharing
Order cocktails at Wine Dive, Mort's Martini Bar & Cigar Bar or Cana Wine & Cocktails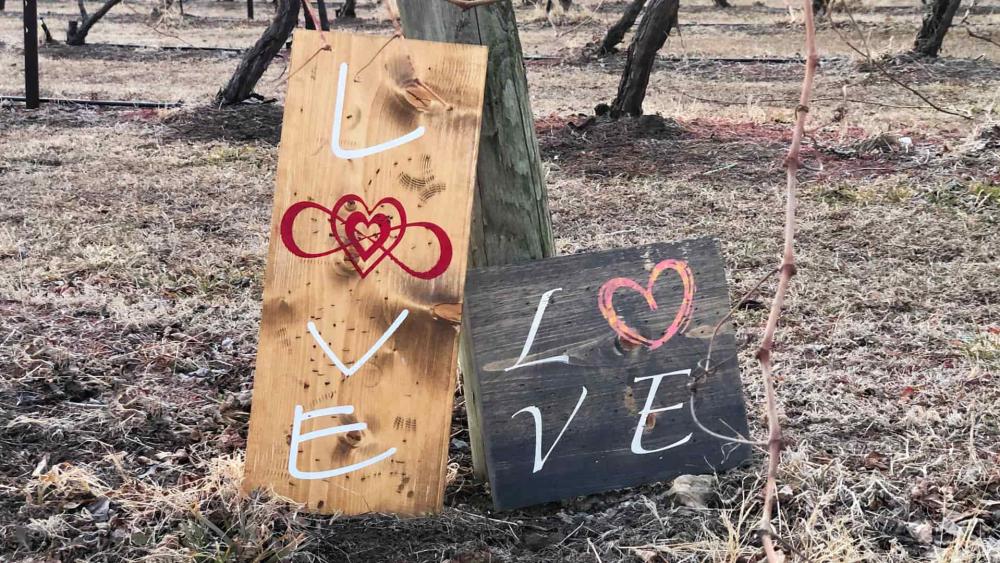 Local Events/Activities
2nd Saturday with Valentine's pop-ups at The Workroom – Feb. 13

Galentine's Day at Hopping Gnome Brewery (in-person and to-go options) – Feb. 13

Cocoa Dolce Chocolate and Jenny Dawn Cellars Wine Pairing at Jenny Dawn Cellars – Feb. 13

Galentines Day: A Celebration of Sisterhood at The Workroom – Feb. 13
Active Events
6th annual Stupid Cupid 2 Mile Run at Sedgwick County Park – Feb. 6

Galentines Day: Doubles & Bubbles Pickleball Tournament at Chicken N Pickle – Feb. 13

Valentines Coed Cornhole Tournament at Chicken N Pickle – Feb. 13

Sweetheart Skate Night on the Ice Pond at Chicken N Pickle – Feb. 14

Sweetheart Pickleball Tournament at Chicken N Pickle – Feb. 14
Hands-on Art Experiences
Rustic Valentine painting at Paint the Towne – Feb. 5

Couples Lovely Lookout painting at Paint the Towne – Feb. 12

Stain and Stem Sign Making Class at Grace Hill Winery – Feb. 13

Valentine Pottery Experience at CityArts – Feb. 13 & 14

Valentine Gnomes painting at Paint the Towne – Feb. 14

Cheers to Love painting at Paint the Towne – Feb. 14

Artistry With Love evening for couples at LaVela – Feb. 14
Live Performances
I'd Rather Have a Bottle in Front of Me Than a Frontal Lobotomy at Mosley Street Melodrama – Feb. 5-Mar. 20

The 39 Steps at Roxy's Downtown – Feb. 11-28

Live Music Friday featuring Patz at 6S Steakhouse – Feb. 12

Saturday Night Jazz at Jenny Dawn Cellars – Feb. 13

Valentine's Party with Marc Baker Band at Wichita Union Stockyards – Feb. 13

Hi-Hat Hattie featuring Karla Burns virtual screening from Roxy's Downtown – Feb. 14
Stay up with the latest Wichita events and activities by visiting our calendar of events or explore these offbeat date ideas and other date night ideas.