To assist with public safety, please remain diligent in adhering to safe practices outlined by the CDC like wearing a face covering and social distancing, when out in the community and stay home if you feel ill. We recommend confirming details and verifying requirements and/or safety procedures for guests before visiting. 
Illuminations is not only one of the best places to see spectacular Christmas light displays in Wichita, the event is one of the top holiday light destinations in the Midwest. It has made USA Today's national list of top 10 "Best Botanical Garden Holiday Lights" for the past two seasons.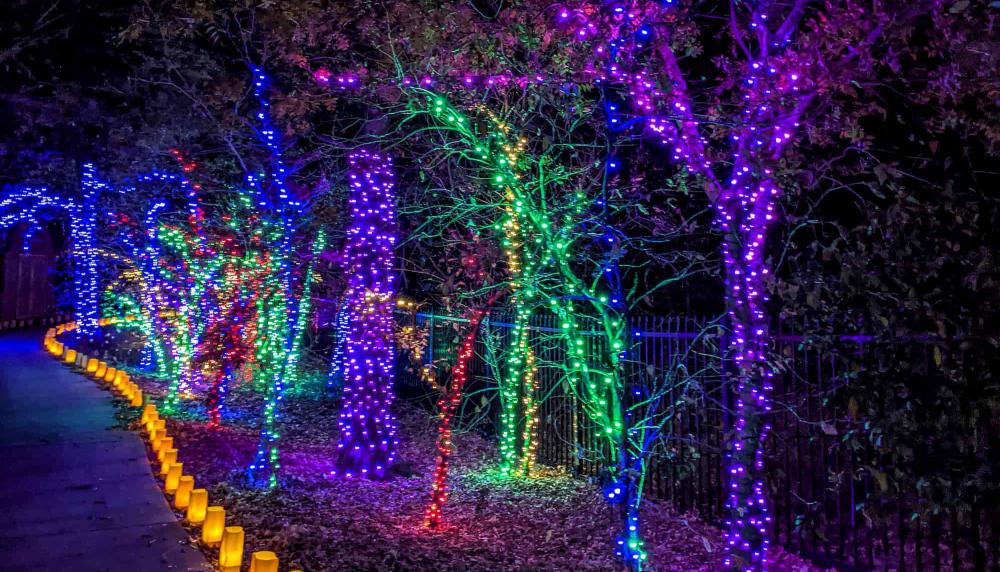 Held in the main gardens at Botanica Wichita most nights from Nov. 18 through Jan. 1, Illuminations 2021 includes more than 2 million lights along a mile-long pedestrian path. There are three different light displays choreographed to music, a 240-foot-long walk-under tunnel of lights, candy cane lane and tree top forest in the Butterfly House, a funky tree that takes 80 hours to adorn with light sculptures, an underwater scene in the Shakespeare Garden, Santa's Village and more.
We want to help everyone who attends have a fantastic experience – whether it's a return visit or your first time – so we've put together this complete guide to Illuminations in Wichita.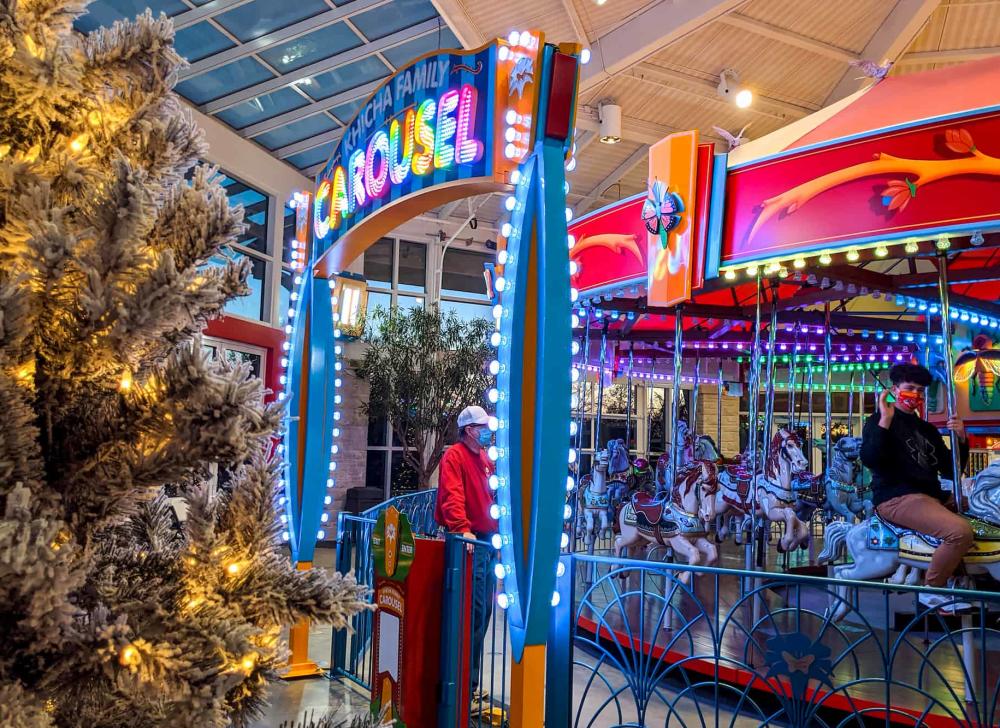 New for 2021
The garden's staff and volunteers find new ways to add more lights and displays every year. It takes most guests 60 to 90 minutes on average to make the one-way trek through the full display, providing an enchanted holiday experience for any age.
New in 2021:
The Children's Garden Meadow is one of two new displays to premiere at Illuminations this year. Here, you'll see 360 poles with nearly 6,000 lights moving to the music.

The second new display area is in the recently completed Koch Carousel Gardens area. Look for 36 moving head beam lights dancing in the sky around a 25-foot-tall Christmas tree with more than 15,000 pixels. While in this area, be sure to ride the Khicha Family Carousel, a restored 1949 Allan Herschell Company carousel. Ride tickets ($3 per person) can be purchased inside the Carousel Pavilion. The 40-foot-wide carousel spins with 588 LED lights that can create 16 million color patterns.

More than just lights
From more than 300 lighted trees to more than 8,000 holiday luminaries and snow (machine made for predictability), Botanica's garden areas are transformed into a true winter wonderland. But there is more to Illuminations than just pretty lights.
Santa visits Illuminations nightly through Dec. 23. Kids are encouraged to bring a letter to Santa and drop it off in the oversized mailbox.
Listen to live musical performances on the terrace, nightly from 6:30 to 7:30 Dec. 1 through Dec. 23.
There are yummy holiday treats and dinner served by local food trucks. Enjoy hot coffee, cocoa or other specialty drinks from Buffalo Brew Company. Snack on candy or popcorn and check out the merchandise for sale. All vendors accept credit/debit cards only; cash will not be accepted.
Be sure to check Botanica's schedule for other special events during the holidays, which may carry an additional fee.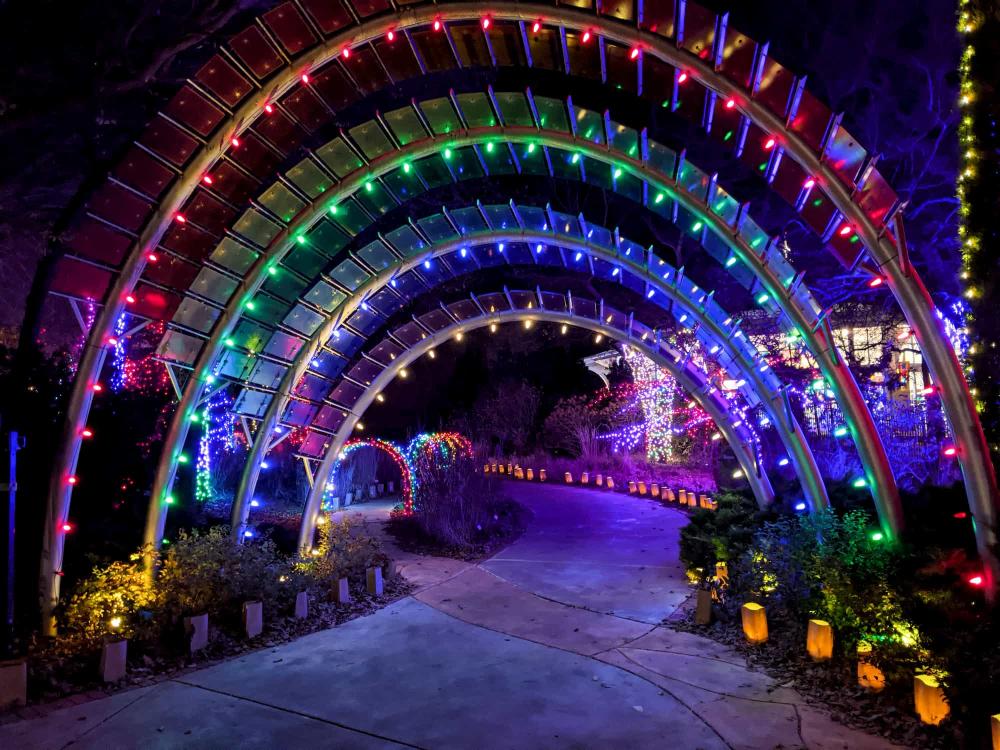 Tickets are timed & must be purchased in advance
Buying Illuminations tickets supports maintaining and growing the gardens. This is Botanica's biggest fundraiser of the year.
You must pre-purchase your tickets online at www.botanica.org — NO tickets will be sold at the gate. When purchasing online tickets, select the date and time you plan to attend and keep in mind that you must arrive within the 30-minute window on your ticket to enter. Print your tickets at home or simply pull up the barcode in the confirmation email on your phone when you arrive at the South Gate Entrance.
Illuminations tickets are $13 adults, $9 members and children younger than 12, free for ages 2 and younger.
Illuminations hours are 5:30 to 9 p.m. nightly Nov. 18 through Jan. 1. Note that Botanica and Illuminations are closed Nov. 24-25 and Dec. 24-25 but open on Dec. 31 and Jan. 1.
Parking Options
All Illuminations guests will enter at the South Gate Entrance on Sim Park Drive across from Old Cowtown Museum. Guests can park in the all-new River Edge Parking Lot or the Cowtown Parking Lot.
Shuttle buses from overflow parking near the Wichita Art Museum will not be regularly available. This option was available in previous years. With the opening of the new River Edge Parking Lot and time slotted tickets, shuttle buses will only be used on the busiest nights of the season.
Pack Your Patience
Starting with the parking process, remember to be patient and kind when you attend Illuminations, especially if it's a busy weekend night. Historically, the crowds are a little lighter on weekdays, so attend then if you can. Strollers will be hard to push with the number of people on the sidewalks on busy nights.
Health & Safety Protocols
With a limited number of time-specific tickets available each evening, Illuminations ensures an enjoyable experience for guests. One-way traffic limits interaction with other guests and reduces congestion on the walking path. 
Botanica encourages you to wear a mask inside all buildings and outside if you are unable to properly distance more than 6 feet apart. In accordance with CDC and Sedgwick County public health guidelines, this policy is subject to change.
Enjoy Illuminations! Visit our calendar for other events to check out while you're exploring Wichita during the holiday season.