To assist with public safety, please remain diligent in adhering to safe practices outlined by the CDC like wearing a face covering and social distancing, when out in the community and stay home if you feel ill. We recommend confirming details and verifying requirements and/or safety procedures for guests before visiting. 
 
Illuminations has long been on every local's list of favorite things to do in Wichita during the holidays. Then, two seasons ago Botanica Wichita's Illuminations made USA Today's national list of top 10 "Best Botanical Garden Holiday Lights." The Wichita gardens were the only gardens in the Midwest to make the list, voted on by USA Today readers. 
This year, the team at Botanica started working on plans as early as March to ensure it could deliver to the community this annual tradition in a safe way during the coronavirus pandemic. They've developed two options for you to experience Illuminations in 2020, and they've made many changes to boost physical distancing and safety.
Don't miss the choreographed light shows and other surprises. Attending this Wichita winter wonderland will be as beautiful as ever but it will take more preparation, so use this complete guide to enjoying 2020 Illuminations.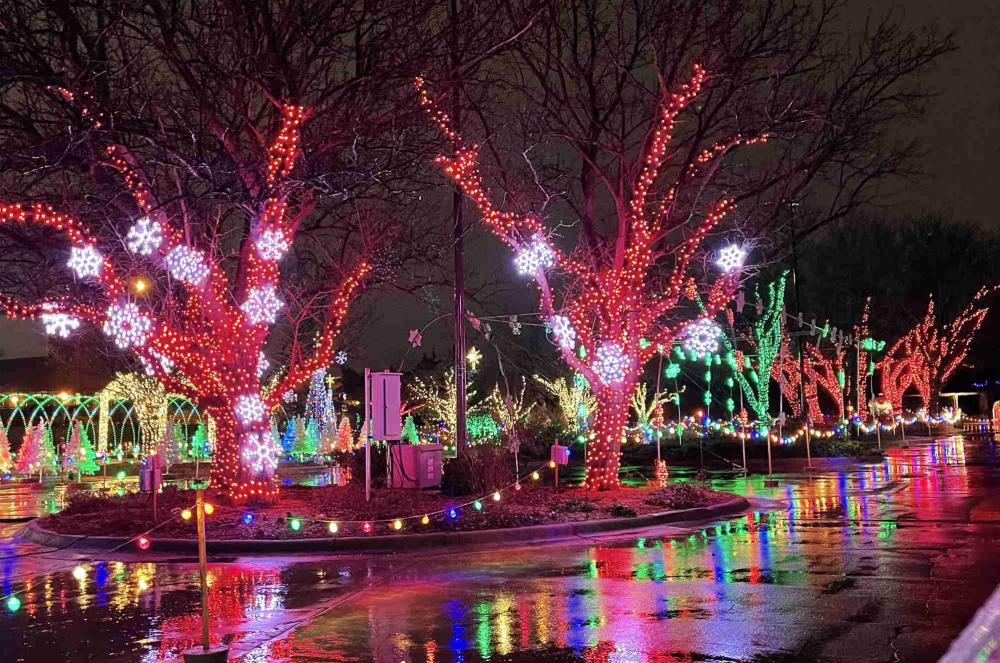 Drive-thru Illuminations
Botanica is adding a drive-thru mode with a route winding through the gardens' main parking lot. It's a great weather-proof option, or for anyone not able or comfortable to walk through the gardens.
It's a half-mile drive that will take about 10 minutes to see more than 350,000 lights dancing to music you'll hear via your vehicle's radio. You'll drive through a colorful tunnel of trees, see Santa's village and experience nine mega trees – one alone has more than 15,000 lights!
They are selling a limited number of tickets each night and they are times, so your wait in line should not be too long.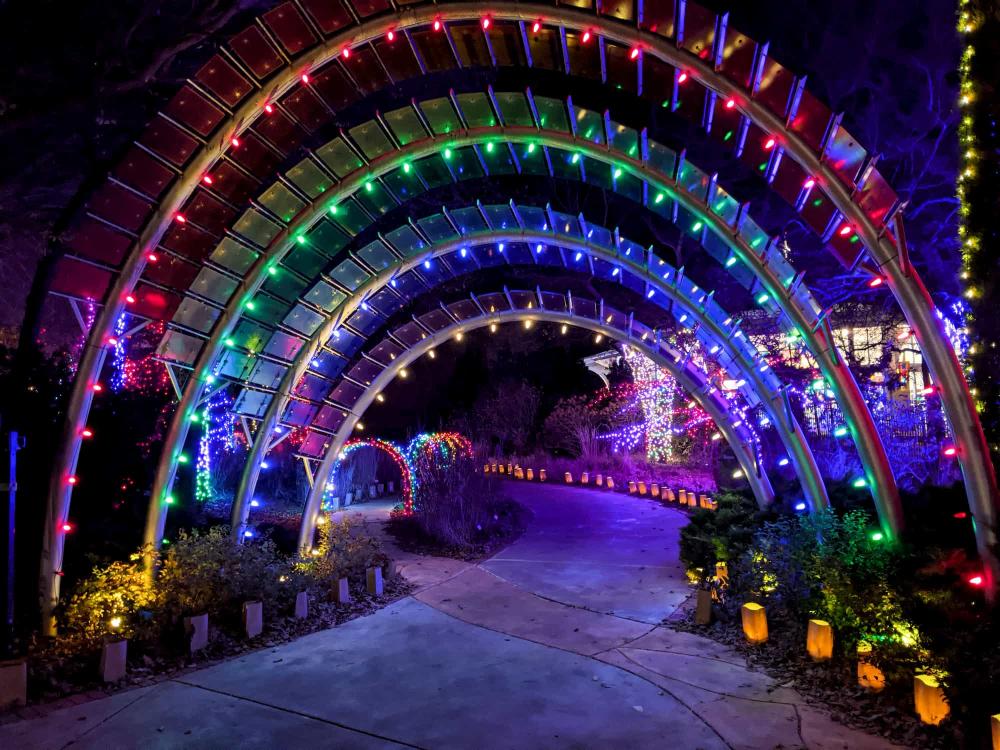 Walk-thru Illuminations
This is the traditional way to experience the show, though the walking route inside the gardens is modified to only use major paths and one-way traffic to avoid congestion. Plan on about 90 minutes to complete the 1-mile walk.
Botanica's garden areas are transformed with holiday displays totaling more than 2 million lights. In the main meadow, you'll watch choreographed music and light shows; see an underwater scene in the Shakespeare Garden; don't miss candy cane lane in the butterfly house. The Wichita Area Garden Railway Society will have a pop-up train display in the Party Barn in Downing Children's Garden for guests to walk by.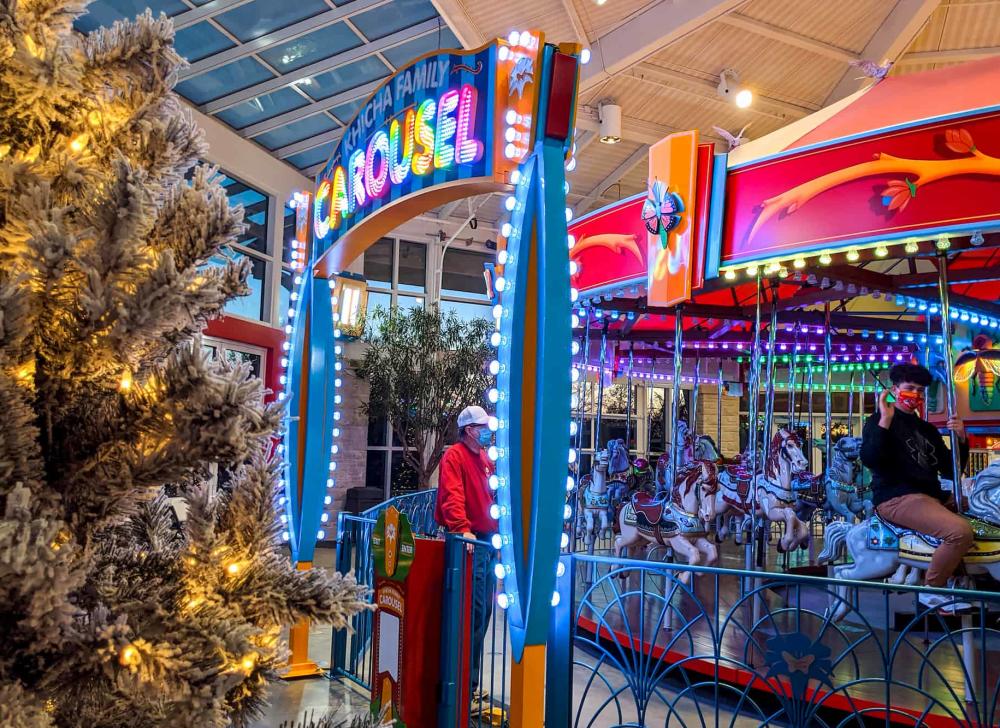 More Surprises
There are many more surprises to discover throughout the gardens, and a special bonus this year is your chance to see progress on the new Koch Carousel Gardens.
When you purchase your tickets, be sure to add a ride on the Khicha Family Carousel. It'll be operating but you must pre-purchase your ride as a limited amount of rides will be sold per time slot and the carousel is at half capacity with cleaning between every ride.
Santa will be waving from behind glass doors and interacting with guests until Dec. 23. You're encouraged to bring a letter to drop off in the oversized mailbox since he can't have visitors whispering their wishes to him.
Add to your visit with a hot drink, candy, popcorn and merchandise for sale in two locations. They are only accepting credit/debit cards; cash will not be accepted. There will also be 1-2 food trucks available.
For the walk-thru experience, remember to use the South Gate entrance across from Cowtown on Museum Blvd. Parking is available in the Cowtown and adjacent lots. Both are walkable to the gate - a shuttle will not be available this year.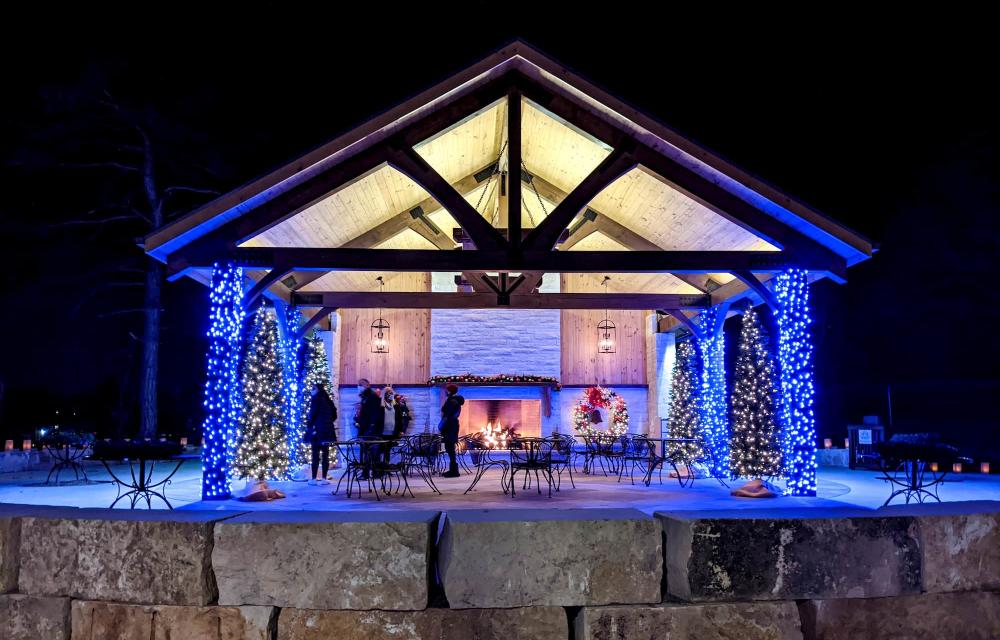 Extended Schedule & Advance Tickets Only
Illuminations starts Nov. 14, earlier in the season than ever before, and runs through Jan. 9. This will allow more time for visitors since there will be capacity limitations each night. Note that Illuminations is closed Nov. 25 & 26 and Dec. 24 & 25.
It costs $20 Sunday-Thursday and $25 Friday-Saturday per vehicle to drive through and for pedestrians the cost is $13 for adults or $9 for ages 3-12 and members. All tickets for either experience are for timed entry and must be purchased in advance online.
Weather can have an impact on the exhibit's closure.
Also, remember your mask for this event: Mask are required at entry, anytime you are in line for concessions, inside the carousel building and any other building. You also are required to wear one any time you are unable to be distanced more than 6 feet from others not in your group.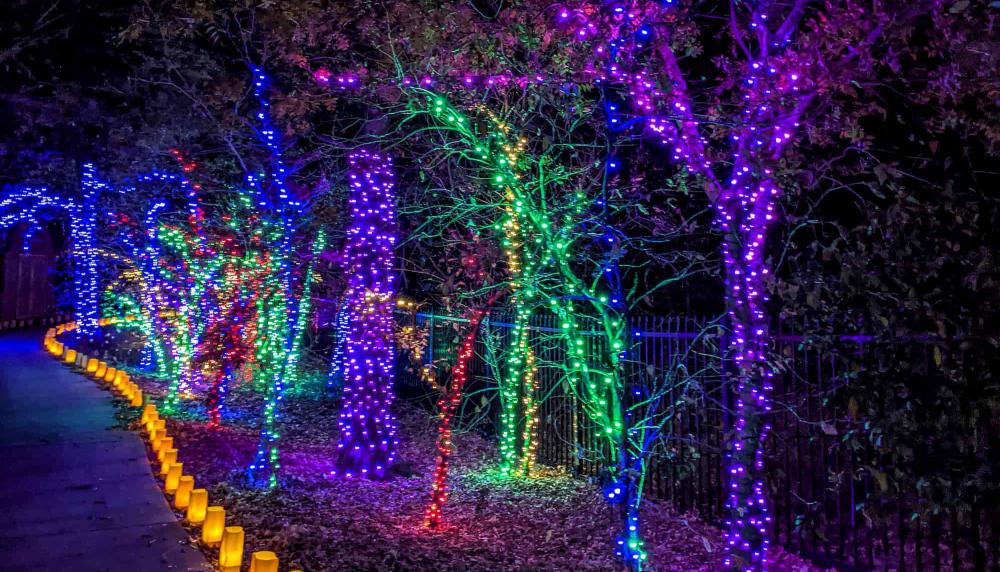 Do One, or Experience Both
Do the drive-thru, the walk-thru or do both! No matter which you decide, be sure to include Illuminations as you plan your holidays in Wichita. And there are many more Christmas light displays in Wichita to add to your Christmas lights tour.