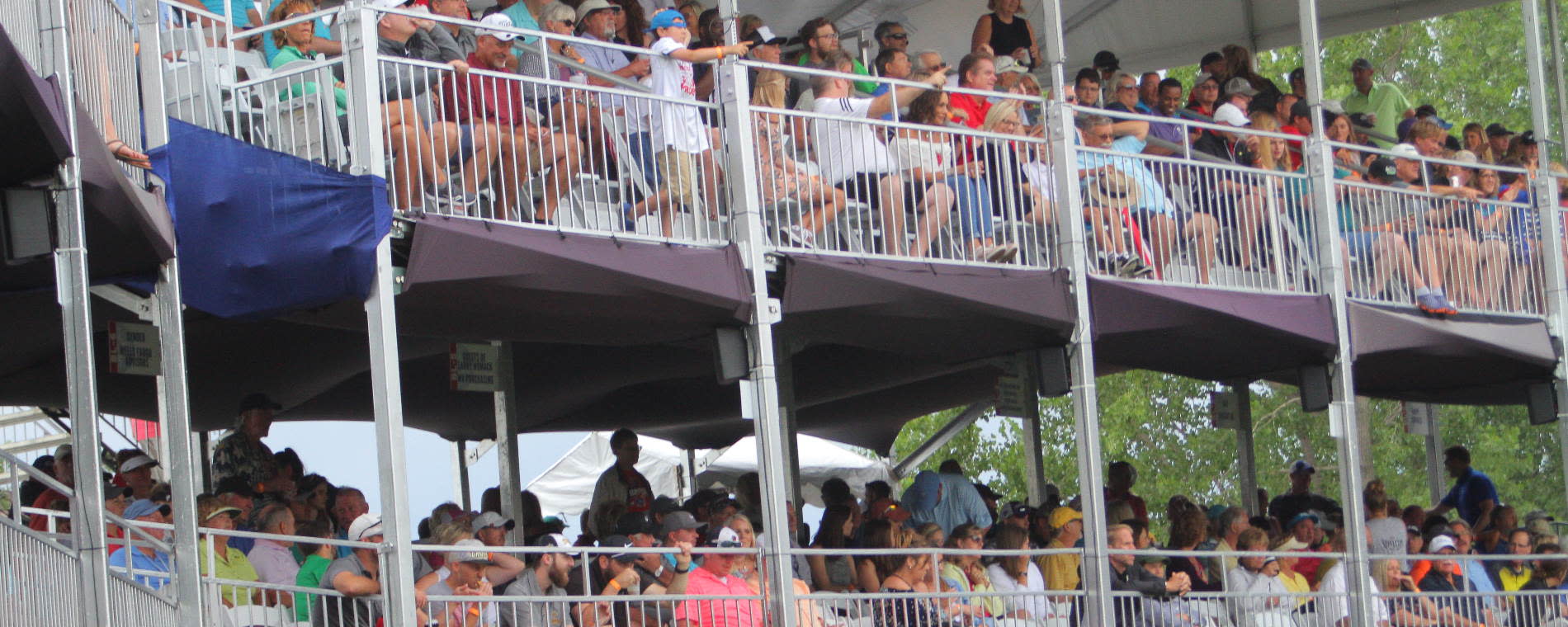 2021 Wichita Open
The dates for this event have already occurred, please check back again for new dates.
Voted the Korn Ferry Tour's Tournament of the Year for 2019! The Wichita Open brings more than 50,000 people to Crestview Country Club's North Course each June. The golf tournament is on the path to the PGA Tour and features some of the best golfers in the world competing in multiple events on a challenging course with many 3- to 5-par holes. Crestview is the only 36-hole country club in Kansas.
Be sure to check out some of the notable experiences along the course, like the 17th Hole.
| | |
| --- | --- |
| June 16 | Pro-Am |
| June 17 | 1st Round Tournament Play |
| June 18 | 2nd Round Tournament Play |
| June 19 | 3rd Round Tournament Play |
| June 20 | Championship Sunday |
Tickets
General Admission - June 17-20, 8am-6pm - $10/day
Spectator Parking - June 17-20, 8am-6pm - $6/day or $20 for all 4 days
VIP Experience - June 17-20, 11am-6pm - $85/day
Admission:

GA $10/day; VIP $85/day; Parking $6/day

Get Tickets

Recurrence:

Recurring daily

Days:

June 16, 2021 - June 20, 2021

>

2021 Wichita Open <p>Voted the Korn Ferry Tour's Tournament of the Year for 2019! The <strong><a title="More info on the Wichita Open" href="https://www.visitwichita.com/events/annual-events/wichita-open/">Wichita Open</a></strong> brings more than 50,000 people to Crestview Country Club's North Course each June. The golf tournament is on the path to the PGA Tour and features some of the best golfers in the world competing in multiple events on a challenging course with many 3- to 5-par holes. Crestview is the only 36-hole country club in Kansas.</p> <p>Be sure to check out some of the notable experiences along the course, like <strong><a href="https://www.visitwichita.com/blog/post/uniquely-wichita-wichita-open/" target="_self" data-sv-linklookup-id="5b058fef45f704ab72e6e0ec" data-sv-linklookup-type="plugins_blog_blog_post_blog">the 17th Hole</a></strong>.</p> <table style="width: 325px;" border="0" align="center"> <tbody> <tr> <td>June 16</td> <td>Pro-Am</td> </tr> <tr> <td>June 17</td> <td>1st Round Tournament Play</td> </tr> <tr> <td>June 18</td> <td>2nd Round Tournament Play</td> </tr> <tr> <td>June 19</td> <td>3rd Round Tournament Play</td> </tr> <tr> <td>June 20</td> <td>Championship Sunday</td> </tr> </tbody> </table> <p><span style="text-decoration: underline;"><strong>Tickets</strong></span></p> <p>General Admission - June 17-20, 8am-6pm - $10/day<br />Spectator Parking - June 17-20, 8am-6pm - $6/day or $20 for all 4 days<br />VIP Experience - June 17-20, 11am-6pm - $85/day</p> America/Chicago
Back To Previous