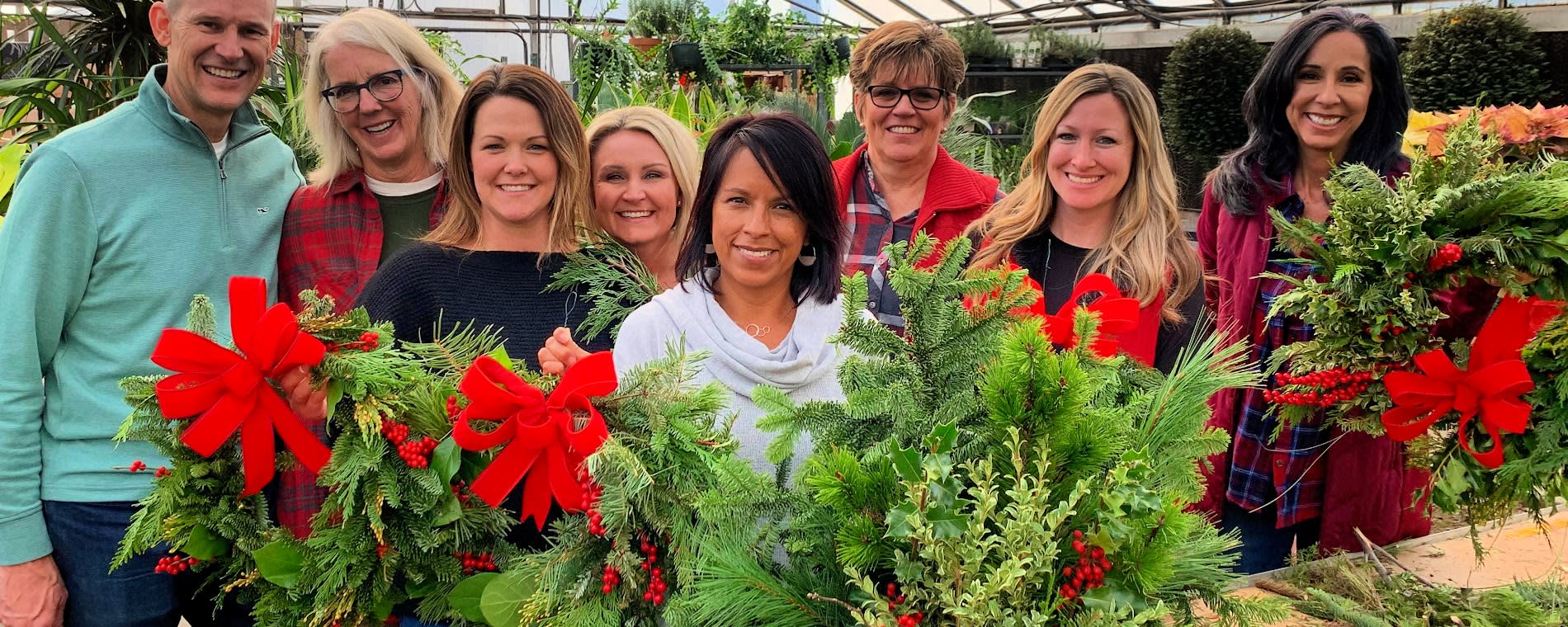 Johnson's Garden Center Holiday Porch Pot Workshop
Times Vary, December 16, 2023 | Johnson's Garden Center
Holiday classes are a Johnson's tradition. They're especially fun to attend with a friend! We'll provide everything you need, including fresh greenery, pot insert, tools, and instruction. When you're finished, you'll simply slide the decorated pot insert into a pot on your porch or patio for season-long holiday charm. Top with a custom bow (included).
The holiday workshops will take place at our east and west locations. 
East: 6225 E. Shadybrook, Wichita, KS 67208
West: 2707 W. 13th St. N., Wichita, KS 67203
Workshop times: 
Friday, Nov. 24: 1 p.m. & 3 p.m. 
Saturday, Nov. 25: 11 a.m. & 1 p.m.
Sunday, Nov. 26: 3 p.m. 
Saturday, Dec. 2: 3 p.m. 
Sunday, Dec. 3: 1 p.m. 
Sunda, Dec. 16: 1 p.m. 
Workshops are held outdoors. Heaters will be available but be sure to dress warmly. 
Admission:

$40

Buy Tickets

Days:

12/16/2023

>

2023-12-16 2023-12-16 Johnson's Garden Center Holiday Porch Pot Workshop <p class="MsoNormal">Holiday classes are a Johnson's tradition. They're especially fun to attend with a friend! We'll provide everything you need, including fresh greenery, pot insert, tools, and instruction. When you're finished, you'll simply slide the decorated pot insert into a pot on your porch or patio for season-long holiday charm. Top with a custom bow (included).</p> <p class="MsoNormal">The holiday workshops will take place at our east and west locations. <br>East: 6225 E. Shadybrook, Wichita, KS 67208<br>West: 2707 W. 13th St. N., Wichita, KS 67203</p> <p><span style="font-size: 11pt; font-family: verdana, geneva, sans-serif;"><strong>Workshop times: </strong><br>Friday, Nov. 24: 1 p.m. &amp; 3 p.m. <br>Saturday, Nov. 25: 11 a.m. &amp; 1 p.m.<br>Sunday, Nov. 26: 3 p.m. <br>Saturday, Dec. 2: 3 p.m. <br>Sunday, Dec. 3: 1 p.m. <br>Sunda, Dec. 16: 1 p.m. </span></p> <p><span style="font-size: 11pt; font-family: verdana, geneva, sans-serif;">Workshops are held outdoors. Heaters will be available but be sure to dress warmly. </span></p> West (2707 W. 13th St. N) Wichita, KS America/Chicago
Back To Previous