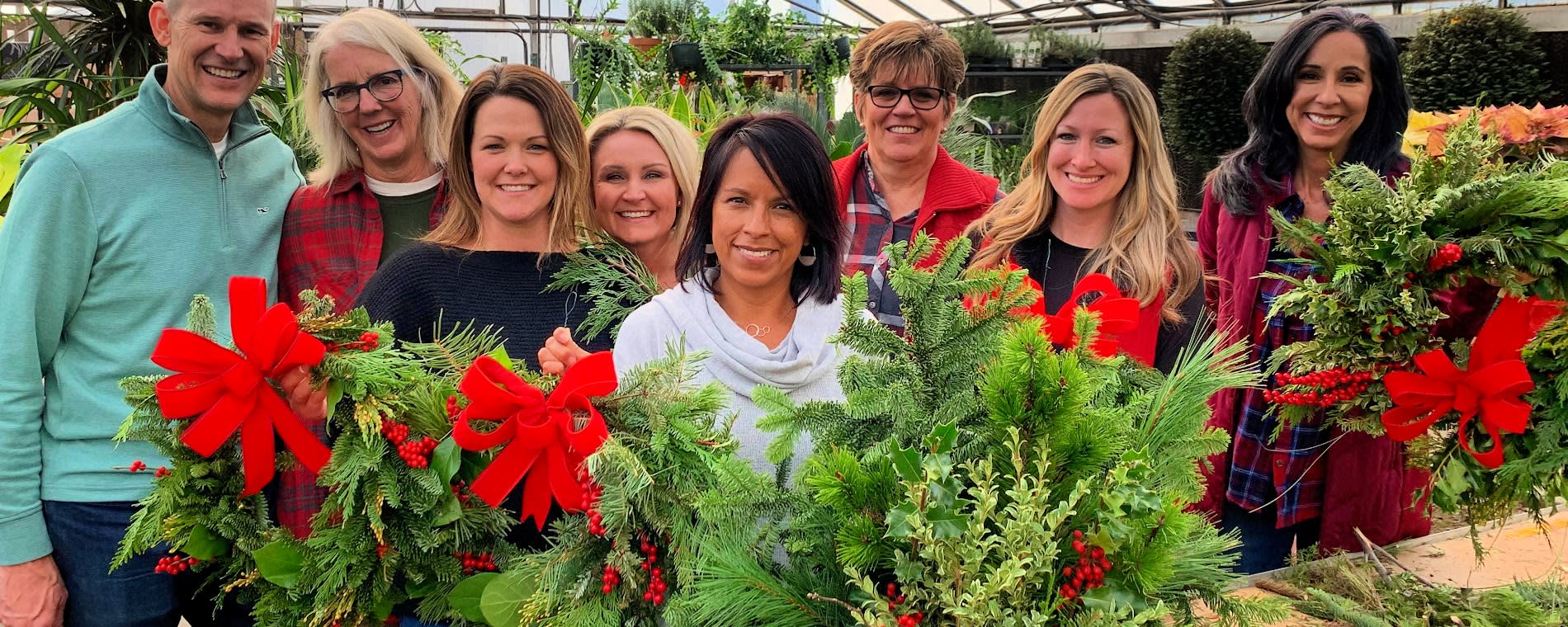 Johnson's Garden Center Holiday Wreath Workshop
The dates for this event have already occurred, please check back again for new dates.
Ring in the season by learning to make your own fresh evergreen wreath! This holiday class is a Johnson's tradition, and fun to attend with a friend. We'll provide everything you need, including fresh greenery, wreath frame, wire, tools, and instruction. You'll go home with a unique, fragrant evergreen wreath to hang indoors or out. Add a custom bow to top it off (included.)

The holiday workshops will take place at our east and west locations. 
East: 6225 E. Shadybrook, Wichita, KS 67208
West: 2707 W. 13th St. N., Wichita, KS 67203
Workshop times: 
Friday, Nov. 24: 11 a.m. 
Saturday, Nov. 25: 3 p.m. 
Sunday, Nov. 26: 1 p.m. 
Saturday, Dec. 2: 11 a.m. 
Sunday, Dec. 3: 3 p.m. 
Workshops are held outdoors. Heaters will be available but be sure to dress warmly. 
Admission:

$35

Buy Tickets

Days:

12/3/2023

>

Johnson's Garden Center Holiday Wreath Workshop <p><span style="font-size: 11pt; font-family: verdana, geneva, sans-serif;">Ring in the season by learning to make your own fresh evergreen wreath! This holiday class is a Johnson's tradition, and fun to attend with a friend. We'll provide everything you need, including fresh greenery, wreath frame, wire, tools, and instruction. You'll go home with a unique, fragrant evergreen wreath to hang indoors or out. Add a custom bow to top it off (included.)<br style="mso-special-character: line-break;"><!-- [if !supportLineBreakNewLine]--><!--[endif]--></span></p> <p><span style="font-size: 11pt; font-family: verdana, geneva, sans-serif;">The holiday workshops will take place at our east and west locations. <br>East: 6225 E. Shadybrook, Wichita, KS 67208<br>West: 2707 W. 13th St. N., Wichita, KS 67203</span></p> <p><span style="font-size: 11pt; font-family: verdana, geneva, sans-serif;"><strong>Workshop times: </strong><br>Friday, Nov. 24: 11 a.m. <br>Saturday, Nov. 25: 3 p.m. <br>Sunday, Nov. 26: 1 p.m. <br>Saturday, Dec. 2: 11 a.m. <br>Sunday, Dec. 3: 3 p.m. </span></p> <p><span style="font-size: 11pt; font-family: verdana, geneva, sans-serif;">Workshops are held outdoors. Heaters will be available but be sure to dress warmly. </span></p> America/Chicago
Back To Previous