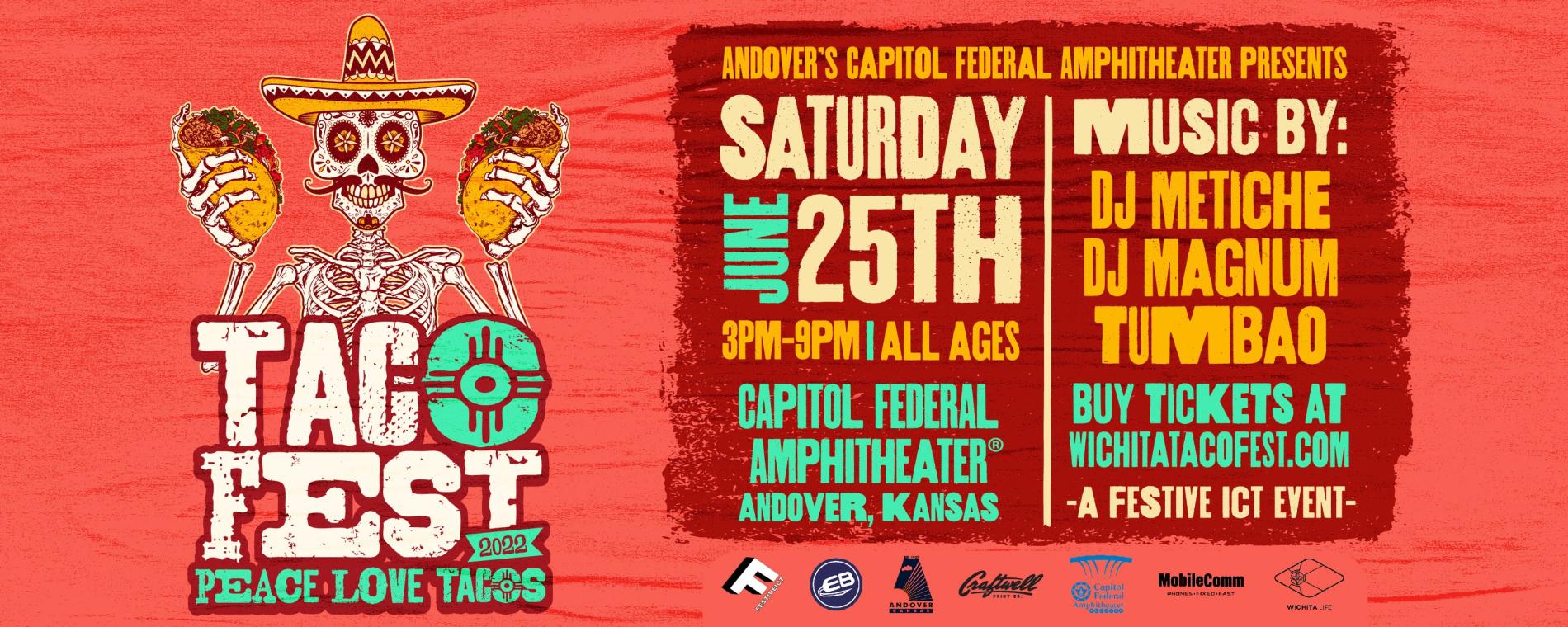 Back to Previous
Wichita Taco Fest
From: 03:00 PM to 09:00 PM, June 17, 2023 | Capitol Federal Amphitheater
Come and join us at Taco Fest for a fiesta of flavor, Saturday, June 19 from 3 to 9 p.m.! We have a large selection of locally crafted delicious tacos, different kinds of salsa with chips, nachos, and elote from various vendors. Our festival features a diverse mix of DJs and bands that will set the tone for the event.
Keep an eye out for our 2023 lineup announcement coming soon! Upgrade your experience with our exclusive VIP privileges, including sampling top-shelf tequila, mescal, and other amenities. Witness the thrill of Lucha Libre wrestling as wrestlers compete to be crowned the Champion of Taco Fest.
Cheer on our brave event attendees as they face off to see who can consume the most jalapenos in a given amount of time. Watch as our participating festival food vendors compete to determine who has the best taco and salsa, judged by a select group of locally renowned foodies.
Don't miss out on the ultimate Taco Fest experience. Tickets are limited, so get yours today!
Days:

June 17, 2023

>

2023-06-17 2023-06-17 21:00:00 Wichita Taco Fest <p>Come and join us at Taco Fest for a fiesta of flavor, Saturday, June 19 from 3 to 9 p.m.! We have a large selection of locally crafted delicious tacos, different kinds of salsa with chips, nachos, and elote from various vendors. Our festival features a diverse mix of DJs and bands that will set the tone for the event.</p> <p>Keep an eye out for our 2023 lineup announcement coming soon! Upgrade your experience with our exclusive VIP privileges, including sampling top-shelf tequila, mescal, and other amenities. Witness the thrill of Lucha Libre wrestling as wrestlers compete to be crowned the Champion of Taco Fest.</p> <p>Cheer on our brave event attendees as they face off to see who can consume the most jalapenos in a given amount of time. Watch as our participating festival food vendors compete to determine who has the best taco and salsa, judged by a select group of locally renowned foodies.</p> <p>Don't miss out on the ultimate Taco Fest experience. Tickets are limited, so get yours today!</p> 1607 E. Central Ave. Andover, KS America/Chicago
Back To Previous