Each fall, Wichita's Bradley Fair becomes more than a shopping and dining destination: it transforms into a world-class alfresco art gallery free for you to explore.

Invited artists from across the United States set up booths along the Bradley Fair Parkway, the street separating the shopping center from the nearby residential neighborhood and office complex. For three days, you can view and purchase original art in a variety of media while enjoying entertainment and art-inspired family fun.

This year Autumn & Art at Bradley Fair celebrates 10 years and takes place Sept. 13-15. The juried art event is free and open to the public from 6 to 9 p.m. Friday, 10 a.m. to 7 p.m. Saturday and 10 a.m. to 5 p.m. Sunday. While the event draws as many as 30,000 over the weekend, there is plenty of convenient parking.

Here's what to expect: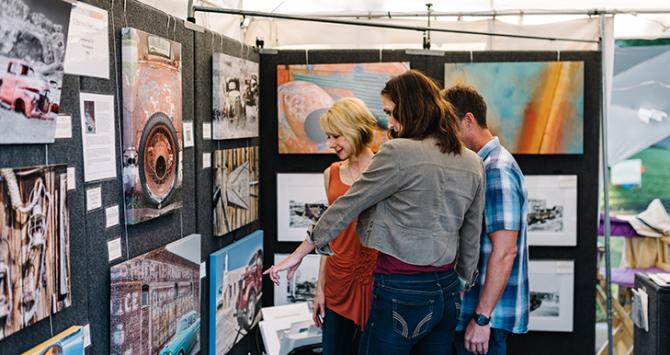 Art
The 10th annual Autumn & Art features 100 artists selected after evaluation by a panel of expert jurors. The national and regional artists hail from 22 states and include 24 artists based in Kansas. They compete for cash awards totaling $7,000.
Invited artists show and sell original work in 14 media: ceramics, digital, drawing, fiber, glass, graphics and printmaking, jewelry, metalworks, painting, photography, sculpture, wood, two-dimensional mixed media and three-dimensional mixed media.
Every year one artist or artist team is selected as the event's Featured Artist for the season.
Check the demonstration tent on-site to see the day's schedule and then stop by to see artists throwing pottery, painting or sculpting clay.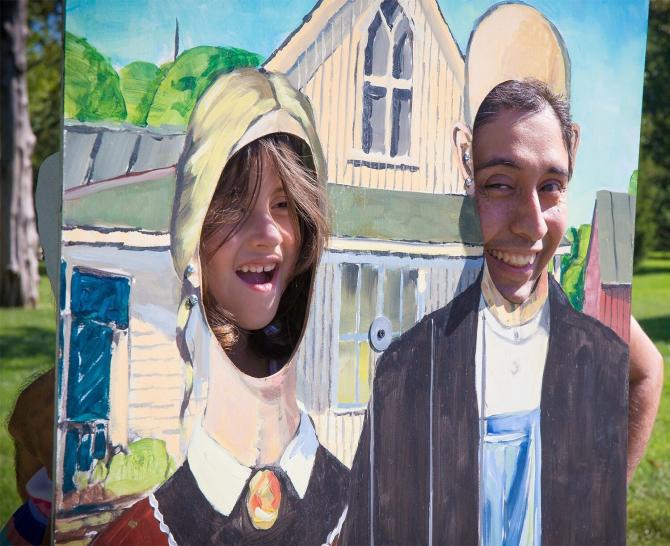 Family fun
Art-themed activities and games for all ages happen throughout the parkway. Look for Artie, the art-collecting squirrel, to find activities geared for kids. Artie's Art Studio brings free hands-on art projects directed by Mark Arts educators. Artie's Masterpiece Games give kids a chance to learn about classic artworks while having fun.
New this year is storytime for all ages.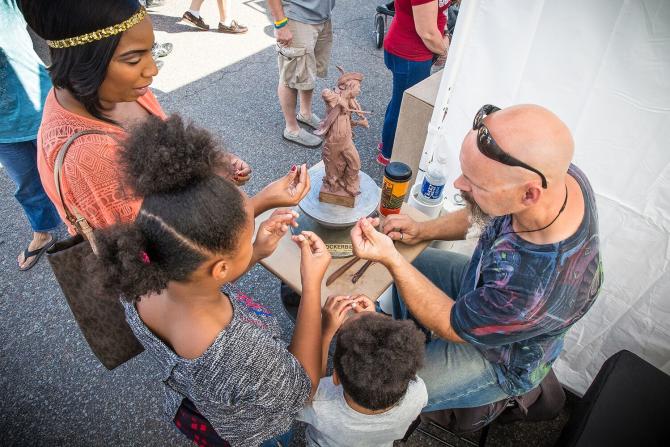 Entertainment
Each day's entertainment schedule features live music, dance, theater and art demonstrations.
While admission is free, you'll want to bring cash or credit card to purchase wine, beer, water, soft drinks and snacks available at three parkway bars.
You're also within easy walking distance of diverse dining options throughout Bradley Fair, including Redrock Canyon Grill, Newport Grill, HomeGrown Wichita, Jason's Deli, Cocoa Dolce Chocolates, YaYa's Eurobistro and Bella Luna Café.
Create edible art from 10 a.m. to noon on Saturday and Sunday when you purchase a ticket to the build-your-own bar during "The Art of Bloody Marys."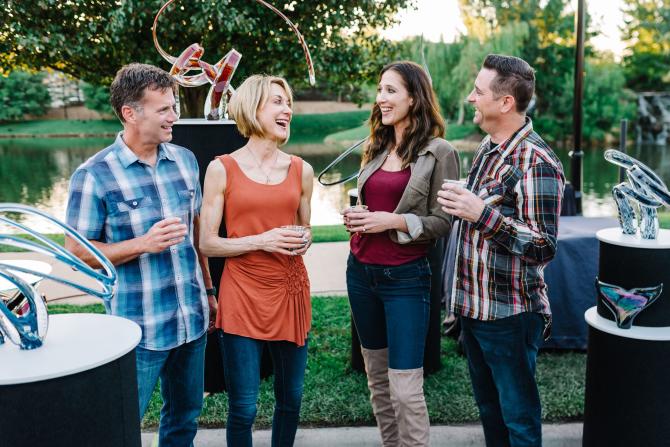 Patron Party
Organizers are able to keep the event free with the help of local business sponsors as well as patrons, individuals who pay $140 per person to support the event. Patrons receive perks throughout the weekend, from reserved parking to complimentary beverages and an exclusive opening-night party. This year's patron party will have special 10th anniversary surprises in addition to gourmet food from Redrock Canyon Grill, Newport Grill and YaYa's Eurobistro along with specialty wine and spirits and live music by Uptown Violins.
_
Explore all the fun fall festivals and events in Wichita.