Wichita weather can sometimes be unpredictable as March rolls in, but everyone hopes for blue skies and warmer weather. Spring in Kansas is usually pretty nice, with temperatures ranging from 48 to 58 degrees, which makes it the perfect time to get outside and enjoy Wichita's outdoor activities.
We've put together a list of five outdoor activities for you and the whole family that are within walking distance of INTRUST Bank Arena, home of the 2022 NCAA Women's Division I Regional Rounds coming in late March. Test out these spots ahead of the big game, or plan to take the family on an outdoor excursion while you're here this spring.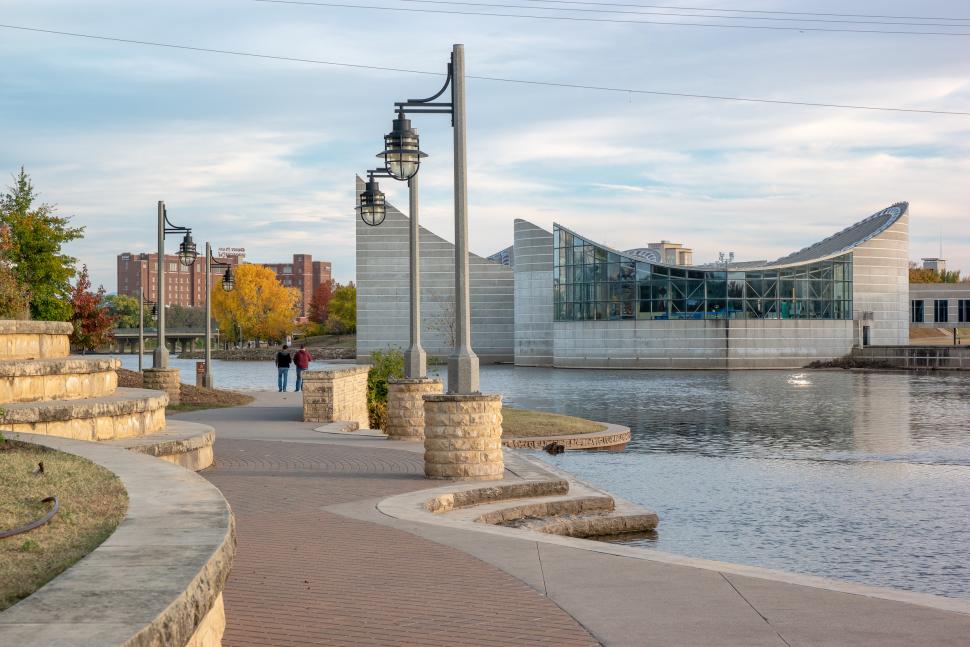 River Experience
Wichita has many nicknames, one of which is "River City," because the Big and Little Arkansas rivers flow right through the middle of town. Wrapping around its shores are miles of walking paths, museums and opportunities to get out on the river.
Rent a bicycle through Bike Share ICT or an electric scooter to explore the trails along the river, or the museums nestled along the banks. To rent a bike through Bike Share simply download the app on your phone, choose your rental package and you're off. Or if you'd rather rent a scooter, download either the Bird or VeoRide mobile app to locate a scooter, once you've located a scooter, simply scan the QR code to unlock it, pay and you're off.
When traveling along the Arkansas, don't forget to stop by the most iconic monument in Wichita, the Keeper of the Plains. Wichitan and Native American artist Blackbear Bosin built this 44-foot-tall sculpture in 1974. The land between the two rivers is sacred to the Native American people. The statue sits on a pedestal overlooking the city.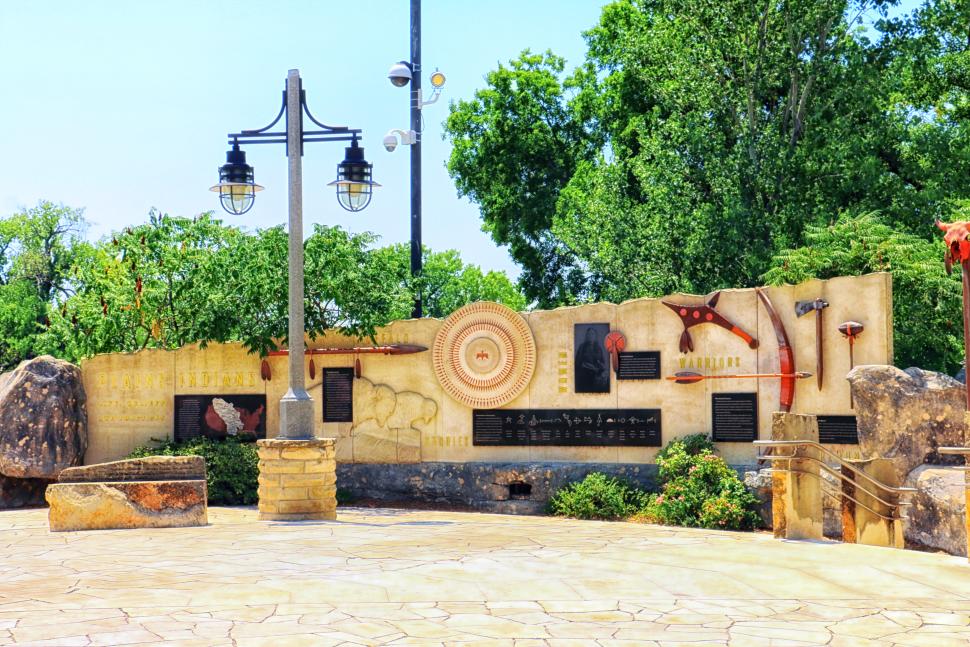 Make sure not to miss the Ring of Fire, a lighting of fire pots at the base of the Keeper. As long as weather allows, these large pots will be lit to complete the circle of the elements: earth, air, water and fire. The ceremony takes place at 9 p.m. in Spring/Summer, and at 7 p.m. in the Fall/Winter. While you're there, be sure to admire the art and outdoor exhibit at the Keeper of the Plains Plaza.
Visit the Mid-America All-Indian Center to learn more about the native people of Wichita and the Plains, plus experience an outdoor learning center, medicine garden and full-sized teepee.
If you'd like to take a float trip down the Arkansas River, you can do so by renting a paddleboard through the group SUP Wichita, which is known for its stand-up paddleboard yoga classes. Boats and Bikes also offers guests the chance to rent boats, paddleboards and kayaks but must be reserved 24-hours in advance during May to November.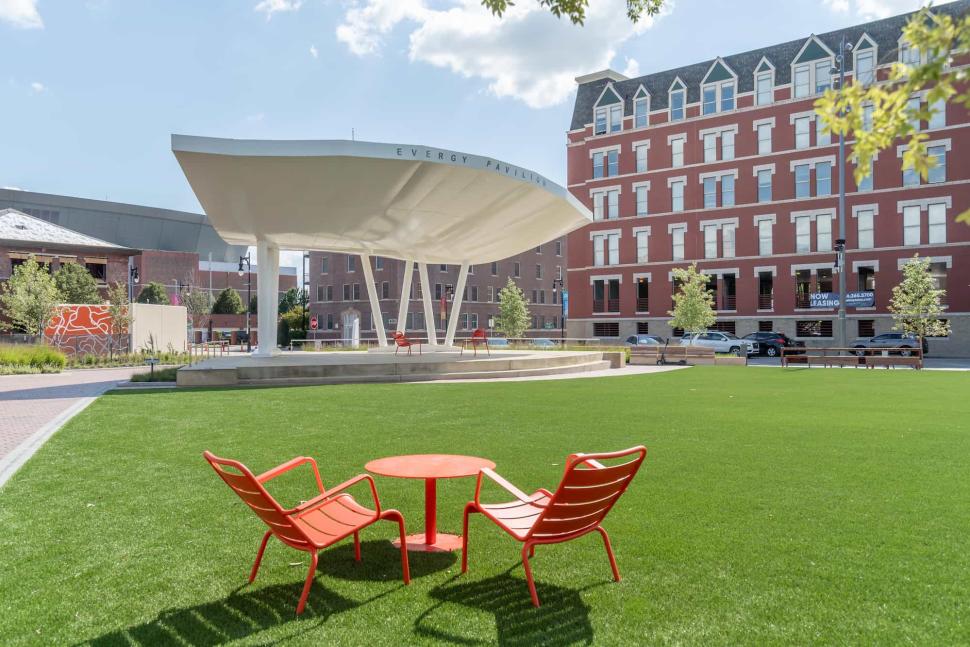 Park It Like It's Hot
How about an impromptu picnic-like lunch in the middle of downtown Wichita? Walk over to Douglas and pick up a local bite from one of the nearby downtown eateries like Old Mill Tasty Shop, Homegrown Wichita, PourHouse, The Kitchen, Bite Me BBQ or Nortons Brewing Co, and head to Naftzger Park to eat picnic-style with the family. This park is a great place to sit and eat or chill outside and enjoy the weather. You may be able to catch an event or some live music. Click here to stay in the loop of all the happenings at Naftzger Park.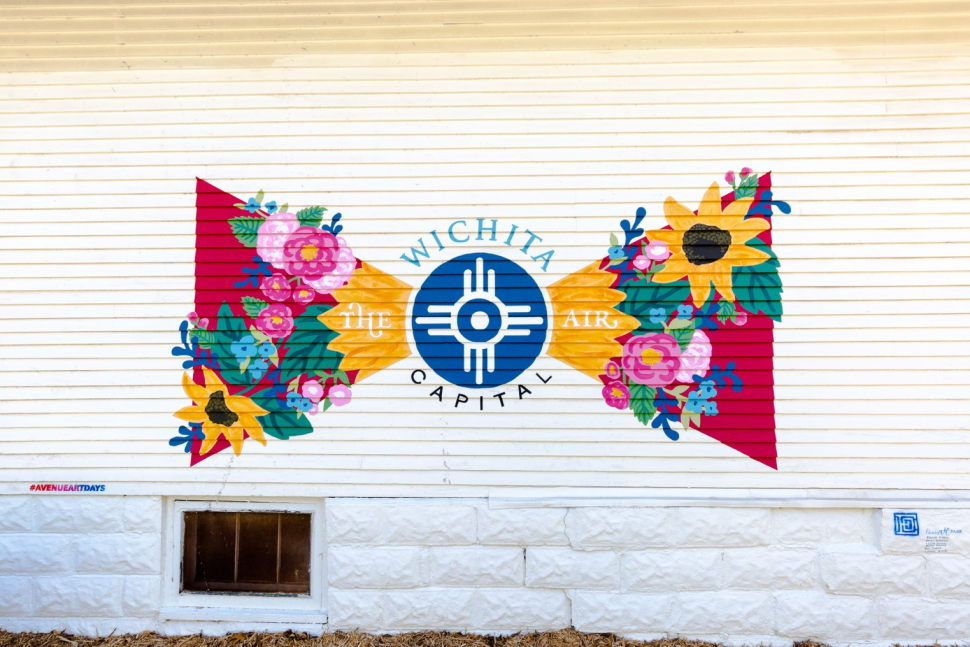 Urban Art Tour
As you explore downtown Wichita, you'll notice many businesses are adorned with murals representing ICT pride. You've certainly seen the Wichita flag by now and can recognize the symbol painted on storefronts, the side of buildings, billboards, trash cans, overpasses and other random places throughout the city.
Take the family on an Public Art Tour, exploring the different kinds of free art exhibitions popping up around Wichita. From 31 bronze sculptures along Douglas Avenue to dozens of murals and paintings throughout downtown, Wichita artists are inspiring perfect selfie-spots. How many can you find? Hop on the Q-Line to the Douglas Design District and take our Mural Tour, or count how many miniature versions of the Keeper of the Plains you can find as you walk through the shops and restaurants of downtown Wichita with the family.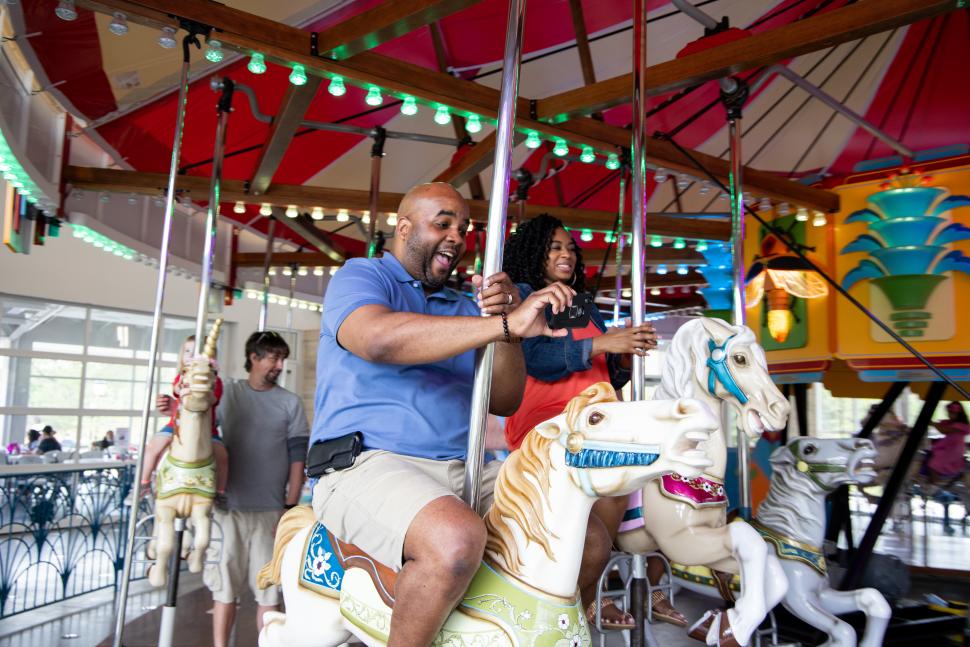 Feel like a kid again at Botanica
Take the kids on a trip to a magical place where fairies dance and tree monsters are nothing to be afraid of as they explore the Downing Children's Garden at Botanica Wichita. This educational, interactive environment allows families to enjoy, discover and appreciate the natural world. From exploring giant bugs to climbing through carved trees with faces and limbs, kids follow a journey through their own imagination. The Downing Children's Garden is suited for all ages. With more than 30 gardens to choose from, you can spend the day exploring everything Botanica has to offer.
Witness a piece of history as you see portions of Wichita's former Joyland amusement park at Botanica Wichita. Joyland was a theme park in Wichita that operated for nearly 60 years until its doors closed permanently in 2004. One of the most iconic pieces of that park – an Allan Herschell carousel – was saved and donated to Botanica in May 2014. Botanica has finished this project and now offers the Koch Carousel Gardens, featuring Grand Lawn and Stage, Sleeping Troll, the Fireplace Patio and the DeVore Family Game Garden.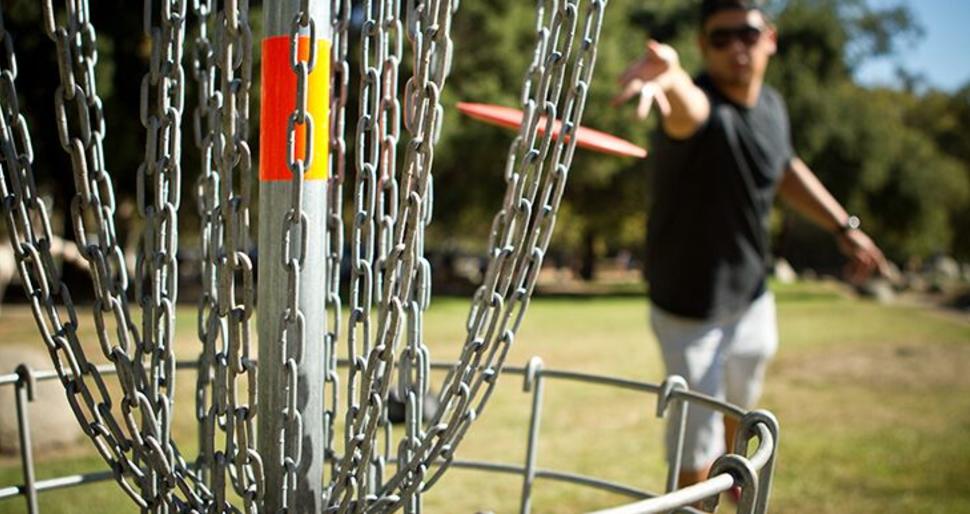 Hit the Greens
Wichita is one of best cities to play golf with five public courses, several private and semi-private golf courses, and access to both disc golf and foot golf. Traditional golfers will love the Arthur B. Sim Golf Course nestled along a curve in the Arkansas River, not far from the Keeper of the Plains. Players get a peaceful course with a beautiful city backdrop. This course is great for all skill levels of golfers, featuring a straightforward layout, tree-lined fairways, and well-bunkered greens.
Oak Park is one of the most popular places people love to play disc golf. Located in the bend of the Little Arkansas River, this downtown hot spot offers an 18-hole disc golf course sitting at 5,322-feet long and begins at par 58. Disc golf is a sport similar to traditional golf, except players shoot holes with round discs into baskets that serve as holes. All disc golf courses in Wichita require players to bring their own equipment, but you can purchase items just north of Oak Park at Ducks Flying Discs to get you started.
For more blogs about things to do while in downtown Wichita, see below: 
Six spots to watch sports near Wichita's INTRUST Bank Arena
Six indoor activities near INTRUST Bank Arena
Where to eat when downtown at an INTRUST Bank Arena event
To find more ideas for outdoor activities in Wichita, look here.