What's better than a custom pizza loaded with all your favorite ingredients topped with authentic flavors and cheeses baked to a golden-brown goodness paired with an ice-cold beer or other drink of choice? Well, the fact you can mix and match what items and sauces you want at several different pie shops around Wichita, of course.
Even though Wichita is in the middle of the United States, it is home to several pizza shops and pizzerias with inspiration straight from Italy. Here are just a few of the possibilities and delicious dishes ICT is serving up at six unique pizza parlors.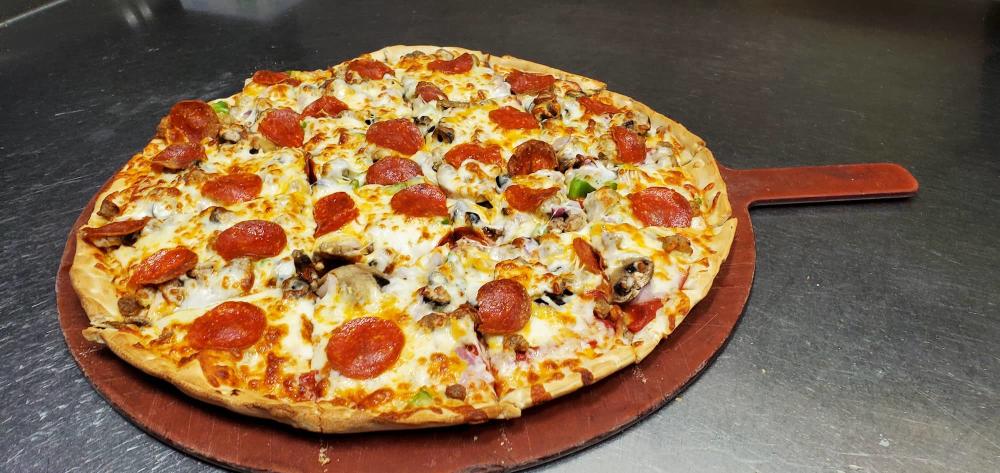 AJ's Sports Grill
After you've worked up an appetite knocking down pins and racing go-karts at The Alley, head to AJ's Sports Grill inside this entertainment complex and feast on one of their 29" Superdome Pizzas. Load it up with all your favorite toppings like pepperoni, Canadian bacon, sausage, onions, green peppers, Applewood bacon and more.
Can't decide? AJ's specialty pizzas take the guesswork out of ordering. Their Perfect 300 comes loaded with pork, Italian sausage, pepperoni, beef, Canadian bacon, green peppers, black olives, onions, mushroom and cheese. The BBQ Chicken pizza comes with a layer of BBQ sauce, grilled chicken, cheese and pineapple by request. The same great, giant pizzas can be found at Northrock Lanes, the largest bowling center in the state of Kansas.
In addition to the pizzas, AJ's serves calzones, salads, sandwiches, pastas, wraps, burgers and even pizza nachos. Happy hour takes place from 2 to 6 p.m. every Monday through Friday. You'll find great drink specials as well as plenty of appetizers like fried pickles, mushrooms and green beans or mozzarella sticks. Some appetizers, such as the quesadillas and loaded fries, can serve as an entire meal!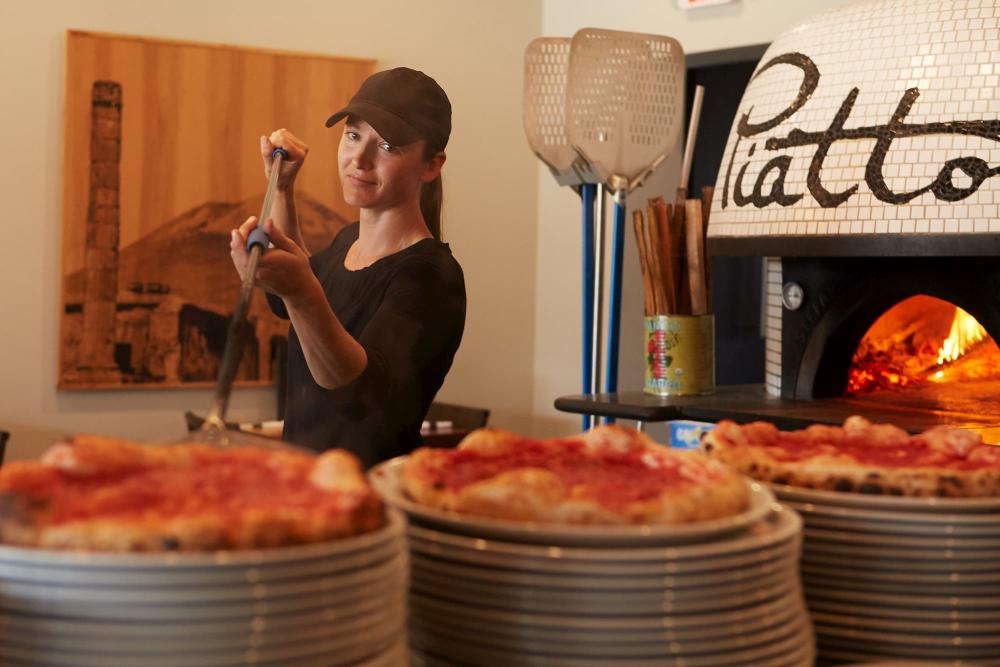 Photo: Pilsen Photo Co-Op
Piatto Neapolitan Pizzeria
You can have a taste of Italy without leaving Kansas when you stop in to Piatto Neapolitan Pizzeria in the Douglas Design District. With training and tactics coming straight from Naples, the owner at Piatto has studied under master Pizzaiolo, Enzo Coccia, bringing an authentic experience to Wichita.
The tradition spans 300 years; each crust sits through three days of fermentation as the process builds the most incredible texture and taste unique to Piatto dishes. With organic ingredients shipped from California to natural cheeses cut fresh daily, you'll love how the flavors dance on your tongue with each bite.
Piatto pizza is cooked in a 6,000-lb., 900-degree brick oven built in Italy. The high temperature and pre-preparation of the dough and ingredients lead to a quick turnover in the oven, and result in a soft crust with an airy texture. Take everything you know about pizza and throw it out the window – Piatto Neapolitan Pizzeria will bring you a whole new experience with pies that do not resemble anything made here in America.
Customers can try a variety of pizzas, such as the "Francesca," made with crushed pistachios, rosemary, red onion, fresh mozzarella, parmigiano regiano and olio, or the "Diavola," made with spicy borsellino salami, fresh mozzarella, garlic, smoked sea salt and olio. Try both red and white-sauce pizzas, appetizers like the "Saltimbocca" (breadsticks stuffed with salami and mozzarella) or locally made tiramisu.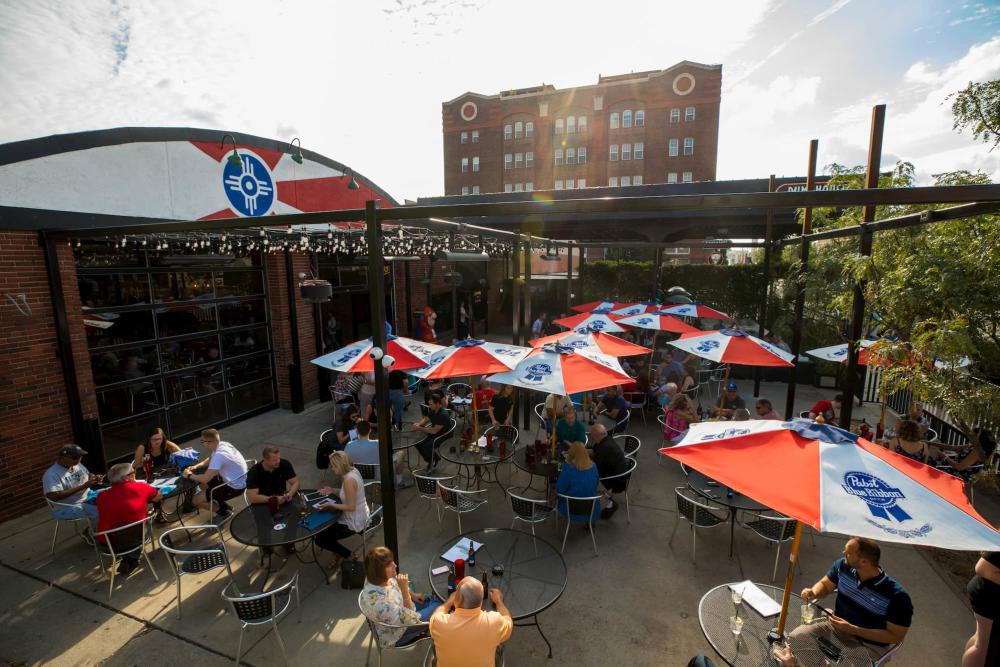 Pumphouse
Originally established in Wichita in 1931 as a downtown filling and service station, Pumphouse is now a popular bar and grill in the city's entertainment district, Old Town. Surrounded by brick-lined streets, this restaurant has plenty of indoor and outdoor seating. No matter where you decide to grab a table, you'll be able to catch live sports via 50+ big-screen TVs or one of their 10 projectors.
In addition to build your own options, they offer many specialty pizzas like the "Beer, Pig and Pizza," which comes with garlic and chive cream cheese, Free State's Ad Astra beer-sauteed onions, smoked bacon, mozzarella and garnished with diced tomatoes and fresh parsley, and the "Five Pepper Pie," filled with Pumphouse's traditional marinara sauce with red pepper flakes and cayenne pepper, topped with Italian sausage, pepperoni, jalapeños, red peppers and pepperoncini.
All of Pumphouse's pizzas are served on a soft, not-too-thin and not-too-thick crust. Visit at lunch and enjoy the perfectly-portioned a two-topping pizza and salad. They also serve soups, sandwiches, burgers and a variety of pasta dishes. Don't skip dessert, either! You can get their peach cobbler served warm with a side of classic vanilla ice cream, drizzled with chocolate or caramel sauce.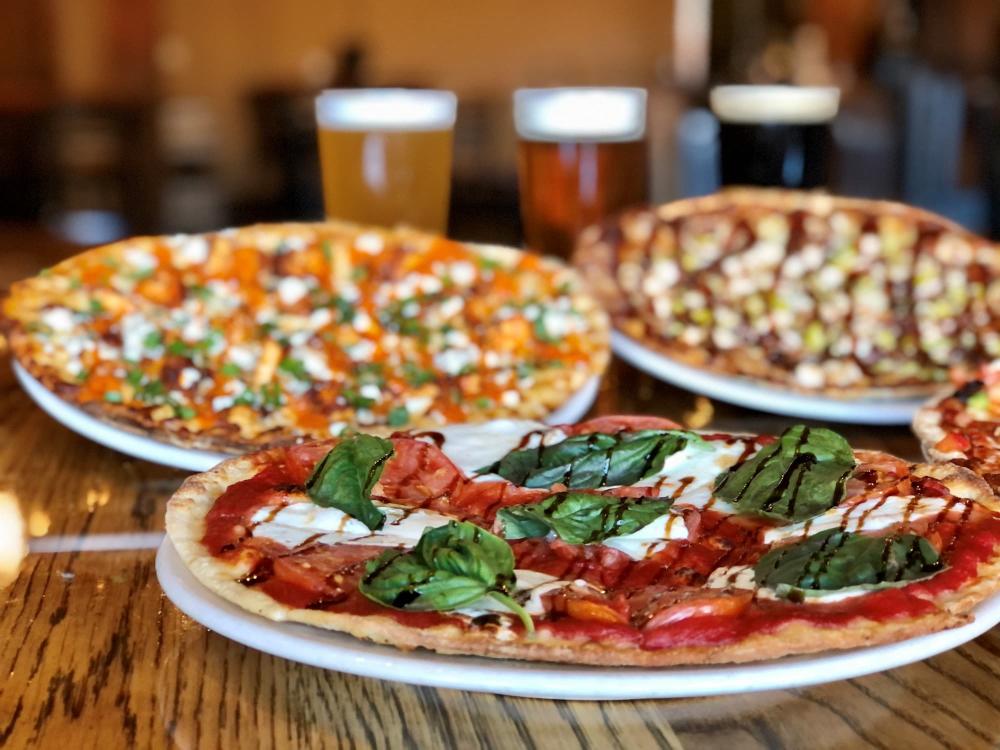 River City Brewing Co.
This flagship restaurant also in Wichita's Old Town District is Wichita's original brew pub founded in 1993. They offer 16 handcrafted beers on tap and a menu with Kansas' heritage on full display with dishes featuring Kansas beef and a variety of pastas, seafood, salads and unique pizza.
Everything at River City Brewing Co. is made from scratch for a fresh, homemade taste, including their pizza dough. Stick with traditional flavors and order "The Kansan," made with ground beef, bacon, Italian sausage, pepperoni and melted cheese, or the "Margherita," a flavorful classic with homemade red sauce, baby mozzarella cheese, tomatoes and fresh basil with a balsamic reduction.
Get more adventurous with one their popular specialty pizzas, the "Buffalo Chicken." This pizza is made fresh-to-order with a special, house sauce, mozzarella cheese and buffalo chicken, topped with blue cheese crumbles and green onion. Equally popular is River City's notorious Big Shell Mac N' Cheese dishes. Each one comes with big shell pasta and their homemade creamy cheese. Go big and add breaded fried chicken for an unforgettable meal. Looking for a healthier option? Each of their pizzas can be made with cauliflower dough.
No meal at River City would be complete without their homemade bread pudding for dessert. This delectable treat is topped with roasted apples and a bourbon cream sauce.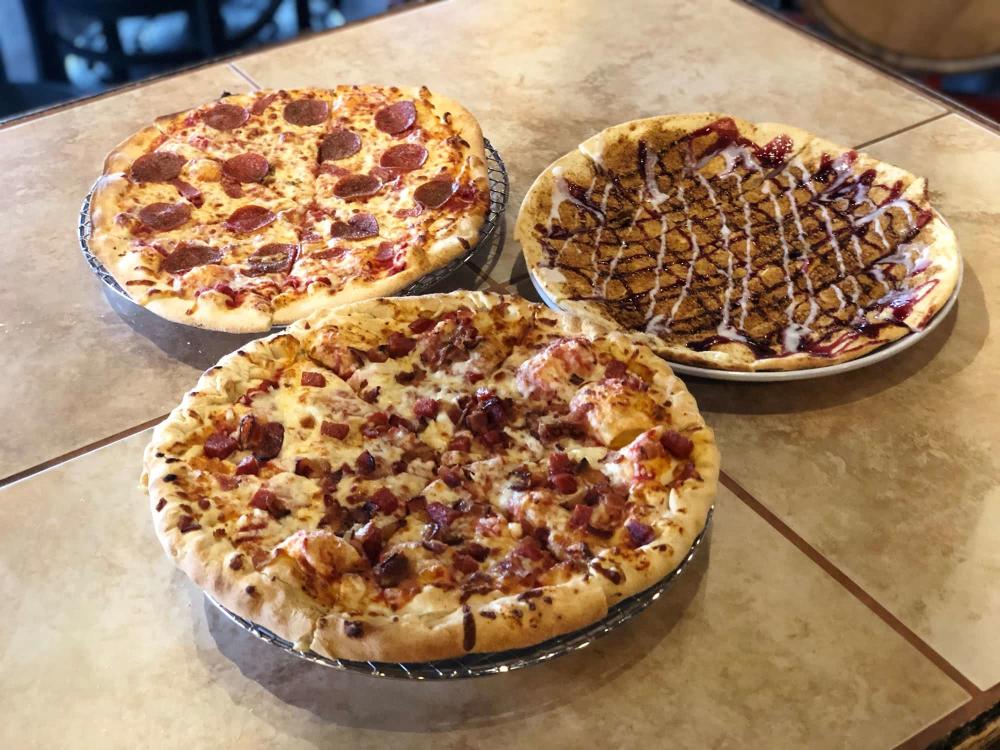 Wichita Brewing Co. & Pizzeria
Pizza and beer are a common staple in America and Wichita Brewing Co. & Pizzeria has you covered with both. From handcrafted beers and brews of all kinds to some of the most delicious pie you'll ever eat, take your taste buds to this hometown favorite and learn about the "extra ingredient" added in the brewing process. Each tank is painted with a portrait of a musician for inspiration, making each brew that much more interesting.
Founded in 2011, WBC's owners Jeremy Horn and Greg Gifford offer eight authentic brews from the WBC Wheat to the Catherine III Russian Imperial Stout, plus, both brewpub locations have 19 different beers on tap that are alternated regularly. The company's wood-fired pizzas are just as incredible and are the perfect companion to an ale or IPA.
When visiting Wichita Brewing Co. & Pizzeria, be sure to start your journey with the wood-fired jalapenos or beer queso and pretzels. For dinner, try favorites like "The ITIS," a double-layered pizza with cream cheese and American cheese, Italian sausage and spicy Capicola, red sauce, pepperoni, fresh mozzarella and a double portion of wood-fired, sweet pepper bacon. For vegetarian delights, try the "WBC Veggie," made with onions, mushrooms, red and yellow peppers, diced tomatoes and black olives.
Get creative with new items on the menu like the "Surf & Turf," made with Au jus cheese base, shredded mozzarella, marinated steak, baby white shrimp, chopped asparagus, cilantro and hollandaise sauce, or the "The Royal Porker," a pizza with BBQ sauce, pulled pork, sweet pepper bacon, caramelized onions, pickled jalapeños and mozzarella cheese. And look for rotating Pizza of the Month specials for even more flavors.
Put the finishing touches on your delicious meal with the Peanut Butter S'more Pizza or Irish Cream Cheesecake. You can find Wichita Brewing Co. & Pizzeria on the east side on North Woodlawn and west side on West 13th Street.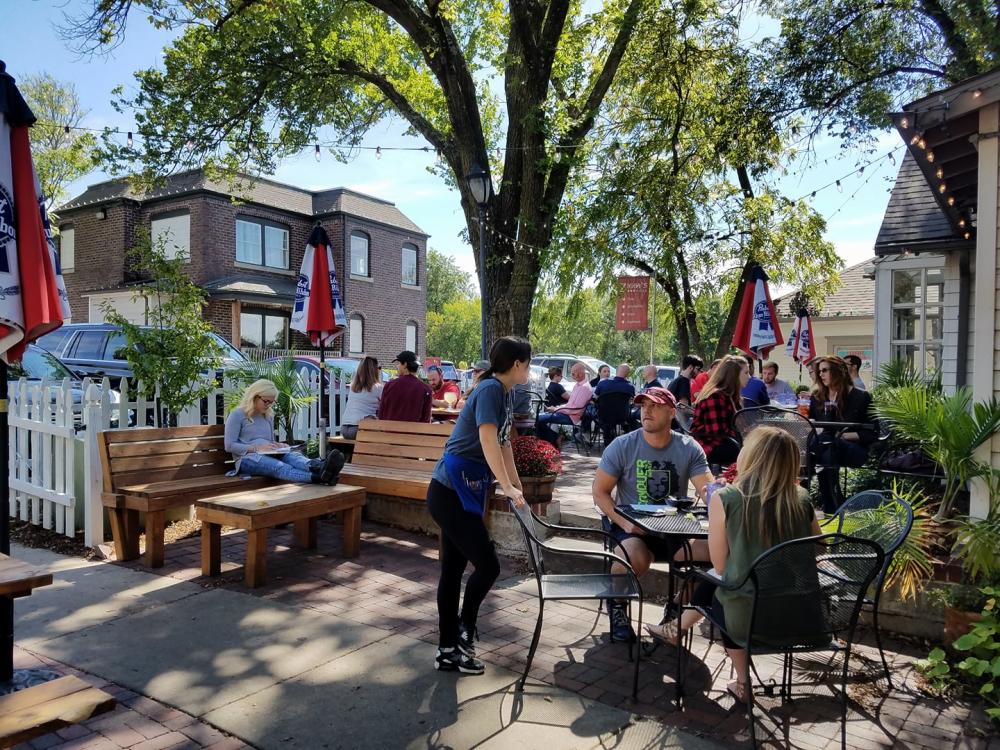 Ziggy's Pizza
With three locations in Wichita, Ziggy's Pizza (Clifton Square, Northeast and West), is a Wichita favorite offering pie and sandwiches.  With a casual dining atmosphere, the restaurant is perfect to take any group for pizza and beer.  With a full bar and televisions for entertainment at each location, Ziggy's is a perfect hangout spot.
Each homemade pizza is made with passion and a collection of fresh ingredients prepared daily. Start your Ziggy's experience with some "Ziggy Bites," cheesy garlic bread or a salad and follow it up with your favorite kind of specialty pizza.
Be sure to try the "Mamacita Taco Pizza," made with refried beans, taco sauce, ground beef or chicken, cheddar, lettuce, tomato and crushed Dorito's. It is served with a side of sour cream and salsa. Another off-the-wall option, the "White Delight," is made with grilled chicken, onion, mozzarella and cheddar, topped with tangy barbecue sauce.
For a more traditional meal, order the "Meat Me at Ziggy's," made with pepperoni, Italian sausage, smoked bacon, beef, Canadian bacon and marinara sauce, or the "Classic Ziggy," made with pepperoni, Italian sausage, green peppers, onion, mushrooms, black olives and marinara sauce. You can also create your own pizza with up to five toppings.
Make sure you save room for some of the signature desserts like the "Cinna-bites," made with dough, cream cheese, cinnamon, sugar and topped with Ziggy's icing, or a refreshing root beer float.