Many communities have zoos but Wichita is fortunate to have a zoo with exhibits that offer maximum opportunity for animals' natural behaviors. This design concept provides for each animal's needs and also immerses visitors in the creature's world for a compassionate learning experience.

Sedgwick County Zoo has 3,000 individual animals of nearly 400 species grouped geographically and in settings that duplicate their natural habitats. Among the newest examples is the home of the zoo's eight African elephants, opened in 2016. The habitat's design was based on scientific research, providing for the herd's complex physical, mental and social needs.

USA Today readers voted the Reed Family Elephants of the Zambezi River Valley the second best zoo exhibit in the country in 2019 in the 10Best Reader's Choice awards. It is the third largest elephant habitat in the country with more than 5 acres of sprawling outdoor space plus access to an indoor facility as well as one of the largest elephant pools found at a zoo. The 550,000-gallon water feature is shared with a boat tour visitors can ride on Saturdays and Sundays throughout the summer, weather permitting.

Another unique feature of the exhibit is a covered pavilion that looks out on a part of the habitat where you often find the elephants. It offers shade, seating and, often, a close view of this beautiful herd of African elephants.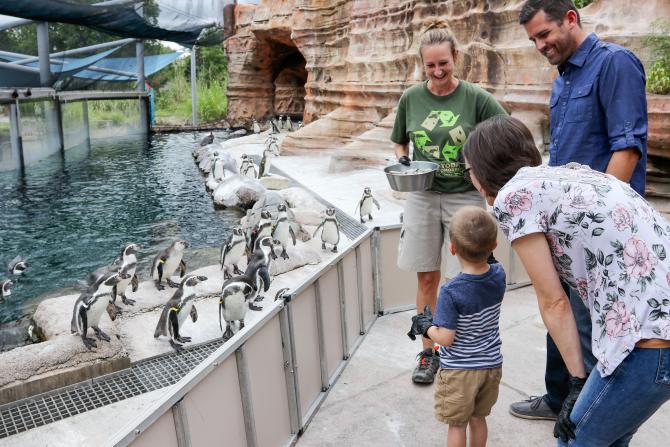 For truly wild encounters, plan your visit to the Sedgwick County Zoo during one of their Wild Encounter events. Current offerings include a tortoise encounter at 2 p.m. on Saturdays and Sundays and a penguin encounter at 3 p.m. on Thursdays, Fridays, Saturdays and Sundays.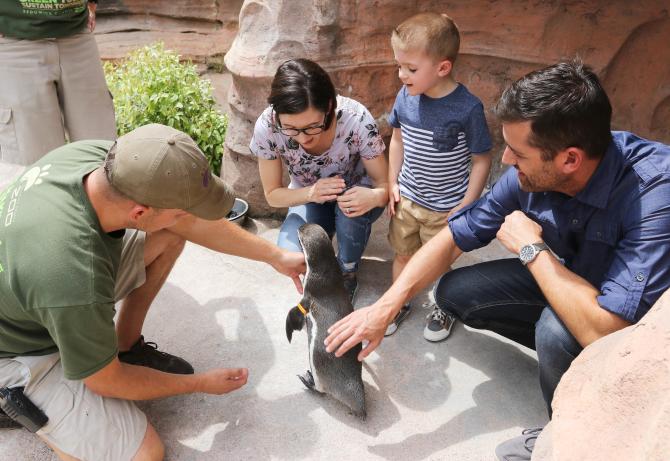 Visitors get to accompany a keeper into the habitat of the Aldabra tortoises, one of the largest of all tortoises, where they feed them while learning about them. The encounter with Humboldt penguins includes a visit inside Cessna Penguin Cove to feed them and learn what it takes to care for the flightless birds.
Don't pass up a chance to spend a day at the Sedgwick County Zoo, a uniquely Wichita attraction!