Picture a beautiful Kansas sky in downtown Wichita. Then imagine how breathtaking it would be to see hundreds of synchronized drones creating various formations set to music, lighting up the sky up to 400 feet over the Arkansas River and the Keeper of the Plains. Make plans to see it with your own eyes this fall during this year's Drone Light Festival at Exploration Place.
Not only is the mesmerizing show coming back for a second year, but organizers are extending it to three nights because of the popularity. Scheduled for Sept. 21-23, the show will provide breathtaking views of 300 synchronized drones fully choreographed with music.
What to expect
Drone light shows are performed by swarms of lighted drones arranged into aerial formations. Almost any image can be created in the sky by a computer program that turns graphics into flight commands and communicates them to the drones. The lights are animated and choreographed with music to create a mesmerizing and powerful experience.
There are many exciting enhancements to the experience this year. One of the biggest changes is the show will be in the fall instead of summer and it's expanding from two evenings to three. Last year, there were 200 drones flying in the sky. This year there will be even more synchronized computer-controlled drones illuminating the night sky – 100 more to be exact!
The drones will launch from the Mid-America All-Indian Museum grounds, highlighting the Keeper of the Plains. Each night, the show will end with a special lighting of the Keeper of the Plains fire pots.
Additionally, Exploration Place has expanded the show into a festival, adding a variety of activities each night, including floating Chinese water lanterns in the science center's reflecting pond, projections on Exploration Place's exterior, a concert lit by more than 2,000 candles and fire dancers.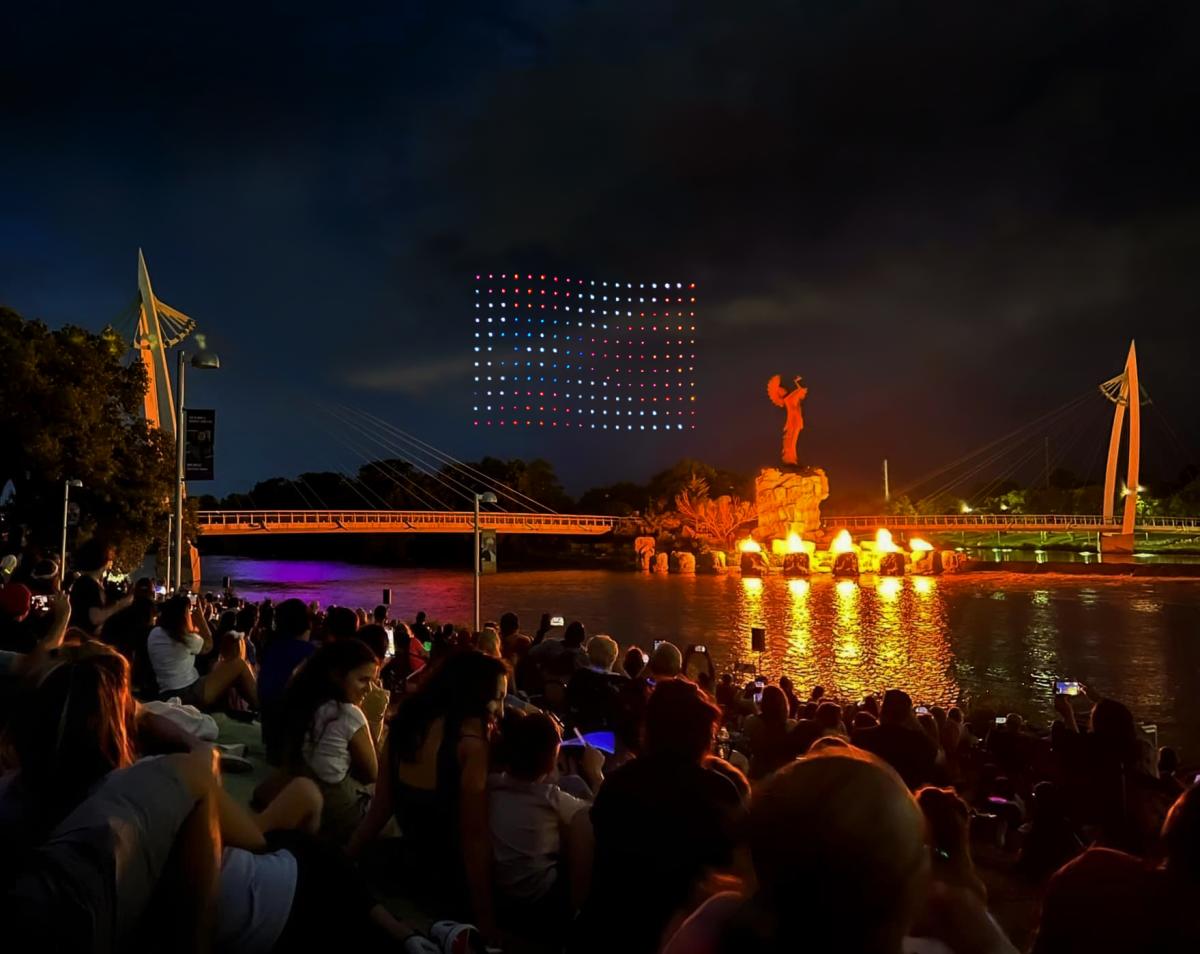 How to attend
Gates will open at 6 p.m. and the drone light show begins at 9 p.m. Organizers encourage attendees to arrive early to the grounds to enjoy live music, demonstrations, games, local vendors, food, drink and other entertainment. It's also a great opportunity to explore Exploration Place, which is fully included in your admission to the event.
Individual tickets are $12 per member and $15 for nonmembers. You can purchase a carload pass which includes parking and admission for up to nine guests for $50 for members and $60 for nonmembers.
In the event of cancellation or delay, announcements will be made as soon as possible via email, social media and using the sitewide PA system. The show will be held unless Exploration Place makes the decision to cancel due to wind, lightning or other unsafe conditions. It is recommended to arrive 60 minutes before the show's start time in case there is a last-minute weather change. If there is a cancellation, a rain date has been set for Sunday, Sept. 24.

In addition to the Drone Light Festival, Exploration Place is planning three LEGO-themed exhibits and a DC Super Heroes exhibit yet this year. The science center recently set an all-time attendance record and anticipates welcoming its 5 millionth visitor before the end of 2023. Next year, they will begin a multi-year expansion on their 20-acre riverfront site, building upon the center's impressive and interactive experiences.
You can discover Exploration Place and more than 50 additional museums and attractions, 1,200-plus eateries and much more when you visit the Heart of the Country.