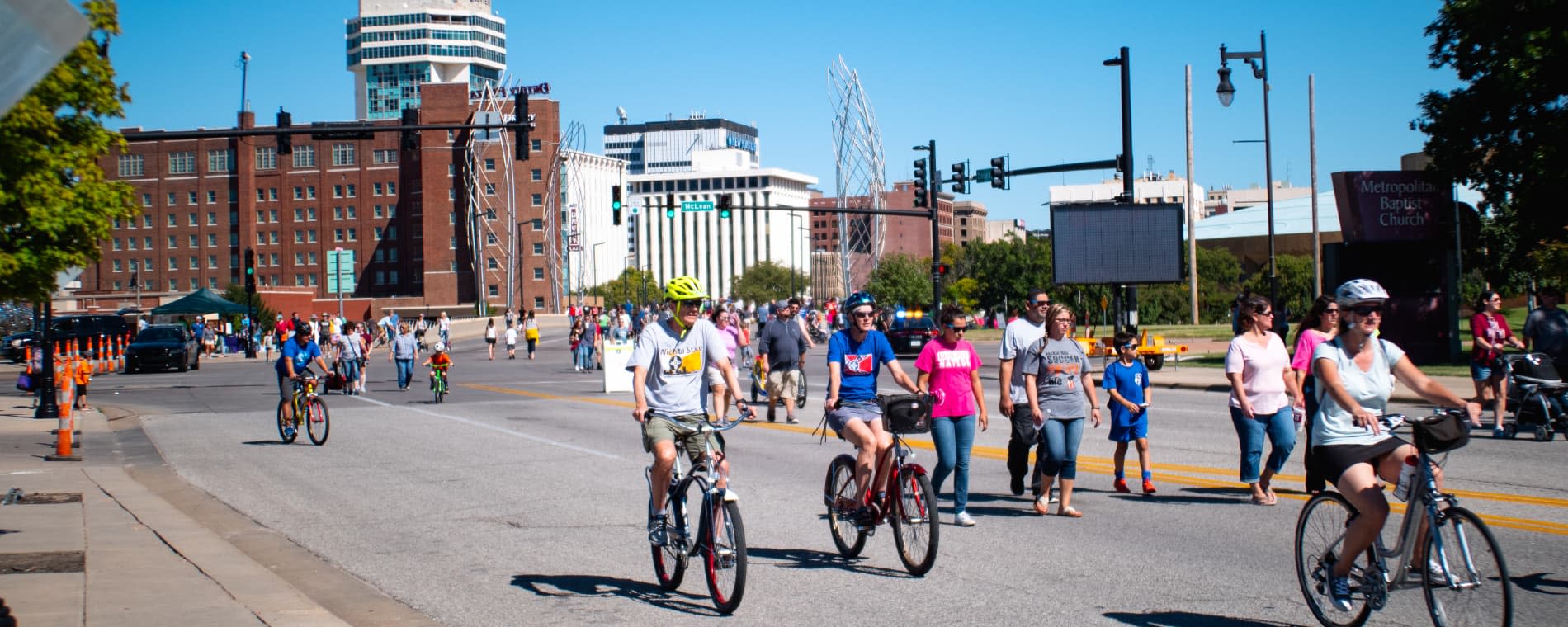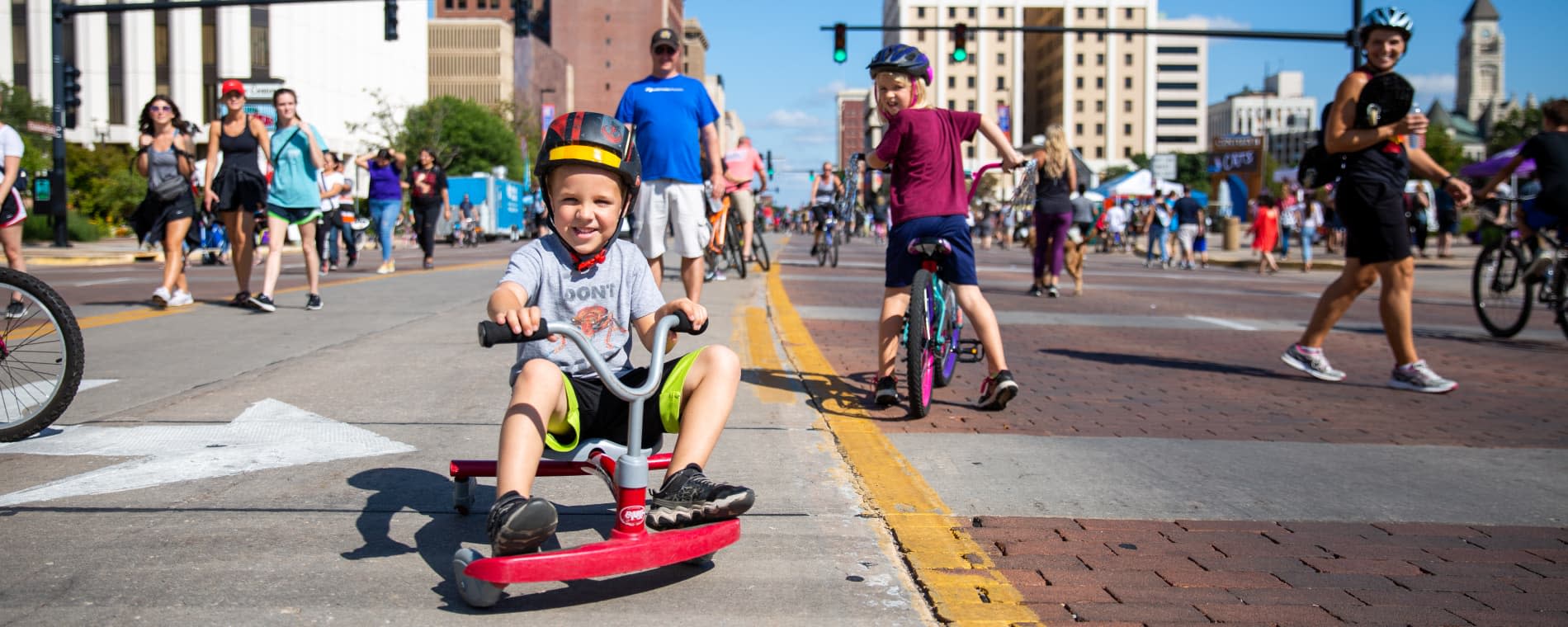 Open Streets ICT 2021 - Douglas Ave
The dates for this event have already occurred, please check back again for new dates.
Join us this fall for Open Streets ICT, a FREE neighborhood community-building event along Douglas Avenue in Wichita for a full day of biking, fun physical activities, food trucks, music, and much more! 
4.1 miles of Douglas Avenue will be closed to traffic from College Hill at Bluff St. to Glenn St. in the historic Delano District, and open the street for biking, walking, running, food, and more. You're invited to get active and stop at participating shops and businesses along Douglas and a variety of food vendors along the route.
Read More
See the Heart of Wichita in a New Way During Open Streets ICT
COVID-19: This year, Open Streets ICT is taking extra precautions due to COVID-19 and will only be allowing businesses directly on the Douglas route and food trucks to register as vendors. We want to limit the amount of large, clustered gatherings and encourage the community to take advantage of the open streets by being physically active. We will continue to monitor the pandemic and adhere to Sedgwick County Health Department regulations.
Find more annual events and festivals in Wichita happening this fall!
Admission:

Free - many vendors will offer food and other items for sale

Days:

September 19, 2021

>

Open Streets ICT 2021 - Douglas Ave <p>Join us this fall for <strong><a title="Open Streets ICT" href="https://www.visitwichita.com/events/annual-events/open-streets-ict/">Open Streets ICT</a></strong>, a FREE neighborhood community-building event along Douglas Avenue in Wichita for a full day of biking, fun physical activities, food trucks, music, and much more! </p> <p>4.1 miles of Douglas Avenue will be closed to traffic from College Hill at Bluff St. to Glenn St. in the historic Delano District, and open the street for biking, walking, running, food, and more. You're invited to get active and stop at participating shops and businesses along Douglas and a variety of food vendors along the route.</p> <p><span style="text-decoration: underline;"><strong>Read More</strong></span><br /><a title="See the Heart of Wichita in a New Way During Open Streets ICT" href="https://www.visitwichita.com/blog/post/open-streets-ict/"><strong>See the Heart of Wichita in a New Way During Open Streets ICT</strong></a></p> <p><strong>COVID-19:</strong> <em>This year, Open Streets ICT is taking extra precautions due to COVID-19 and will only be allowing businesses directly on the Douglas route and food trucks to register as vendors. We want to limit the amount of large, clustered gatherings and encourage the community to take advantage of the open streets by being physically active. We will continue to monitor the pandemic and adhere to Sedgwick County Health Department regulations.</em></p> <p>Find more <a title="Wichita's Fall Festival Season Brings Food, Drink and Fun" href="https://www.visitwichita.com/blog/post/upcoming-fall-festivals-in-wichita/"><strong>annual events and festivals in Wichita</strong></a> happening this fall!</p> America/Chicago
Back To Previous