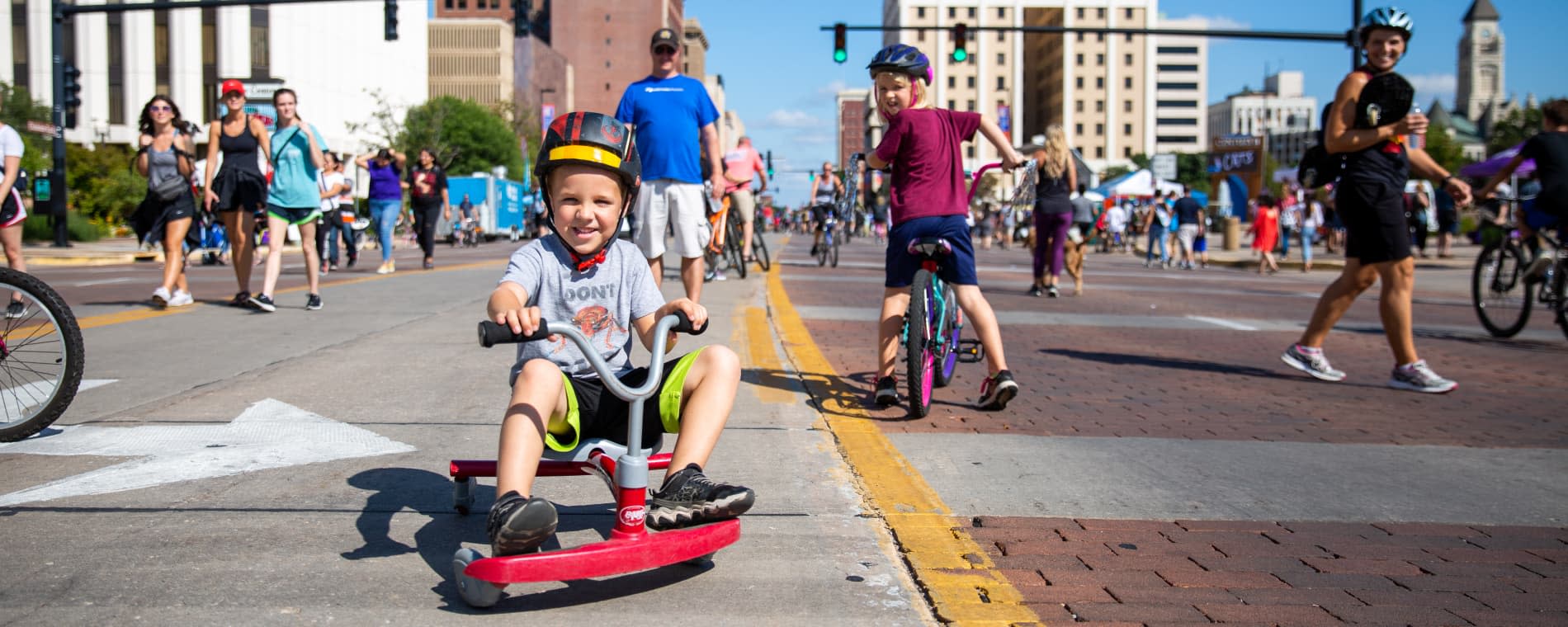 Back to Previous
Open Streets ICT 2021 - Douglas Ave
Noon-5pm, September 19, 2021 | Douglas Avenue
Join us this fall for Open Streets ICT, a FREE neighborhood community-building event along Douglas Avenue in Wichita for a full day of biking, fun physical activities, music, dancing, yoga, and much more! 
4.1 miles of Douglas Avenue will be closed to traffic from College Hill at Bluff St. to Glenn St. in the historic Delano District, and open the street for biking, walking, running, live music and dancing, entertainment, food, art, yoga, and more. You're invited to get active, socialize, and stop at the local Douglas Avenue businesses, restaurants, street vendors, and five major activity hubs located at every mile along the route.
Activity Hubs
Activity Hubs at Open Streets ICT are nodes of active programming locations spaced along the route. They act as outdoor community centers and windows into their neighborhoods - where local residents, businesses and organizations can lead fun activities to engage with participants participants, build relationships and show them why their neighborhoods are great places to live, work and play.
College Hill - Douglas & Bluff
East High School - Douglas & Grove
Old Town - Douglas & Rock Island
Kennedy Plaza - Century II Convention Center at Douglas & Century II Dr.
West End - New Life Covenant Church at Douglas & Vine
COVID-19: We are continually monitoring the number of cases, vaccine rates, and current health orders before proceeding with the Fall event in its full extent. Please stay tuned for more info.
Admission:

Free - many vendors will offer food and other items for sale

Days:

September 19, 2021

2021-09-19 2021-09-19 17:00:00 Open Streets ICT 2021 - Douglas Ave <p>Join us this fall for <strong><a title="Open Streets ICT" href="https://www.visitwichita.com/events/annual-events/open-streets-ict/">Open Streets ICT</a></strong>, a FREE neighborhood community-building event along Douglas Avenue in Wichita for a full day of biking, fun physical activities, music, dancing, yoga, and much more! </p> <p>4.1 miles of Douglas Avenue will be closed to traffic from College Hill at Bluff St. to Glenn St. in the historic Delano District, and open the street for biking, walking, running, live music and dancing, entertainment, food, art, yoga, and more. You're invited to get active, socialize, and stop at the local Douglas Avenue businesses, restaurants, street vendors, and five major activity hubs located at every mile along the route.</p> <p><strong>Activity Hubs</strong><br />Activity Hubs at Open Streets ICT are nodes of active programming locations spaced along the route. They act as outdoor community centers and windows into their neighborhoods - where local residents, businesses and organizations can lead fun activities to engage with participants participants, build relationships and show them why their neighborhoods are great places to live, work and play.</p> <p>College Hill - Douglas &amp; Bluff<br />East High School - Douglas &amp; Grove<br />Old Town - Douglas &amp; Rock Island<br />Kennedy Plaza - Century II Convention Center at Douglas &amp; Century II Dr.<br />West End - New Life Covenant Church at Douglas &amp; Vine</p> <p><strong>COVID-19:</strong> <em>We are continually monitoring the number of cases, vaccine rates, and current health orders before proceeding with the Fall event in its full extent. Please stay tuned for more info.</em></p> Glenn St. (Delano) through Bluff St. (College Hill) Wichita, KS America/Chicago
Back To Previous