Reunion planners looking for a one-of-a-kind experience for attendees need to look no further than the experience awaiting them at the B-29 Doc Hangar, Education & Visitors Center. Built by Boeing in Wichita during WWII, Doc is one of only two B-29 Superfortress Bombers in flying condition today. The plane and its hangar provide visitors not only a close-up look at a living piece of history and chance to learn more about the aviation heritage of the Air Capital of the World, but it provides ample event space for off-site events and military reunions.

Restoring and returning Doc to the skies
Manufactured in Wichita, Kansas, along with just more than 1,600 other B-29 Superfortress bombers during World War II, Doc was delivered to the United States Army in March 1945. The historic warbird, along with several other B-29s, was assigned to its first non-combat role in 1951. This group of aircraft was known as the Seven Dwarfs. Doc was later used as a bomb training target in California's Mohave Desert where it would remain for 42 years until it was discovered in its deteriorating state in 1987. 
In the spring of 2000, Doc returned to Wichita where tens of thousands of hours were put into restoring it by a group of volunteers including aviation workers (current and retired), veterans and active-duty military to fulfill the mission of turning Doc into a flying museum.  On July 17, 2016, Doc flew for the first time in its restored condition.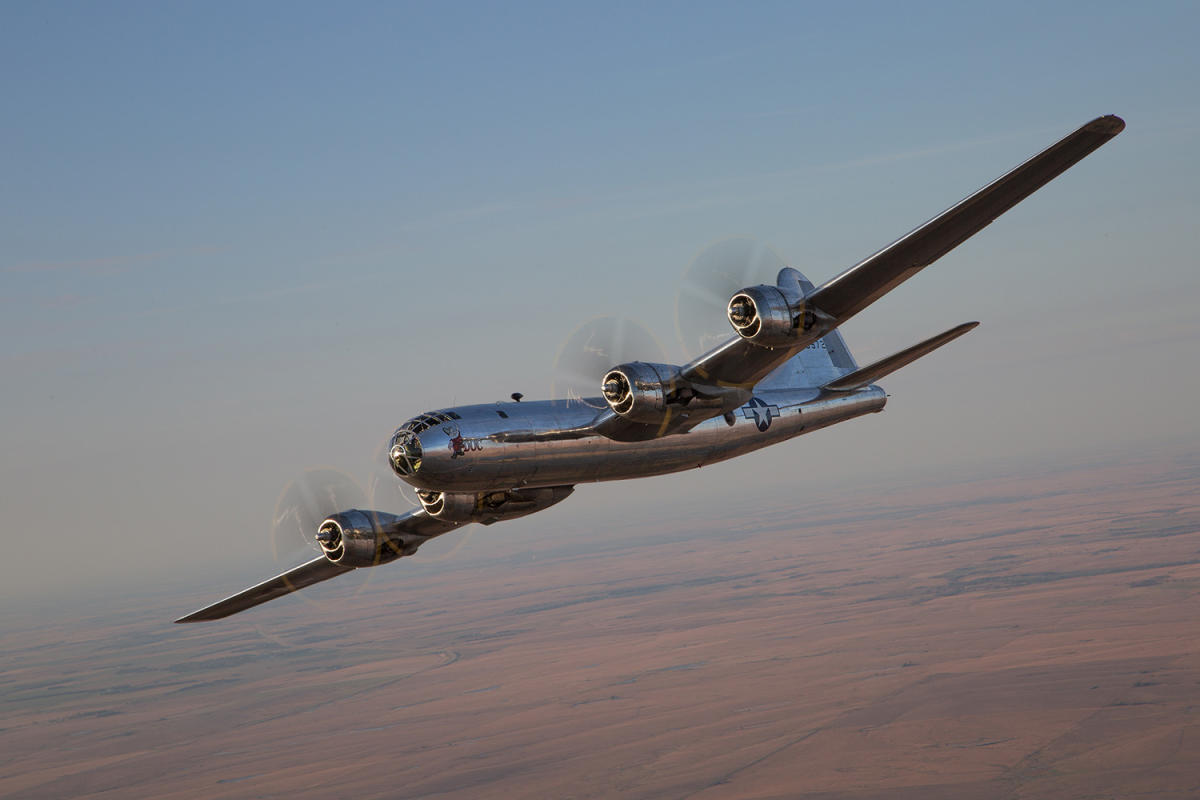 Photo credit: Brett Schauff
Historic warbird becomes airborne museum
In 2019, the newly constructed 42,000-square-foot B-29 Doc Hangar, Education & Visitors Center opened to the public, sharing the runways at Wichita's Dwight D. Eisenhower National Airport. It is open year-round as a hangar and maintenance facility, as well as an education and visitor center. Guests can browse a mezzanine museum with videos, displays and aviation artifacts. In 2022, the museum added the Women in Aviation Exhibit and Kansas Women in Aviation Hall of Fame. When not flying fulfilling its mission of educating younger generations at airshows around the country, Doc is on display in the hangar. Volunteers performing routine maintenance on Doc are willing to answer questions and provide additional information about the plane.
Visitors may also experience Doc from an altitude of 8,000 feet by purchasing a 90-minute flight experience that includes a history and crew briefing, as well as a 30-minute ride on the bomber. The museum and venue space are accessible for visits and events regardless of Doc's flight schedule. Those wishing to get a glimpse of Doc and the museum activities can do so via a live feed in the hangar when the aircraft is home.

The perfect venue for military events
Not only can reunion planners send attendees to the B-29 Doc Hangar, Education & Visitors Center for off-site activities, but they can rent the space for meetings, receptions and more. The lobby, hangar maintenance area, conference room and education center can all be included in the rental, offering plenty of space for guests to network and unwind. The classroom accommodates up to 100 and the banquet space has capacity for 700. Just a stone's throw away from the DoubleTree by Hilton Airport, Hampton Inn & Suites Airport and Wichita Dwight D. Eisenhower National Airport , the B-29 Doc Hangar is a perfectly convenient location to host meetings and receptions for groups.
Wichita is home to a variety of unique meeting spaces throughout the city. Request our meeting planners guide for a full list of places to meet, things to do for military members and veterans and more while gathering in the Heart of the Country.