January is National Hot Tea Month and we've got you covered on how to enjoy the second most consumed beverage in the world (water is No. 1). This month is a great time to warm up with a healthful cup of black tea or develop your tea-drinking palate by trying new varieties and flavors at Wichita's tea shops, coffeehouses and retailers.
Make time for tea in Wichita with these suggested activities:

Spend time at a teahouse
If you're looking for a dedicated tea space, head to The Teahouse at Clifton Square where they serve loose leaf tea by the pot, to go as well as packaged in an eco-friendly manner to enjoy at home. You can also book private tea parties for small groups inside the Victorian-style house and shop for tea inspired gifts and home décor.
The Teahouse is part of a bustling shopping center in the Douglas Design District, yet it's easy to relax once you sit down with an individual or shareable teapot inside or on their lovely patio. Order from more than 30 varieties of 100% organic tea leaves from 13 countries. This is a great place to learn about brewing tea, discover your taste in tea or just sit and enjoy a cup.

Teas and supplies to enjoy at home
Among the top places in Wichita to buy tea and teaware is The Spice Merchant and Company, a family-owned store in business for four decades. They are considered Wichita's original gourmet coffee roaster but equally beloved for their selection of spices and teas. As you peruse their more than 200 choices of loose leaf tea plus all the accessories you need to brew a cup at home, be sure to talk to the well-informed staff who will share their passion for the products. You also can find small batch tea brands among the eclectic gift items at Bungalow 26 in the Historic Delano District, at many ethnic markets in Wichita and at the Leaf & Stone Apothecary.

Order tea at a Wichita coffeehouse
Most coffee shops around the country serve at the minimum a chai tea and a selection of tea bags to steep in hot water; Wichita's coffee scene goes beyond the basics no matter what part of the city you're visiting.
Find unique tea blends by Wichita-based Leaf Logic Wellness Tea at Reverie Coffee Roasters, a full-service café, bakery and specialty coffee roastery, and the one-of-a-kind flavor of the Stash Double Bergamot Earl Gray tea served with locally sourced honey at Espresso To Go Go. Order the London Fog, a delicious combination of Earl Grey tea, vanilla and steamed milk, at Coffee Daze or sip a matcha latte made with green tea powder and micro-foamed milk at Leslie Coffee. Sample the variety of chai teas found on menus, from a spicy chai latte at Caffe Americana to a masala chai at Kookaburra Coffee—both featuring flavors made in-house.
That's just a few of the many coffee shops in Wichita.

Pair chocolate and tea
Stop at one of the three Cocoa Dolce Chocolates lounges in Wichita—Bradley Fair in east Wichita, New Market Square in west Wichita and the Old Town location—for a fun tea experience. You can enjoy one of their Harney & Sons hot tea blends and pair it with a tea-inspired artisan chocolate. Their London Fog chocolate is made with strongly steeped Earl Grey tea, cream and sugar encased in a white chocolate ganache. They also carry matcha green tea almonds for snacking.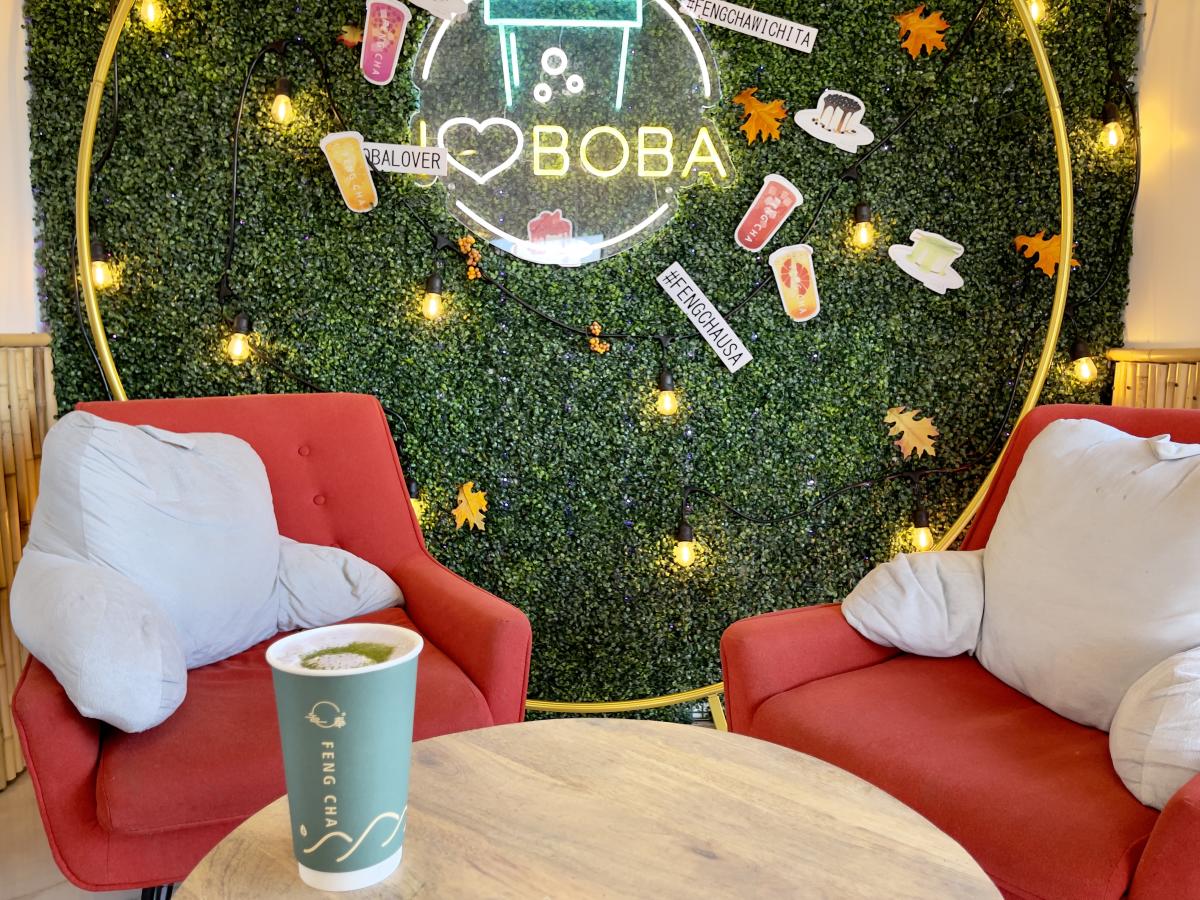 Try a trendy boba tea served hot
Despite being popular across the country—where it can be called bubble tea or boba tea—many people don't realize that this fun and tasty tea-based drink can be served hot as well as cold. The boba in boba tea is the tapioca balls that are in the bottom of the drink, introducing a fun texture, and a boba tea is fully customizable, from the base you choose (classic teas, milk teas, fruit teas) to your toppings (jellies, puddings and bubbles). Create your own sweet and creamy concoction at tea shops throughout Wichita, including Boss Tea ICT, Dolphin Tea, ICTea, Feng Cha Boba Tea, Kung Fu Tea, Leaf Teahouse and Sweet Pops, to name a few.
Looking for more drink options while in Wichita? Explore more flavors here.