The permanent exhibits at Wichita museums are impressive and as the largest city in Kansas, we also attract top-notch touring exhibitions. From art to history, our museums are affordable with several offering free admission: the Ulrich Museum of Art (free daily), Wichita Art Museum (free on Saturdays), Wichita-Sedgwick County Historical Museum (free on Sundays) and Old Cowtown Museum (free on Sundays).
Here's a look at the latest permanent and temporary exhibitions.

Exploration Place
"Thomas & Friends: Explore the Rails," through Jan. 8: Featuring the favorite engines and destinations from "Thomas & Friends," this exhibit seeks to engage children, ages 2 through 7 years, and families in foundational skills that foster STEM literacy through playful learning experiences. It is included with general admission to Exploration Place.
"Kansas: An Immersive Dome Experience," ongoing: Don't miss this 25-minute dome movie produced by the Exploration Place team in partnership with local drone videographers. Filmed completely by drone, consider this a love letter to Kansas showcasing the beauty and wonder of the Sunflower State in a way never seen before. It shows daily in the Digital Dome Theater, along with "Serengeti" and "Superpower Dogs." Check the center's website for screening times and tickets.
"Arctic Adventure," Nov. 4-Jan. 8: Step away from the Kansas plains and into the arctic tundra for an interactive family adventure filled with falling snow, virtual games, a sock-skating rink, hands-on challenges and more. The latest technology creates this frosty and fun environment that is included with general admission.
"Health Inside Out" is a popular new permanent exhibition that opened in April. This wonderfully weird space will be a hub of discovery, fascination and respect for the human body – inside and out. Enjoy carnival games with a health twist and get inspired to form lifelong connections to healthy behaviors.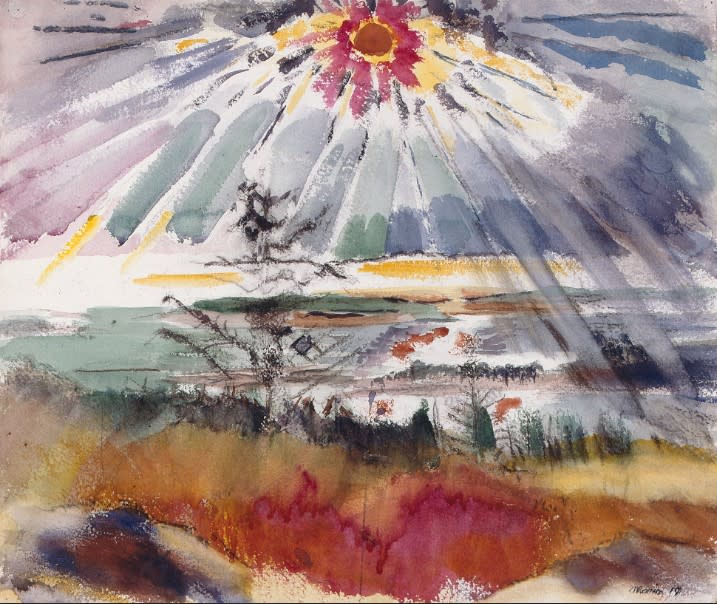 John Marin, Sunset, Casco Bay, 1919. Watercolor and charcoal on paper, 16 1/4 x 19 1/2 inches. Wichita Art Museum, Roland P. Murdock Collection,
Gift of Georgia O'Keeffe
Wichita Art Museum
The Wichita Art Museum is open Tuesday through Sunday, with free general admission every Saturday.
"Snap, Crackle, Pop: Recent Acquisitions from S.O. and Louise Beren," through Oct. 23: Pop emerged from the booming consumer culture of post-war America and adapted not only the imagery of advertising but also its strategies. Combining bold colors and familiar subjects with carefully chosen materials, textures and compositions, pop artists challenged traditional definitions of fine art. Pop art—including the work of Roy Lichtenstein and Andy Warhol—is also a favorite of WAM patron Louise Beren and her late husband, Bud. "Snap, Crackle, Pop" showcases pop art collected by the Berens and recently gifted to WAM.
"Power to the People: Mexican Prints and Paintings from the Great War to the Cold War," through Jan. 8: Drawing on work from the James and Virginia Moffett Collection, this exhibition explores the political and social conditions of early-20th-century Mexico and the dynamic, groundbreaking art that emerged from the Mexican Revolution (1910–1920). This period of war and dramatic social upheaval witnessed a flowering of artistic production, particularly in printmaking and graphic arts.
"Kaleidoscope," through March 5: Flat, pure color. Geometric forms. Hard edges and right angles. Organized in conjunction with WAM's Gala, "Kaleidoscope" features a range of works from the Wichita Art Museum's collection that showcase 20th-century art's experimentation with line, color and optical effects. Visit the exhibition and step into a kaleidoscope.
"Paper Dreams: Alfred Maurer and American Masterpieces," Oct. 15-Jan. 22: Wichita Art Museum is bringing two beautifully paired exhibitions to visitors this fall: "Alfred Maurer: American Modern Works on Paper from the Frederick R. Weisman Art Museum Collection" and "Essence of Line: American Modern Works on Paper from the Wichita Art Museum Collection."
One gallery will feature work by Alfred Maurer (1868–1932), all from the collection of the Weisman Art Museum, University of Minnesota. From the artist's early success with academic classicism to daring Matisse-inspired fauvism to languid modernist muses, the exhibition presents the artistic development of one of America's leading avant-garde artists in the early 20th century.
In the neighboring gallery, American modernist gems from WAM will include moderns such as Charles Burchfield, Charles Demuth, Arthur Dove, Edward Hopper, John Marin, Maurice Prendergast, Charles Sheeler, Everett Shinn and many more. The combination of exhibitions will be a rare treat for Wichita and Kansas audiences—works on paper are particularly sensitive to light damage and restrictions limit the time these artworks can be displayed.

Mark Arts
Mark Arts galleries are open and free to explore 10 a.m. to 5 p.m. Tuesday through Saturday.
National Watercolor Exhibition, Oct. 7-Dec. 10: This exhibition will showcase works by leading watercolor artists, whose selection was juried by Dean Mitchell, well known for his figurative works, landscapes and still lifes. An opening reception will be held the evening of Oct. 7 from 5:30-7:30 p.m. The exhibition will be on display in the Gladys and Karl T. Wiedemann Gallery.
ENDING SOON! "CROSS/CURRENT," through Oct. 8: This exhibition features works from local artists, each whom chose a piece from Mark Arts' impressive Study Collection to be exhibited alongside their work. These dynamic pairings create a meaningful dialogue between art of the past and the present. A closing reception will take place 5:30-7:30 p.m. Oct. 7 alongside the opening of the National Watercolor Exhibition. The exhibition can be viewed in the School of Creativity Gallery.
Gayle Singer Exhibition, Nov. 4-Dec. 4: Clay artist Gayle Singer is a professor emerita at the University of Central Oklahoma where she taught for 22 years. Her work has been exhibited in international, national and regional exhibition and her work is included in the permanent collections of museums that include the Spencer Museum of Art at The University of Kansas in Lawrence and Johnson County Community College's Nerman Museum of Contemporary Art in Overland Park, Kansas. Singer's work will be displayed in the School of Creativity Gallery.
"Oh Give Me A Home" is a new permanent, site-specific Stickwork sculpture installation outdoors, adjacent to the Gallery Terrace. The sculpture was created by internationally acclaimed artist Patrick Dougherty with the help of 134 community volunteers who gathered saplings and assisted in the building of the installation.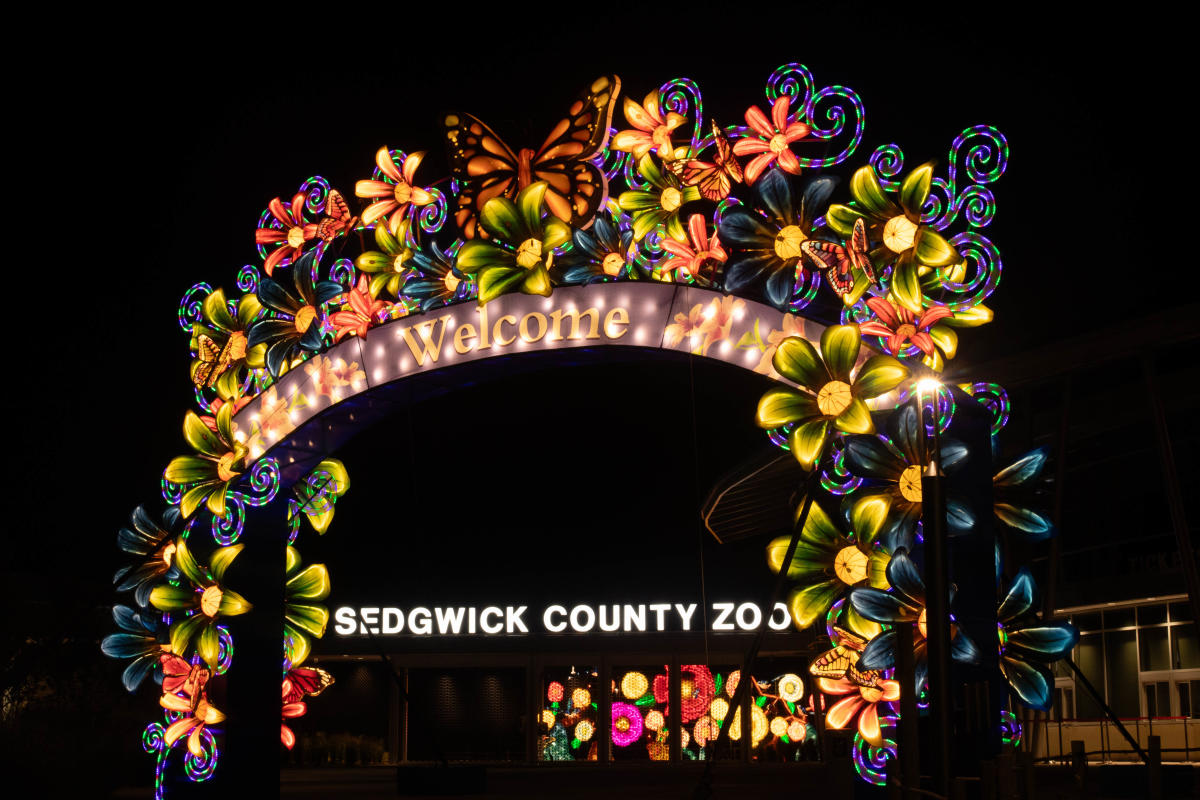 Sedgwick County Zoo
"Wild Lights," Sept. 30 through Dec. 4: Roam the Sedgwick County Zoo after dark, with your path illuminated by larger-than-life sculptures of all things wild. One-of-a-kind Asian lantern sculptures light up the zoo this fall with all new displays during Wild Lights, open from 6-9 p.m. every Wednesday through Sunday.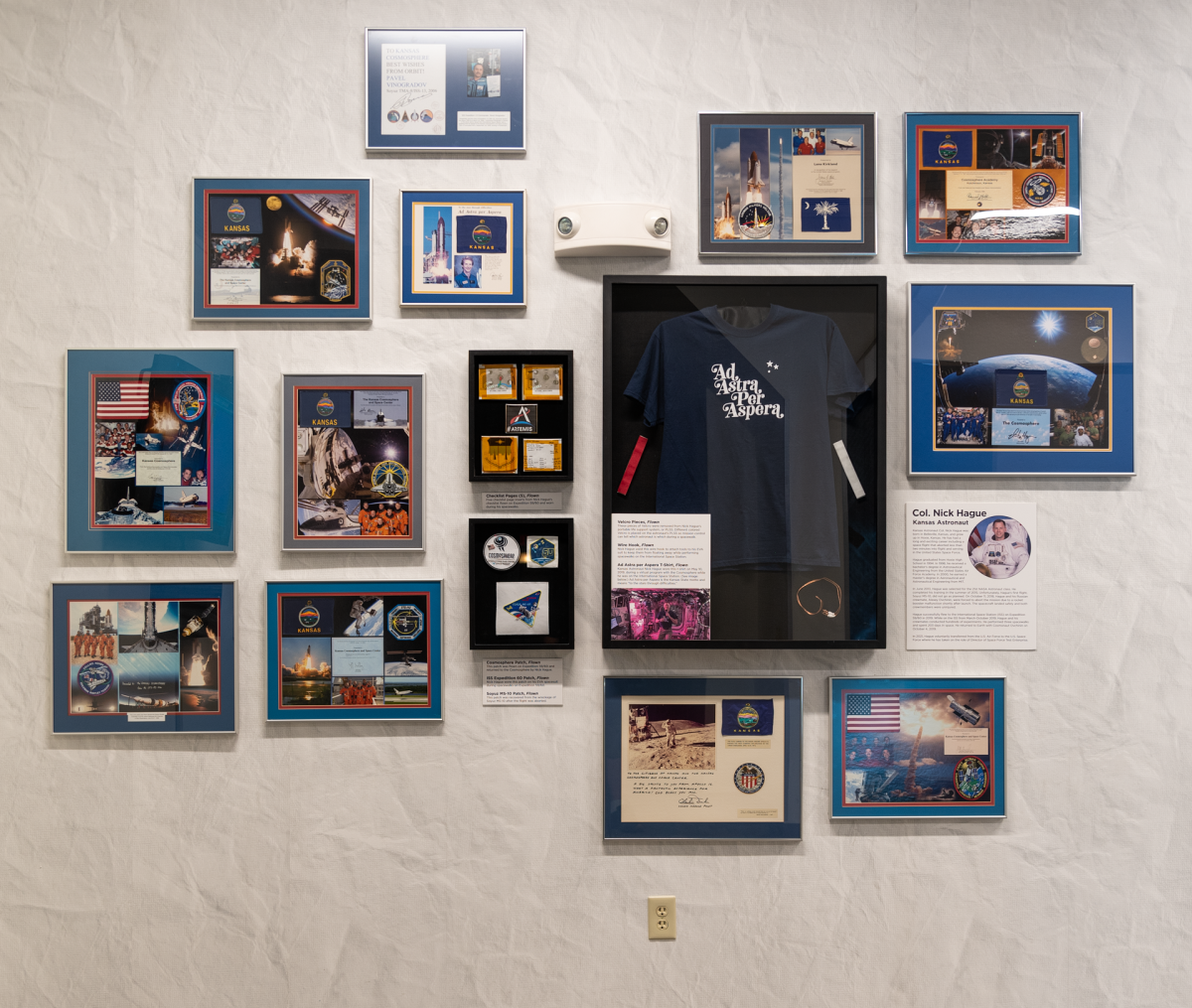 Cosmosphere
"The 53rd Cosmonaut: Svetlana Savitskaya" is a new permanent exhibit that opened in June at Cosmosphere International SciEd Center & Space Museum in nearby Hutchinson. Visitors can learn about the second woman in space and see the diminutive spacesuit she wore on her Soyuz T-12 flight. At 55 inches tall, she didn't take up much space--but as the first woman to perform a spacewalk, she casts a long shadow in space history.
"Flags and More: Items Flown in Space" is a new permanent exhibit that also opened in June. See a Kansas flag that has flown in space and check out the Ad Astra Per Aspera T-shirt Hoxie High School graduate and Kansas astronaut Nick Hague wore during a virtual program with the Cosmosphere...from on board the International Space Station. Other cool items include wire, Velcro and checklists worn on Hague's missions and spacewalks.
"Timeline of the Cosmosphere Story," through at least Dec. 31: View artifacts from throughout Cosmosphere's 60-year history and find out the answer to one of the most-asked questions by visitors: How did a museum like this wind up in Hutchinson, Kansas?
"Cosmosphere Founder Patty Carey,  through at least Dec. 31: See rare photos of Cosmosphere's founder and hear the story of how her tenacity and love of space drove development of one of the world's top space museums right here in Kansas. Visit the Cosmosphere website for special 60th anniversary events.   

B-29 Doc Hangar, Education & Visitors Center 
The B-29 Doc Hangar, Education & Visitors Center houses Doc, a fully restored B-29 and one of 1,644 B-29s that were built by Boeing in Wichita during World War II. The center has opened a new 2,000-square-foot permanent display "Women in Aviation" and added a Kansas Women in Aviation Hall of Fame. The exhibit honors the women who were on the front lines of the manufacturing and assembly lines, building wartime equipment and serving during a crucial time of need during World War II. The hangar is open to the public weekly 9 a.m. to 2 p.m. on Tuesdays and Thursdays and 9 a.m. to 1 p.m. on Saturdays when Doc is not on tour. Check their website and social media channels for the tour schedule.
"WASP Rise Above Squadron" traveling exhibition, Oct. 13-16:  Visit the Doc hangar on during its Pull a Plane event weekend to see this special exhibition. Watch an original short RISE ABOVE film that tells the story of the Women Airforce Service Pilots (WASP) and the obstacles these women overcame to be able to serve their country during WWII. This immersive experience is housed in a climate controlled 53-foot semi-trailer with a 160-degree panoramic screen. The film creates the feeling of being in the cockpit soaring above the clouds.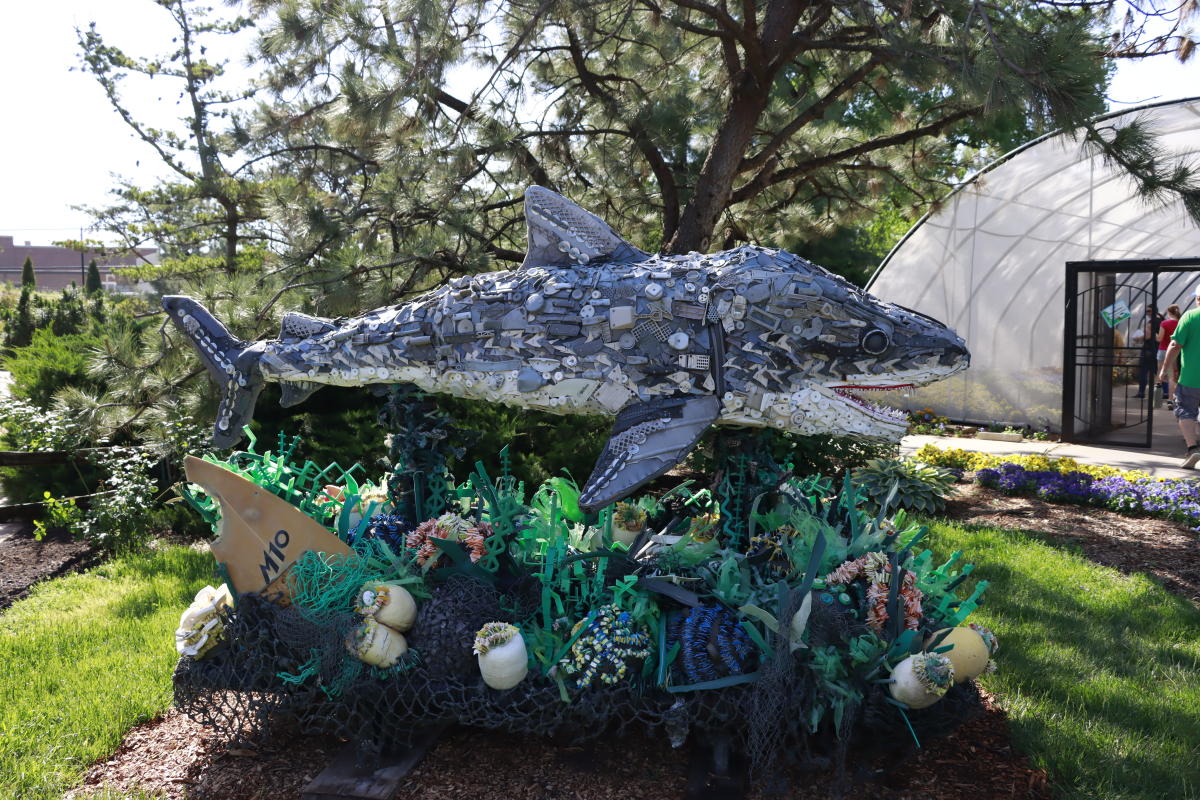 Botanica Wichita
ENDING SOON! "Washed Ashore," on display through Oct. 23: This traveling exhibit features giant sea life sculptures made entirely of marine debris collected from beaches to graphically illustrate the tragedy of plastic pollution in our ocean and waterways. The 14 oversized sculptures are placed throughout Botanica Wichita, from Chompers the Shark to Octavia the Octopus. Nora the Salmon will help show why what we do here in landlocked Kansas impacts the fish in our rivers and eventually marine life in the Gulf of Mexico and beyond. This exhibit is included with general admission.
Illuminations, Nov. 18-Dec. 31: This annual holiday tradition continues, with more than 2 million lights across Botanica's 30 themed gardens including a mile-long pedestrian path and multiple light displays choreographed to music. Illuminations is Wichita's premier Christmas light display!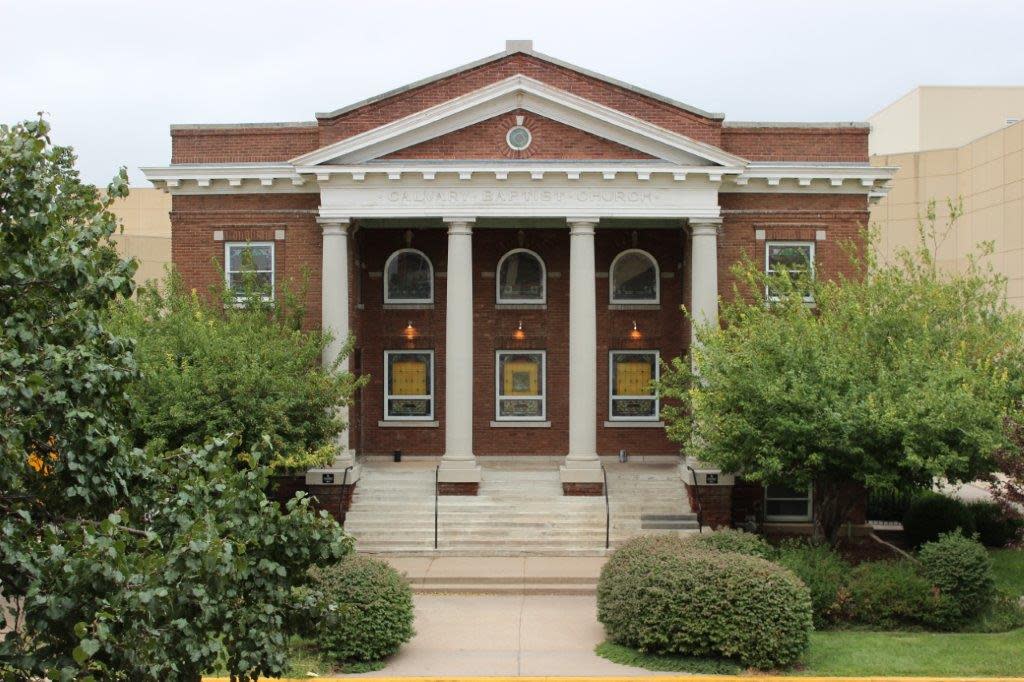 The Kansas African American Museum
"I am a Man: Photographs of the Civil Rights Movement, 1960-1970," through Oct. 22: The 1960–1970 decade was a momentous time for the civil rights movement in the American South. It was a historic decade that unleashed both hope for the future and profound change as public spaces were desegregated and as African Americans secured their right to vote. The Kansas African American Museum is displaying a wide range of photographs taken by amateurs, local photojournalists and internationally known photographers in this "I am a Man" exhibition. Together, they provide a vivid visual story of the evolution of the civil rights movement and shed light on the movement's integration in the daily living in the American South.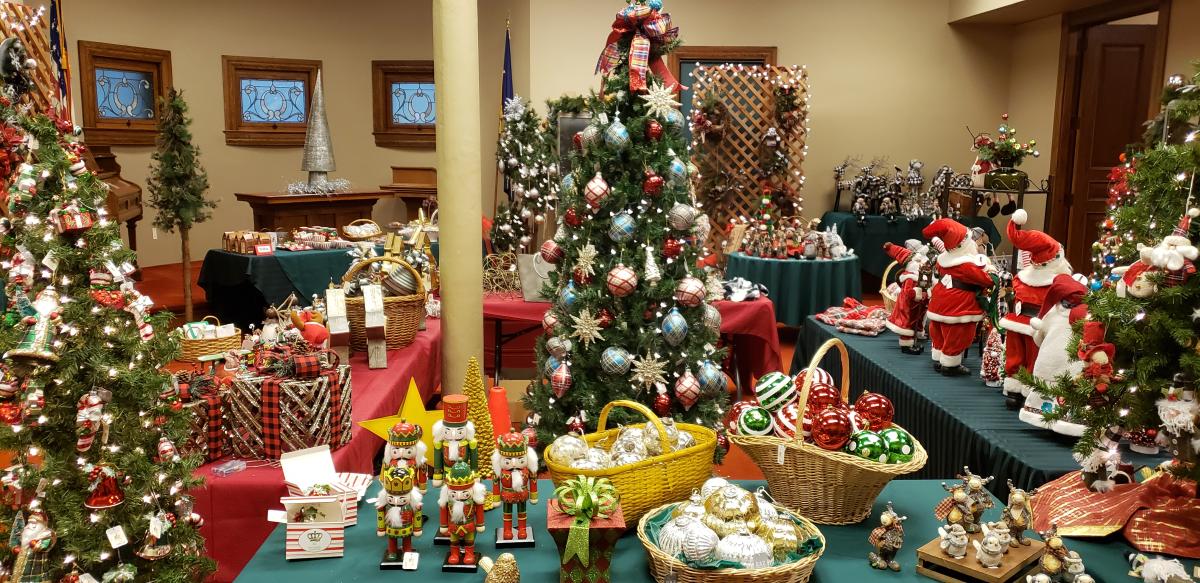 Wichita-Sedgwick County Historical Museum
The Wichita-Sedgwick County Historical Museum has several short-term exhibitions on display related to its community partnership with the Tallgrass Film Festival. See special displays on early steel guitars as well as the band "The Embarrassment" before Oct. 31.
ENDING SOON! "Turn It Up to 90! - the 90th anniversary of the Electric Guitar and its World Debut from Wichita," through Oct. 31: This exhibition explores Wichita's connection to the genesis of this most popular musical instrument, featuring dozens of historic electric guitars.
"Art Deco on the Plains," through at least Dec. 31: This special exhibit explores Art Deco design locally. The term Art Deco derives from the Exposition Internationale des Arts Decoratifs, a design exposition held in Paris in 1925. The exposition – attended by visitors as far away as Wichita, Kansas – quickly set the scene for what was to come in terms of fashion, graphic design, industrial design and architecture. New materials, technology and manufacturing techniques combined with the sensibilities of modern fine arts movements to create a distinct new aesthetic that widely reshaped our daily visual experience with boldly delineated geometric shapes and patterns. "Art Deco on the Plains" draws from the museum's permanent collection and features artifacts on loan from local collectors. The exhibition will be on view in the Slawson Gallery through 2022.
"The Artistic Life and Work of Genevieve Frickel," through at least Dec. 31: Genevieve Ingram Frickel (1900-1985) was an independent visual artist and remarkable figure in the local art and culture scene of mid-century Wichita. Frickel led the Art Department at the Wichita School of Fine Arts before moving to Tucson, Arizona, in 1953, where she exhibited her work and taught portrait and landscape painting. She returned to Wichita in the late 1950s and opened an art studio. An influential teacher, many of Frickel's students became professional artists. This exhibit on view through the end of 2022 in the Walls Visual Art Gallery.
The museum also will have its Holiday Exhibitions on display Nov. 1 through Dec. 31. This includes the Wichita Victorian Cottage trimmed for Christmas – an immersive exhibit transformed for the holidays; Macy's Santa Clause – life sized window display circa 1955; The Moore Family Santa Collection special exhibition of many vintage Santa figures; Miniature Christmas Trees created by Sylvia Jackson; and a Wreath Festival  Nov. 17-19 that includes lunches and a gift-mart sponsored by the Museum's friends organization.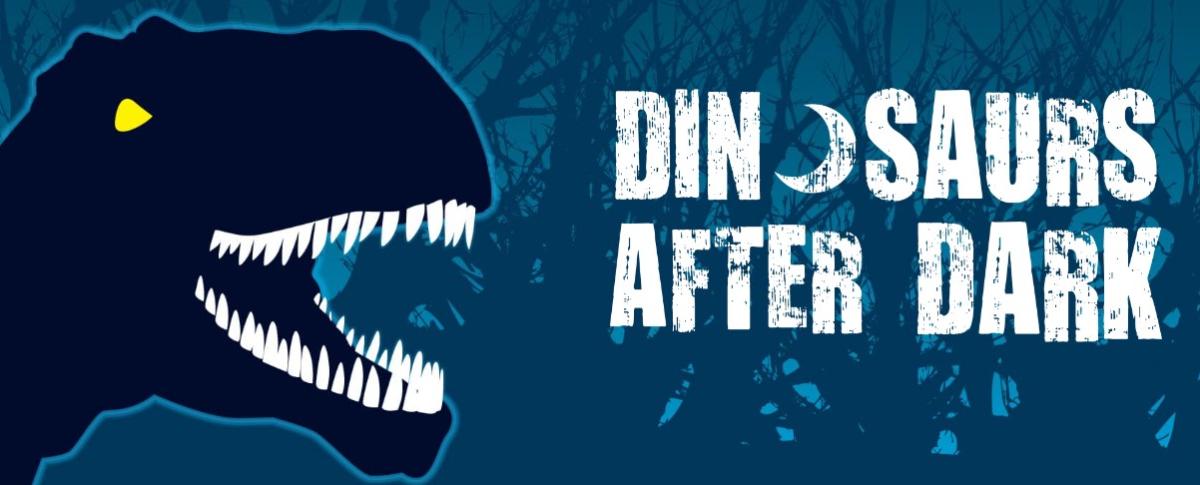 Field Station Dinosaurs
The outdoor dinosaur trail at Field Station: Dinosaurs, where you can walk amongst 40 life-sized, moving and realistic dinosaurs, will have a different look during the upcoming holidays.
Dinosaurs After Dark, Fridays and Saturdays Sept. 30-Oct. 29: The lights have gone out and things have gone wrong. Is it a ghost or worse? We need your help to discover who or what is causing trouble! Explore the darkened trails with our fearless Expedition Guides – searching for what's causing trouble throughout the Field Station. Guests will encounter some of the most recognizable movie monsters of all time on the darkened trail, all while trying to find the source of paranormal activity happening at the Field Station. It's a spooky-not-scary, fun filled night of songs, activities and even some take home treats!
Holly Jolly Jurassic Holiday, December: Experience the Field Station's scenic trails in a whole new way – featuring thousands of Christmas lights, festive and funny decorations, and the world's most unexpected holiday guests – the dinosaurs! Laugh and join in the spirit of the season with T-Rex, Spinosaurus and all your prehistoric favorites as they haul out the ivy, hang up their stockings and jingle all the way in preparation for a holly, jolly Jurassic holiday. It's a living, holiday storybook at this one-of-a-kind event perfect for the entire family.

Mid-American All-Indian Museum
"Woody Crumbo: Potawatomi Printmaker," through June 2023: Take a deep dive into the life and work of the multitalented artist Woody Crumbo and the Mid-America All-Indian Museum's extensive collection of prints by the artist. Find out more about his ties to Wichita and why he painted most of his animals blue!
"What We Collect," through June 2023: The human desire to collect objects is long recognized in historical and cultural studies. What makes us collect things and why? This exhibit highlights different objects donated to the museum by collectors, families and individuals.
"From the Vault," through June 2023: This exhibition highlights old and new curated works from the Mid-America All-Indian Center Museum's unique collection.
"Ivory Miniatures," through June 2023: Explore the museum's extraordinary collection of intricately carved ivory miniatures, gifts made by Alaska Natives and given to Mildred Manty, a Ketchikan public health nurse.

Ulrich Museum of Art at Wichita State University
The galleries at the Ulrich Museum of Art offer free admission.
"Cheryl Pope: Variations on a Love Theme," through Dec. 3: This exhibition presents recent work by American artist Cheryl Pope, who uses a unique punched wool technique to create richly textured and colorful pieces that respond to the Western tradition of large-scale easel painting.
"Myths of the West: Narrating Stories of the Land and People through Wichita Art Collections," through Dec. 3: This exhibition introduces viewers to diverse narratives of the history of the American West, focusing on the history of the Great Plains and the perspectives of Native American artists, both past and present. "Myths of the West" is comprised of approximately 80 pieces that showcase works held in Wichita art collections, with additional loans from outside of Wichita adding works by contemporary Native artists.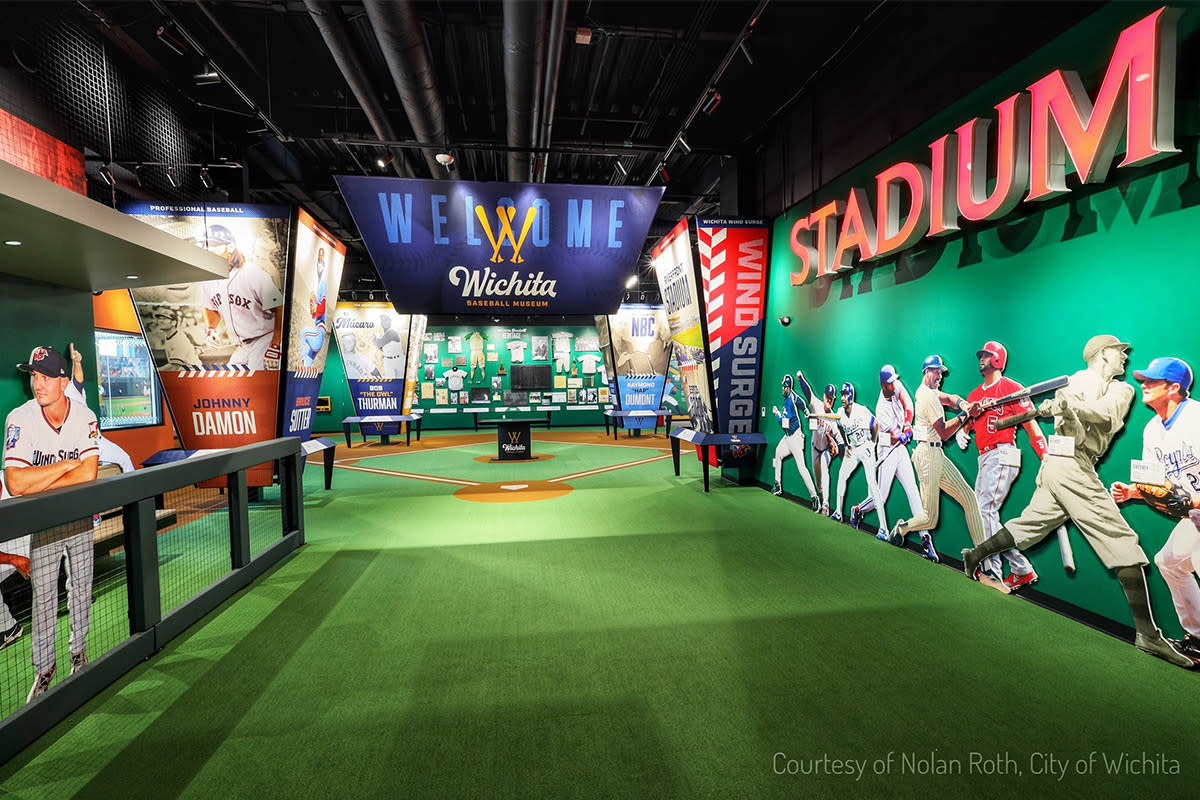 Wichita Baseball Museum
Wichita's newest museum – the Wichita Baseball Museum – opened its doors July 15. The museum is on the ground level of the administration building near the River Plaza entrance to Riverfront Stadium in downtown Wichita. It is free and open to the public 9 a.m. to 5 p.m. Monday through Friday unless a private event is taking place. Call (316) 221-8000 in advance of your museum visit to confirm the facility is open.
The museum features trivia and historical artifacts showcasing Wichita's baseball history, including Wichita's all-black baseball team the Monrovians, the National Baseball Congress (NBC), along with preserved components of the former Lawrence-Dumont Stadium, which operated from 1934-2018 on the same land where Riverfront Stadium now stands.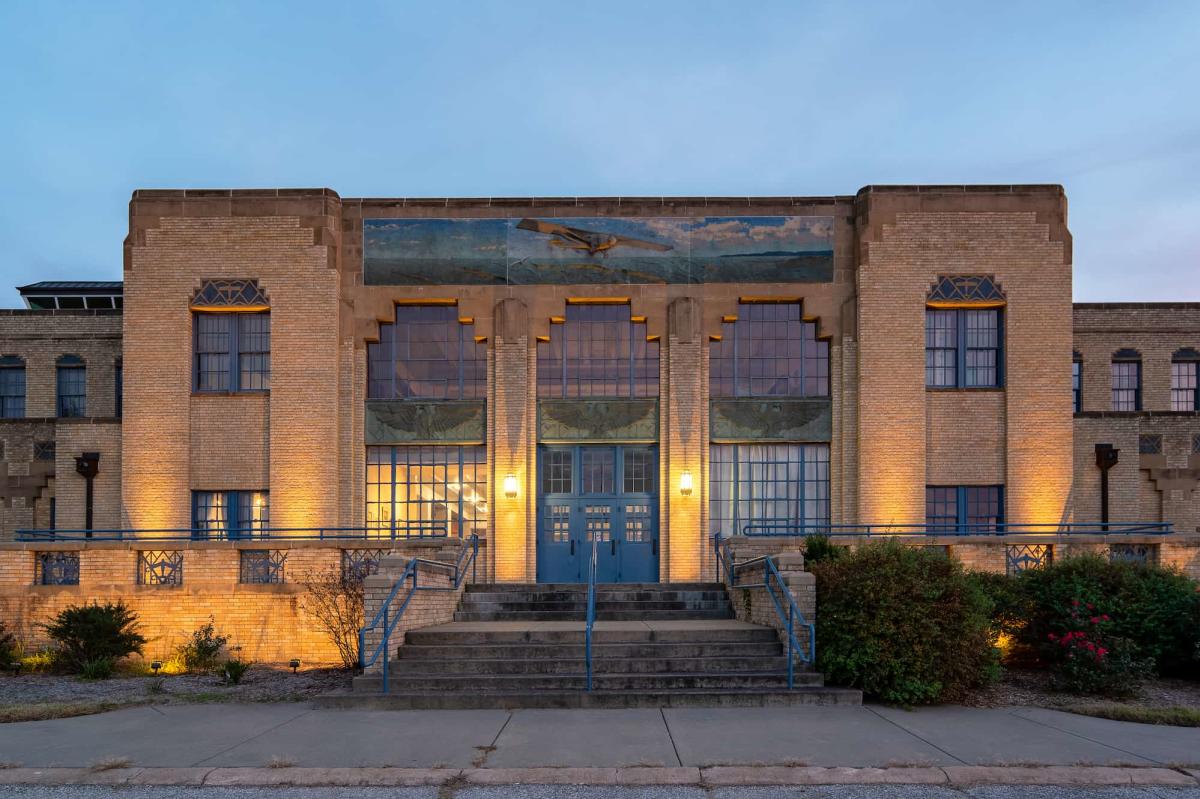 Kansas Aviation Museum
The Kansas Aviation Museum installed a new permanent Women of Aviation exhibit on the third floor of the historic Wichita Municipal Airport Terminal Building. The exhibit is an interactive showcase of women who have impacted Kansas aviation. It's designed to be an expanding exhibit as more stories are brought to life by the museum's guests and will feature well-known Kansas women of aviation such as Amelia Earhart, Olive Ann Beech and more.
Check out more Wichita area museums and galleries. We recommend confirming details and verifying requirements and/or safety procedures for guests before visiting attractions.