To assist with public safety, please remain diligent in adhering to safe practices outlined by the CDC like wearing a face covering and social distancing, when out in the community and stay home if you feel ill. We recommend confirming details and verifying requirements and/or safety procedures for guests before visiting a local shop, attraction, eatery or other business. 
 
Wichita museums are affordable and some are even free (as noted below). They offer ever-changing installations, including national traveling exhibitions and temporary displays of featured works from their impressive permanent collections.
While our museums have reopened with COVID-19 protocols, many also offer online tours and resources for those who aren't yet ready to explore in person. Take a look at the exhibitions planned for the first few months of 2021.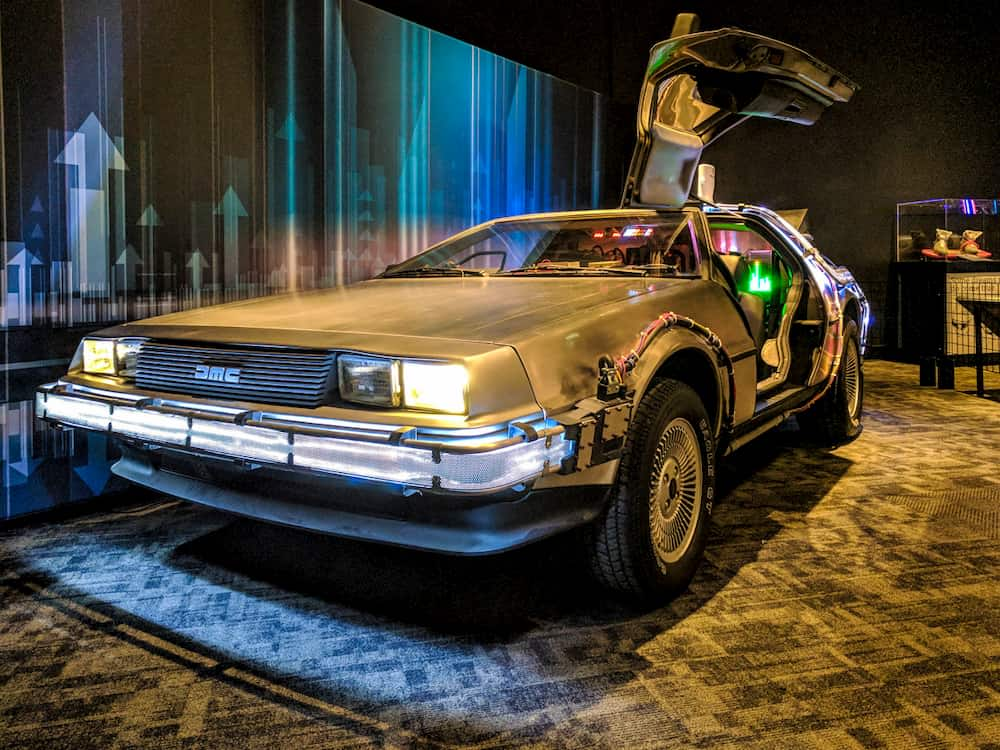 Exploration Place
"POPnology: From SciFi to Wifi" opens Jan. 28 and will run through early May. This national traveling exhibition is included with general admission at Exploration Place. The newest exhibit shines a spotlight on pop culture. You'll discover how innovators reach through the silver screen and turn fiction into fact. Go back to the future with a full scale replica of the Delorean Time Machine. Dive into the realm of augmented and virtual reality. Journey to Mars with a red planet rover and much more.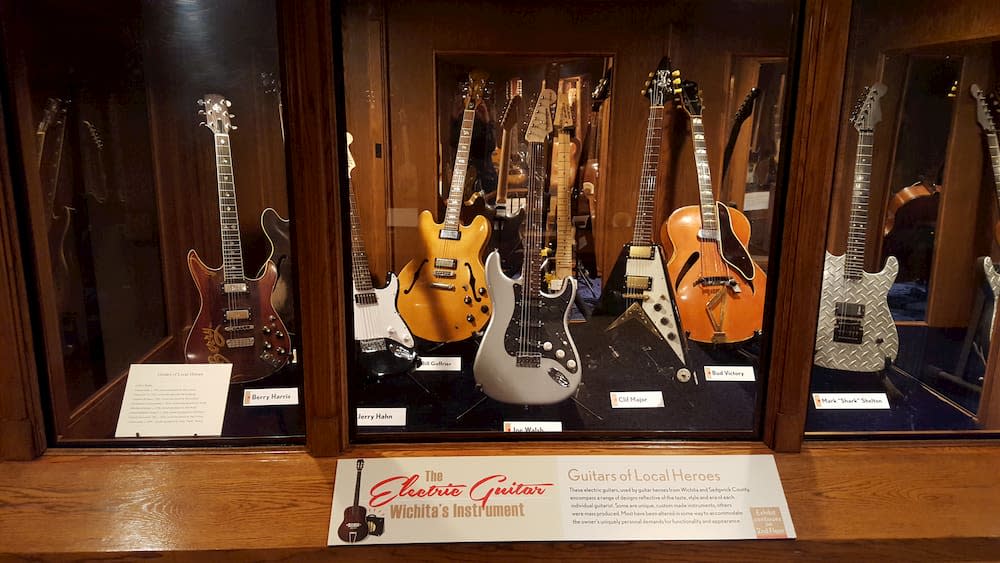 Wichita-Sedgwick County Historical Museum
Most people don't know that the world's most popular musical instrument – the electric guitar – made its world debut in the Wichita area in 1932. Explore "The Electric Locals of Sedgwick County" exhibition to learn that history and see numerous guitars played by locals who went on to become guitar heroes, from Joe Walsh of the Eagles to Marcie Reyes, a troubadour on the Chautauqua circuit. This exhibit is on display Jan. 15 through February at the Wichita-Sedgwick County Historical Museum.

Continuing through June 30: "Metal to the Pedal" showcases a nearly 50-year span of pedal vehicle manufacturing, from a 1924 fire truck to a 1967 cherry red Ford Mustang. There are 45 vehicles in the exhibition.

Ongoing through July: "The Artistic Life & Work of Genevieve Frickle" chronicles Frickle's impact as an independent visual artist, teacher and remarkable figure in the local art and culture scene of midcentury Wichita.
Kansas Aviation Museum
The Kansas Aviation Museum, housed in Wichita's historic airport terminal building, is adding two aircraft to its Vintage Aircraft exhibition by February.

The museum's talented team of restoration volunteers have brought a donated Cessna C-37 back to life. You'll have to visit to learn the unique history of this airplane once flown by Blanche Noyes, a pioneering female aviator who was a demonstration pilot and an avid air racer. The second aircraft is a Travel Air flown by well-known aviatrix Louise Thaden. It is on long term loan from the Ninety-Nines International Organization of Women Pilots.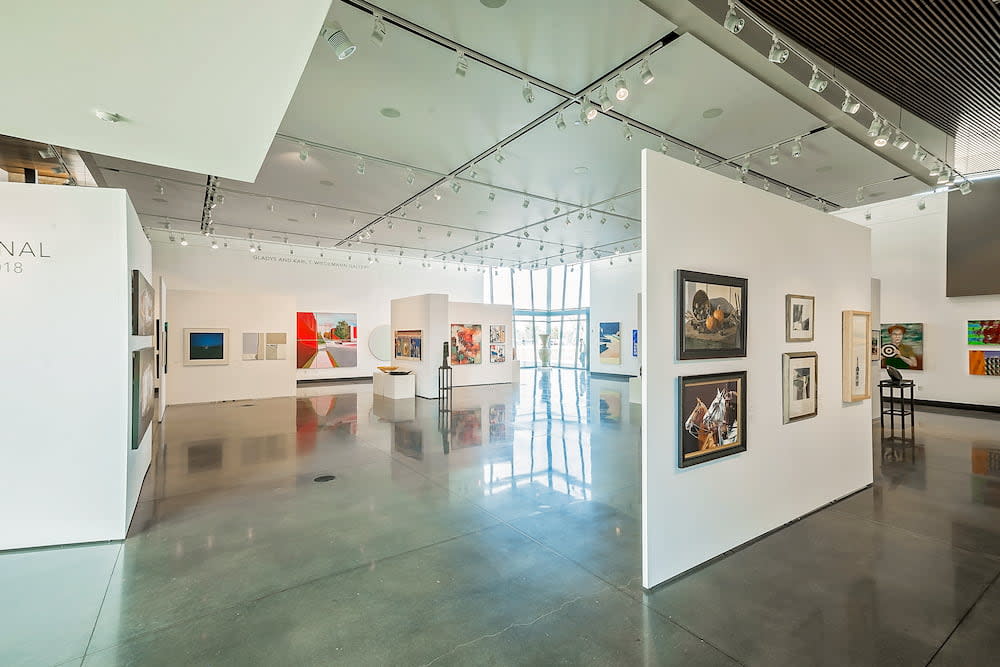 Mark Arts
Mark Arts' galleries are open by appointment only 10 a.m. to 5 p.m. Tuesday through Saturday; admission is free. Call 316-634-ARTS to schedule. Drop-ins can usually be accommodated, but gallery attendance is limited.
The Oil Painting National Exhibition, Jan. 29 through March 27, offers a selection of more than 70 oil paintings from 35 gifted artists from across the country, juried by acclaimed painter Elizabeth Robbins.

Eastern Kansas Scholastic Art Awards, on display Feb. 12 through March 27 in the School of Creativity and Youth Galleries, showcases select artwork created by middle school and high school students from 70 Kansas counties.

"The Space Between," April 9 through May 15, is a show curated by Wichita's Armando Minjarez and featuring artists from the Heartland exploring the space between self and space itself, perception and memory, vestige and vanguard.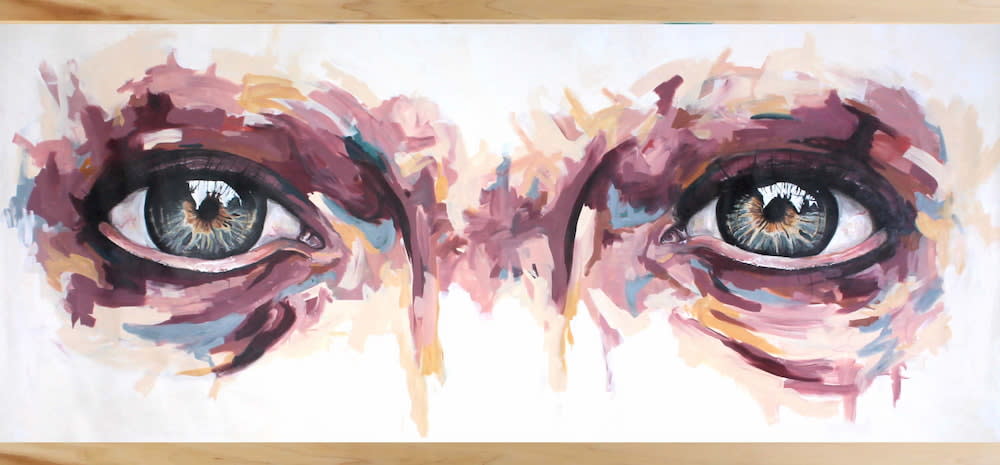 CityArts
"More Than a Glance" on view Jan. 4 to Feb. 12 in the CityArts Main Gallery and Main Hall Gallery features artist Lori Wright. Eyes are the main subject. The iris series showcases large-scale works made from powdered graphite and rendered through an additive and reductive method in which drawings are encased in a resin-like material. Other works in the exhibition are all connected through expression.

"The Past Until Now" on view Jan. 4 to Feb. 12 in the Boardroom Gallery includes a collection of abstract works ranging from paintings to ceramics by R. Kirk Brown.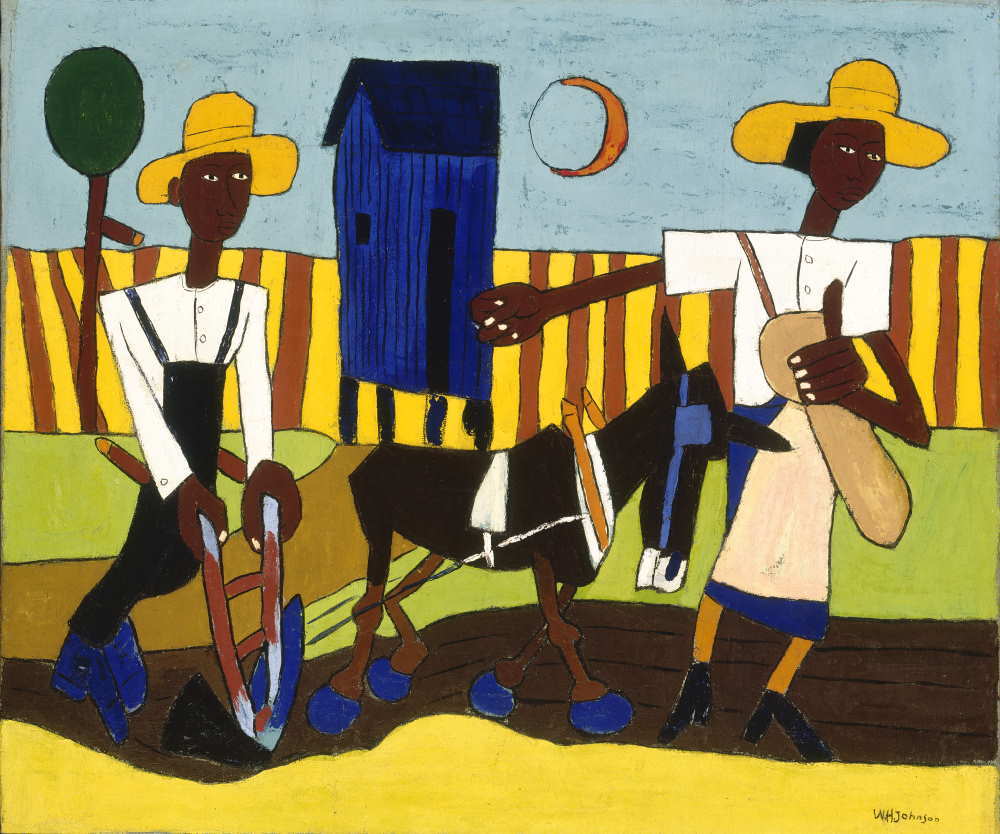 William H. Johnson, Sowing, about 1940. Oil on burlap, 38 ½ x 45 ¾ inches. Smithsonian American Art Museum, Washington, D.C., Gift of the Harmon Foundation
Wichita Art Museum
The Smithsonian American Art Museum holds one of the premier collections of African American art, and the best of the best of this collection will appear in Wichita starting Feb. 6 and running through May 23. The Wichita Art Museum is hosting a traveling Smithsonian exhibition titled "African American Art in the 20th Century: Harlem Renaissance, Civil Rights Era and Beyond" that includes nearly 50 paintings and sculptures by 34 leading artists created in moments of significant social and political change. There are also complementary exhibitions at The Kansas African American Museum and the Ulrich Museum of Art (see their listings below), along with public programming.

"Building America: Prints from the Wichita Art Museum Collection," on display Feb. 27 through Aug. 12, explores ideas of labor and industry in early 20th-century America. Featuring prints of farmers, fishermen, dockworkers and builders of all kinds, the exhibition considers both urban and rural workers and the ways in which their labor shaped all aspects of America life.

"African American Modern Works on Paper from the Wichita Art Museum," from March 13 through Aug. 1, pairs with "African American Art in the 20th Century" to feature prints, watercolors, ink washes and collages from WAM's permanent collection.

Ongoing through Feb. 14: "Frances H. Gearhart: Color Block Prints in Wichita" surveys the work of one of the leading color woodcut artists of the early 20th century.

Ongoing through Feb. 28: "A Tale of Two Women: Louise Caldwell Murdock and Elizabeth Navas" celebrates the two female visionaries responsible for the formation of the Wichita Art Museum.

Ongoing through April 18: "Foot in the Door: Wichita Artists Make Their Mark" features 570 12-inch by 12-inch artworks, each made by a local Wichita artist eager to get their "foot in the door" at WAM.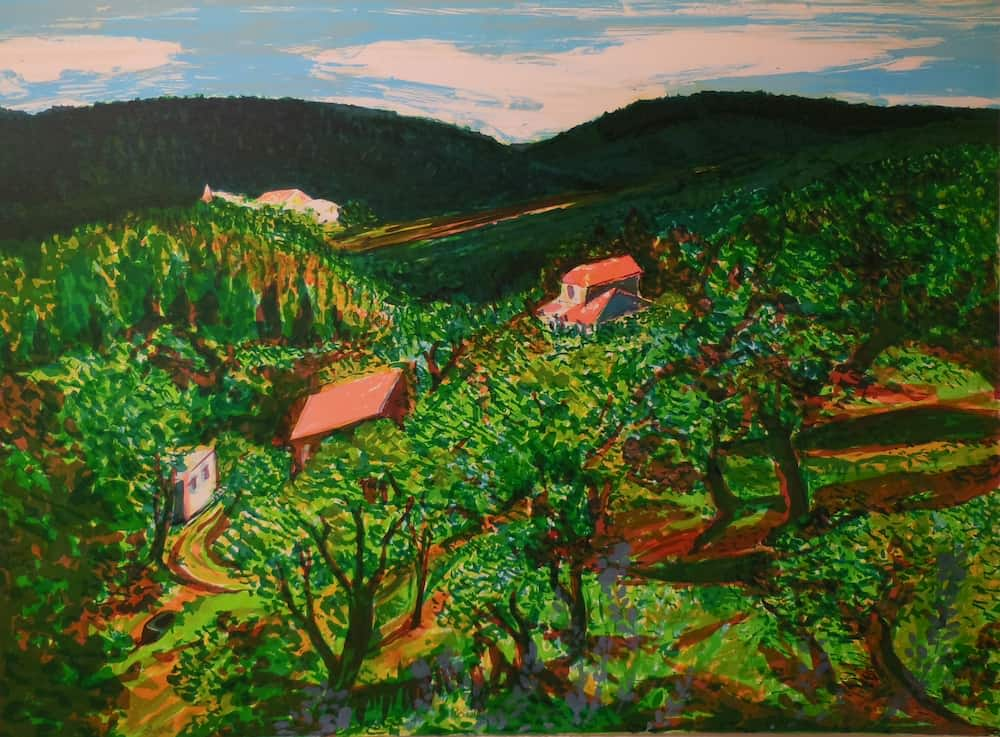 The Kansas African American Museum
"Through Our Eyes: Perspectives of African American Life in the 20th Century" runs Jan. 5 through March 27 at the The Kansas African American Museum. This exhibition is in collaboration with the Wichita Art Museum and The Ulrich Museum at WSU. It pulls from TKAAM's permanent collection to explore how Black artists experienced shifts in culture, social interaction and everyday life throughout the 20th century. Included works are by artists such as Romare Bearden, Jacob Lawrence and Lois Mailou Jones, as well as Kansas-based artists.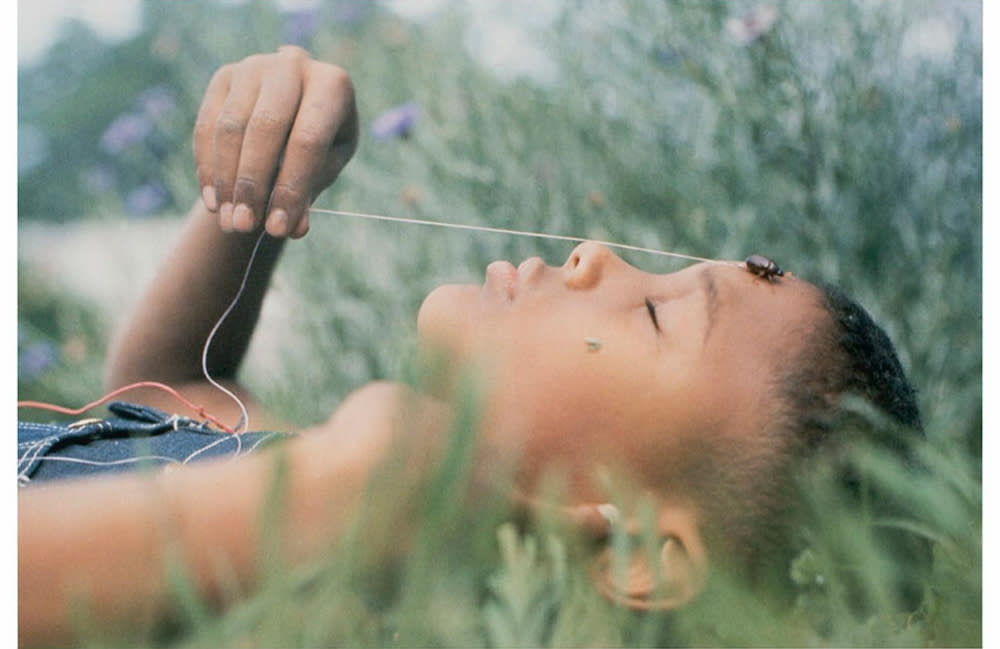 Gordon Parks, Boy with Junebug, 1963. Photograph. Museum Purchase © and courtesy of The Gordon Parks Foundation, Collection of the Ulrich Museum of Art.
Ulrich Museum of Art at Wichita State University
The galleries at the Ulrich Museum of Art resume regular operating hours Jan. 21 after remaining closed throughout the pandemic. The museum on the campus of Wichita State University has four exhibitions running Jan. 21 through May 8:
"Gordon Parks: I, too, am America" - An exhibition featuring 40 photographs from the Ulrich Museum's holdings of more than 170 photographs by Gordon Parks (1912-2006). These selections focus on the powerful images of children and families that Parks created throughout his career and particularly during his time at LIFE magazine, where he crafted some of the most impactful journalistic coverage of issues and personalities connected to the Civil Rights movement. 

"Renée Stout: Ghosts" highlights the artist's 2012 portfolio Ghosts, which is part of the Ulrich Museum collection. Stout is a contemporary American artist whose work is renowned for its potent reflections on African American heritage and the visual culture of the African diaspora. This exhibition also incorporates six objects from the collection of WSU's Lowell D. Holmes Museum of Anthropology.

"The Faculty XXIII Biennial: It's All Part of the Process" will showcase the faculty's work in art history, art education, ceramics, curatorial practice, drawing, graphic design, painting, photography, printmaking, sculpture and new media.

"Solving for X=Identity: Sharing Matrilineal Memories at WSU" is the fourth exhibition in the "Solving for X" series. The participatory exhibition is focused on collecting memories of home for WSU students, faculty and staff.
Check out more Wichita area museums and galleries.