Wichita By E.B. is a Wichita-based blogger who often explores local attractions, events and restaurants in the hopes of finding the best the area has to offer. Wichita by E.B. is heavily involved in the community and tries providing honest and insightful content about the city of Wichita. This was written in 2022. 
Perhaps you're like me, and you've lived in Wichita for a long time. Regardless of how long you've been here, did you know it's still possible to experience your own city like a tourist? The adage that there's nothing to do here is a myth shared by people who may not be aware of all the amenities Wichita has to offer.
If you are looking for a staycation or a weekend outing different from your daily norm, I'm here to share with you some secrets and gems worth looking into. Wichitans know of all the popular spots, but let's share some less discussed places to add to that local bucket list.

Take In some beautiful sights
Wichita may not have beaches or mountains, but there are still some great visuals to look at.
Is there a more beautiful gem in Wichita than the Frank Lloyd Wright's Allen House? There are pictures all over the internet, but the only way to truly appreciate its beauty is to step inside.
And no visit to the Air Capital of the World is complete without a stop by the Kansas Aviation Museum. One of the largest collections of aviation memorabilia is housed inside their walls. As a pro-tip, be sure to visit their 'Play on a Plane' event once a year. It's the rare opportunity to step inside some cool aircrafts.
Then end your string of museum visits with a stop by the Great Plains Transportation Museum. Trust me. Seeing trains in a museum really beats watching them at a train stop.

Play, dance, laugh, have fun
Wichita isn't short on entertainment, either. There are plenty of things to do. Here are a few suggestions that can help you branch out.
One option that's great for families, groups of friends, or work outings is Axe To Grind. Located in downtown Wichita, we've had a blast there tossing axes every single time.
Then, whether it's dancing or laughing, Wichita has got you covered. Wichita Union Stockyards is the hidden gem for a night of listening to live music and two-stepping the night away. The dance hall and event venue regularly has bands on the weekend and if you're like me and struggle with two-stepping, they even have classes occasionally to help. 
If watching yourself dance doesn't bring enough laughter, head on over to The Loony Bin. The comedy club brings in acts from all over the country to guarantee someone to bring those belly-aching laughs.

Bring the family along for the adventure
If you're looking for that family outing, there are a few more places to consider.
The Kansas Wildlife Exhibit is a free mini-zoo in Riverside Park that features over 25 species in 8 naturalistic cages. Be sure to stop by over lunchtime to see live feedings of the bobcat. After that, take the kids over to All Star Sports for rides, mini-golf, go-karts and arcade games.
Then it's time to save the best for last as you make your way to Lake Afton Public Observatory. Open only on the weekends, it's your chance to get closer to the stars via their giant telescope. You'll view the world like never before.

Eat your hearts out
Of course, every visit to Wichita requires dining. Our city has no shortage of restaurants, but there are some places worth considering.
Start your mornings at either Sunflower Espresso or Kookaburra Coffee to get caffeinated to help push you through your tour throughout Wichita.
For lunch, either stop by Sweet Allie B's or Piatto Neapolitan Pizzeria. If you choose the former, their Wednesday beef stroganoff special is out of this world. Meanwhile, there's no better pizza crust in town than what you'll find at Piatto. As an added bonus, their patio is a five-star experience.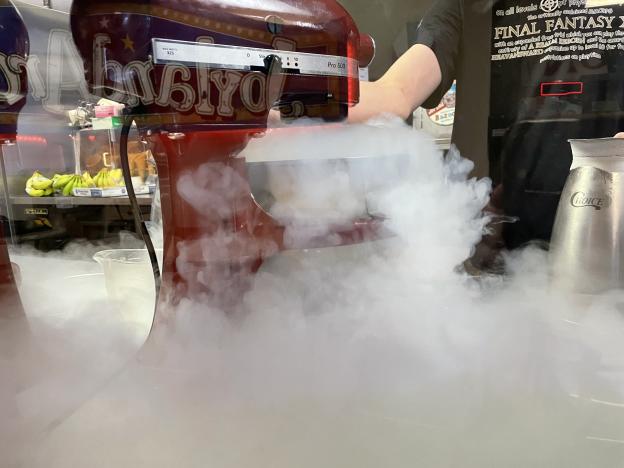 If you're wanting to splurge a little for dinner, Doma and Chester's Chophouse are worth the money. Both have new lounge and patio spaces unlike anything in town.
Those wanting to venture to a less-talked about brewery should consider Third Place Brewing.
And if you're wanting to indulge with some dessert, Monica's Bundt Cake or Churn & Burn are two viable options to give you that extra sugary push. Monica's Bundt Cake has bundt cakes of all sizes to meet any appetite. Meanwhile, Churn & Burn is like a dessert and show in one. Watching their liquid nitrogen technology (pictured above) create some of the smoothest treats in town is a sight to behold.
Get to know Wichita by E.B. by following his social channels: Facebook, Twitter, TikTok and Instagram.