Wichita offers many unique options for meeting space, including a variety of inspiring and functional open-air venues that can accommodate groups of all sizes. Bring your next event to the Heart of the Country, get outside and enjoy some fresh air!
From picturesque farms and wineries to vibrant, urban spaces, read on to learn more about Wichita venue options offering outdoor space for groups of many sizes.
Outdoor Venues for Groups up to 200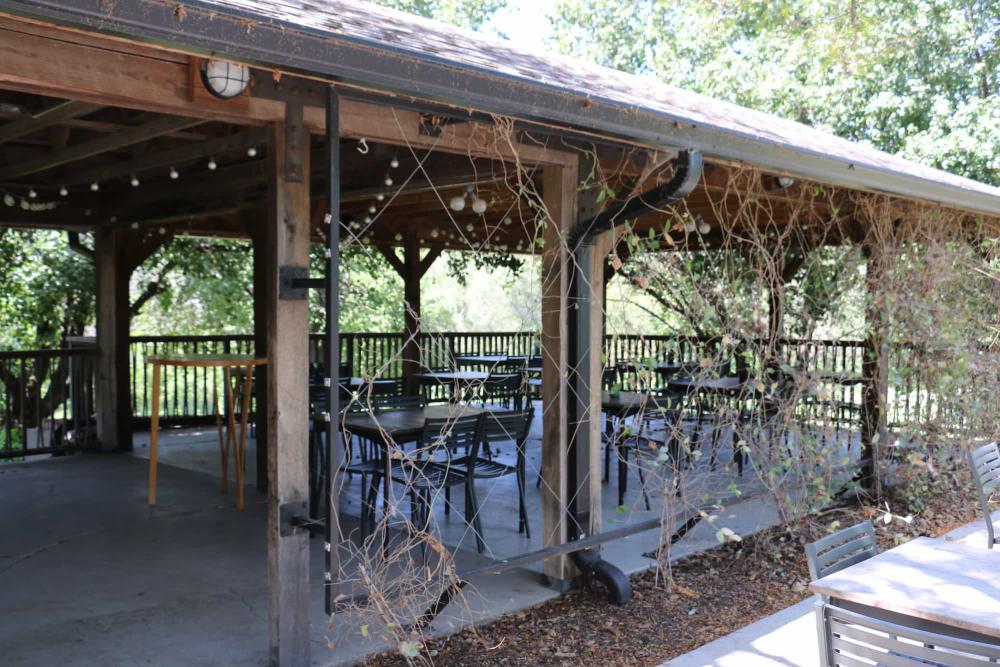 Elderslie Farm
Head 20 minutes north of Wichita for a unique experience at Elderslie Farm. With formal dining, an on-site creamery and delicious treats at the Bramble Café, this rural venue offers blackberry picking and farm-to-table favorites.
Farm to Table Dinner options for up to 60 people
Access to patio, covered pavilion, three dining rooms and a parlor
Can accommodate up to 160 people
Food package options from appetizers to multi-course meals
Groups of up to 56 inside dining area or up to 120 on the patio
Cheese and wine tastings available at The Creamery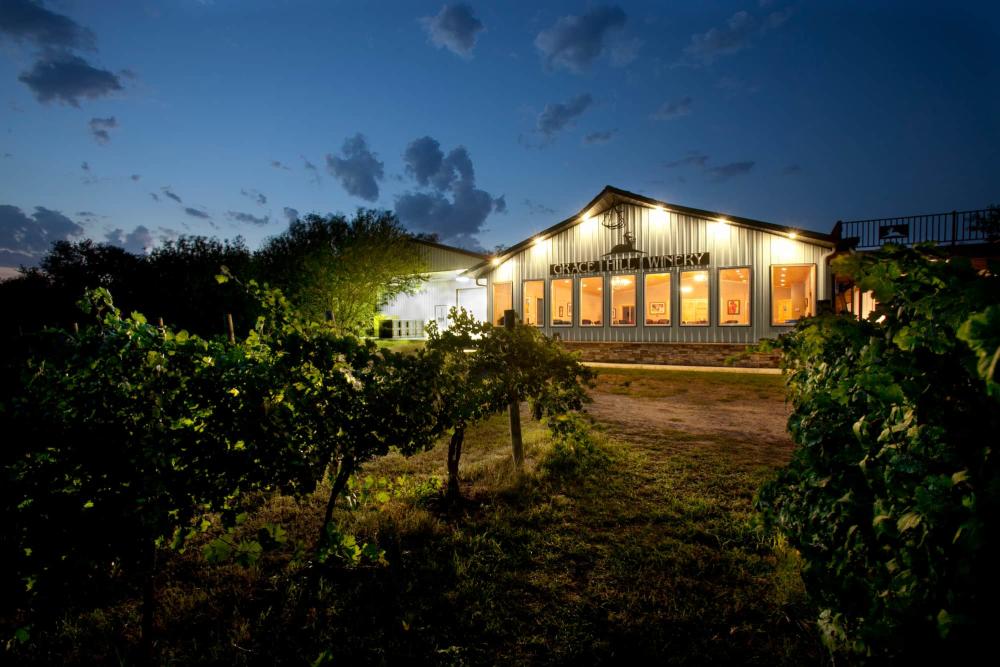 Grace Hill Winery
Also located just 20 minutes north of Wichita, Grace Hill Winery is a 10-acre vineyard offering a beautiful backdrop for small meetings. Located at the foot of the eight-acre vineyard, the Grace Hill Winery Event Center is one of the Wichita area's most scenic venues. The center includes a full kitchen and patio to bring the party outdoors.
Indoor/Outdoor options for private events, weddings and reunions
2,000 sq. ft. banquet hall that seats 140 people overlooking the vineyard
Free winery tours upon request
Open catering and wine-for-purchase available
Equipped with a kitchen and full-service A/V setup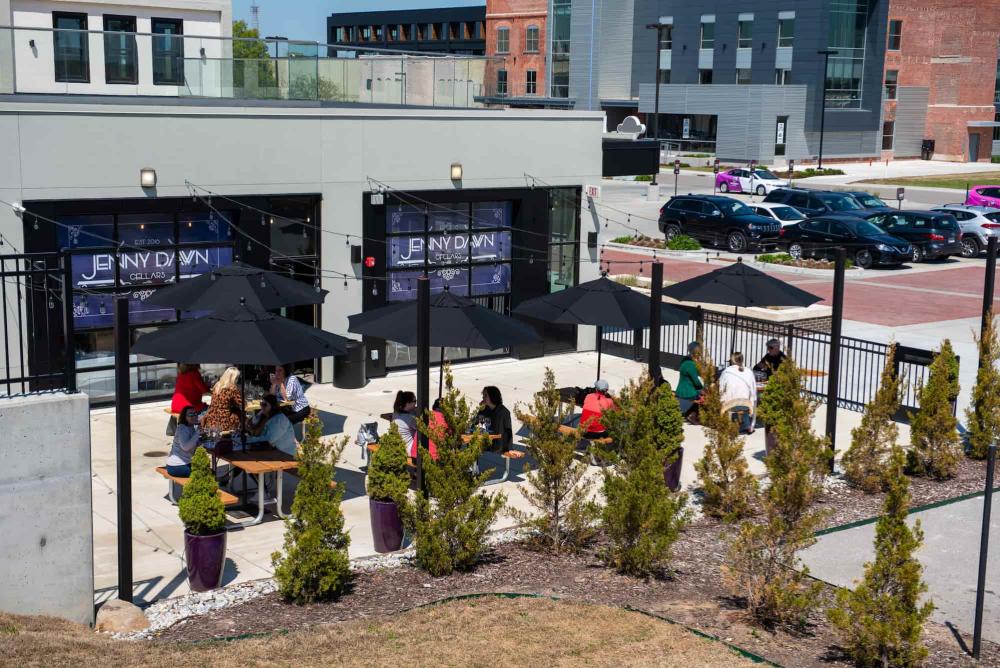 Jenny Dawn Cellars
Looking for a place for your small group to gather or unwind after a long day of meetings? Jenny Dawn Cellars, a winery in downtown Wichita, is the perfect backdrop. The winery crafts their own wines on-site, working with grapes and juices from growers in Kansas and California. In addition to a cozy tasting room, which can accommodate up to 30 people, the winery has a patio for groups of up to 40 guests to mingle and unwind – complete with a picture-perfect view of train tracks in the background.
Available to rent for private events for an hourly rental fee on Mondays, Tuesdays and Wednesdays (excluding the third Tuesday of every month)
Daytime events can be booked on Fridays and Saturdays
Outdoor Venues for Groups Larger Than 200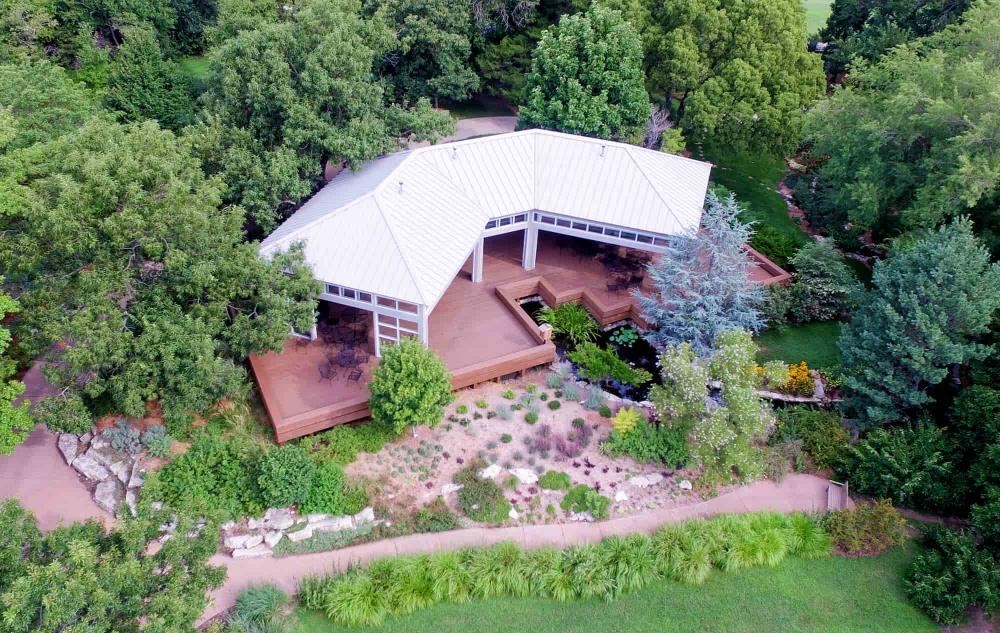 Botanica Wichita
A botanical paradise in the heart of the city, Botanica Wichita is the perfect place to mix business with beauty. If you are looking for a variety of meeting spaces surrounded by nature, Botanica's 24 themed gardens provide a beautiful backdrop for your next business meeting, party or event.
Various options for outdoor seating from the Beverly Blue Garden to the Outdoor Pavilion
Some portions of the venue seat 20 while others can accommodate up to 250
For small groups, the Weidenbach room is a cozy space that holds up to 40 people and features a private "L Shaped" outdoor patio space attached and an indoor fireplace.
Martha Parriott Terrace is the largest option (seats 250) with access to the indoor Terrace Room (300 people banquet style and 400 lecture style)
Various options for outdoor seating set against a backdrop of azaleas, crape myrtle trees and beautiful seasonal flowers in color throughout 17 acres of themed gardenscaping
Choose from the Koi Pond Pavilions, Chinese Garden, Main Meadow and other spaces, or combine several to meet your needs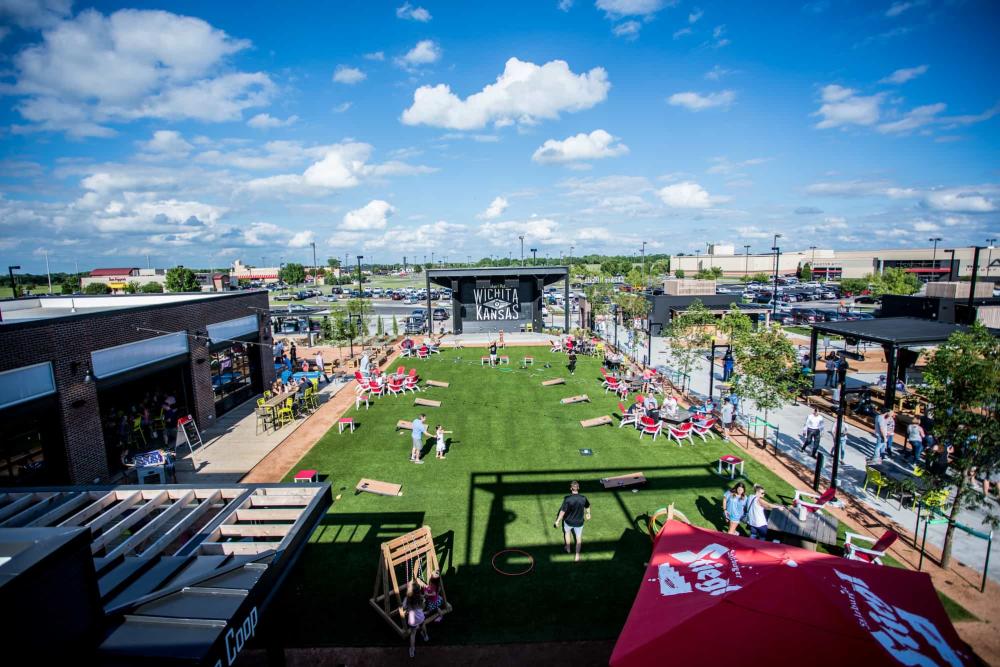 Chicken N Pickle
Looking for an outdoor venue that easily allows for team-building activities? Plan your next event at Chicken N Pickle, an entertainment complex in east Wichita featuring 10 pickleball courts (six indoor and four outdoor), two bocce ball courts, four shuffleboard courts and outdoor lawn games like Jenga and cornhole. Even during winter months, guests can enjoy a spacious ice-skating rink.
3,000 total square feet
9 rooms available for events
4 indoor and 5 outdoor spaces; 3 stages
75-inch televisions in meeting space
In-house catering
Wireless microphones in each space
On-site event planners available to assist with specific needs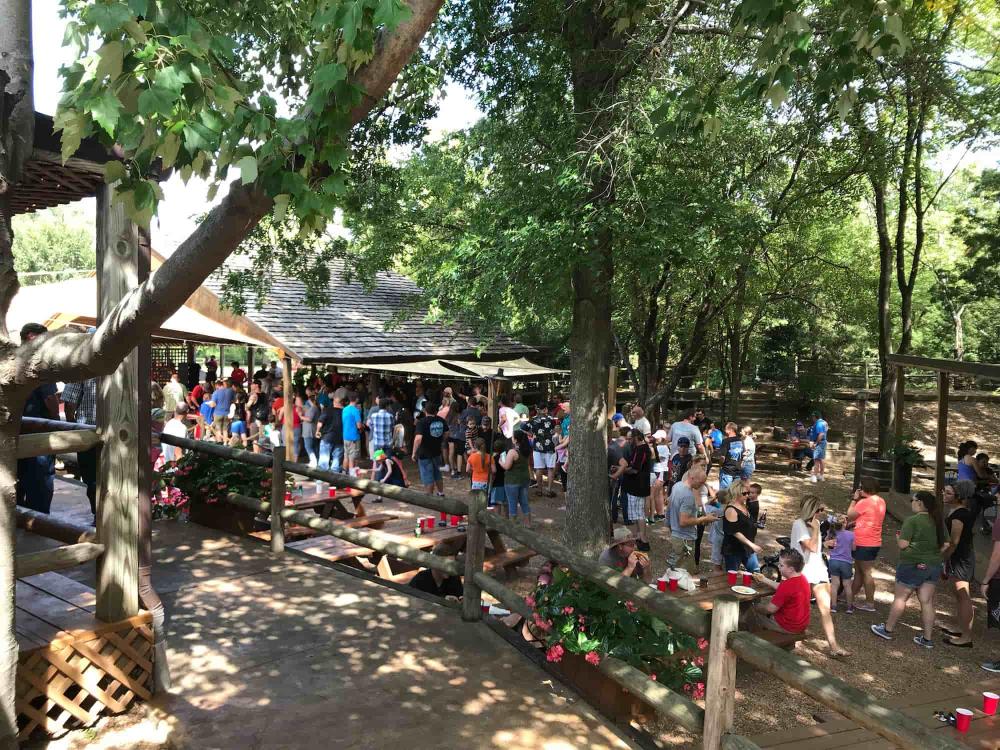 Eberly Farm
For year-round fun, book your event at Eberly Farm. With on-site catering, you will have all you need to make your meeting perfect. Eberly Farm is surrounded by acres of majestic trees and landscaped grounds. In addition to the climate-controlled banquet hall, Eberly Farm offers an outdoor setting, a beautiful venue for outdoor ceremonies. Eberly Farm is conveniently located on Wichita's west edge.
Group capacity up to 1,500 outside on 55 acres of woodlands
Three covered outdoor pavilions, covered outdoor stage, a large wrap-around porch, garden patio, plenty of casual seating
Climate-controlled lodge holds 260 and offers a welcome retreat when combined with the outdoor spaces
On-site bar service
Activities for all ages from fishing and team sports to a Kiddie Corral
Packages that include paintball range, swimming pool, hayrides, barrel train and karaoke
Indoor capacity: 260; Outdoor capacity: 1,250; combined: 1,500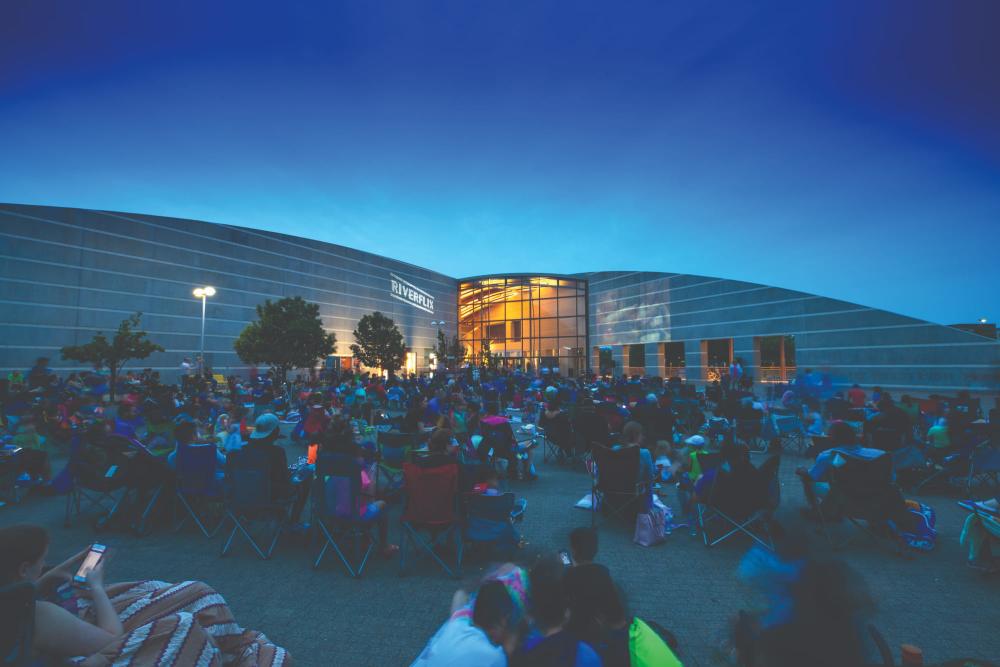 Exploration Place
Dramatic architecture and stunning river views serve as the backdrop for events at Exploration Place, Wichita's premier science center. In addition to extraordinary exhibits for guests to peruse, high-tech theatres and nine rooms to choose from, this venue also boasts unique outdoor spaces to delight your attendees.
Festival Plaza: 750 to 1,200 people
Picnic Grove: 200 to 500 guests
Outdoor Walkway: up to 200 people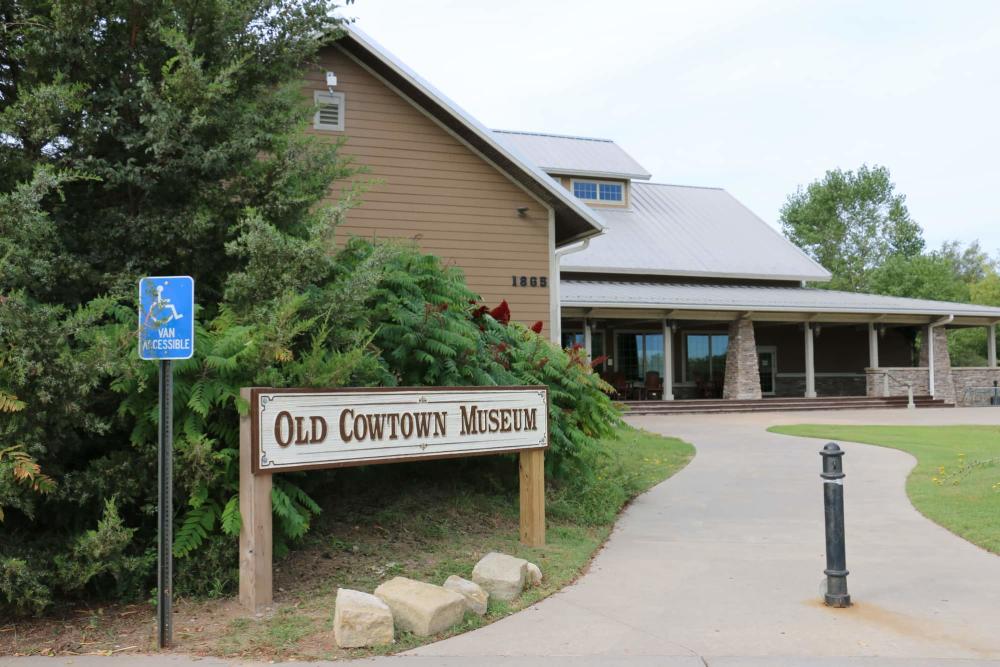 Old Cowtown Museum
Travel back in time and experience Wichita like it's 1865 when you choose Old Cowtown Museum for your next event. This unique venue creates a one-of-a-kind Old West atmosphere and offers a variety of indoor and outdoor spaces for your attendees.
Gazebo/Bandstand outdoor venue great for small groups of less than 15
Larger groups able to fit in the Fairgrounds area (up to 600)
Rent the Visitor's Center for an indoor option, holding up to 150 people seated; 200 when combined with access to the patio (240 people standing; 400 with the patio)
Other indoor options include Turnverein Hall (82 seated at tables), Fritz Snitzler's Saloon (68 seated at tables) and the First Presbyterian church located on the grounds (49 people)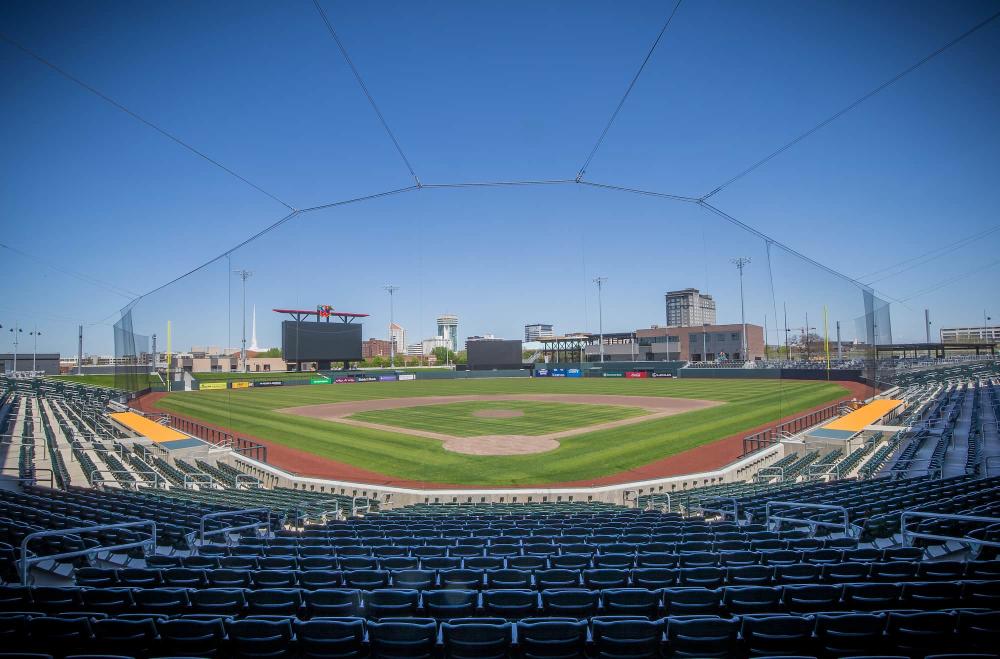 Riverfront Stadium
Wichita's brand-new, state-of-the-art Riverfront Stadium, home of the Wichita Wind Surge Double-A baseball team, is also a multi-purpose venue capable of hosting many other events besides baseball.
The new venue is on the west bank of the Arkansas River in downtown Wichita and has one of the best views of the city's skyline.
Spaces for as few as 25 people for a unique offsite location
Can seat 6,500 in the seating bowl plus 3,500 more on berms and picnic areas for a baseball game
As many as 18,000 people can attend an event when the field is used for sitting or standing
In-house food and beverage team that offers upscale menu items in venue suites and for special events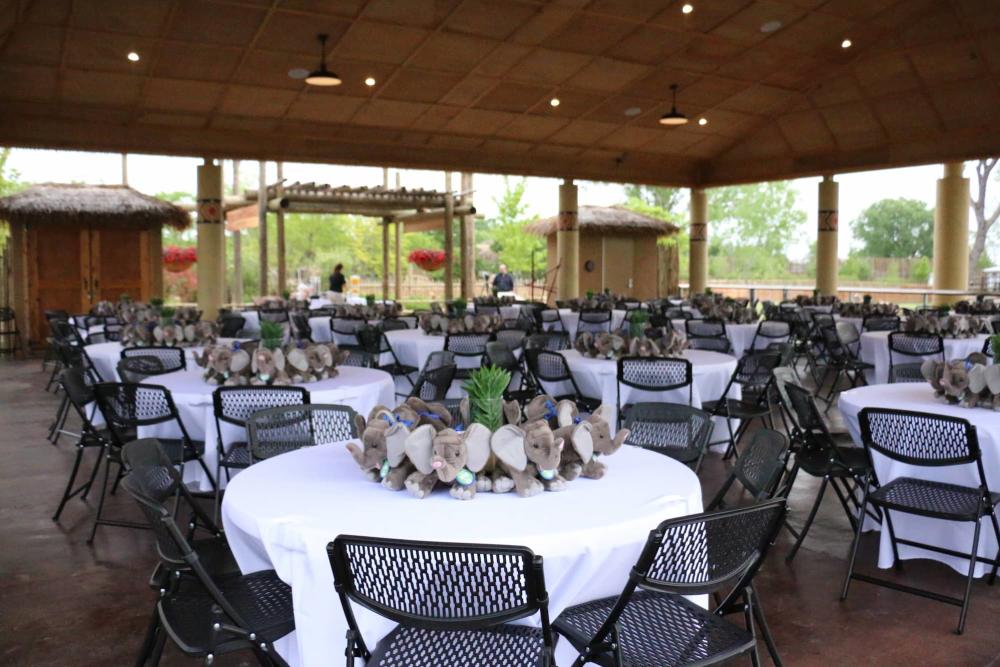 Sedgwick County Zoo
Have your outdoor event for 20 to 5,000 attendees at Sedgwick County Zoo – the seventh-largest zoo in the country – with backdrops that include penguin, elephant, tiger and bear enclosures.
Unique outdoor spaces ranging from a gazebo to open-air field tent and covered pavilions, can be combined with indoor spaces
Largest single outdoor space is a covered pavilion with seating for up to 380 and a covered stage area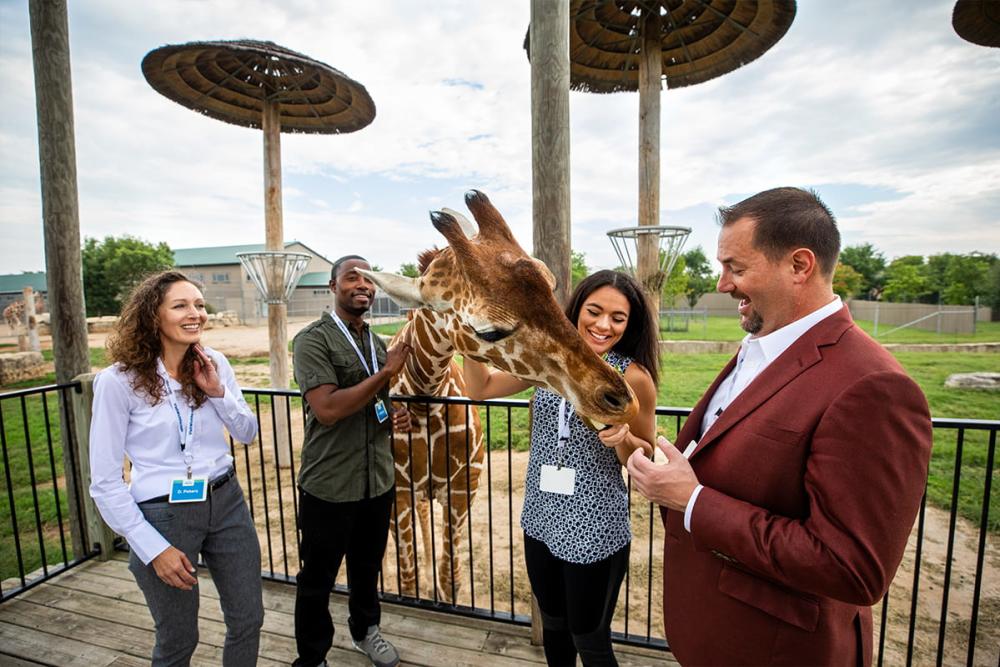 Tanganyika Wildlife Park
Tanganyika Wildlife Park is an exotic destination located just 15 minutes west of downtown Wichita. You will truly have a wildly different experience at Tanganyika with beautiful landscapes and some of the world's most rare and endangered animals.
Exotic wildlife park can accommodate up to 350 event attendees
Variety of outdoor space and amenity options set amid the park's outdoor garden can be combined with indoor spaces
Interactive animal experiences and animal ambassadors can be part of your event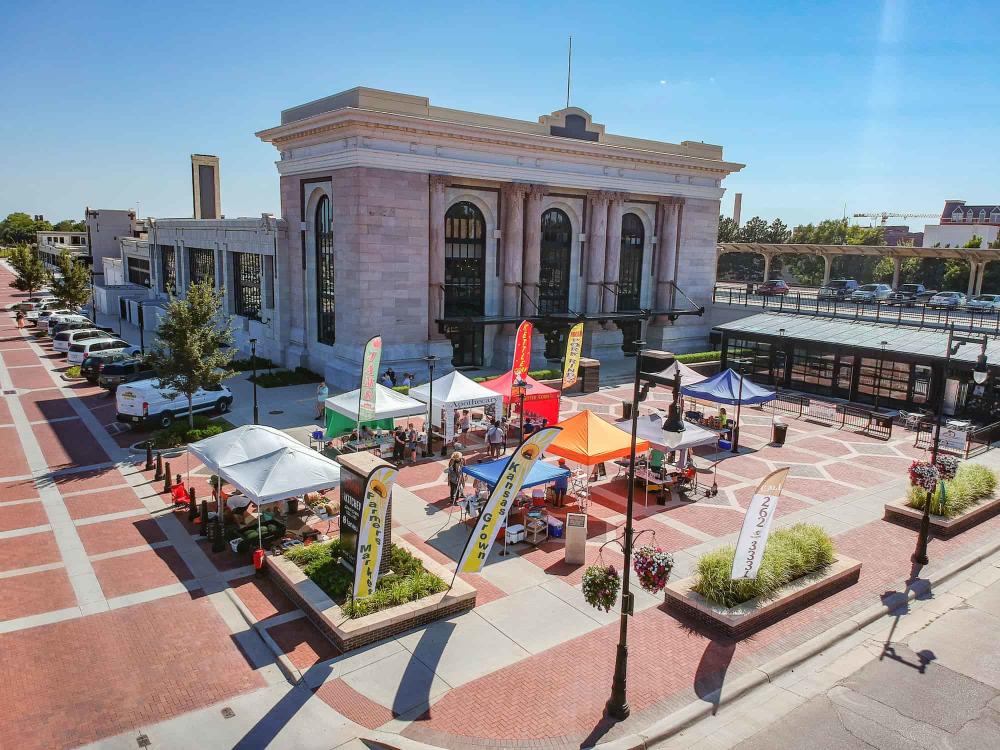 Union Station District Venue
In the heart of downtown Wichita, you'll find the iconic Union Station, which originally opened in 1914. Because of its desirable location in the city's core, it is surrounded by an endless variety of restaurants, shops, hotels and city attractions. The Union Station District Venue offers a unique outdoor venue and meeting space with 6,400 square feet to work with.
Can accommodate groups as small as 10 to as many as 1,000+
Outside catering is an option
Within walking distance to downtown area hotels, eateries and attractions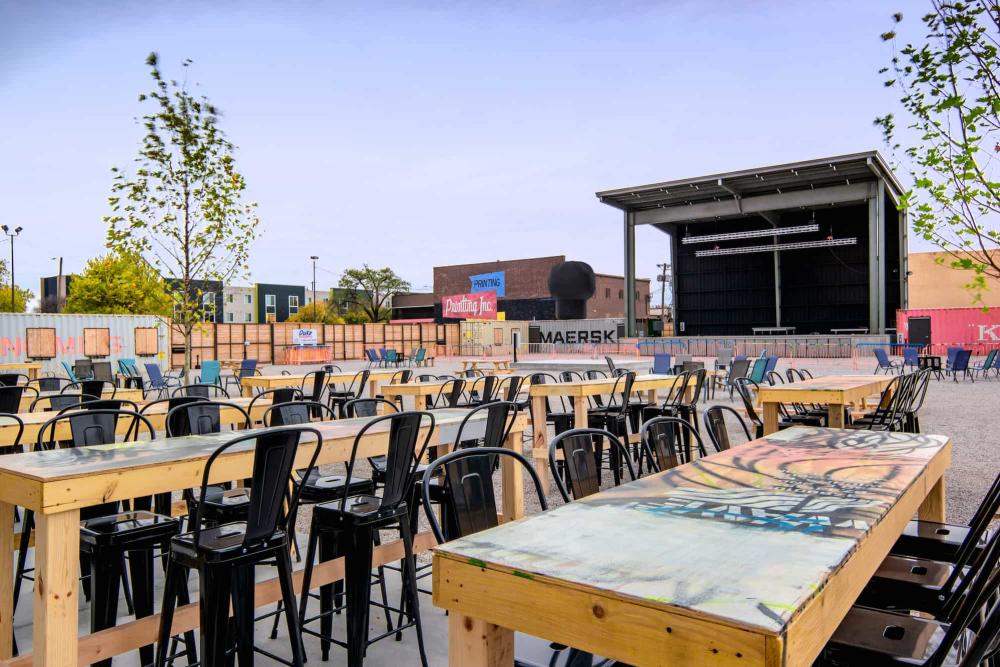 WAVE
Right in the middle of Wichita's vibrant nightlife scene is one of Wichita's newest indoor/outdoor venues, WAVE. This unique building is a hot spot for live music and entertainment and offers a great selection of local craft beers on tap - plus an on-site restaurant, ADIOS Nachoria. It is perfect for all sizes of groups with space for 50 to 3,500 people.
20 craft beers on tap with rotating flavors
Yard games
Front and back patio
In-house chef and mixologist
Indoor and outdoor meeting space
On-site, first-class A/V options
Additionally, many Wichita restaurants offer unique outdoor patio spaces – perfect for offsite gatherings. Here's a look at a few eateries, breweries and more with outdoor spaces for your attendees to enjoy during free time:
For a look at more venues to book your next event in Wichita, for a full list of facilities.