Header image courtesy of Downtown Wichita
At the core of the largest city in Kansas, downtown Wichita is an ever-evolving epicenter of business, retail, entertainment and more. Downtown is home to a variety of public art and placemaking projects like bronze sculptures, Alley Doors, Gallery Alley and murals. Front Porch, a new project designed to bring together creatives and local business owners to create outdoor extensions of their businesses, is the latest project to bring artistic flair and vibrancy to Wichita's core.
The project is a placemaking initiative that contributes to the identity, character and culture of downtown by serving as an activator and catalyst for continued growth. The inspiration for the project comes from the idea of the midwestern front porch – a space that is crucial to community, family, identity and conversation.
Additionally, as the Heart of the Country, Wichita is known for its friendliness. From the locals you meet at the 50-plus attractions and museums to the 1,200-plus eateries, kindness greets you at every turn. This project adds yet another layer to the welcoming nature of the city and the downtown community.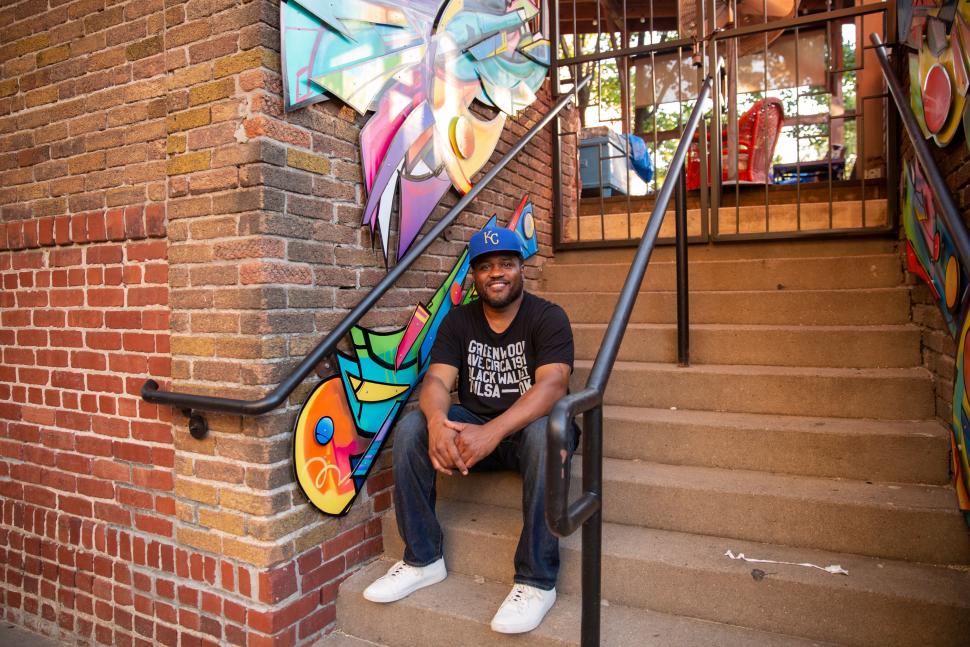 Take a look at the artists and downtown businesses who partnered to create front porches:
Kevin S. Harrison (pictured above) is paired with Brooke Russell, owner of Public and Brickyard. Public is an eatery in the Old Town District serving dishes featuring fresh and regionally sustainable ingredients. Brickyard is adjacent to Public and is a popular outdoor music venue. Harrison is an assistant teaching professor at Wichita State University who combines his skills as a songwriter, public speaker, saxophonist and singer to tell stories that speak to social justice and break down socially constructed barriers between people.

Chiyoko and Sarah Myose are paired with Don Wright, owner of Old Mill Tasty Shop, a Wichita tradition since 1932. The artistic duo are a mother-daughter creative team. Chiyoko is a painter and has been showing her works through exhibitions and commissions regionally, nationally and internationally. Sarah focuses on studio art and sociology and has been involved in the creation of several murals throughout Wichita.

Belinda K. Smith is paired with Jennifer McDonald, owner of Jenny Dawn Cellars, an urban winery. Smith's passion is horticulture. She has been the greenhouse manager at the Sedgwick County Zoo for more than 20 years and enjoys creating colorful, inviting spaces for all to enjoy.

Elisabeth Owens is paired with Ryan and Valerie, the owners of Lucinda's, a retail shop in the Old Town District. Owens is known for her botanical ceramics, paintings and graphic design. Through her work, she hopes to inspire wonder and encourage creativity.

Drew Phillips is paired with Standard Issue Company. Located in Old Town along Douglas Avenue, Standard Issue Company is a men's clothing store focused on providing quality apparel and goods. There is also a Barber Shop on-site. 

Engy AlGarf is paired with Mark and Grace, owners of the Wichita Cheesecake Company, a premier baking company located in the historic Union Station that specializes in quality-crafted traditional and signature cheesecake creations. Born in Cairo, Egypt, AlGarf is primarily a figurative artist and painter who likes to tell a story.
In addition to its focus on artistic expression and placemaking, the project has an emphasis on creating safe, outdoor spaces for visitors to enjoy. It is led by Downtown Wichita in partnership with the City of Wichita and is funded in part by the Our Town Placemaking Grant from the National Endowment for the Arts, the Knight Foundation and the Wichita Community Foundation.
Learn more about Downtown Wichita's approach to placemaking and get complete details about Front Porch here.