There is a rich aviation history in the Heart of the Country, which is why Wichita is proud to celebrate National Aviation Day each year on Aug. 19 – as well as claim the title of Air Capital of the World every day of the year.
Iconic aviation brands Beechcraft, Cessna, Learjet and Stearman were born in Wichita; and modern-day Airbus Americas, Bombardier, Spirit AeroSystems and Textron Aviation design, manufacture and service aircraft and aircraft parts from our city. Aerospace manufacturing continues to be an economic driver in Wichita to this day.
Wichita first earned the title of Air Capital of the World in 1928, when the production lines at the city's 16 aircraft manufacturers rolled out 120 airplanes each week. At that time, one out of every four U.S.-built airplanes came from Wichita. Today, our city can boast that we've had a hand in building hundreds of thousands of aircraft of all sizes, and ancillary Wichita businesses have decades of history supporting the industry. 
Wichita State University's National Institute for Aviation Research, WSU's Innovation Campus and Wichita Area Technical College's National Center for Aviation Training turn students into designers, mechanics, machinists and more, with specialized training from Wichita's expert sources of aviation and aerospace technology. When you visit the city, you're likely to meet someone who works in the aircraft industry or who loves aviation.

Defining a City: "ICT"
Pilots use airport codes as identifiers. "ICT" is Wichita's three-letter designation by the International Air Transport Association, which also explains why you see it used so often in Wichita and on social media.

Arrivals and Departures
Wichita's Dwight D. Eisenhower National Airport was voted as third Best Small Airport in USA Today's national Reader's Choice poll in 2020 and 2022. It serves six airlines – Alaska Airlines, Allegiant Air, American Airlines, Delta Air Lines, Southwest Airlines and United Airlines with 14 nonstop destinations, including two more coming soon. Level 2 of the airport features a lounge and gallery at the top of the escalators devoted to aviation history and the city's impact on the industry.
One Wichita aviator who deserves credit is Erwin Bleckley, the city's forgotten Medal of Honor hero. In 1918, his mission was to deliver supplies to the Lost Battalion while his de Havilland DH-4 took on enemy fire. Still in the planning stages, the Bleckley Airport Memorial Foundation is working to honor the brave pilot with a memorial at Eisenhower National Airport to recognize his inspirational WWI efforts.
If arriving via general aviation at Colonel James Jabara Airport, give yourself a few minutes to tour their visitor's lounge. The walls are covered with historic photos that pay homage to the war hero and Wichita High School North graduate for which the airport is named.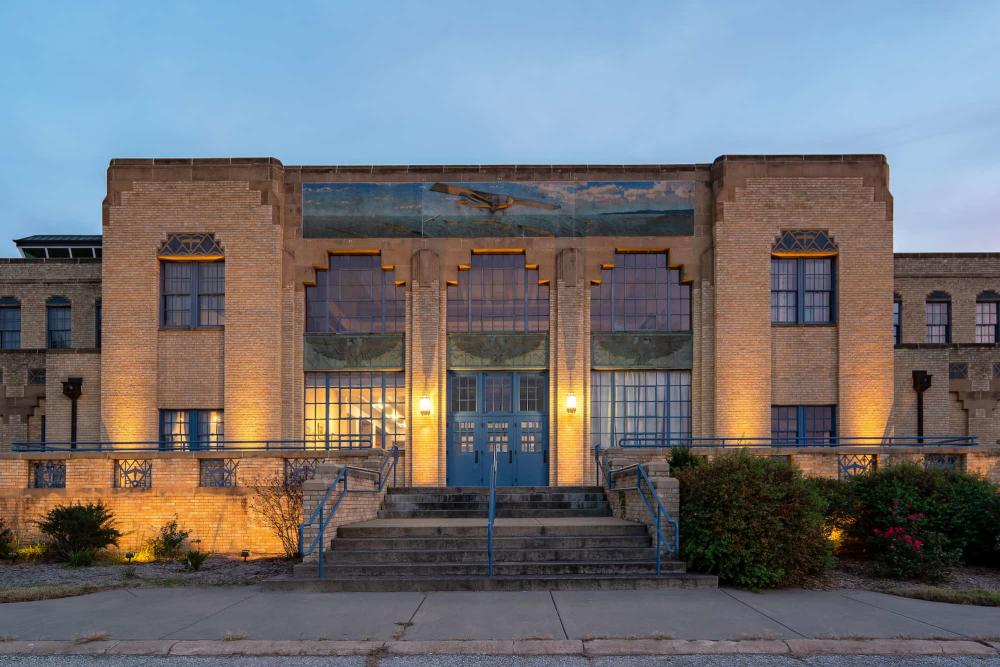 Journey Through History
The Kansas Aviation Museum takes aviation history to new heights. The museum is housed in what was the city's first municipal airport. Today, the museum honors the legacy
The Kansas Aviation Museum takes aviation history to new heights. The museum is housed in what was the city's first municipal airport. Today, the museum honors the legacy of air travel by showcasing Kansas aviation history with a focus on Wichita's influence.
Museumgoers will see a collection of restored aircraft and aviation-related artifacts. It proudly displays a 1920 Laird Swallow (the first production aircraft built in Wichita), a 1945 Beech Bonanza B-35, a Cessna T-37B and a Model 73 Stearman. The museum's ramp is home to retired aircraft. When touring the museum, make time to enjoy 360-degree views of the city from the airport tower and listen to air traffic control. Some of the newest exhibitions include Women of Aviation and the Rip Gooch Black Aviators exhibit. The museum also hosts special events, including the popular Play on a Plane Day, which coincides this year with National Aviation Day on Aug. 19.
Continue your journey through history by making a visit to B-29 Doc Hangar, Education and Visitors Center to get an up-close look at one of only two airworthy Boeing B-29 Superfortress aircraft left in the world. The restored warbird known as Doc attracts visitors to the permanent hangar who are eager to see the aircraft as well as museum exhibition about the history of aviation engineering and design. Volunteers, referred to as Doc's Friends, spent more than 450,000 volunteer hours restoring her to pristine condition. They are often on-site to answer questions. When not at home in the hangar, Doc and its crew take to the skies to make fly-in appearances at air shows. Make sure to check to see if Doc is in the hangar prior to your arrival.
To fully appreciate the advancement of Wichita's aviation industry, you should visit the Mid-America All-Indian Museum, where you can learn about Chilocco Indian School that provided Native American students a trade, which often included aircraft mechanics and parts manufacturing. Many of these students went on to work for local aircraft companies.
National Aviation Day is also an opportunity to honor the Wichita State University football players, administrators, and supporters who lost their lives in a plane crash in 1970. Memorial 70 is a place of remembrance on the WSU campus and is open to visitors year-round.

Look to the Skies
You won't want to miss the Frontiers in Flight: McConnell Air Force Base Open House & Air Show that happens every other year at McConnell Air Force Base, home of the 22nd Air Refueling Wing. The free event is next scheduled for Aug. 24-25, 2024. It attracts major aerial acts along with a wide variety of civilian and military static aircraft and much more.
Cleared for Takeoff
Keep your eyes peeled for airplanes! Much of Wichita's street art references the city's love of flying. The mural located west of the Garvey Center displays a massive aircraft, Rosie the Riveter is the star of the Moler's Camera mural and "Fly In For Fun" at 1824 E. Douglas celebrates flight. Plan a self-guided mural tour. While downtown, stop by Naftzger Park to take your picture in front of an actual airplane wing on display.

Controls at Your Fingertips
If you're in search of a hands-on learning experience, then Exploration Place is where you should land. The award-winning Design Build Fly exhibit takes visitors behind the scenes of Wichita's aircraft plants. Run a rivet gun. Prove your paper airplane skills. Step inside a jet's cockpit.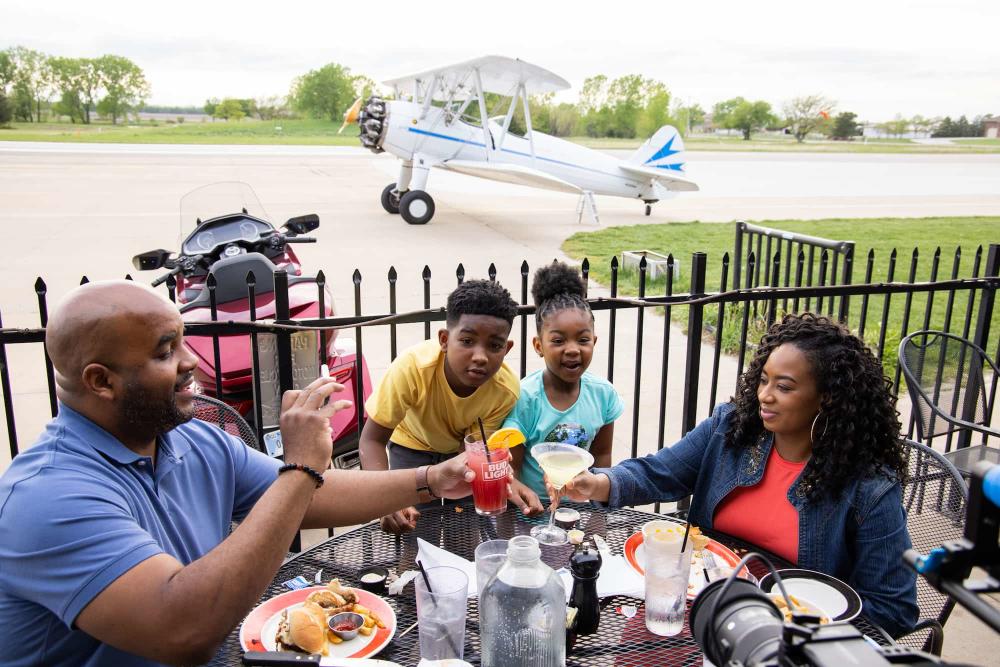 Descend to Dining
For aviation enthusiasts, there is no place better to enjoy a meal than Stearman Field Bar & Grill. The open-air patio draws a crowd excited to watch the traffic of the private airport while dining on menu times such as Kickin' Pilot Potatoes or the Flyover Philly Cheesesteak. Sit back, relax and enjoy the happy hour drink specials as biplanes and modern private aircraft take off and land.
It's not every day that you get to taste a delicious meal and have a cocktail with aviation artwork as the backdrop unless you're dining at 6S Steakhouse in west Wichita. For those looking to experience fine dining on the city's east side, the Scotch & Sirloin impresses with its world-class interior featuring aviation influences.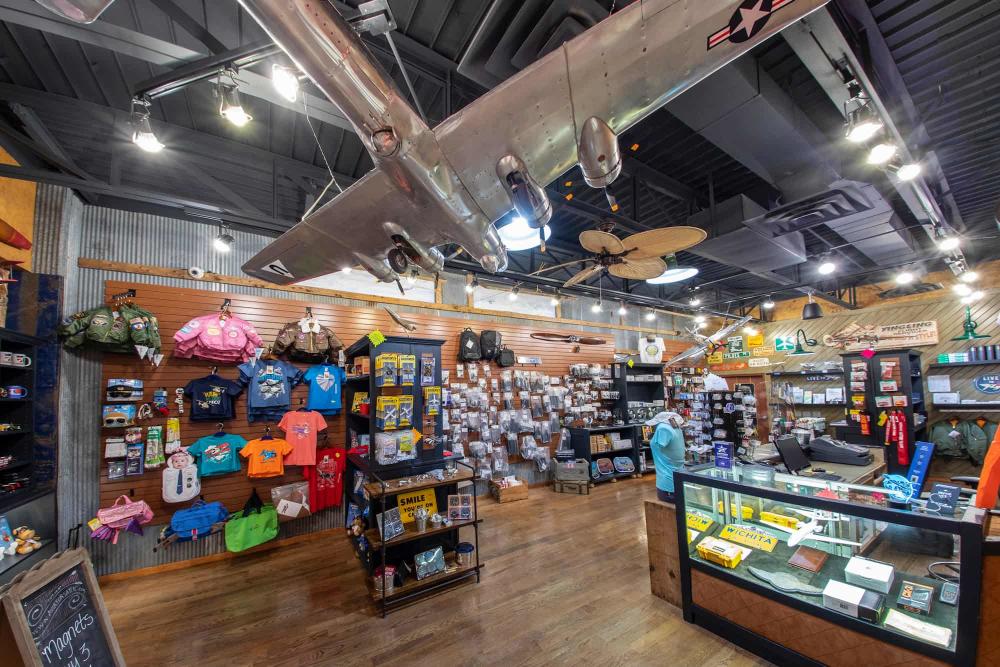 Shopping in Range
The museum shops at the above referenced museums sell aviation-themed souvenirs. Another great option for gifts for airplane lovers is The Aviator's Attic at Yingling Aviation, a full-service maintenance, repair, overhaul facility at Eisenhower National Airport (though separate from the main passenger terminal).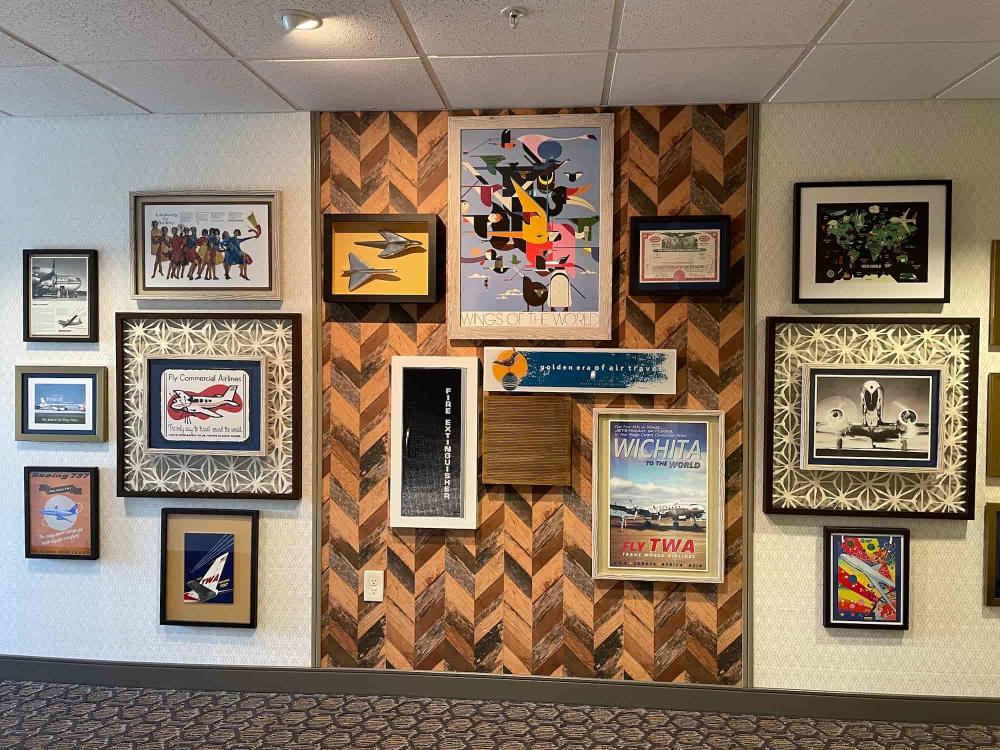 Smooth Landing
When you're ready to call it a day and retreat to your hotel, even lodging in Wichita reflects the city's love for aviation. Hotels throughout the city have nods to the city's legacy as the Air Capital of the World. One such example, shown in the photo above, is the colorful artwork donning aircraft at the Homewood Suites by Hilton @ The Waterfront in east Wichita.
As Wichitans, we're proud of our aviation history and the many places around the city that preserve it. We might be biased, but we have a good argument for saying Wichita is the best place in America to celebrate aviation and National Aviation Day.