A hot bowl of soup can take the chill off a winter day in the Heart of the Country, though we admit there are soup creations we crave no matter the temperature outside. Many Wichita restaurants include soup on the menu that can be a meal on its own or paired with a salad, sandwich or entrée. Here we are tempting your tastebuds with just seven spots in the city to order fresh and flavorful made-from-scratch soups.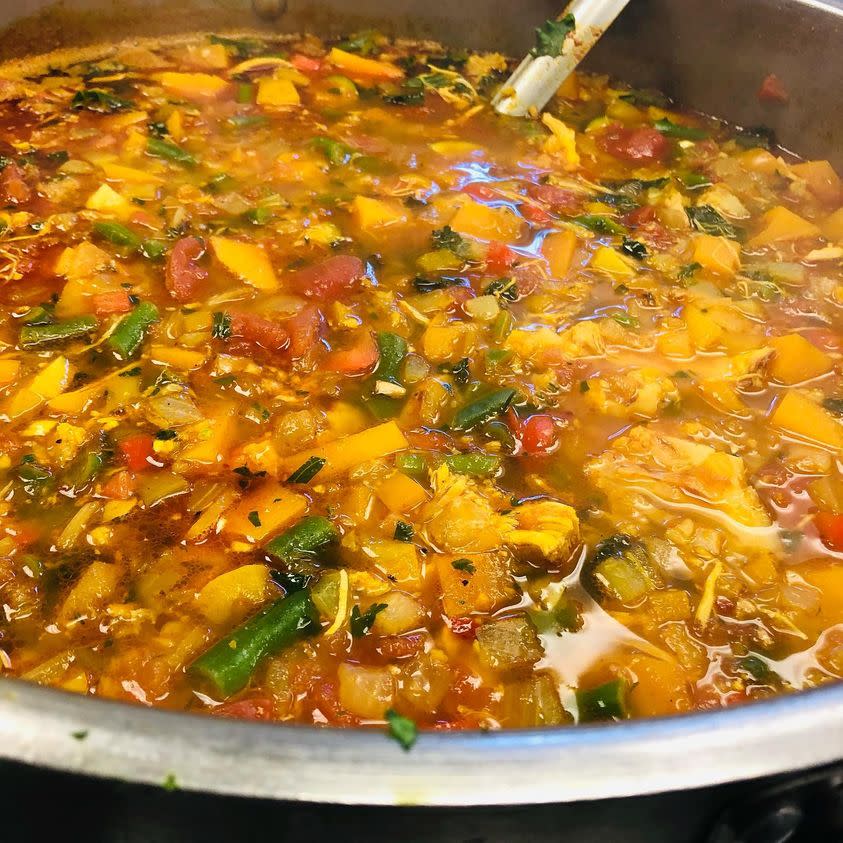 Tanya's Soup Kitchen
Known for their small batch soups, the selection at Tanya's Soup Kitchen changes daily and rotates seasonally based on availability of local ingredients. On weekdays you can count on chicken noodle with mashed potato garnish on Monday, gumbo on Tuesday, chicken curry on Wednesday, potato on Thursday and tomato curry on Friday—plus at least three other selections each day. Vegans, vegetarians and carnivores can all find something they'll like at this Douglas Design District eatery, and the undecided can opt for a flight of four soup samples.
La Chinita Mexican Restaurant
Order a hearty bowl of traditional Mexican soup at La Chinita Mexican Restaurant, a family-owned favorite in north Wichita since 1976. The pozole features pork stew and hominy, and the menudo includes tripe and hominy — both are made with an aromatic red chili pepper based broth.

The Kitchen
The French onion soup at The Kitchen is a house recipe featuring caramelized onions, port wine, beef stock, garlic herb croutons and Swiss cheese. The Downtown Wichita restaurant focuses on updated comfort food made with clean, fresh ingredients and that includes the soup. Daily soup specials vary from cheeseburger to potato leek as well as chicken potpie soup topped with a cheddar biscuit and chili served with a cinnamon roll. Get to know more about chef-owner Natasha Gandhi-Rue and other female chefs in Wichita.
Little Saigon
Wichita has an abundance of Vietnamese restaurants where you can get a filling bowl of pho (pronounced fuh), a slow-simmered, rich and aromatic beef broth and rice noodle soup that is the national dish of Vietnam. Among the most popular establishments is Little Saigon in north Wichita. Customize your order by choosing the protein or vegetable you want with their rice noodle soups (pho and hu tien) or egg noodle soups. They also serve a spicy chicken and kimchi soup popular with regulars.

Meddys
Known for their hummus and gyros, Meddys (Downtown, Northeast, Northwest, Southeast, Southwest) is also a great place to warm up with a bowl of their creamy tomato or lentil soup. It's the perfect addition to one of their salads or other tasty Mediterranean menu items.
Hook & Reel
Known for its seafood boils, Hook & Reel also dishes up some tasty soup options in east Wichita. Try their New England style clam chowder or the creamy and smooth lobster bisque.

Bagatelle Bakery
This family-owned bakery in southeast Wichita offers two delicious homemade soups daily and serves them with fresh baked bread. Bagatelle Bakery's loyal customers watch their website for the daily offerings, which can include seafood gumbo, chicken and rice, broccoli and cheese, vegetable beef and other homestyle creations.
Other restaurants where you'll find tasty soup on the menu: The Anchor, Bella Vita Bistro, Café Bel Ami, Doo-Dah Diner, Georges French Bistro, HomeGrown Wichita (Downtown, East and West locations), Larkspur Bistro & Bar, Mokas Café, Monarch, Old Mill Tasty Shop, Redrock Canyon Grill, Scotch & Sirloin, Sweet Allie B's Limestone Beer Co, The Sweet Spot. Many more of Wichita's 1,200+ restaurants offer homemade soups. Be sure to check out their menus for specials!