Wondering where to hear live music in Wichita? We've got options for every musical taste.
In addition to larger concert venues like INTRUST Bank Arena, Hartman Arena, TempleLive Wichita, WAVE and others, Wichita has an active community of intimate venues, bars and local businesses dedicated to offering live music throughout the week.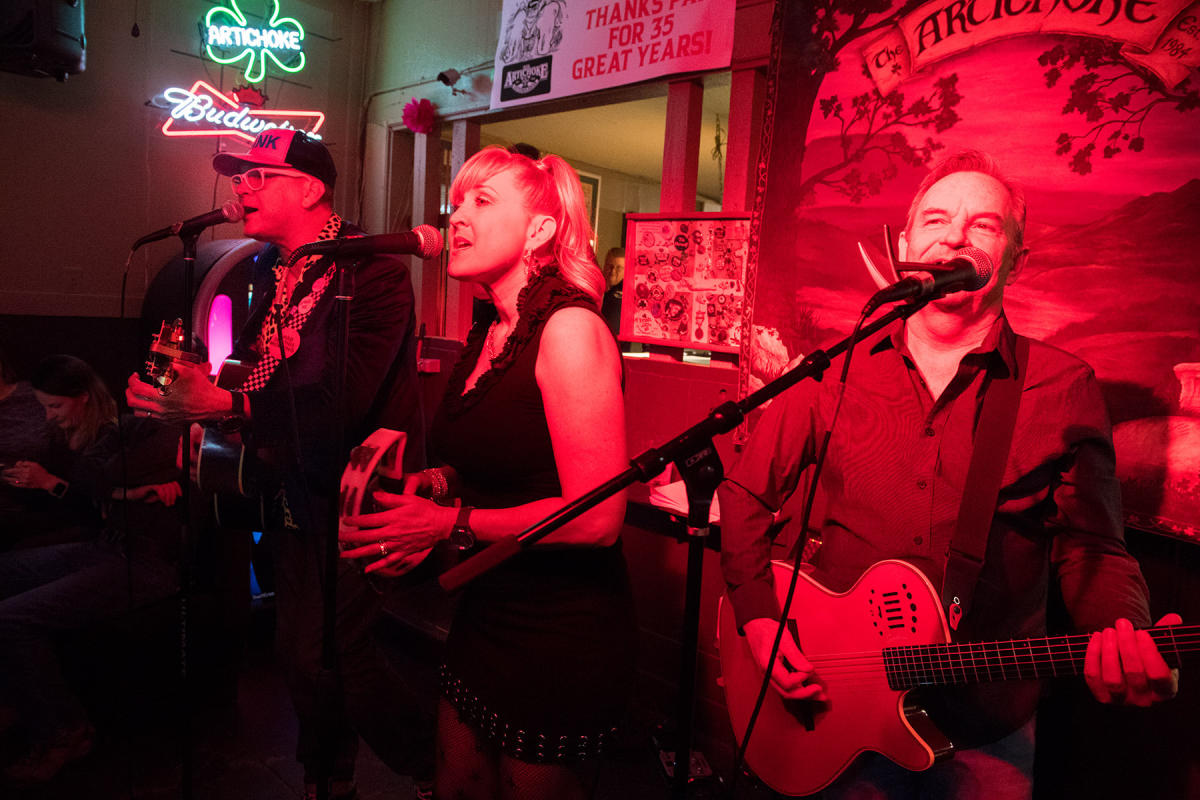 Artichoke Sandwichbar
Artichoke Sandwichbar opened its doors in 1984 in the historic Midtown area, just north of downtown. This Wichita institution serves some of the city's best sandwiches by day, then on weekend nights they clear out a few tables and turn on the stage lights for the finest acoustic music Kansas has to offer.
Cocoa Dolce Artisan Chocolates
Indulgent desserts, specialty drinks and more are always on display and ready for enjoyment at all Cocoa Dolce Artisan Chocolates locations (East, West and Downtown). On Friday nights, take in the sounds of local musicians at their downtown shop and head to their west Wichita location on Saturday nights for live music.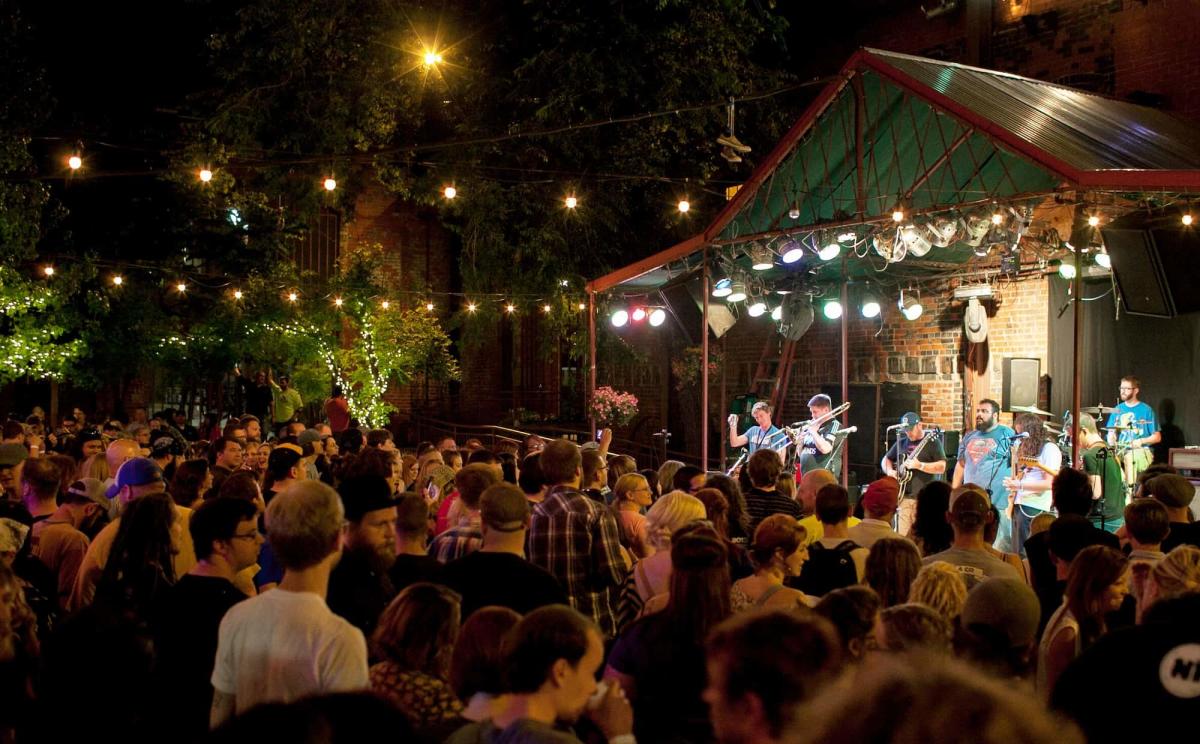 Brickyard
Brickyard is the outdoor music component of Public, a restaurant serving local foods and craft beer on the bottom floor of a restored warehouse in Wichita's Old Town District. Besides serving as the patio for the restaurant, Brickyard also features live music on a regular basis.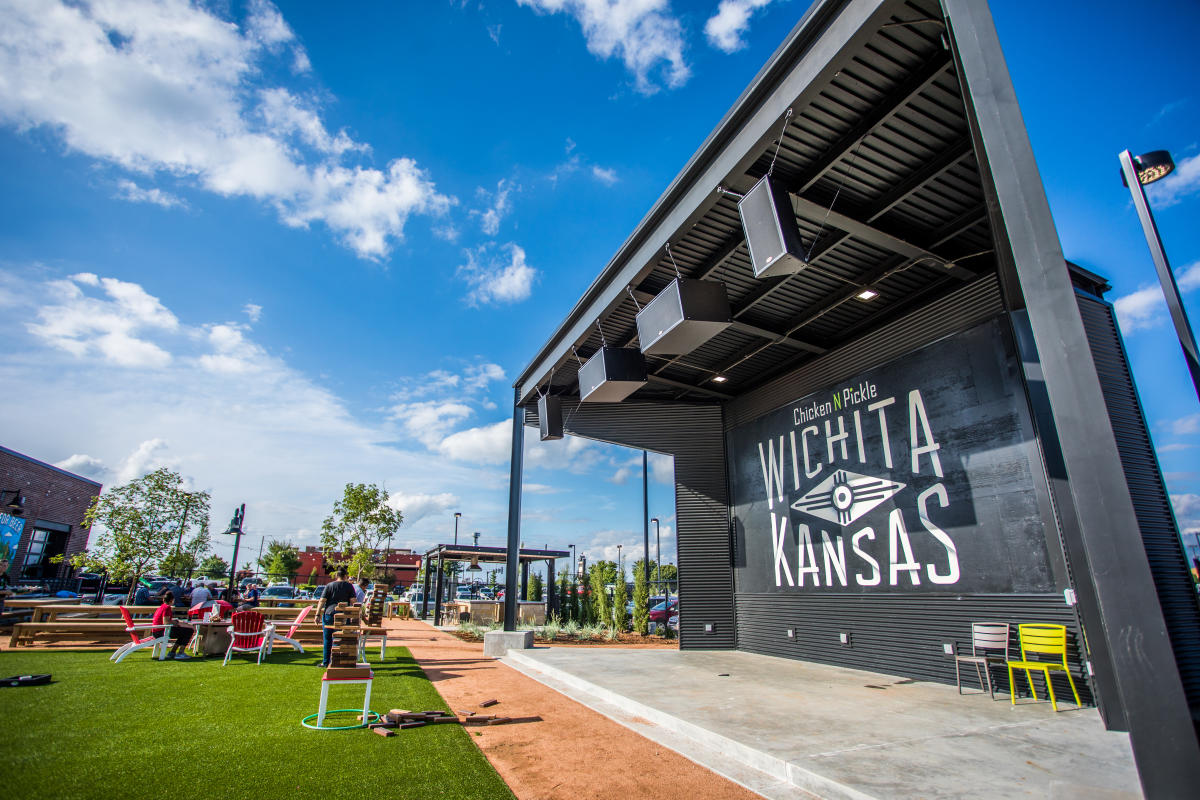 Chicken N Pickle
At Chicken N Pickle, there are plenty of indoor and open-air spaces to eat, sip and play. When the complex's yard isn't an ice rink in the winter months, it's a great place to play yard games or take in live music being played on their outdoor stage.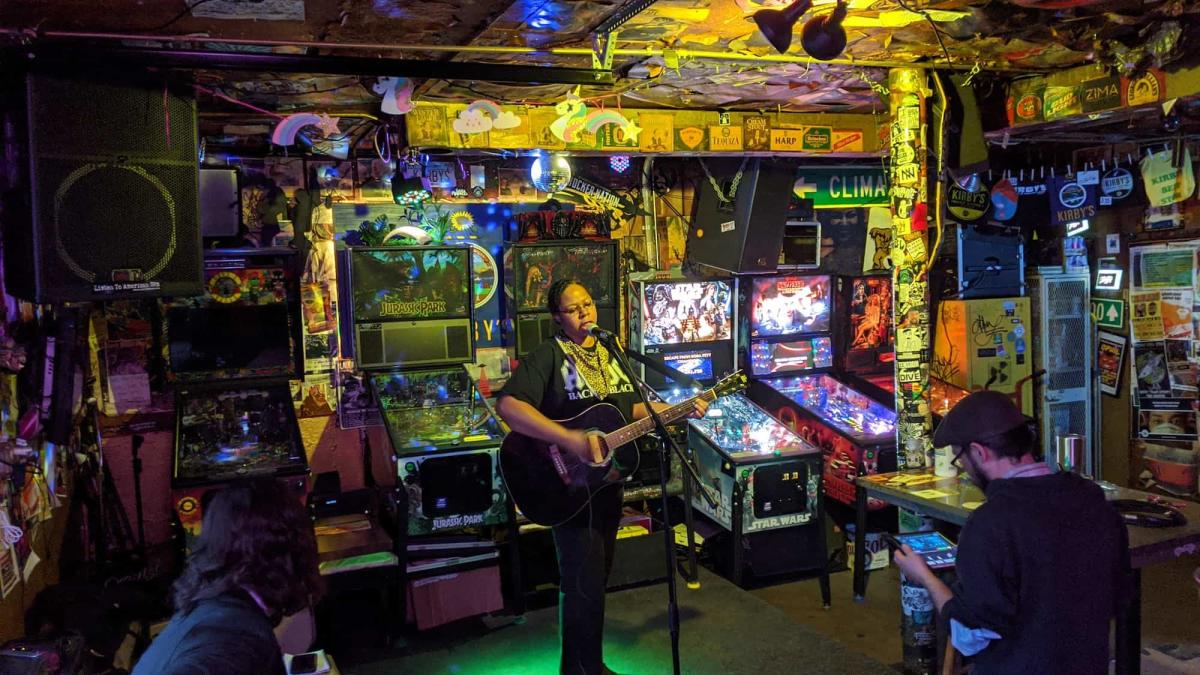 Kirby's Beer Store
Kirby's Beer Store has been a mainstay of the Wichita music community since 1973 and was once included on Playboy magazine's list of top dive bars in the country. This hole-in-the-wall near the Wichita State University campus has live music nearly every night of the week and no cover charge.
Doma
Brunch and tunes are the perfect combination on Sundays at Dōma – Wichita's first shared plates eatery. While their brunch service does include a few small plate dishes, it showcases a separate, special menu filled with gourmet dishes.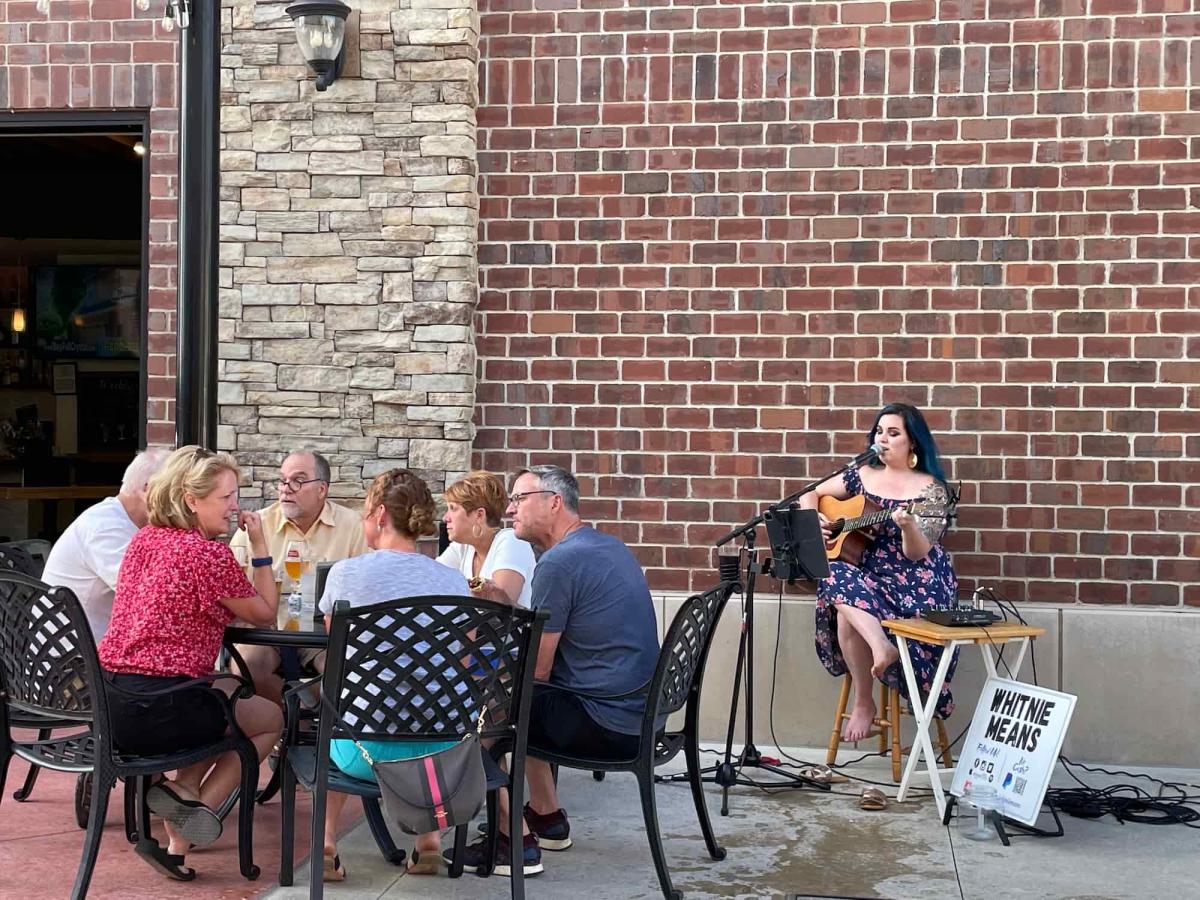 Meddys
Hummus, gyros, and … live music? You bet. All Meddys' locations (northeast, southeast, Old Town, southwest and northwest) serve delicious Mediterranean food alongside sweet tunes several nights a week. Live music is played on the outdoor patio, making it the perfect place to spend a relaxing night out.
Dockum
A speak-easy style bar serving craft cocktails, Dockum is located on the lower level of the Ambassador Hotel Wichita. Not only can you find the swanky cocktails of your dreams at Dockum, but you can also enjoy the sounds of live music on Wednesday through Saturday nights.

Mort's Martini and Cigar Bar
Besides martinis and cigars, Mort's Martini and Cigar Bar is known for its live music, available most days of the year, including afternoon concerts on Sundays. Indoor seating is limited at this legendary Old Town bar but a cooled and heated partially enclosed patio is available, and patrons are encouraged to share tables.
Grace Hill Winery
Just north of Wichita sits a peaceful winery where you can sample wine, go on tours and take in live music. Grace Hill Winery hosts a variety of artists to provide live music on Friday and Saturdays. On Sunday afternoons, sit back and enjoy the sounds of jazz music.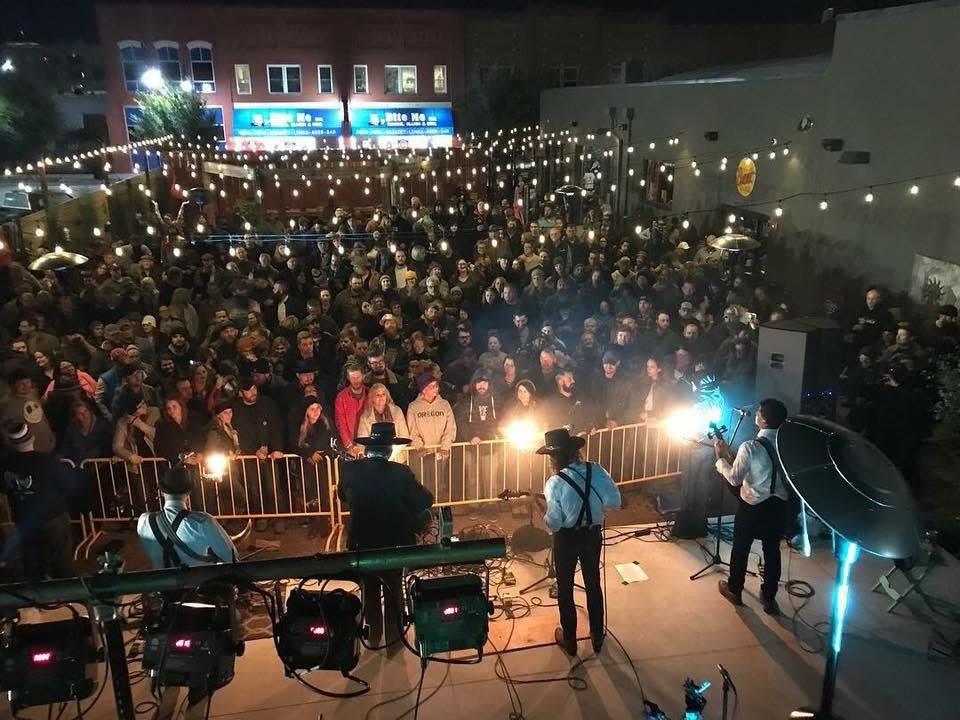 Nortons Brewing Co.
Get a taste of the region's beer and musical talent at this popular Wichita brewery. Known for its hard-hitting, flavorful brews and dishes, Nortons Brewing Co. is also a great place to take in live music by a wide range of genres.
The Rusty Nail
Three levels of entertainment make The Rusty Nail the perfect hangout. This restaurant and bar also have a large, outdoor patio that is pet friendly and offers live music on weekend nights.
Other Wichita area restaurants featuring live music on a regular basis include 6S Steakhouse, Siena Tuscan Steakhouse Restaurant, Larkspur Bistro and Bar, Stearman Field Bar and Grill and YaYa's Eurobistro.
See what else nightlife in Wichita and the city's dining scene has to offer.