To assist with public safety, please remain diligent in adhering to safe practices outlined by the CDC like wearing a face covering and social distancing, when out in the community and stay home if you feel ill. We recommend confirming details and verifying requirements and/or safety procedures for guests before visiting a local eatery. 
 
Spending the holidays in Wichita is a gift and, for some of us, not cooking also is a gift! Wondering where you can order Thanksgiving dinner in Wichita? We've compiled this list of establishments serving holiday meals, whether you're looking for Wichita restaurants open for dine in on Thanksgiving Day or you're in search of restaurants in Wichita with complete Thanksgiving meals prepared for carryout or delivery. Many of these same eateries also will be serving meals for those spending Christmas in Wichita.
YaYa's Eurobistro
Dine-in and to-go: Co-executive chefs David Wooding Jr. and Jason Rickard have a four-course, family-style Thanksgiving meal planned for dine in and carryout at YaYa's. Starter, soup, entrée and side selections, dessert and non-alcoholic beverage of choice. Adults $24 and ages 11 and younger $10.95. Call 316-634-1000 to RSVP for seating time: 10 a.m., 11:30 a.m., 1 p.m. and 2:30 p.m. To-go dinners must be ordered by 11/24 and are available to pick up chilled for reheating or hot and ready from 9 a.m. to noon on 11/26.
Vora Restaurant European
To-go: Vora is another of the fine dining restaurants in Wichita offering a traditional Thanksgiving meal. They have an option that serves 4-6 people for $150. It's available as pickup or delivery on Thanksgiving Day only. There is also an add-on option of a cheese and charcuterie board. Visit the restaurant's website to order.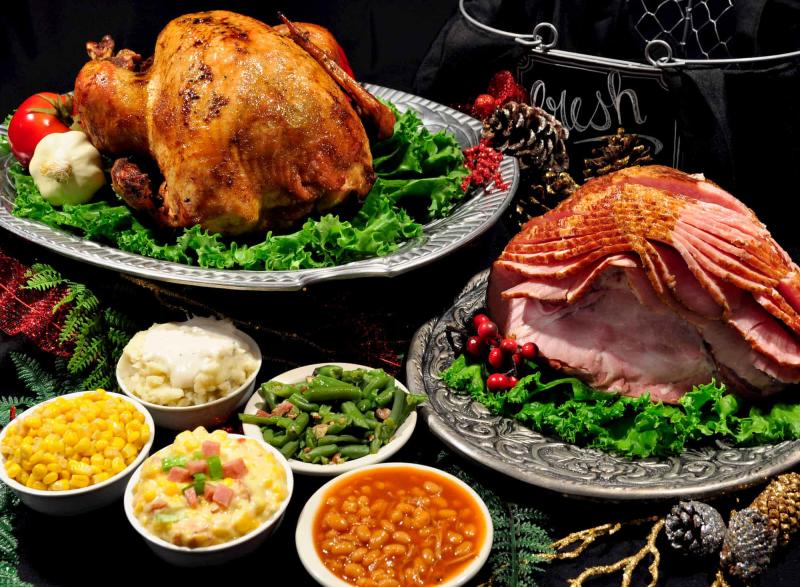 Two Brothers BBQ
To-go: Pre-order smoked turkeys for $39.99 (12-14 pounds), spiral sliced honey glazed hams for $64.99 (approximately 8 pounds) as well as several complete meal packs. Meat is also sold by the pound for smaller groups, along with individual sides and desserts. Order early, at least three days in advance, by calling your nearest location (West, East, and College Hill). Delivery and carryout available.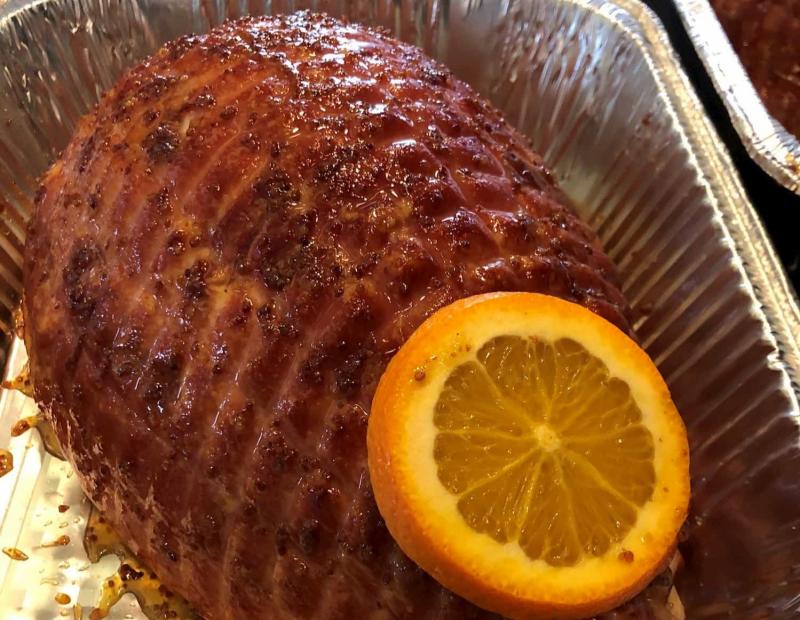 The Kitchen
To-go: Order your customized meal from The Kitchen no later than 11/14, or until the popular downtown restaurant reaches its maximum order capacity. Chef-owner Natasha Gandhi-Rue is offering classics with her made-from-scratch touch, from Roasted Garlic and Herb Turkey to the Best Ever Green Bean Casserole to Chardonnay Sage Gravy. Build your perfect holiday meal by choosing the menu items and sizes that fit your tastes and needs, from small servings that feed two to large servings that feed eight. You won't want to miss one of The Kitchen's pies, either. Visit the restaurant's Facebook page for the link to order from the special menu or call 316-928-2899. The restaurant offers no contact white glove curbside pickup for those not wanting to come inside to get their order.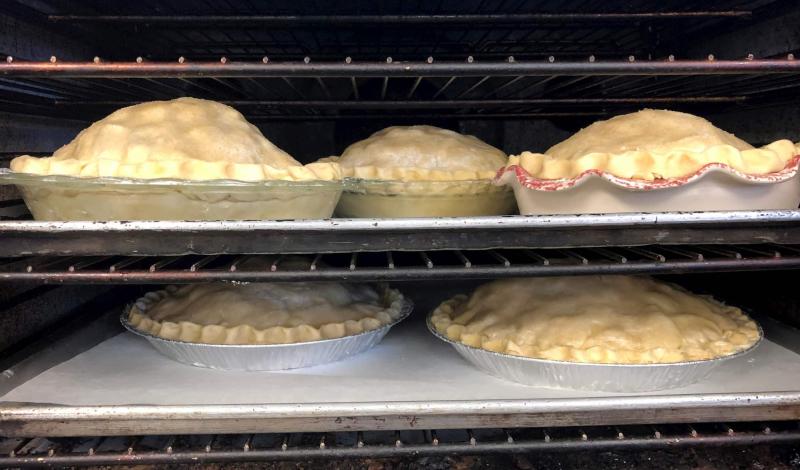 Tanya's Soup Kitchen
Known for their mouth-watering soups, salads and sandwiches, Tanya's Soup Kitchen also makes a scrumptious pie. For Thanksgiving, they are offering pumpkin, pecan and apple pie, as well as a pumpkin-spiced cheesecake and an earl gray custard pie. Just give them a call and place your order for pickup.
Siena Tuscan Steakhouse
Dine-in: The Ambassador Hotel is one of several Wichita hotels offering Thanksgiving meals. This upscale restaurant led by Chef Josh Rathbun is serving its Thanksgiving dinner from 11 a.m. to 4 p.m. Make a reservation on Open Table.
Saltgrass Steak House
Dine-in: Order a Thanksgiving day plate from Saltgrass for $19.99 and enjoy turkey, gravy, mashed potatoes, green bean casserole, stuffing, cranberry sauce, choice of soup or salad, bread and butter. Hours are 11 a.m. to 4 p.m. 11/26, reservations available on their website.
Family to-go packs: Family packs serving four are $69.99 and will be prepared and packaged cold to heat up at your convenience. They include traditional turkey and trimmings with upgrade options and add-ons such as wine and dessert. Limited supply available; order in advance by calling 316-330-2820. Order by 11/24 and pick up from 3 p.m. on 11/24 until 11 a.m. on 11/26.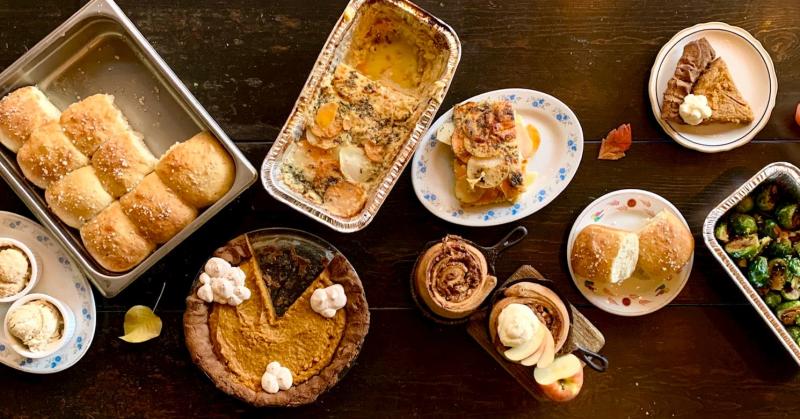 Public at the Brickyard
Public at the Brickyard is sharing their favorite holiday flavors through their Thanksgiving Carryout offerings. Their Charcuterie Spread with Maple Board features Public's favorite meats, cheeses, pickles, season jam and much more – all on a beautiful board from Fatbird Food Boards. Sides include a dozen potato rolls, Potato Au Gratin and Brussel sprouts roasted with lemon, thyme and balsamic. Pumpkin pie, apple pie and apple cinnamon rolls are also available.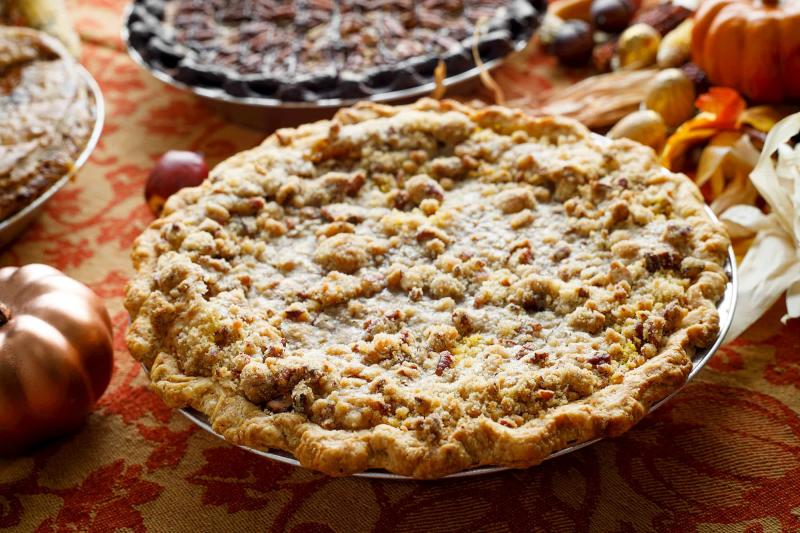 Peace, Love & Pie
If you want to indulge in premium, hand-crafted pie with your loved ones this year, pre-order your favorite pie selection from Peace, Love & Pie via their website. But hurry, their pre-order page closes on Tuesday, Nov. 24!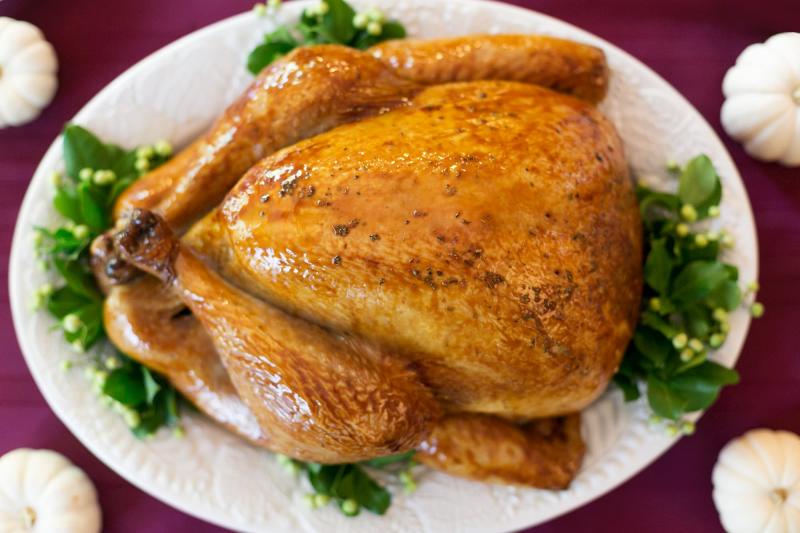 Olive Tree Catering
Dine-in & to-go: Olive Tree Catering is offering the same family-style Thanksgiving meal with all the fixings – traditional or vegan options – as take out or dine in at their catering facility where they can provide a safe, distanced experience. The cost is $25 for adults, $15 for ages 5-12 and free for ages 4 and younger. Prices include non-alcoholic beverages. Dine-in seating is available 11 a.m. to 2 p.m. by reservation only. Take-out orders must be made by noon on 11/25 and will be available for curbside pickup 11 a.m.-2 p.m. on 11/26. To limit contact, you'll prepay online or by phone when making your reservation or placing your carryout order. You may do so by phone at 316-636-1100 or online.
Newport Grill
Dine-in: As one of the Wichita restaurants open on Thanksgiving Day, Newport Grill is serving a plated lunch and dinner 10 a.m. to 6 p.m. The cost is $40 adults (drinks not included) and $12 for ages 14 and younger (drink included). Traditional roasted turkey, turkey breast with roulade of turkey leg or Norwegian salmon filet are the entrée choices, and the meals include soup or salad, sides and dessert.
To-go: Family style to-go packages are available at $40 per person, or a dinner for four package is $150. Choose from seafood, beef and turkey main dishes and also share soup or salad, sides and a pumpkin or pecan pie. Order before 11/24 and pick up on 10 a.m. to 4 p.m. on 11/26. Call 316-636-9555 to order.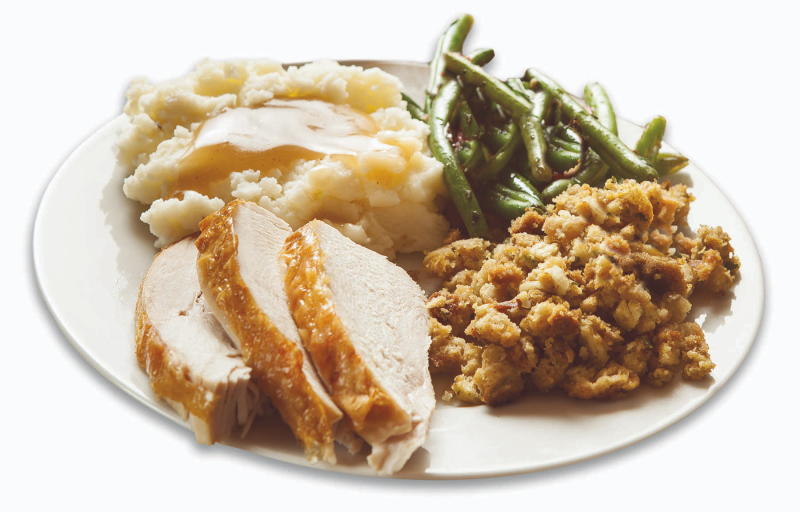 Hog Wild Pit Bar-B-Q
Pre-order a whole slow-smoked turkey for $39.99 (approximately 12 pounds), a smoked boneless ham for $35 (approximately 4.5 pounds) or a complete Thanksgiving meal with a whole smoked turkey, mashed potatoes and gravy, stuffing, green beans or corn, a dozen rolls and butter for $99. Call your nearest store to reserve (East, North, West, Northwest, South, S. Rock).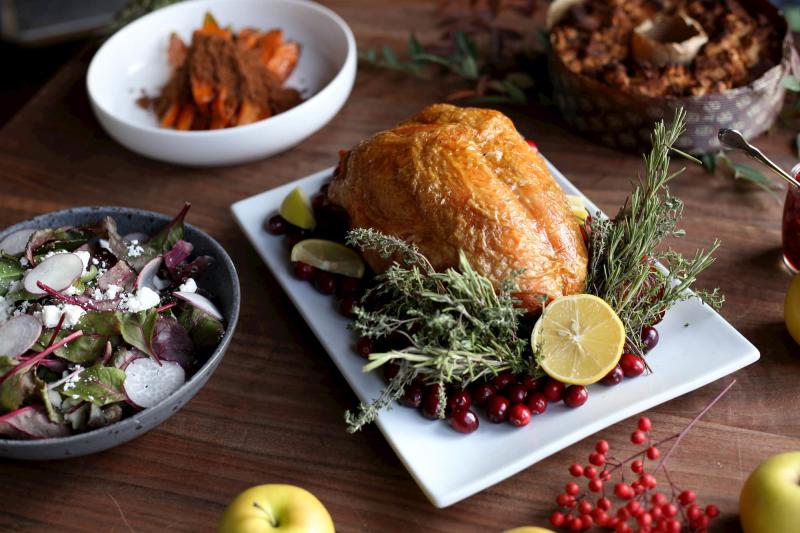 Elderslie Farm
To-go: This family farm on the outskirts of Wichita is offering Thanksgiving Family Meals that you can pick up between 2-6 p.m. on Nov. 25. All meals are fully cooked and come with simple reheating instructions. Expect the same type of meal that they serve during their locally-sourced farm-to-table dinners. They'll also have cheese collections you can preorder and pick up during that same timeframe. These feature Elderslie Creamery cheeses, which are handcrafted in small batches using grass-fed milk from Elderslie goats and nearby Faye Farms cows.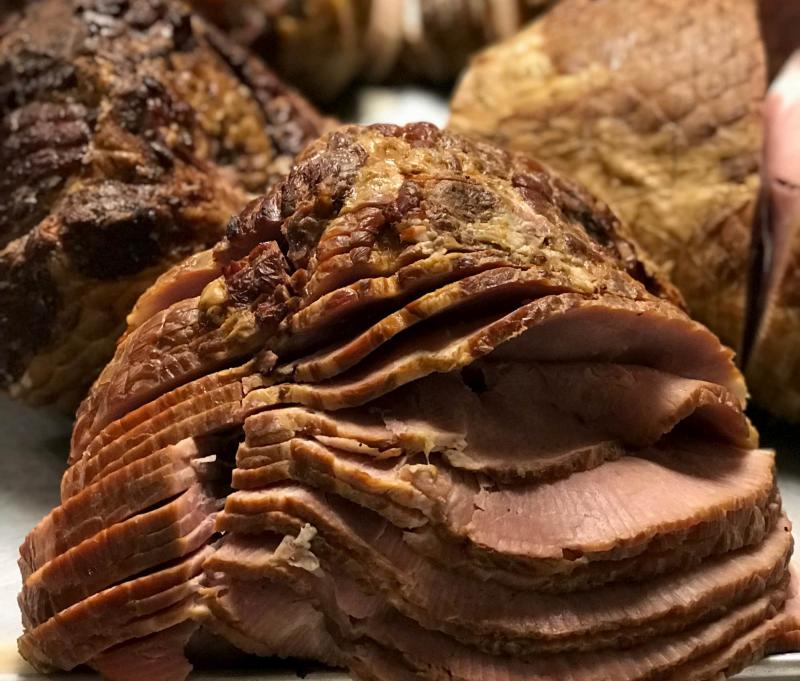 Eberly Farm
Eberly Farm can provide full service catering, drop off catering or you choose from the holiday a la carte menu of appetizers, sides and meats, including smoked turkeys and hams. Call 316-722-3580 or email eberlyfarm@sbcglobal.net for more information.
Delano Barbecue Company
Pre-order a holiday turkey or ham for your holiday meal for $40.95. Just give them a call at 316-260-4950 or drop by their Delano District location at 710 W. Douglas Avenue. Available on a first come, first serve basis, so reserve yours today!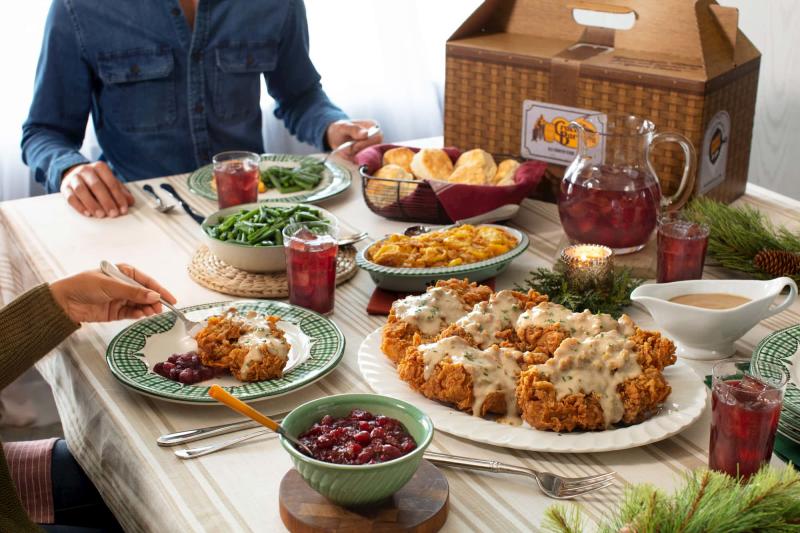 Cracker Barrel Old Country Store
Dine-in: Choose between a Country Fried Turkey plate or Homestyle Turkey n' Dressing served 11 a.m. to 9 p.m. on Thanksgiving Day, or Grandma's Holiday Sampler, which comes with country fried turkey and buttermilk pancakes is served all day. Be sure to visit the restaurant's website and join the waitlist, as Cracker Barrel says Thanksgiving is typically its busiest day of the year.
To-go: Cracker Barrel has a heat and serve feast for 8-10 people or a dinner for 4-6 people. Both of these traditional meals come chilled and can be ready to eat in 2 hours or less. Starting at $69.99; order in advance and pick up 11/21-11/29.
Country Kitchen at the Best Western Wichita North
To-go: Needing to feed 8-10 people? Country Kitchen at Best Western Wichita North has a traditional family meal to be thankful for. Grab a 20-24 pound turkey with stuffing, corn, mashed taters and gravy, green bean casserole, dinner rolls, and top it all off with a full pumpkin pie all for only $119.99. Must be ordered by 5 p.m. on 11/25 and picked up Thanksgiving Day from 8 a.m. to noon. Call 316-832-9704 to order.
Chisholm's American Beef & Ale House at the DoubleTree by Hilton Wichita Airport
Dine-in: Noon to 5 p.m. Thanksgiving Day, $32-$35 per person depending on entrée choice (turkey, prime rib, pork tenderloin, salmon). Meal also includes soup, salad, sides and dessert. Call 316-945-1966 to reserve seating at Chisholm's American Beef & Ale House.
To-go: A meal serving 10-12 people is $199 and includes a 12 to 14 pound turkey, a 7 pound ham plus sides, rolls and dessert. Ready to serve containers and heating instructions provided. Order by 11/23 and pick up on 11/25.
AVI Seabar & Chophouse at Drury Plaza Hotel Broadview
Pre-made packaged dinners: Starting 11/4, AVI will deliver meals to a rotating list of neighborhoods five days a week. Check the restaurant's Facebook page for locations, menu and link to order ahead.
Holiday buffet to-go: Use curbside pickup or have delivered a buffet of foods prepped/partially cooked, individually packaged with reheating instructions. Order for 1 or 500 at $18.99 per person plus tax. Available Tuesday, Wednesday, Friday or Saturday of Thanksgiving week. Menu includes salad, two meats, four sides, two desserts, rolls and condiments.
Wondering where you'll find other Wichita restaurants open while planning your holidays? Peruse a variety of restaurant options.