To assist with public safety, please remain diligent in adhering to safe practices outlined by the CDC like wearing a face covering and social distancing, when out in the community and stay home if you feel ill. We recommend confirming details and verifying requirements and/or safety procedures for guests before visiting a local eatery. 
 
If you want to sit back and relax while spending time with family this Christmas holiday, Wichita restaurants have cooked up lots of options.
Whether you're looking for Wichita restaurants open for dine in Christmas Eve, Christmas Day or New Year's Eve or you're in search of restaurants in Wichita with complete holiday meals prepared for carryout or delivery, keep this list of establishments handy. Continue to check this list for updates.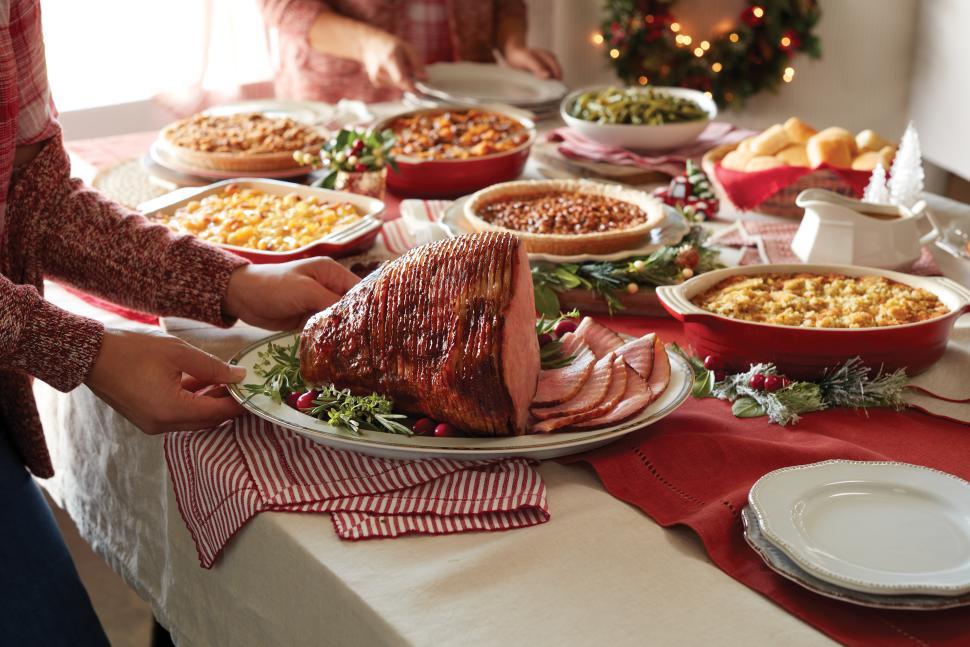 Dine-in: While 6S Steakhouse will be closed on Christmas Day, they will be open on Christmas Eve, featuring an open menu and Beef Wellington off menu. They will also be open New Year's Eve. Try one of their NYE-themed specialty cocktails at the bar or take in the prix fixe menu. Reservations are recommended.
To-go: Bite Me BBQ is offering their delicious glazed smoked hams for the Christmas holiday. Call them at 316-729-2904 and book yours today!
To-go: Pre-order a Christmas meal from Chicken N Pickle and treat your family to main course options such as cold smoked turkey served with black pepper gravy or prime rib with garlic, rosemary and a horseradish cream. Their holiday meal serves 4 to 6 people for $180 and also comes with a variety of sides and pumpkin pie with a ginger spiced Chantilly cream.
Find options and place orders online no later than Dec. 22.
Chisholm's American Beef & Ale at the DoubleTree by Hilton Wichita Airport
Dine-in: Featuring a New Year's Eve buffet from 5:30 to 9:30 p.m. on Dec. 31. Receive a welcome champagne cocktail served alongside shrimp cocktail when you arrive. Buffet options include your choice of a winter or Caesar salad, carved prime rib, chicken limone, maple soy salmon, shrimp pesto pasta, lemon herb lamb chops, honeyed carrots, balsamic bacon Brussel sprouts, rice pilaf, herb roasted redskin potatoes and various desserts. $49 per person plus tax.
Call 316-945-1966 to reserve seating.
Cracker Barrel Old Country Store - North
Dine-in: Open from 7 a.m. to 2 p.m. on Christmas Eve; Closed on Christmas Day
To-go: Cracker Barrel has three Heat n' Serve options that enable you to go from oven to table in about three hours. Their Holiday Ham Heat N' Serve feast feeds 8-10 people and their ham dinner serves 4-6 people. They also have a Prime Rib Heat N' Serve Family dinner that feeds 4-6 people. Need sides? They have those too. Find more details and pre-order by visiting their website. Order between Dec. 21-28. Christmas pick up will take place on Dec. 22-23.
To-go: Pre-order a holiday turkey or ham and select sides for your holiday meal. Just give them a call for pricing or to place an order at 316-260-4950 or drop by their Delano District location at 710 W. Douglas Avenue. Available on a first come, first serve basis. Orders must be placed by Dec. 18.
Dine-in: On Dec. 22 and 23, enjoy a special multi-course, prix fixe Christmas dinner (reservations required). 
To-go: This family farm just north of Wichita is offering a Christmas Family Meal for $220 that you can pick up between 2-6 p.m. Dec. 22-23. The meal serves four and comes with squash soup, green salad with winter toppings, ciabatta, petit tender (beef) with jus and mushrooms, parsnip potato puree, Amandine green beans, fruitcake and Christmas cookies.
They'll also have brunch, wine pairings and a charcuterie board, featuring cheeses that are handcrafted in small batches using milk from Elderslie goats and nearby Faye Farms cows, that you can pick up during that same timeframe. Check out their website for full menus and to order online.
Dine-in: Closed on Christmas Eve and Christmas Day. Celebrating New Year's Eve with chef specials, a new cocktail menu, a champagne toast and more. Reservations available from 4 to 10:45 p.m. Closed on New Year's Day.  
Hog Wild Pit Bar-B-Q (east, northeast, north, northwest, west and south)
To-go: Pre-order a whole slow-smoked turkey or ham for $40 or a complete holiday meal with a whole smoked turkey or ham, mashed potatoes and gravy, stuffing, green beans or corn, a dozen rolls and butter for $99. Call your nearest store to reserve and pick up before Christmas.
To-go: Chef-owner Natasha Gandhi-Rue is offering classics with her made-from-scratch touch, from prime rib and roasted turkey to delicious sides and desserts. Build your perfect holiday meal by choosing the menu items and sizes that fit your tastes and needs, from servings that feed four to eight. The Kitchen is offering prime rib, glazed ham and roasted turkey holiday meals. Each comes with two sides, Parmigiano herb roasted potatoes and broccoli gratin. Be sure to order a sampling of their pies, cakes and specialty spirits too! Learn more and order here.
The order deadline is Dec. 19 (or until items are sold out). Pick up will take place from 11 a.m. to 8 p.m. on Thursday, Dec. 23, and from 11 a.m. to 4 p.m. on Friday, Dec. 24.
Dine-in: Open 11 a.m. to 8 p.m. Christmas Eve and closed on Christmas Day.
To-go: If you want to indulge in premium, hand-crafted pie with your loved ones, pre-order your favorite pie selection from Peace, Love & Pie via their website. They offer whole pies for $25 or their popular Cutie Pies – a smaller version of their whole pies that serve two to four people – for $10. Sample several flavors by getting a Cutie Pack with three of your favorites for $25.
While there isn't an order deadline, availability is based on production capabilities. The sooner you order, the better! Pick up for Christmas by Dec. 24 and stock up for New Year's Day by ordering and picking up on New Year's Eve.
Dine-in: Whether you choose the cozy indoor dining space or the newly enclosed, heated patio you can enjoy the farm-to-table dishes at Public from 11 a.m. to 4 p.m. on Christmas Eve. They will be closed on Christmas Day, but will open back up for brunch and live music on Sunday, Dec. 26.
A special dinner will be served on New Year's Eve and New Year's Day will feature brunch as well as dinner.
Plus, Public specializes in scrumptious frozen pizza, which you can order online.
Dine-in: Open from 11 a.m. to 10 p.m. on Christmas Eve and 11 a.m. to 4 p.m. on Christmas Day; reservations available on their website. Indulge in Certified Angus Beef Steaks with your choice of grilled or fried shrimp. They are open from 11 a.m. to 10 p.m. on New Year's Eve and on New Year's Day as well, featuring the ever-popular Bloody Mary.
Dine-in: Enjoy a meal at Scotch & Sirloin on Christmas Eve from 11 a.m. to 8 p.m. and on New Year's Eve, when they will be open until 11 p.m.
Dine-in: Inside the Ambassador Hotel, Siena Tuscan will be open for dinner service on Christmas Eve and for breakfast from 7 to 11 a.m. on Christmas Day. Make a reservation via Open Table or from their website.
Dine-in: Tanya's will be closed on Christmas Day and New Year's Day, but will be open from 11 a.m. to 3 p.m. on Christmas Eve and from 11 a.m. to 3 p.m. on New Year's Eve.
To-go: Place special orders for bread pudding, a dozen gluten-free peanut butter cookies (with or without dark chocolate sea salt ganache), white cheddar and Gruyere macaroni and cheese take and bakes, and gallons of tomato bisque or chicken curry. A special item that will be offered for this holiday season is a dozen rolled spanakopita triangles.
Two Brothers BBQ-West, Two Brothers BBQ-East, Two Brothers BBQ-College Hill
Dine-in: Open 11 a.m. to 5 p.m. on Christmas Eve and closed Christmas Day.
To-go: Pre-order smoked turkeys for $49.99 (12-14 pounds), spiral sliced honey glazed hams for $64.99 (approximately 8 pounds) as well as several complete meal packs. Meat is also sold by the pound for smaller groups, along with individual sides and desserts, like their delicious apple, cherry or peach cobbler.
Order early, at least three days in advance, by calling your nearest location. Delivery and carryout available.
Dine-in: Open 11 a.m. to 11 p.m. on Christmas Eve and closed Christmas Day.
Wondering where you'll find other Wichita restaurants open on holidays? Visit our website to peruse the variety of restaurant options.