To assist with public safety, please remain diligent in adhering to safe practices outlined by the CDC like wearing a face covering and social distancing, when out in the community and stay home if you feel ill. We recommend confirming details and verifying requirements and/or safety procedures for guests before visiting a local eatery. 
 
Spending the holidays in Wichita is a gift and, for some of us, not cooking also is a gift! Wondering where you can order Christmas dinner in Wichita? We've compiled this list of establishments serving holiday meals, whether you're looking for Wichita restaurants open for dine in or you're in search of restaurants in Wichita with complete Christmas meals prepared for carryout or delivery.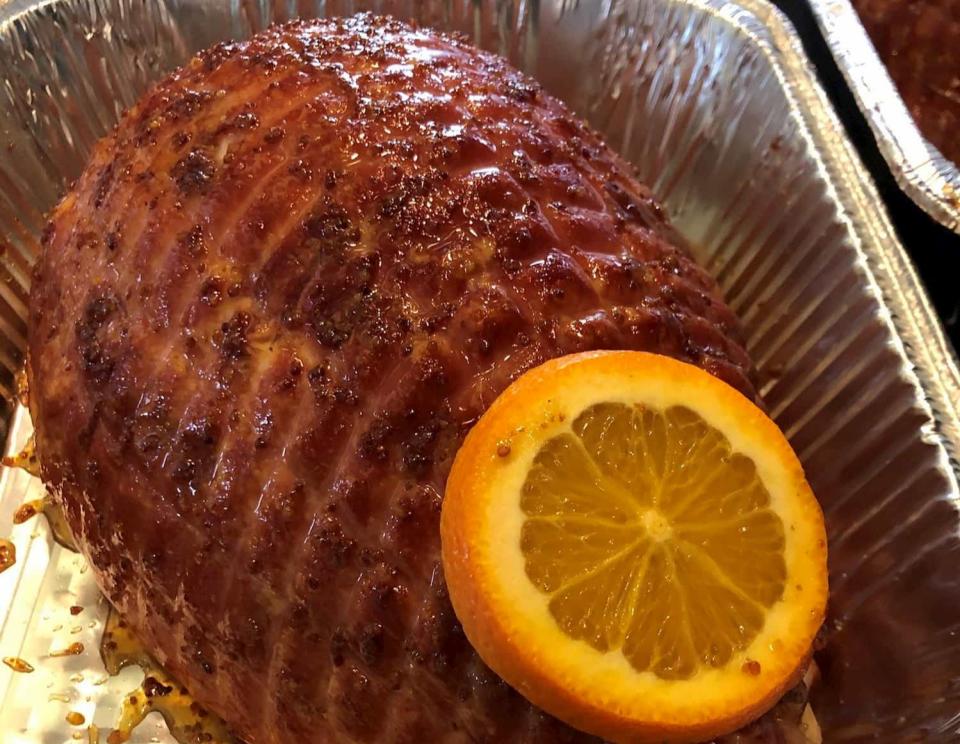 The Kitchen
To-go: Order your customized meal from The Kitchen until the popular downtown restaurant reaches its maximum order capacity. Chef-owner Natasha Gandhi-Rue is offering three classic options this holiday. You can choose from her made-from-scratch Roasted Garlic and Herb Turkey, Orange-Cognac Glazed Ham or tender, flavorful prime rib served with classic horseradish sauce and red wine demi-glace. All three options come with loaded mashed potatoes (cheeses, smoky bacon and chives), honey glazed carrots and cheesy broccoli gratin.
Build your perfect holiday meal by choosing the menu items and sizes that fit your tastes and needs, from small servings that feed two to large servings that feed eight. You won't want to miss one of The Kitchen's pies or cinnamon roll bread pudding with Bourbon sauce, either. Visit the restaurant's Facebook page for the link to order from the special menu or call 316-928-2899. The restaurant also offers contactless curbside pickup for those not wanting to come inside to get their order.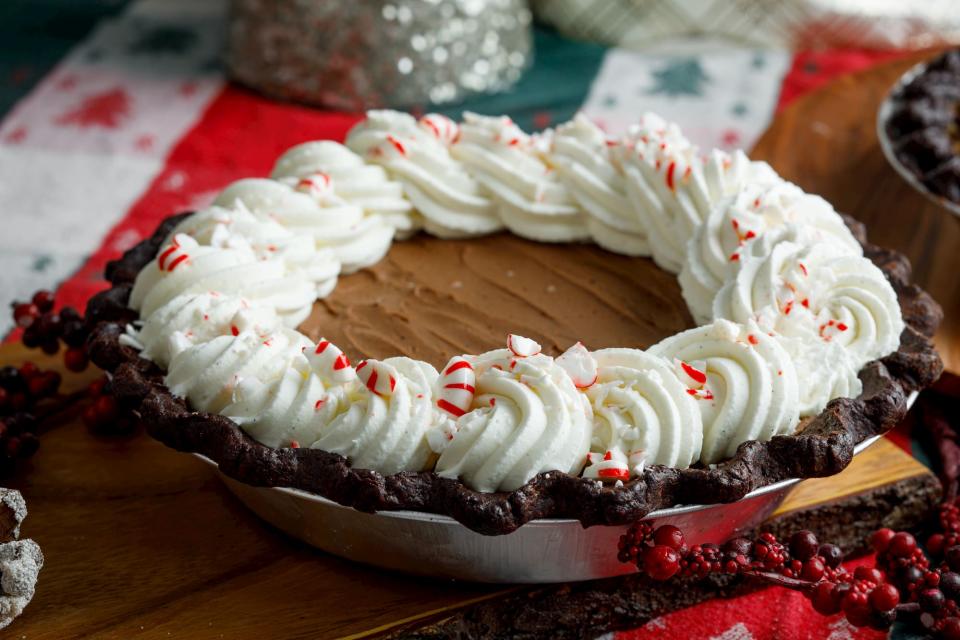 Peace, Love & Pie
If you want to indulge in premium, hand-crafted pie with your loved ones this year, pre-order your favorite pie selection from Peace, Love & Pie via their website. Order 24 hours in advance to guarantee your order.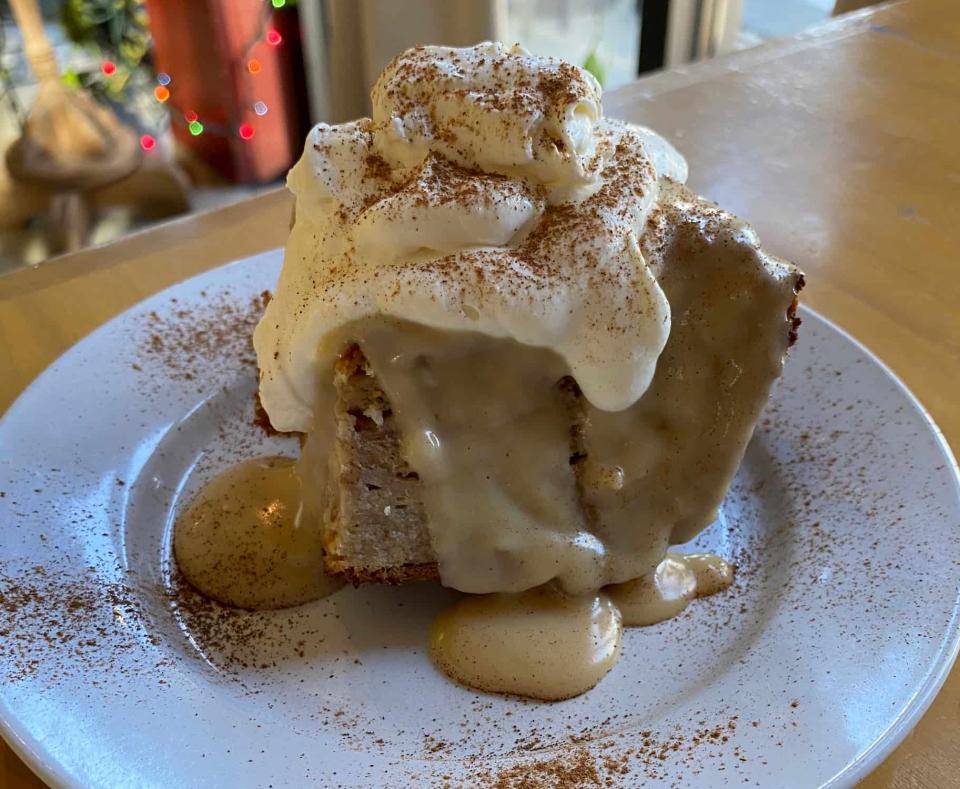 Tanya's Soup Kitchen
Known for their mouth-watering soups, Tanya's Soup Kitchen also makes scrumptious holiday dishes and desserts. For the holidays, they are offering White Cheddar and Gruyere Mac N Cheese in family style or individual serving sizes (Full, 48 or 24 servings or Half, 24 or 12 servings), Pan Bread Pudding with salted caramel and whipped cream, a dozen gluten free peanut butter cookies with dark chocolate sea salt ganache drizzle.
You can also pre-ordered gallons of soup and strata in two flavors – bacon, sausage and mushroom breakfast strata with caramelized onions and gruyere cheese or roasted vegetable breakfast strata with fresh herbs and goat cheese. Give them a call at 316-267-7687 to place your order for pickup by Dec. 21.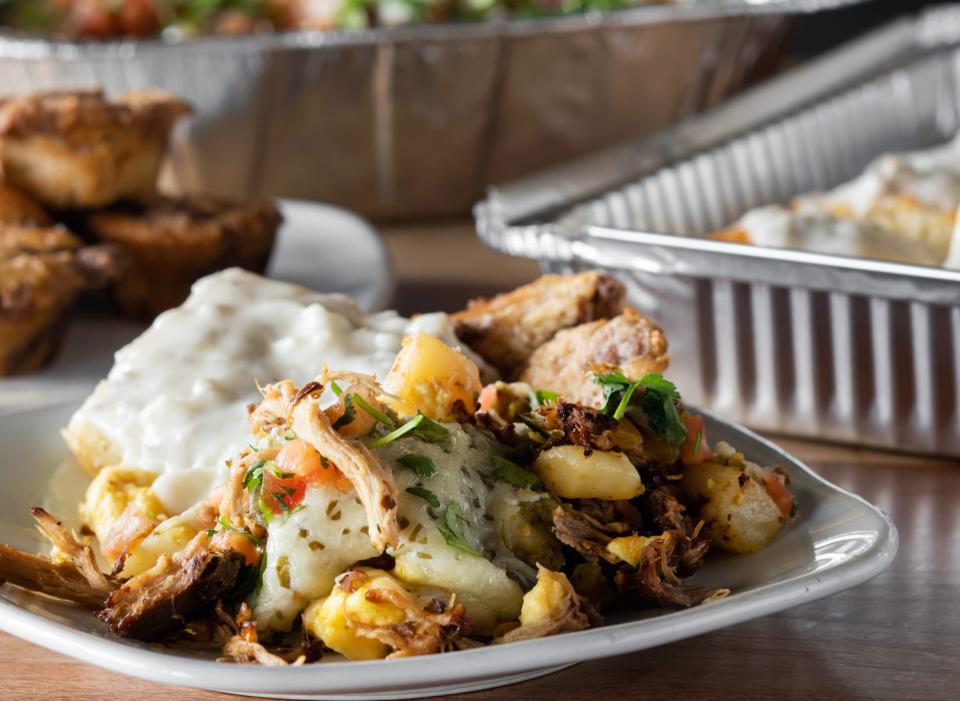 HomeGrown
At Homegrown Wichita's three locations (Downtown, Bradley Fair and West), they will be offering three Holiday Brunch Kits to choose from:
Holiday Brunch: House salad, sliced turkey breast, carved ham or both, turkey gravy, rosemary potatoes and roasted veggies
Biscuits & Gravy Brunch: Homemade drop biscuits served with Yoder Sausage Gravy, a dozen cage-free eggs to make fresh, choice of Yoder bacon, sausage, or ham and rosemary potatoes
Salsa Verde Brunch: This option is prepared to re-heat in the oven and comes with a dozen cage-free eggs to make fresh, a pan of potatoes with onions, salsa verde, Monterrey Jack cheese and is served with Homegrown's handmade Pico de Gallo!
Each kit is $75 and serves 4-6 people. Their famous homemade pop-tarts and mini coffeecake muffins are included. You can also add a bowl of fruit and a mimosa kit to any of their brunch options.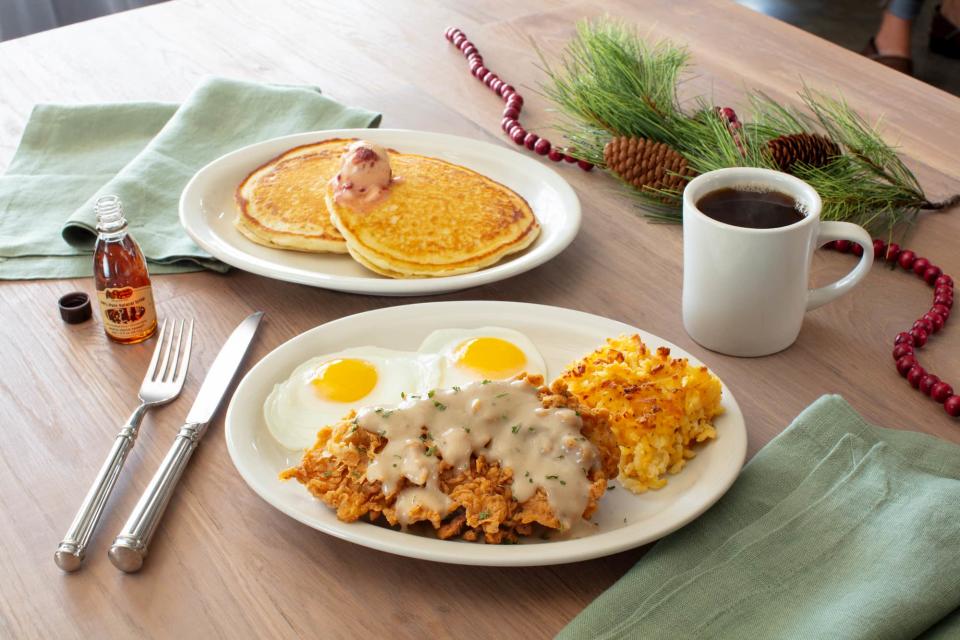 Cracker Barrel Old Country Store
Dine-in: Grandma's Holiday Sampler is available all season long and features hand-breaded country fried turkey with herbed pan gravy, two eggs, two buttermilk pancakes along with cranberry orange butter and pure natural syrup, as well as choice of fried apples or hashbrown casserole. Be sure to visit the restaurant's website and join the waitlist.
Cracker Barrel will be closed on Christmas Day. On New Year's Eve, guests can dine in-store at Cracker Barrel until 9 p.m. and place to-go orders until 10 p.m. On New Year's Day, Cracker Barrel is prepared to welcome guests starting at 7 a.m.
To-go: Cracker Barrel has a heat and serve feast for 8-10 people or a dinner for 4-6 people. Both of these traditional meals come chilled and can be ready to eat in 3 hours or less. Starting at $69.99; order 24 hours in advance and pick up 12/21-12/28. A variety of whole, fresh-baked pies are also available now through Dec. 24 to create a sweet ending to any holiday meal. Prices start at $11.49* per pie. For guests wanting to enjoy Cracker Barrel's at-home holiday meal offerings on Dec. 25, orders will be available for pick up until 2 p.m. on Christmas Eve.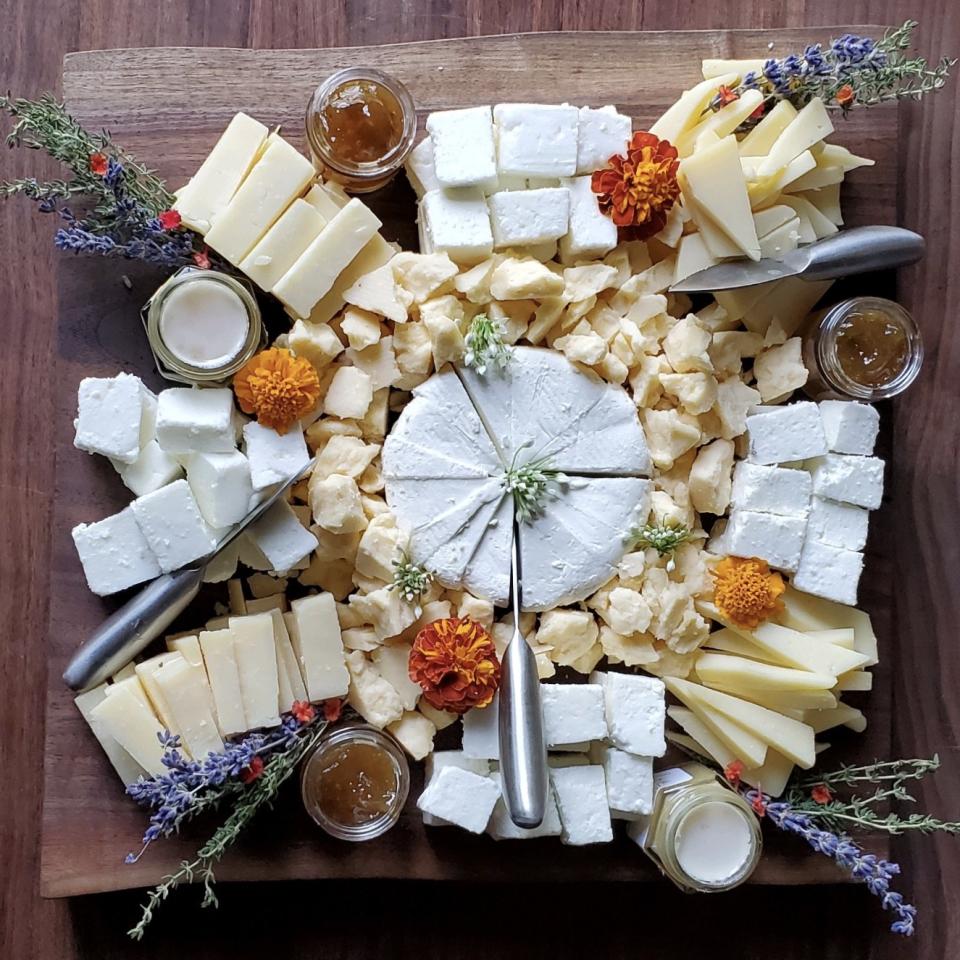 Elderslie Farm
To-go: This family farm just north of Wichita is offering Christmas Family Meals for four people that you can pick up between 2 to 6 p.m. on Dec. 23 and 24. All meals are fully cooked and come with simple reheating instructions. Expect the same type of meal that they serve during their locally-sourced, farm-to-table dinners.
They also have a cheese course, featuring handcrafted Elderslie Creamery cheeses, through the month of December, along with a wine pairing for Christmas dinner. Gift boxes featuring Elderslie Creamery cheeses are available for pickup, delivery or shipping and custom Family Meals and cheese/charcuterie boards are available as well. Family Meals are regularly available for curbside pickup between 4-6 p.m. on Thursday, Friday and Saturday evenings at the farm and the Seafood Shop (21st and Webb). Order online or contact Elderslie at hello@eldersliefarm.com.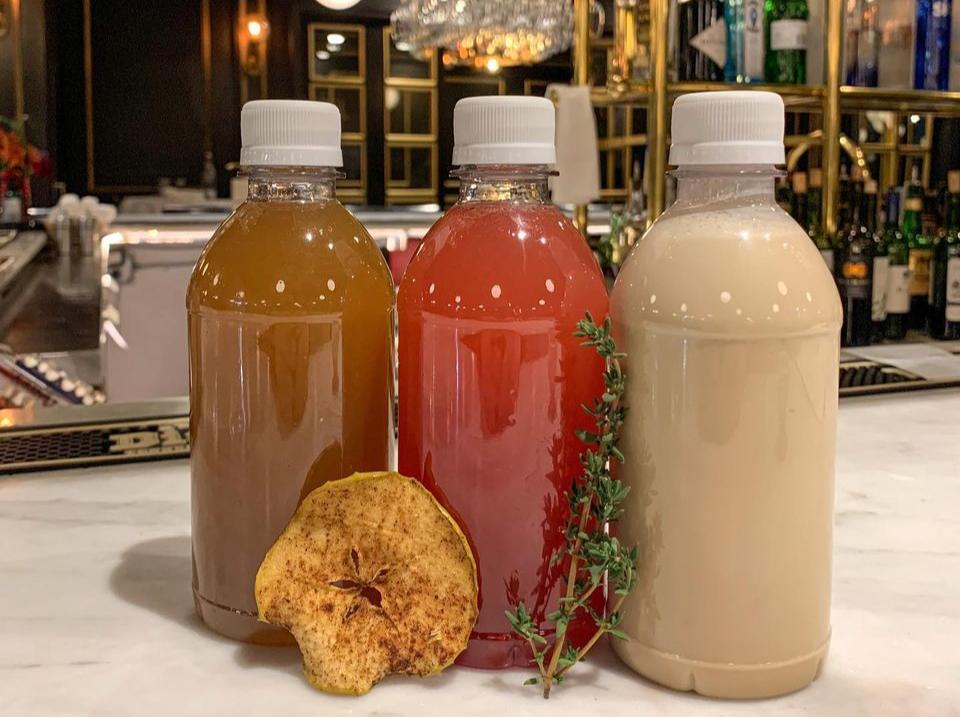 Georges French Bistro
To-go: Holidays meals for four are available for pick up at Georges French Bistro. Choose from a 16-ounce Chateaubriand, honey orange glazed salmon, whole roasted lemon rosemary chicken and whole vegetarian quiche. All meals are fully cooked and come with reheating instructions for easy preparation. Each meal comes with a charcuterie board as an appetizer, a gourmet salad, dauphinoise potatoes, sauteed haricot verts and two desserts – rosemary pound cake with apple butter and chocolate mouse cake with peppermint cream.
You can also order to-go cocktails and wine. See the full menu on their Facebook page and place your order by calling 316-831-1325 or email georgesfrenchbistro@gmail.com. Orders must be placed by 5 p.m. on Dec. 21 and can be picked up from 10 a.m. to 2 p.m. on Dec. 23 and 24.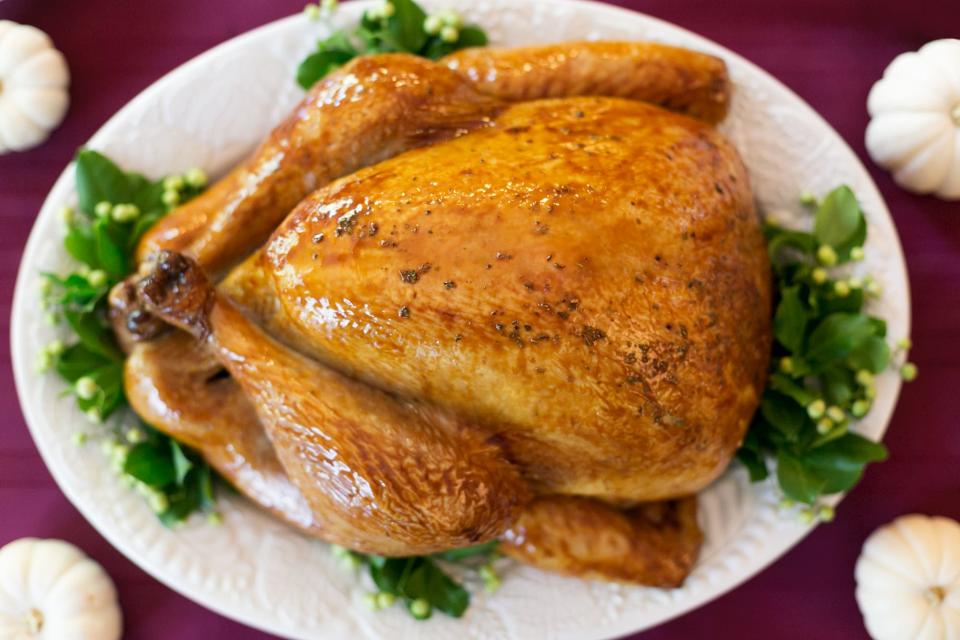 Olive Tree Catering
In addition to the traditional Holiday Catering that is offered throughout the end of the year, Olive Tree's Christmas Family Dinners will make a perfect gift this holiday season. Available for pick-up or convenient delivery, these deliciously prepared three course dinners are packaged cold to be reheated on Christmas Day.
A special option they are offering this year is Food For A Friend, where customers can order a meal for their loved ones. A special message can be included on a card, which will be delivered with the meal when it is convenient for your friend.
Options include a smoked salmon tray with classic garnish and melba toast or one of their reindeer-themed holiday meals:
Dasher Christmas Brunch – Individual Boxes: Cheeses, Smoked Salmon, Salad, Hummus, Grape Leaves, Pita, Prime Rib, BBQ Ribs, Fried Chicken, Quiche, Mashed Potatoes and Gravy and Christmas Yule Log
Dancer Christmas Dinner – Individual Boxes: Sliced roasted turkey, Bread Stuffing, Wild Rice, Green Beans, Cranberry Sauce, Gravy, Winter Salad with Smoked Gouda, Apples, Walnuts, and Champagne Dressing, Potato Roll and Butter and Christmas Yule Log
Prancer Christmas Dinner for Two: Pork Chops Calvados with Apple Cranberry Calvados Sauce, Sweet Potato Casserole and Bacon Wrapped Brussels Sprouts, Spinach, Pears, Blue Cheese, Walnuts, and Balsamic Dressing, Rolls and Butter and Christmas Yule Log
Comet Christmas Dinner for Two: Filet of Beef Tenderloin with Mushroom Burgundy Wine Sauce (seasoned and seared; prepared rare to medium rare for reheat in oven), Scalloped Potatoes and Roasted Vegetables, Winter Salad with Smoked Gouda, Apples, Walnut, and Champagne Dressing, Rolls and Butter and Christmas Yule Log
Donner Christmas Dinner for Four: Chateaubriand for four with mushroom Burgundy Wine Sauce (seasoned and seared; prepared rare to medium rare for reheat in oven), Scalloped Potatoes and Roasted Vegetables, Winter Salad with Smoked Gouda, Apples, Walnuts, and Champagne dressing, Rolls and Butter and Christmas Yule Log
Blitzen Christmas Dinner for Six-Eight: Roasted Turkey half (boned), Bread Stuffing, Wild Rice, Green Beans, Cranberry Sauce, Gravy, Winter Salad with Smoked Gouda, Apples, Walnuts, and Champagne Dressing, Potato Rolls and Butter and Christmas Yule Log
Beverage selections include an 18 oz bottle of Bourbon Hot Chocolate with Almond Milk, an 18 oz bottle of Fresh Squeezed Orange Juice or a bottle of Prosecco. Meals and beverages can be ordered by phone by calling 316-681-1100 or online. Curbside pickup and delivery will be available until 6 p.m. on Dec. 24.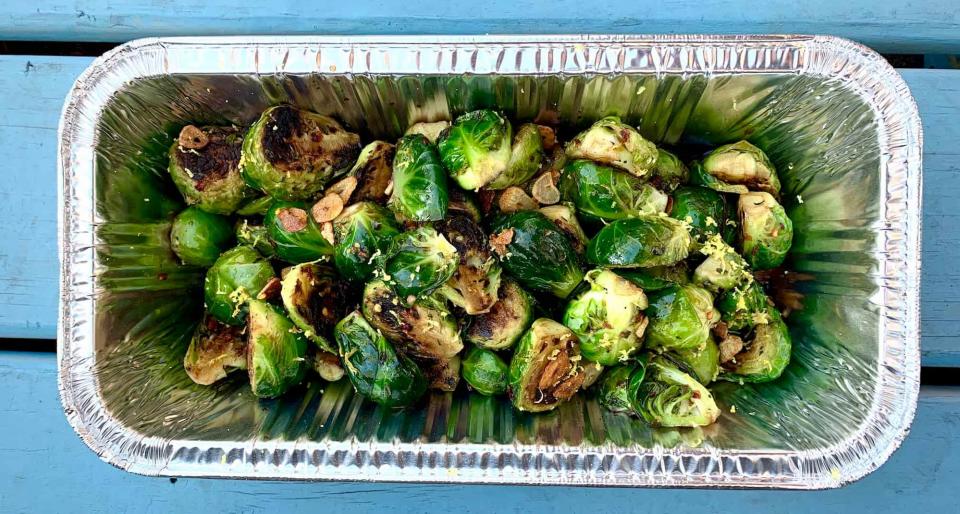 Public at the Brickyard
Public at the Brickyard is sharing their favorite holiday flavors through their Holiday Carryout offerings. Their Charcuterie Spread with Maple Board features Public's favorite meats, cheeses, pickles, season jam and much more – all on a beautiful board from Fatbird Food Boards. They are also offering a whole duck cooked on a Yoder Smoker for $40. Don't forget your sides! Choose from a dozen potato rolls, Potato Au Gratin or Brussel sprouts roasted with lemon, thyme and balsamic. Pumpkin pie, apple pie and apple cinnamon rolls as well as eggnog by the quart are also available.
Curbside Pickup for their holiday carryout offerings will take place from 4 to 9 p.m. on Dec 23 and Noon to 9 p.m. on Dec. 24. Items are take and bake, except for the duck, pies and charcuterie. Order by midnight on Dec. 21 and you can schedule your pick up time at check out.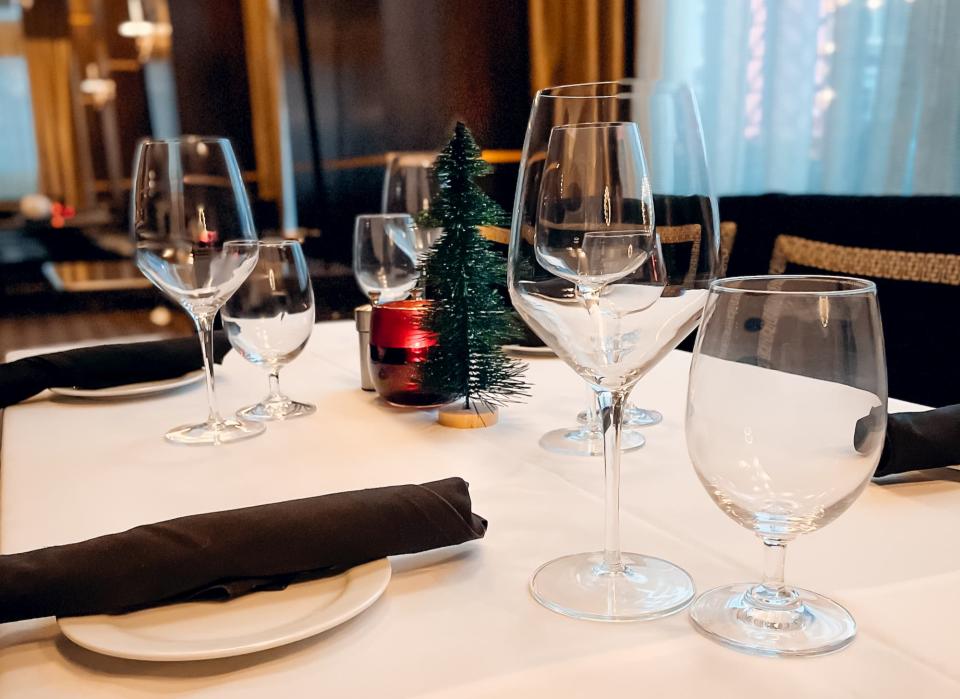 Siena Tuscan Steakhouse
Dine-in: On Christmas day, dine in Siena Tuscan Steakhouse's beautiful and festive dining room from 11 a.m. to 4 p.m. with a delicious prix fixe holiday menu. Their Christmas Ham Dinner includes sliced holiday ham, mashed potatoes and gravy, roasted Brussel Sprouts and macaroni and cheese for $32. Also available with be a Prime Rib Dinner, complete with a roasted ribeye sliced to order with a baked potato and green beans. Make sure to add their bread pudding with white chocolate and Brandy sauce for dessert for $8.
Reservations can be made online, or pre-order your holiday meal to take home and feed the family. Their Take & Bake Ham Dinner feeds up to four people for $120 and includes rolls and pecan pie. Orders must be placed by Dec. 22 and can be picked up on Christmas Eve. Give them a call at 316-719-7102.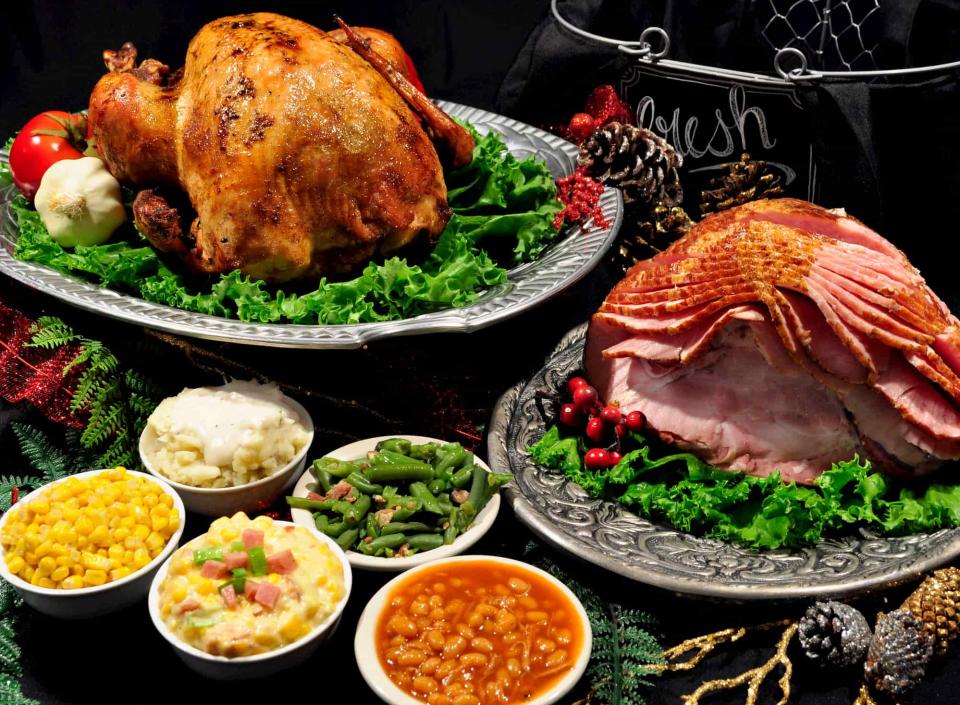 Two Brothers BBQ
To-go: Pre-order smoked turkeys for $39.99 (12-14 pounds), spiral sliced honey glazed hams for $64.99 (approximately 8 pounds) as well as several complete meal packs. Meat is also sold by the pound for smaller groups, along with individual sides and desserts. Order early, at least three days in advance, by calling your nearest location (West, East, and College Hill). Delivery and carryout available.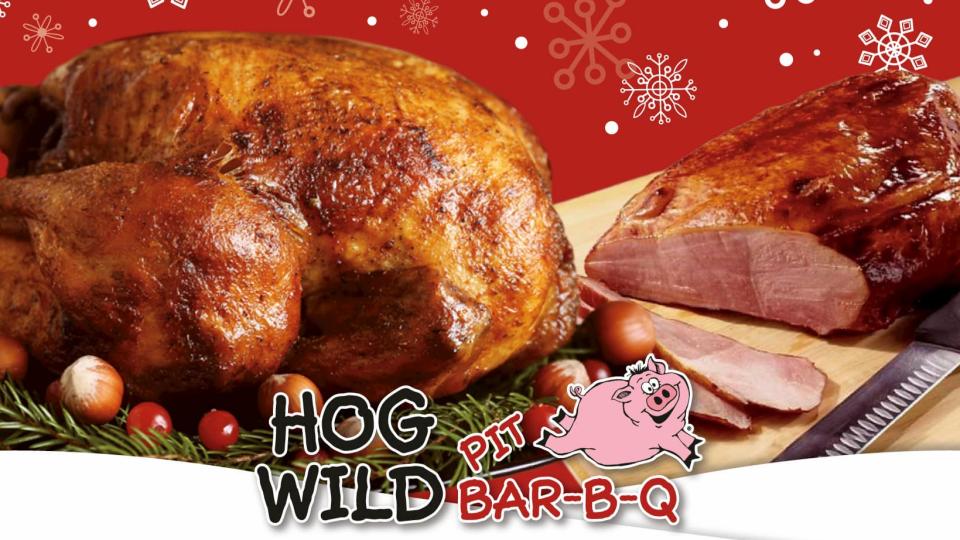 Hog Wild Pit Bar-B-Q
Pre-order a whole slow-smoked turkey for $39.99 (approximately 12 pounds), a smoked boneless ham for $35 (approximately 4.5 pounds) or a complete Thanksgiving meal with a whole smoked turkey, mashed potatoes and gravy, stuffing, green beans or corn, a dozen rolls and butter for $99. Call your nearest store to reserve (East, North, West, Northwest, South, S. Rock).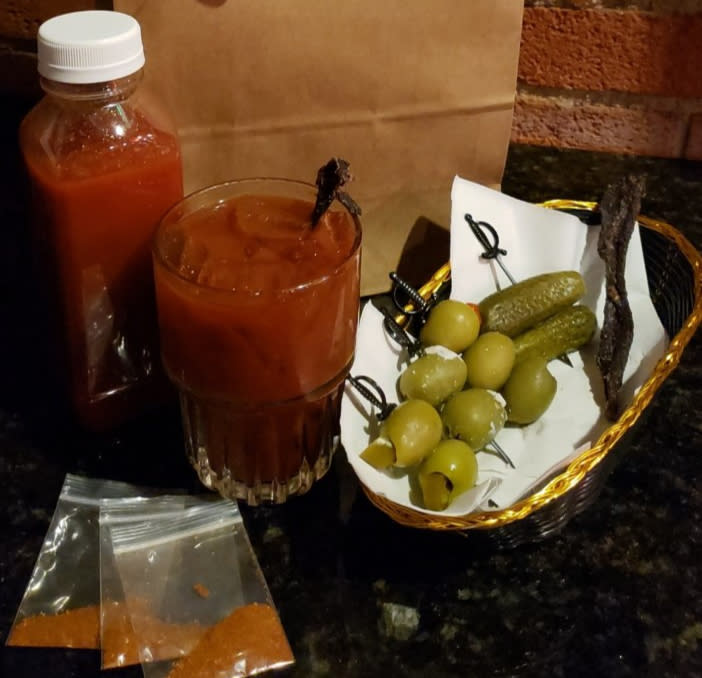 Mort's Martini & Cigar Bar
To-go: Get your Mort's Martini & Cigar Bar fix this holiday season by ordering one of their Holiday To-Go Packs. Their Bloody Mary Pack serves four and includes Mort's famous Bloody Mary mix and four sticks of beef jerky. It comes in unleaded (alcohol free) for $15 or leaded (4 vodka shots) for $25. Then, add on a Snack Pack to the Bloody Mary Pack. A small pack is $4 and includes 1 beef jerky and 1 skewer with blue cheese, jalepeno olives and pickles. For $12, the large pack is 4 sticks of beef jerky and 4 skewers.
A Bubbles Pack is $20 and comes with one bottle of bubbles and two additional flavors. Choose from Shimmering Strawberry, Sparkling Pomegranate, Blackberry Bliss and Bellini.
Mix and match Holiday Gift Packs, in which you can choose from a Mort's t-shirts, $25 gift card, a Mort's hat or their cigar collection, are also available. You can also get gift cards in any denomination! Full details can be found on their Facebook page. To order, send them a Facebook message or give them a call at 316-262-1785. Pick up will take place between 3 and 7 p.m. on Dec. 19 and 20 and also on Christmas Eve.
Chisholm's American Beef & Ale House
Dine-in: Chisholm's American Beef & Ale House at the DoubleTree by Hilton Wichita Airport is featuring prime rib specials for Christmas Eve and New Year's Eve. On Christmas Eve, they will be offering their recently updated dinner menu with the addition of a Prime Rib Special, which comes with a vegetable and potato for $28. Appetizers, salads and desserts are a la carte. In addition to prime rib, their new menu includes ribeye, KC strip, filet mignon, Carne Asada, steak tips as well as chicken and seafood items.
On New Year's Eve, they will be offering a prime rib dinner, but with a twist. For $45.00 plus tax and service charge, you and a loved one will receive a welcome glass of champagne, choice of two salads, 12 oz prime rib entrées with a glass of red or white wine and choice of two desserts.
Country Kitchen
To-go: Needing to feed 8-10 people? Country Kitchen at Best Western Wichita North has a traditional family meal available for pick up. Grab six pounds of turkey and ham each with stuffing, corn, mashed potatoes and gravy, green bean casserole and dinner rolls. Top it off with a full pumpkin pie and bring it home, all for only $139.99. Must be ordered by 6 p.m. on 12/22 and picked up Christmas Eve between 8 a.m. to noon. Call 316-832-9704 to order.
Delano Barbecue Company
Pre-order a holiday turkey or ham for your holiday meal for $40.95. from Delano Barbecue Company. Just give them a call at 316-260-4950 or drop by their Delano District location by Dec. 18 to place your order. Available on a first come, first serve basis so reserve yours today!
Eberly Farm
Eberly Farm can provide full-service catering, drop off catering or you can choose from the holiday a la carte menu of appetizers, sides and meats, including spiral cut ham with glaze and pulled turkey, pork, sausage, smoked brisket and ribs and hot links by the pound. Sides include mashed potatoes, turkey gravy, dressing and dinner rolls. Call 316-722-3580 or email eberlyfarm@sbcglobal.net for more information or to place your order.
Wondering where you'll find other Wichita restaurants open while planning your holidays? Peruse a variety of restaurant options.