If you're planning to attend the 2018 NCAA Men's Basketball Championship coming to Wichita in March 2018, you'll have some time downtown before, between and after games. You'll find there is plenty to do in Wichita even if you're on a budget. Recently, Budget Travel magazine, Trivago and MSN all named Wichita a best value destination.
We've put together this list of free and nearly free activities within 10 minutes of INTRUST Bank Arena. The list includes destinations that can be reached by walking, driving your own vehicle or using a ride-hailing service, riding the free Q-Line trolley or bicycling using Bike Share ICT.
Look at art, 0-1.0 miles of the arena
Many of Wichita's art galleries, art museums and art organizations are downtown. Immediately south of the arena, you'll enjoy touring Commerce Street, a revitalized warehouse district that is home to art and design galleries, companies and organizations. Just a couple blocks north of the arena you'll find Tessera Fine Art Gallery, home to one of Wichita's largest original art collections, and Gallery XII, Wichita's longest running artists' cooperative art gallery. In Old Town, you'll find CityArts, our city-run arts center offering classes as well as an exhibition gallery and gift boutique featuring works by local and regional artists.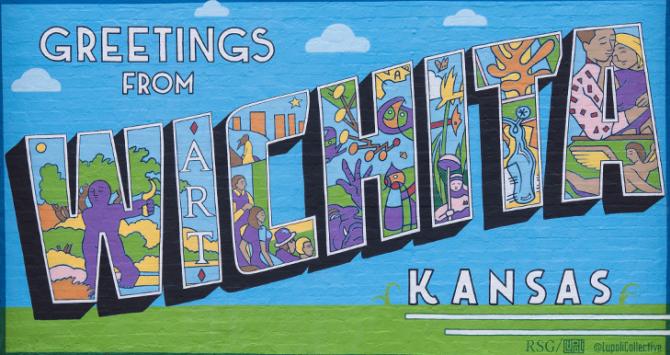 As you explore downtown Wichita, you'll notice plenty of outdoor public art, too. Click here to learn about the murals and Keepers on Parade art you can tour downtown along with the 31 bronze sculptures along Douglas Avenue.
Bike Share ICT, 0-0.5 miles of the arena
Rent a bicycle through Bike Share ICT to explore the trails along the river, or ride to several of the museums located along the riverbanks. Simply download the Bike Share ICT application on your phone, choose your rental package and take off. There are 100 bicycles and 19 stations (including one right outside INTRUST Bank Arena) around downtown Wichita. Rent the bikes for only $3 an hour, or get a yearly membership for $30.
Go for a stroll, 0-1.5 miles of the arena
Take a walk and learn about people and places of the area and Kansas using walking paths in downtown Wichita or by exploring one of our districts. One mile to the northwest of the arena is the Historic Delano District and a half-mile to the northeast is the Old Town District. The Art Trail, Wichita Historic Trail, Exploration Trail, African American Trail, American Indian Trail, Tallgrass Film Festival Trail and People of Kansas Trail go through the heart of Wichita.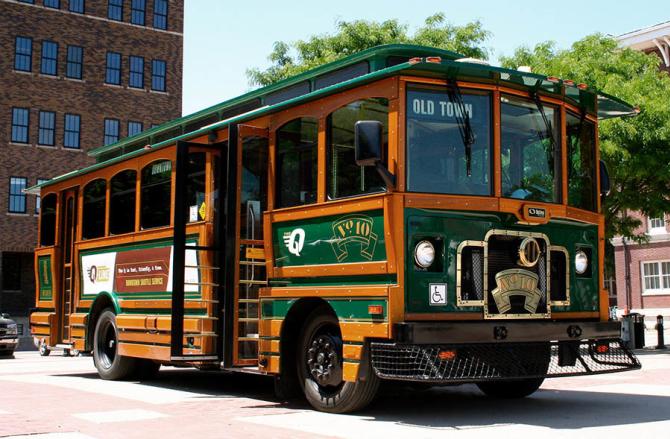 Ride the Q-Line trolley, 0.2 miles north of the arena
Wichita has a free trolley called the Q-Line and its route runs on Douglas Avenue, just a short walk from the north side of the arena. Jump on board the Q-Line for fun and convenient transportation to restaurants, bars, hotels, museums and entertainment venues throughout the city core – from as far west as the Historic Delano District to as far east as Clifton Square.
The Q-Line has friendly, knowledgeable drivers and operates four routes: Douglas, Old Town, Delano/Old Town and Government Center. Click here for a map showing the routes. There are designated Q-Line stops approximately every other block and the trolleys run about every 10 minutes. Or, you can catch the Q-Line at any intersection along the routes. It's easy to flag it down: simply locate the trolley as it approaches, then wave. The trolley will pick you up quickly at the nearest intersection. Once on board, you can stop the Q-Line at any time by pulling the cord located near the windows on both sides of the trolley. The free Visit Wichita mobile app includes a real-time Q-Line map so riders can track how soon the next trolley will arrive.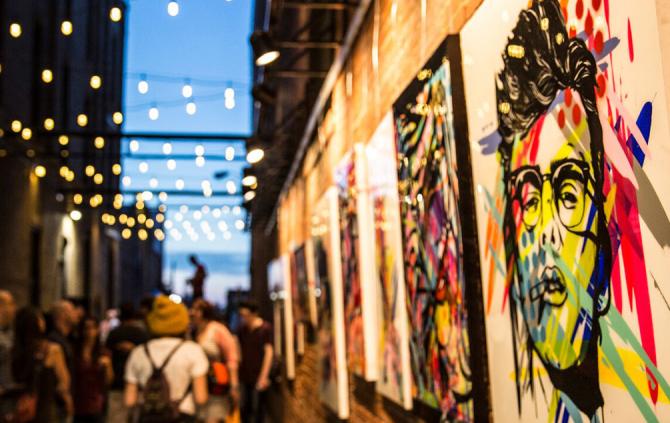 Gallery Alley, 0.3 miles north of the arena
Gallery Alley transformed a little-used alley in the heart of downtown into a vibrant public space with four sculptures as well as a rotating selection of art during Final Friday art crawls. Seating has been installed so that visitors can bring meals from nearby dining options. You might find a movie or concert taking place in the space.
Coleman Factory Outlet and Museum, 0.5 miles north of the arena
This is the one and only place to see more than 2,000 current Coleman products at direct factory pricing. It's free to browse the store and the Coleman Museum, where you'll discover the history of this 100+ year old company that started in Wichita.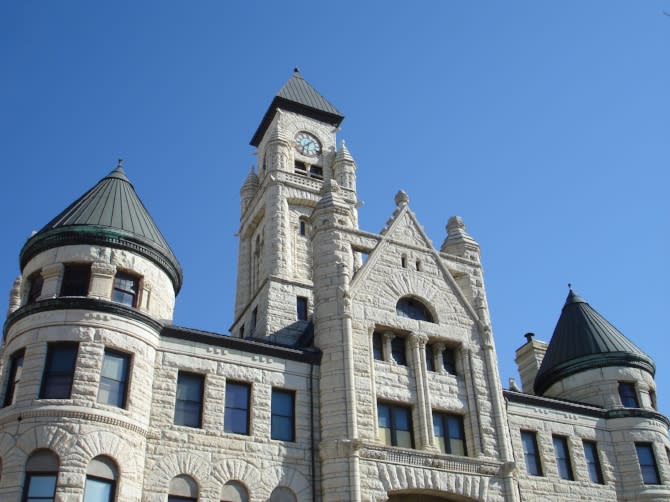 Wichita-Sedgwick County Historical Museum, 0.5 miles northwest of the arena
Located in the original 1890 City Hall with its 170-foot tall clock tower, the Wichita-Sedgwick County Historical Museum features four floors of special and long-term exhibits examining Wichita and Sedgwick County's rich history and cultural heritage. The museum's collection of 70,000 artifacts includes a Wichita-built 1916 Jones Six automobile, a full-scale Victorian home interior and many other exhibits embodying the area's vibrant history from its settlement in the 1860s to the era of aviation and electric guitars. Admission is $5 for adults, $2 for ages 6-12 and free for kids under 6.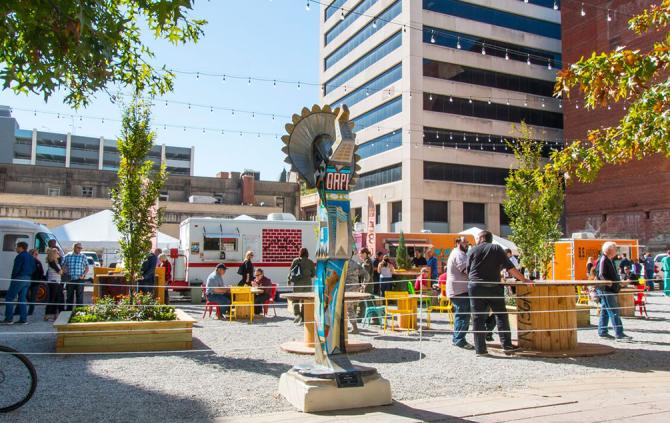 ICT Pop-Up Urban Park, 0.5 miles northwest of the arena
The urban park popped up where a development project was left incomplete. It's a fun public space where the community interacts and connects. Enjoy a bright, thriving environment where you can play a game of table tennis, take selfies with local art installations, connect to free Wi-Fi, answer the chalk talk question on the wall and grab a drink or snack from one of the food trucks that regularly rotate through the space.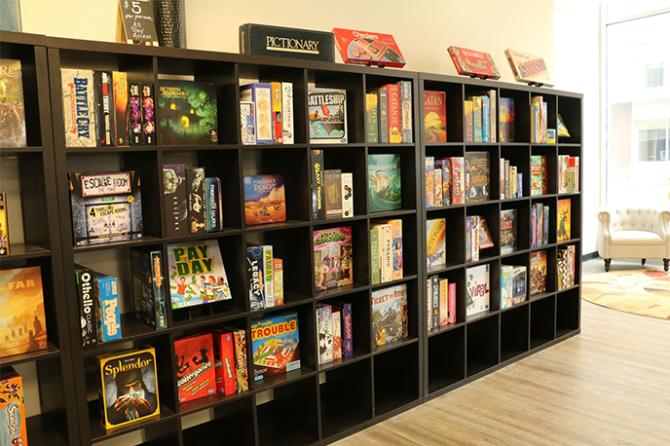 Sente Games and Refreshments, 0.5 miles northwest of the arena
Right across from the Pop-Up Park is a fun indoor destination: a place to play board games and enjoy gourmet coffee, hot chocolate, Italian sodas or snacks. The 2,500-square-foot corner suite has lots of windows and comfortable seating, and for $5 per person you can stay as long as you'd like and play any of the 200+ board games the establishment shares, from familiar games like Connect Four to more obscure games like Go. You'll find classic and contemporary games for all ages.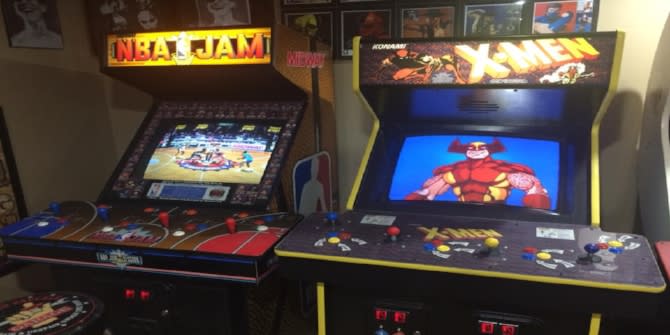 The Arcade, 0.5 miles northeast of the arena
The Arcade opened in December offering hours of entertainment. You pay $8/hour or $10/day, then can play any of the 60 game cabinets, which are set to free play. They serve snacks and soft drinks.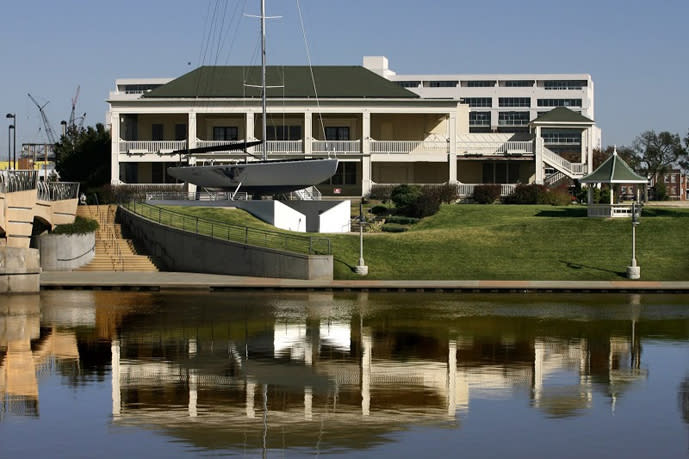 Kansas Sports Hall of Fame, 0.6 miles west of the arena
The Kansas Sports Hall of Fame offers free admission to its gallery highlighting the rich history of sports in Kansas through pictures, videos, artifacts and interactive exhibits. Inductees you've likely heard of include Barry Sanders, Wilt Chamberlain, Lynette Woodard, Walter "Big Train" Johnson, Jim Ryun, Dean Smith, Adolph Rupp, John Riggins and many more!
The HOF is housed at the Wichita Boathouse, a 1920s building with an elaborate grand staircase, beautiful hardwood floors and a gorgeous veranda overlooking the Arkansas River.
Wichita Toy Train Club & Museum, 0.6 miles east of the arena
The Wichita Toy Train Club is an organization of collectors and operators for both classic tinplate and current hi-rail trains. Club members are generally oriented toward "O-gauge" (Lionel, MTH, Atlas, Williams, Weaver, Marx) and "S-gauge" (American Flyer). Some members are also interested in the larger "G" and smaller "HO" and "N" gauges, with some extensive layouts housed at the museum. There are more than 50 feet of multilevel display cases showcasing trains and related items as well as full size train items. The museum is open 10 a.m. to 5 p.m. on Saturdays only. Admission is $5 and is free for children 12 and under accompanied by a paying adult.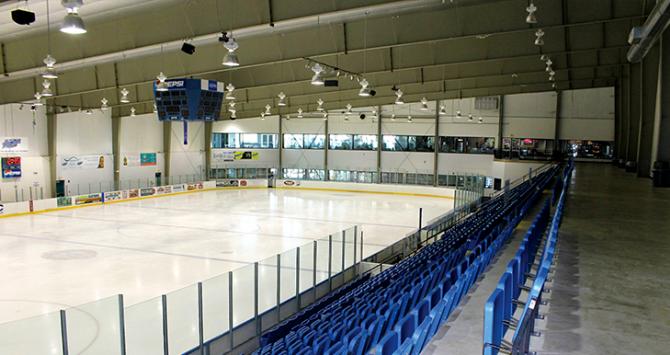 Wichita Ice Center, 0.8 miles west of the arena
Whether you're into hockey, figure skating, speed skating or just looking to spend time with family, the Wichita Ice Center offers lessons and time on the ice at their indoor facility. They offer public ice skating sessions daily. Check their schedule on Facebook for times. They rent skates and also operate a concession stand. Cost ranges from $5 to $10, including skate rental, depending on the day of the week. The center also offers a family skate package for $30, including admission and skate rentals for a family of four.
Kansas Firefighters Museum and Fallen Firefighters Memorial, 1.1 miles south of the arena
This is a 1909 restored fire house that contains many vehicles and artifacts depicting the firefighting history in Kansas. This is the official Kansas State Firefighters Museum, and the adjacent Kansas Fallen Firefighters Memorial is open 24/7 year round. The museum is open 11 a.m. to 3 p.m. Saturday only and admission is $3 for adults, $2.50 for seniors, $2 for students and free for children 5 and under.
The Kansas African American Museum, 1.3 miles northwest of the arena
The Kansas African American Museum is a regional arts and cultural museum dedicated to the education, identification, acquisition, research, collection, exhibition, presentation and preservation of art reflective of African American life and culture. Admission is $5.50 for adults, $4.50 for seniors and students and $2.50 for kids 5 and older. The museum has a special exhibit Jan. 6-May 5 titled, "The Fine Art of Samella Lewis."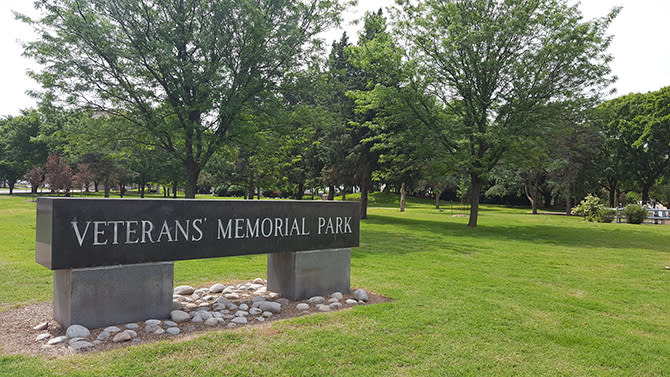 Veteran's Memorial Park, 1.5 miles northwest of the arena
Since Veteran's Day in 1977, Wichita has paid homage to the men and women who have fought and died in various wars throughout history. Statues and sculptures honor their bravery at Veteran's Memorial Park in Riverside. From the Bicentennial Flag Pavilion to the individual memorials for specific wars and service members, visitors can pay their respects to those who have given the ultimate sacrifice. Take the "Veteran's Memorial Walk" along the east side of the Arkansas River right to the park and witness for yourself this beautiful and unique collection. The tour takes about 1-2 hours to complete.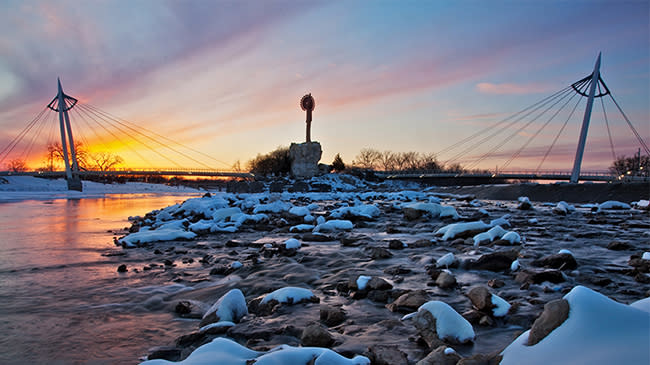 Keeper of the Plains, 1.6 miles northwest of the arena
Wichita's most iconic monument, the Keeper of the Plains, is beautiful anytime of day and it's always free. Wichitan and Native American artist Blackbear Bosin built this 44-foot-tall sculpture in 1974. It stands at the confluence of the Arkansas and Little Arkansas rivers, surrounded by a plaza that features exhibits depicting the Plains Indians' way of life and representing the four elements essential to life – earth, air, water and fire. Many visitors stop by during the day to explore the plaza and exhibits, then return for the evening Ring of Fire, a lighting of fire pots at the base of the Keeper. The ceremony takes place at 9 p.m. from March-October and 7 p.m. from November-February, weather permitting, and the pots burn for 15 minutes.
Riverside Park, 1.6 miles northwest of the arena
Riverside Park is one of the city's 144 parks that total 5,000 acres of land. Flanked by the Arkansas River on three sides, this park features a children's playground, an interactive fountain and a Kansas Wildlife Exhibit that locals call the "Riverside Zoo." Families with young children can stay entertained for hours here without paying a cent.
Wichita Art Museum, 2 miles northwest of the arena
The Wichita Art Museum is free on Saturdays year-round and the outdoor Art Garden is free 24/7, featuring 11 sculptures on 8 manicured acres. Admission to the galleries on other days is $7 for adults, $5 for seniors, $3 for students and free for kids under 5.
The state's largest art museum houses one of the country's finest collections of American art, spanning three centuries of paintings, sculptures, works on paper and decorative arts. The museum features masterpieces by Cassatt, Hopper, Russell and Chihuly. The museum will be hosting two special exhibits this spring: "Monet to Matisse: French Moderns from the Brooklyn Museum, 1850–1950" runs Feb. 24-May 20 and a complementary exhibit presenting gems from WAM's prized collection "Americans in Paris: The French Connection from the Wichita Art Museum Collection" will run through June 17.
For more blogs about things to down while in downtown Wichita, see below: 
Six spots to watch sports near Wichita's INTRUST Bank Arena
Where to shop when downtown at an INTRUST Bank Arena event
Five outdoor activities near INTRUST Bank Arena
Six indoor activities near INTRUST Bank Arena
History of NCAA and Wichita's connection
Where to eat when downtown at an INTRUST Bank Arena event
What to do inside INTRUST Bank Arena
Mark your calendar now for free Open Practice Day at INTRUST Bank Arena
Don't miss Fan Fest in downtown Wichita
For the answers to all your NCAA Tournament questions, click here.