Wichita's convention center, Century II Performing Arts & Convention Center, is conveniently located in the heart of the city. Thanks to a recent resurgence in Wichita's core, event and meeting goers can easily make their way to dining, entertainment and more – all just blocks from the convention center.
Meeting goers will love how easy it is to flow into the vibrant music, arts and dining scene happening all around the city's core, which is less than 10 minutes from the airport.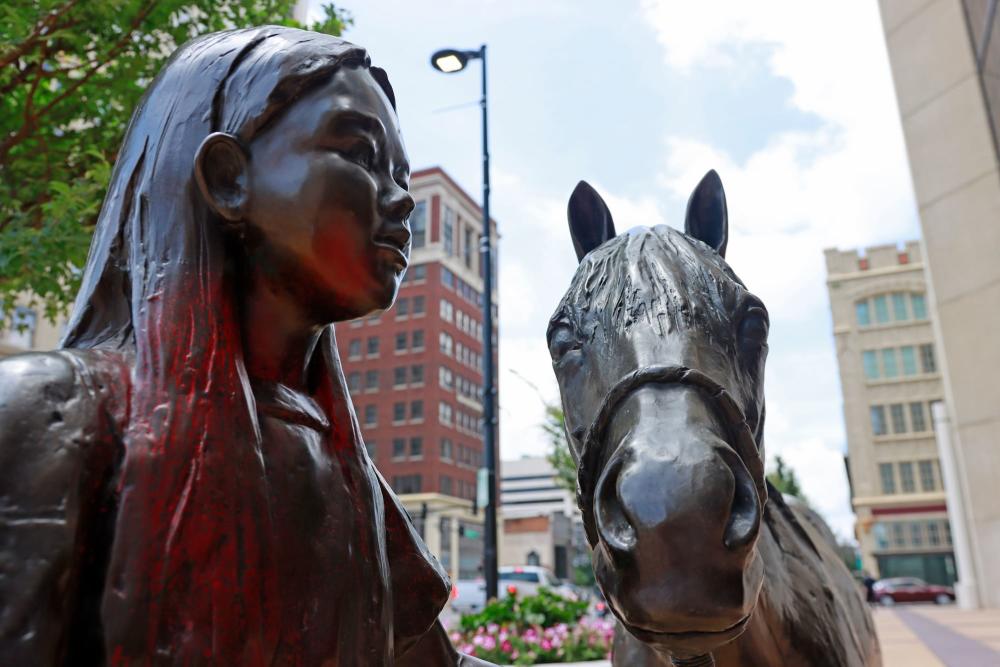 One of several bronze sculptures downtown by Georgia Gerber
Within Five Blocks
Settle in at one of downtown Wichita's hotel properties offering more than 1,200 rooms, where top-notch amenities and luxury accommodations will make you feel right at home. In addition to the 303-room Hyatt Regency Wichita, attached to Century II, there are four other hotels within five blocks of the convention center, including Home2 Suites by Hilton Wichita Downtown Delano, Drury Plaza Hotel Broadview, Ambassador Hotel Wichita, Fairfield Inn & Suites by Marriott Wichita Downtown and Hilton Garden Inn Downtown.
Just to the west of the convention center is a walking and jogging path along the Arkansas River. When you head north, it leads to the Keeper of the Plains. Standing at the point where the Big and Little Arkansas Rivers join together in downtown Wichita, the Keeper of the Plains is a 44-foot tall steel American Indian sculpture sitting atop a 30-foot pedestal.
Two of the city's most popular sports venues are just a short walk from the convention center. The Wichita Thunder, a minor-league ECHL team, that has been playing at INTRUST Bank Arena since 2010. Riverfront Stadium is home of the Wichita Wind Surge, Wichita's Double-A baseball team affiliated with the Minnesota Twins. With teams competing in all seasons, it's easy to find sports action any time of the year.
Additional attractions within blocks of the convention center include Axe to Grind, Boats & Bikes, Blade & Timber, the Wichita-Sedgwick Co. Historical Museum, Kansas Sports Hall of Fame, Roxy's Downtown, the Orpheum Theatre and mama.film. Additionally, meeting goers can head just north of the convention center to Douglas avenue to find 30-plus bronze sculptures, including a soda fountain in Chester I. Lewis Reflection Square Park, where a Woolworth five-and-dime store once stood. The location serves as a historical site near where the Dockum Drugstore lunch counter sit-in took place in 1958, which led to the integration of segregated businesses across the nation. 
Nearby eateries include Cafe Bel Ami, a long-established Wichita restaurant serving French Mediterranean cuisine, and Siena Tuscan Steakhouse Restaurant, an upscale restaurant specializing in Italian dishes. Inside the Hyatt Regency Wichita you will find Harvest Kitchen | Bar, whose menu is built around fresh, seasonal, locally grown foods. Another trendy restaurant and bar just a few blocks from the convention center is AVI Seabar & Chophouse, located inside the Drury Plaza Hotel Broadview. If you're in a hurry, swing by Knolla's Pizza-Downtown, Papa John's-Downtown or Planet Sub in the Delano District.
Need a little mid-day caffeine boost between meetings? Il Primo Espresso Café at Epic Center and Sunflower Espresso are just up the street from the convention center.
After a long day, a cocktail is sure to sound appealing. The state's largest bourbon selection can be found at The Monarch. Enjoy a relaxing, upscale vibe at either a more chill environment, head to Dockum or Cana Wine and Cocktails.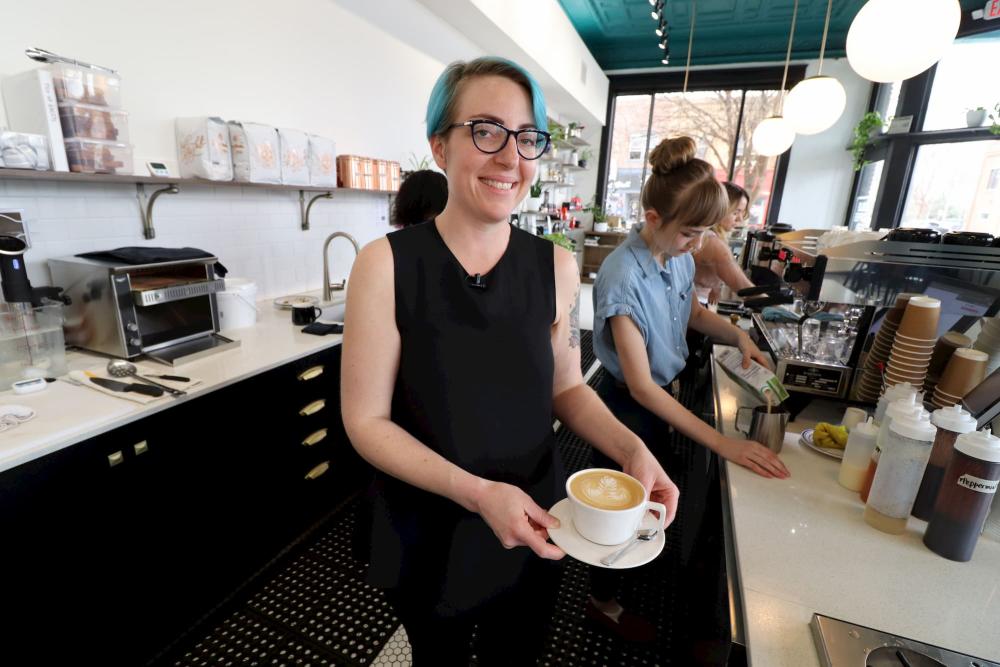 Delicious beverages from Leslie Coffee Co. 
Within Walking Distance
Less than one mile from Century II is Exploration Place, one of the Museums on the River. In addition to the state's premier science and education center, you'll find four other museums within a 2-mile span along the Arkansas River: Botanica Wichita, Mid-America All-Indian Museum, Old Cowtown Museum and the Wichita Art Museum.
Wichita is ripe with culinary gems, and Downtown offers one of the best places in the city to experience those delicious dining opportunities. Some of the area's most beloved local spots are just steps from the convention center, including Old Mill Tasty Shop, HomeGrown Wichita-Downtown, Nortons Brewing Co., Larkspur Bistro and Bar, Delano Barbecue Company, Leslie Coffee Co., Paradise Donuts Old Town, Bite Me BBQ and Sweet Allie B's Limestone Beer Co., located just north of downtown. Local shops like Bunglaow 26, Hatman Jack's and Urban Interiors and sweet shops Cocoa Dolce Chocolates-Downtown and Peace, Love & Pie are also within a short walk of the convention center.
If you're looking to be entertained, take on an escape room challenge at The Room - Wichita, catch a show at WAVE or Mosley Street Melodrama, laugh until your side hurts at The Loony Bin or soak up some vitamin D at Naftgzer Park, a recently-renovated park in the heart of downtown Wichita. Plus, check out this guide for more ideas on exploring even more in the Delano District.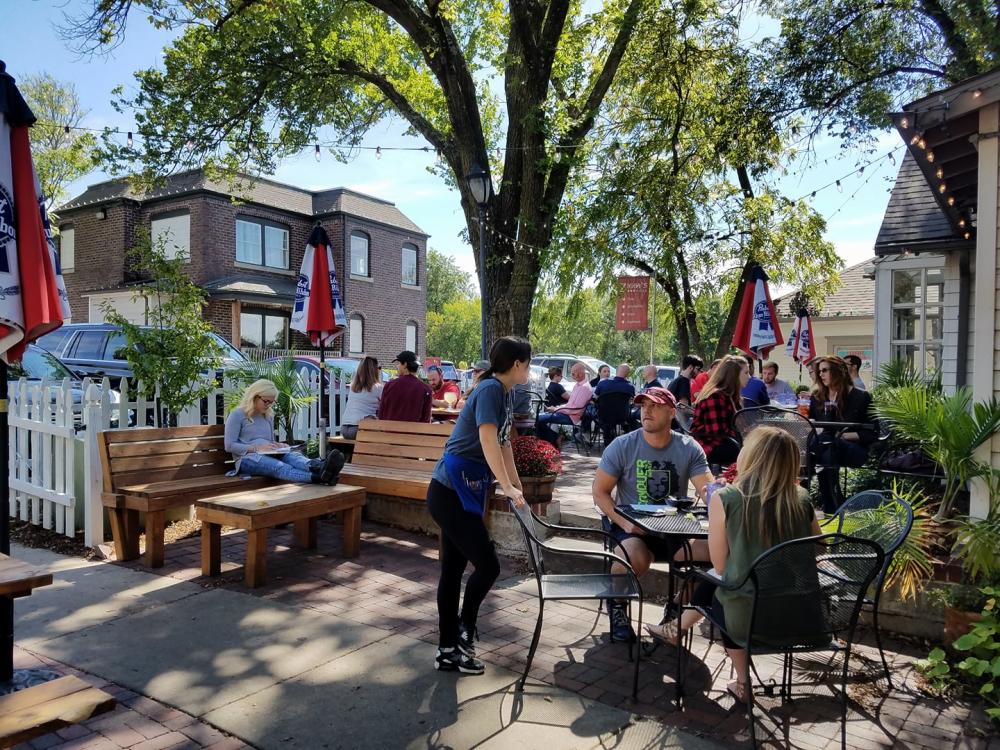 Enjoy the cozy patio at Ziggy's Pizza in Clifton Square
Accessible via Q-Line (free transportation)
Give your feet a break and let the city's 3.3-mile Q-Line handle all of the legwork. Set along Douglas Avenue, the Q-Line offers riders a free lift to Wichita's distinct downtown districts like the historic Delano District, Downtown Wichita, Old Town, the Douglas Design District and Clifton Square. Catch the line and take advantage of its proximity to dining, shopping and nightlife options.
Local shopping at places like Lucindas and Standard Issue Co. and a plethora of eateries and can also be found in the Old Town District. Local favorites include B&C Barbeque Pub and Grill, The Kitchen, Sabor Latin Bar and Grille, Larkspur Bistro and Bar, District Taqueria, Pumphouse and Emerson Biggins Old Town.
From works of art to mummies, you'll discover unique finds at attractions along the Q-Line's route as well. Explore the crusty bones of long-lost creatures with one of the most complete T. rex in the world and marvel at three floors of exhibits at the Museum of World Treasures. Peruse a variety of locomotives, a caboose, historical pieces and more at the Great Plains Transportation Museum. Take in a performance at Crown Uptown Theatre or create your own masterpiece is Board and Brush. At CityArts, you can stroll through four gallery exhibits or take a class like glass blowing or pottery.
Wichita's vibrant nightlife scene will keep the good times rolling. Relax on the patio at cozy bars like Lucky's Everyday, enjoy live music and entertainment at places such as Public at the Brickyard and Mort's Martini & Cigar Bar or try local flavors at Lava & Tonic, Jenny Dawn Cellars, PourHouse by Walnut River Brewing Company, Third Place Brewing and River City Brewing Co. There's a lot to do along the brick-lined streets of Wichita's Old Town District, so be ready to party as the city heats up when the sun goes down.
In the Douglas Design District, you'll notice right away what a creative haven this area has become. Go on a mural hunt before quenching your thirst at local breweries like Central Standard Brewing and Hopping Gnome Brewing Company.
Uniquely Wichita eateries and shopping are a specialty in this district as well. You'll find tasty treats, handmade products and Wichita Souvenirs at places like Kernel's Popcorn Express, The Spice Merchant, The Workroom and Zeep. Your tastebuds will thank you when you go the extra mile or so from the convention center to make your way to Piatto Neapolitan Pizzeria, Tanya's Soup Kitchen, Two Brothers BBQ, The Anchor, Meddys, Vora Restaurant European, The Donut Whole and Reverie Coffee Roasters & Founders Bakery.
At the east end of the Q-Line's route, you'll find Clifton Square, a charming shopping and dining area featuring eateries with great patios like Dempsey's Burger Pub and Ziggy's Pizza, plus even more murals and public art like a colorful Keepers on Parade sculpture.
While there's a ton to explore in the 4-mile stretch surrounding Wichita's convention center, there's more public art, restaurants, attractions, breweries, local shopping and worldly museums to be found throughout the city. Start planning your next meeting or convention in Wichita here.