Wichita is constantly expanding and welcoming in new hotels, restaurants, events and more. What can travelers and locals expect as the ever-expanding footprint welcomes new business and new experiences? Check out our quick-glance guide at some of what was new in 2021 and what's opening in 2022 in the Heart of the Country.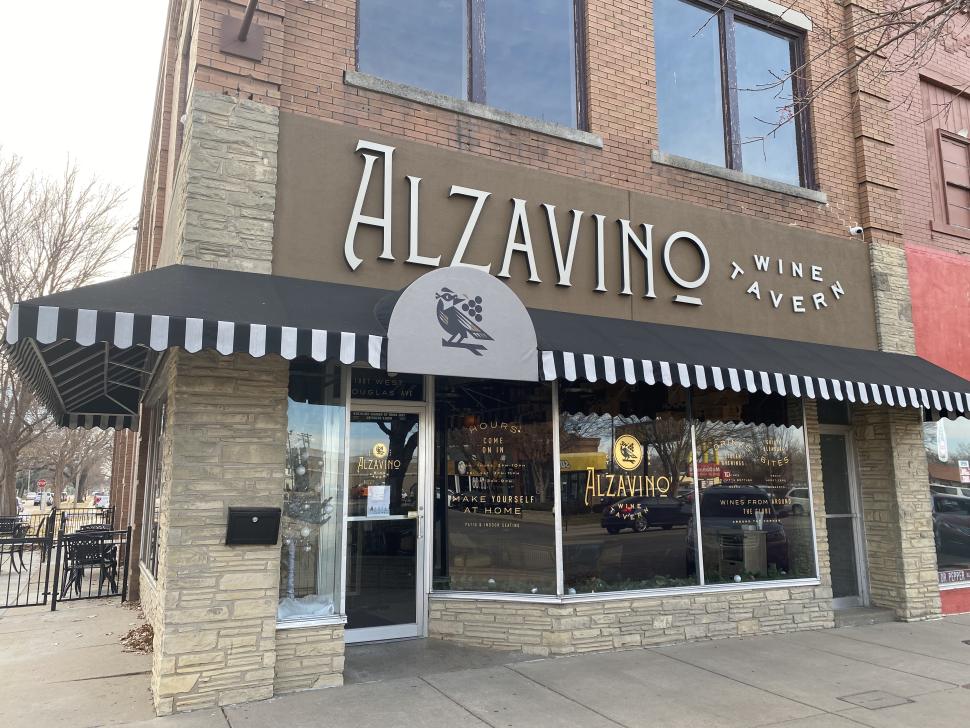 New in 2021
Restaurants
Among the many restaurants, pop-up eateries and mobile food options that opened in the Wichita area in 2021:
Alzavino Wine Tavern – opened in Wichita's Delano District with a wide selection of wines including 16 you can pour from a self-serve machine
Better Yet Coffee – find this coffee roastery and café in the Revolutsia development serving fantastic coffee drinks along with ice cream, homemade waffles, burritos and more
Dempsey's Biscuit Co. – began sharing space with Crutch BBQ on Rock Road in East Wichita
Sunflower Espresso – Wichita's popular coffee bus added a café this year inside an office and co-working space housed in a historic former fire station in downtown Wichita
The Angry Elephant – barbecue and other decadent dishes
Barrel Boys BBQ – brick and mortar version of a popular Wichita food truck
Blue Hook Cajun Seafood & Bar – this northeast Wichita eatery has a menu of steak, seafood and chicken, with Louisiana-style and Cajun flavors available
Clouds Daiquiri Lounge – daiquiris, hookah and food
Doma – small plates with a pet-friendly patio
Douglas Social – craft beer, cocktails and rotating food trucks
Feng Cha – boba tea and dessert shop
First Mile Canteen – mini market, full bar and more
First Mile Kitchen – locally sourced, Kansas-grown and raised foods; serving breakfast, lunch and dinner.
Hook & Reel Cajun Seafood Restaurant – bring seafood boils to Wichita
Local Flavor: Grill and Tapworks – expect local beers on tap and locally sourced ingredients in burgers, Mexican, barbecue and more at this sit-down spot centrally located on the east side
Mokas Cafe – coffee shop and breakfast eatery
Mr. Miyagi Japanese Grill – quick-service Japanese restaurant in South Wichita
Old School Tap House & Social – find 28 craft beers on tap, a big menu of appetizers, sandwiches and flat breads and a massive deck suspended over a creek just outside the northern boundary of Wichita
Paris Baguette – French-inspired menu
Simply Sangria – sangria by the glass and daily food specials
Social Tap Drinkery – opened with 52 taps of beers from around the world in the Braeburn Square development on the Wichita State University campus. It has a food hall vibe with food offered by Sungrano Pizza and Wheatly's Burgers inside the same gathering space
Side Lines Sports Bar & Daiquiri Lounge – offering wings, specialty burgers, catfish, grilled chicken and salads; one bar will be devoted to serving frozen daiquiris.
Station 8 – barbecue restaurant in former fire station
Sweetpops – specializing in boba desserts
Wing Boss & Burgers – wings, burgers and more
Food Trucks and Mobile Eateries:

Cheezepanzee –featuring mac n cheese, poutine, quesadillas and other cheesy goodness
Cousin Hector's – serving Mexican/American fusion food
The Critical Cart – offering a menu of hot dogs and brats with homemade toppings
Crumble & Cream – dishing premium ice cream and decadent deep dish cookies
F&N Foods – smoking a menu of barbecue specialties such as Carolina-style pulled pork, brisket, ribs and hot links
Primos Fare – offering popular Mexican cuisine
SmokeHouse ICT – catering company adding a mobile option
Tacos Jalapenos – serving Mexican fare
Taters N Toppings – completely dedicated to all things potatoes and the toppings to compliment it
The Underdog – serving a variety of food including barbecue, burgers and Mexican
Vella's Exotic Egg Roll – specializing in unusual fillings such as birria, Philly cheesesteak and green chile chicken
Attractions
Wichita Wind Surge – the Double-A affiliate of the Minnesota Twins made its debut in the new $75 million Riverfront Stadium, winning their division and ending the season with a loss in the Double-A Central League championship series
Sedgwick County Zoo – unveiled the Slawson Family Asian Big Cat Trek featuring new Amur leopards and snow leopards as well as a new entry and administration complex
Botanica Wichita – completed many elements of the new Koch Carousel Gardens, including the Grand Lawn and Stage, Sleeping Troll Hill, the Fireplace Patio and the DeVore Family Game Garden
Hotels
Home2 Suites by Hilton Wichita Downtown Delano opened in Wichita's historic Delano District. The all-suite hotel offers complimentary breakfast, a saltwater pool, outdoor sitting area with barbecue grills and a firepit and combined fitness and laundry facility.
Other Businesses
Allegiant Airlines added a new nonstop route between Wichita Dwight D. Eisenhower National Airport and St. Pete–Clearwater International Airport in Florida. Initial travel dates were available for November 2021 through February 2022
Brick & Bustle Bridal – Wichita's exclusively off-the-rack bridal shop in the Old Town District
Cozine Life Events Center – a venue to host life's celebrations and special occasions
Frontier Airlines began nonstop flights between Wichita Dwight D. Eisenhower National Airport and Las Vegas

Coming Soon
Big Events in 2022
Feb. 12 – Alabama with The Beach Boys at INTRUST Bank Arena
March 10-13 – Disney On Ice Dream Big at INTRUST Bank Arena
March 4-5 – NAIA Men's Wrestling National Championship at Hartman Arena
March 11-12 – NAIA Basketball Men's & Women's Regionals at Hartman Arena and Friends University
March 26-28 – 2022 NCAA Division I Women's Basketball Championship Regional Rounds (Sweet Sixteen and Elite Eight) at INTRUST Bank Arena
March 30-April 3 – Wheelchair Basketball National Championships (NWBA) Toyota National Championship Series at Wichita Hoops and the Wichita Sports Forum
April 1 – Korn at INTRUST Bank Arena
April 28 – Shinedown at INTRUST Bank Arena
May 27-28 – KSHSAA 5A Girls Soccer State Championship at Stryker Complex
June 20-25 – National Theatre on Ice Competition at INTRUST Bank Arena
July 22-25 & 28 – The Basketball Tournament (TBT) 2022 Regionals & Quarterfinals at Charles Koch Arena on the Wichita State University campus
July 29-31 – USA Waterski Regionals at Mystic Lakes
August 7-13 – USA Waterski National Championships at Mystic Lakes
August 19-20 – American Cornhole League (ACL) Pro Shootout at Charles Koch Arena on the Wichita State University campus
Aug. 25 – Morgan Wallen at INTRUST Bank Arena
Sept. 13 – Backstreet Boys - DNA World Tour at INTRUST Bank Arena
Sept. 17 – Keith Urban at INTRUST Bank Arena
Sept. 24-25 – Frontiers in Flight: McConnell Air Force Base Open House & Air Show at McConnell Air Force Base
Sept. 28-Oct. 2 – 20th Annual Tallgrass Film Festival at various locations
Restaurants
Dōma – a modern American small plates menu with Latin and Asian influences; an outdoor patio is planned for the new restaurant opening in early 2022 outside Towne East Square
Fuzzy's Taco Shop – a third Wichita location of this American fast casual restaurant chain specializing in Baja-style Mexican cuisine is planned for NewMarket Square in West Wichita in early 2022
Hook & Reel – a national cajun seafood chain is opening outside Towne East Square
Noodles & Co. – the American fast-casual restaurant will open a second Wichita location in West Wichita as well as a third in northeast Wichita's Greenwich
Paris Baguette – an international franchise known for its fresh-baked pastries, baguette sandwiches, coffee drinks and cakes will make its Kansas debut with an East Wichita location
Red Robin – the second Wichita location for this gourmet burger restaurant will open in West Wichita
Attractions
Sedgwick County Zoo – a stingray cove is expected to open in April 2022 and by the end of the summer, an electric train will enter service to take visitors 1.3 miles around the zoo's perimeter.
Tanganyika Wildlife Park – construction is underway on a new Safari Barn, which will be the new home of the park's rhinos, giraffes, bongo, sable antelope and others
Front Porch project – look for new "front porches" to five downtown businesses in 2022 as part of this placemaking project that is a collaboration between business owners and local artists, and coordinated by Downtown Wichita. Read more about the businesses and artists involved here.
Scheels – sporting goods giant coming to Towne East Square by spring 2023 with a store and entertainment attractions within its 222,000 square-foot space
TopGolf – the Dallas-based company has announced it is coming to Wichita, expected in early 2023
Towne East Square – the east side mall is getting a multi-million dollar interior and exterior makeover, expected to finish in early 2023
Hotels
Broadway Plaza AC Marriott is expected to open by the end of 2022
A Hampton Inn in Goddard, just west of Wichita, is in development
An unnamed eight-story full-service hotel with 150 rooms, a restaurant and a bar along the river outside Wichita's Riverfront Stadium will begin construction in 2022
Additional Businesses
Riverfront Development – a $65 million project in development will include an eight-story hotel, a six-story office building with an adjoining 200-spot parking structure and riverfront improvements; a two-year construction plan begins in 2022
Fidelity Bank's new five-story car park – this is much more than a new downtown parking structure; in 2022, the main level will get a 4,000-square-foot restaurant, the rooftop will have an urban farm and a private event center with retractable garage doors and more tenants will be named for the 17,000 square feet of retail space 
Following a successful first year in The Garage at Cleveland Corner incubator space, GROW Giesen Plant Shop has announced plans to open in a new retail location at Fidelity Bank's RISE Car Park. The new space will significantly expand the footprint of the business and accelerate the owner's vision of developing a vibrant plant culture for Wichita, including multiple new plant experiences that will evolve the plant industry.
Sierra – an outdoor store previously known as Sierra Trading Post, will open at Eastgate Plaza in East Wichita in 2022
Under Armour – will open in northeast Wichita's Greenwich in 2022
A culinary school, a medical school and the Broadway Plaza AC Marriott are expected to open in 2022 as part of the new Kansas Health Science Center complex
Are you a meeting planner looking for new venues and more information about planning your next meeting in the heart of the country? Go here for more details.