Works of art, bath and body products, clothing, jewelry, home décor, antiques, snacks and Wichita souvenirs are among the many items you can shop for within close proximity to downtown Wichita's INTRUST Bank Arena. If you're at the arena for a concert or a sporting event like the 2018 first and second rounds of the NCAA Men's Basketball Championship, you can explore many of Wichita's one-of-a-kind shopping venues by foot, free trolley, Bike Share ICT, or a short drive with plenty of free parking.
Kelsey Metzinger embodies the spirit of many of Wichita's shopkeepers. The owner of Bungalow 26, a boutique selling bath, body and home goods in the Historic Delano District, stocks her store with goods made by herself and other local artisans, as well as national and European brands like Capri Blue, Tocca and Tea Forte.
"I stock the store the way I like to go shopping," Metzinger said. "I travel a lot to larger cities and when I travel I like to find obscure drug stores and gift stores. I want to be able to leave with a bag full and to feel like I found quality products at a good price."
She calls her price point accessible luxury. Most items are less than $35, and there are quite a few items less than $10. Metzinger handcrafts many of her own products in the back corner of her retail space, a historic building she renovated herself. She majored in art in college and worked in retail visual merchandising before starting an interior design business then opening Bungalow 26 in 2006.
Even before she opened the boutique, she was making salves, scrubs and other body products in her kitchen. It was out of necessity: "I'm allergic to everything," she said. "Synthetic dyes and fragrances were in just about everything I could buy at the store, and everything you put on your skin goes into your blood stream."
That was the inspiration for what is now her Splendid Alchemy line of all-natural bath and body products that she makes in the store using "only essential oils and good-for-you ingredients." Among the Splendid Alchemy products are linen sprays, body scrubs and polishes, and shower oil that Metzinger said is one of her top sellers and the one item she would want if stranded on a deserted island.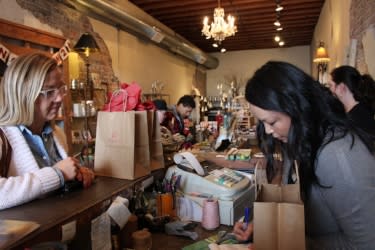 Requests from friends or regular customers led to many of her other best-selling products that she makes in-house. She created an all-natural hand salve for someone who suffered from psoriasis and eczema but didn't want to use a steroid cream. Brett's Bad Ass hand salve is now one of her most popular items, and she's extended the brand to include other manly sounding grooming products including a lip balm, beard oil, mustache wax and muscle tonic.
She also sells her own line of George & Stanley all-natural dog products, including a carpet fresh and paw salve, along with dog biscuits that her mother makes.
Here is a taste of other unique shopping destinations you'll find in the areas around INTRUST Bank Arena:
Downtown
Among the office buildings of the core of Wichita's downtown, you'll find a collection of shops and galleries, including these: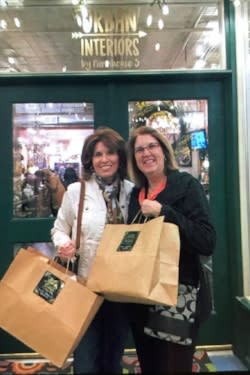 Urban Interiors by Farmhouse 5 brings you unique furniture, art, lighting and home décor.
Tessera Fine Art Gallery is home to one of Wichita's largest original art collections. There are 3,000+ square feet of galleries, artist studios and classrooms to showcase more than 150 local artisans in diverse medias and styles.
Find out why Food Network's Alton Brown called The Nifty Nut House "a national treasure" and enjoy a few samples while exploring the shelves and bins filled with 4,500 classic and modern candies, nuts and snacks.
You'll find two floors packed with antiques and collectibles at A Legacy Antique Mall.
Old Town
Old Town has more than 100 businesses in its converted brick warehouses dating back to the late 1800s. Walk along the brick-lined streets dotted with historic lampposts for a fun collection of shops, restaurants, clubs, theaters, galleries and museums. Among the shops there: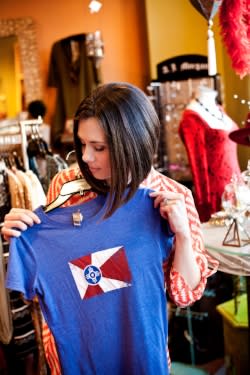 Bella Luz is Wichita's home for American made art. This gift gallery features works by more than 120 U.S. artists, including a selection by talented Kansas artists.
Aida's is as charming store filled with beautiful jewelry and accessories, plus a coffee shop and bakery upstairs.
Beyond Napa Retail Wine & Spirits (and a cooler full of beer) offers shelves of familiar favorites and small production artisan wines from around the world.
Kernel's Popcorn Express is a unique shop that offers more than 30 flavors of gourmet popcorn, including apple pie, birthday cake, garlic parmesan and "Zombie Korn." Kernel's also has traditional flavors too.
Delano
Historic Delano District is an eclectic shopping district west of the river in downtown Wichita. Among the shops there:
Hatman Jack is one of the few full-service hatters left in the country, and his Hatman Jack's Wichita Hat Works is the place to get fitted in the perfect hat, from a top hat to a 10-gallon Stetson.
Bungalow 26 is more than a shop, it's a lifestyle. It's putting things together that don't make sense. It's ageless. It's genre-less. It's ironic. It's whimsical. Find bath, body and home goods.
There's always something old that's new to see at the Antique Gallery. The open floor plan showroom is loaded with furniture and collectibles.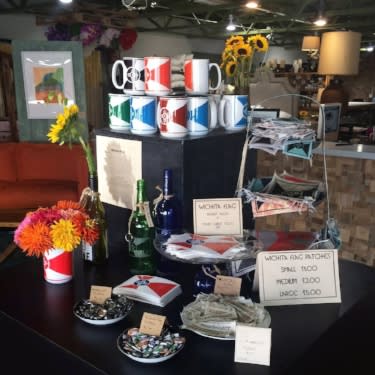 Douglas Design District
The Douglas Design District is a 3-mile stretch of authenticity, with more than 300 locally owned businesses with an emphasis on design. Among the shops there:
The Workroom is one of the top places to pick up Wichita-centric goods, including merchandise featuring the city's flag, local art and artisan accessories. There's also a sewing room for home textiles including custom drapery, bedding, pillows, headboards and ottomans.
The Spice Merchant & Company is Wichita's original gourmet coffee roaster. The family owned business offers hundreds of choices in coffee, teas, spices and specialty foods. You'll also find kitchen accessories in the large store.
For more blogs about things to down while in downtown Wichita, see below: 
Six spots to watch sports near Wichita's INTRUST Bank Arena
Five outdoor activities near INTRUST Bank Arena
Six indoor activities near INTRUST Bank Arena
History of NCAA and Wichita's connection
Where to eat when downtown at an INTRUST Bank Arena event
Free and nearly free activities within 10 minutes of INTRUST Bank Arena
What to do inside INTRUST Bank Arena
Mark your calendar now for free Open Practice Day at INTRUST Bank Arena
Don't miss Fan Fest in downtown Wichita
For the answers to all your NCAA Tournament questions, click here.