Wondering which of the more than 30 museums in Wichita to visit? To help you plan, we've put together this list of temporary and new exhibits you can visit now and during the next few months. Some of these museum exhibitions opened recently and others are opening soon.

All of our Wichita museums are affordable and several museums mentioned below even offer free admission, including Ulrich Museum of Art (always free), Mark Arts galleries (always free) and Wichita Art Museum (free on Saturdays).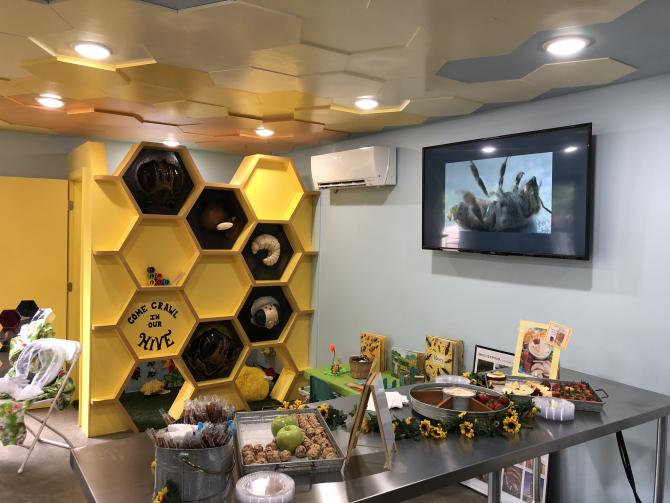 "Nature Connects" opened in the second quarter and continues through Sept. 19. This award-winning, record-breaking international traveling exhibit features 15 sculptures created by New York artist Sean Kenney using more than 330,000 LEGO bricks. There's also a hands-on area with 30,000 LEGO bricks to play, construct and get creative. This exhibit is included with general admission.

A new permanent exhibit, the Alexander Bee House, opened in May in the Downing Children's Garden. The educational and functional bee house brings awareness to one of the most important creatures to humans. One in three bites of food that we eat is derived from plants pollinated by bees, and bees also help provide nourishing habitats for other animals and birds. But bee populations are dwindling and we need to help preserve them. On Wednesdays through October, weather permitting, watch beekeepers at work, showing you the process of bottling honey and answering your questions. This is included with general admission. There also are educational opportunities at additional costs, like Beekeeping 101 and an Interactive Bee Encounter.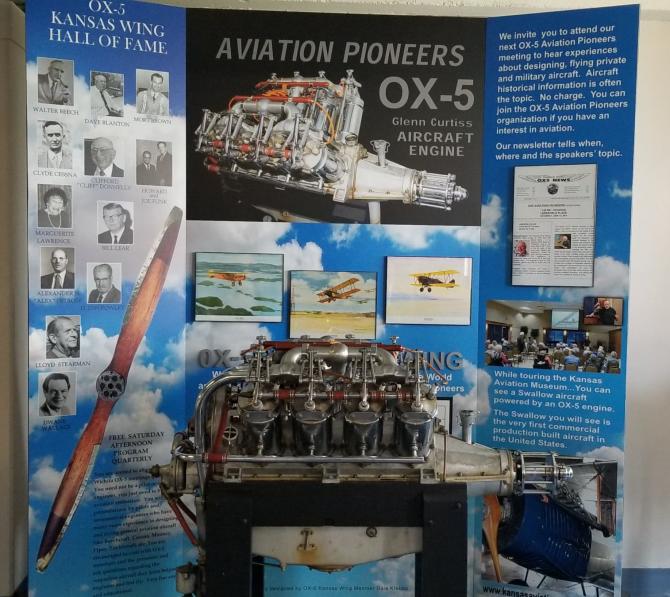 The Kansas Aviation Museum has two new permanent exhibits. The OX-5 Aviation Pioneers Kansas Wing created a display that promotes the Curtiss OX-5 engine, the first American-designed aircraft engine to enter mass production. There is an OX-5 on exhibit and the engine type is also on the museum's 1927 Swallow, which is currently out on loan at Towne East Mall in Wichita. A second exhibit focuses on World War II and shares the story of how Wichita contributed to the war effort. It includes WWII model aircraft and other WWII artifacts.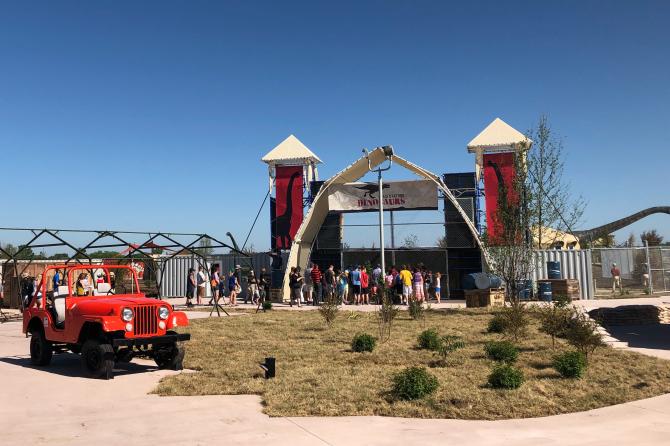 "Buried Treasures: Kansas Underground" is a new permanent exhibit that opened at Field Station: Dinosaurs on June 22. Learn about all of the great treasures found underground in Kansas: rocks, minerals, human artifacts, dinosaur fossils, gas, oil and more. This hands-on exhibit is great for the kids and the kids in all of us.

"The Science of Ripley's Believe It or Not!" national traveling exhibit continues through Sept. 2. Drive your curiosity into the unknown through remarkable realms and scientific discoveries. Come face-to-face with some of the world's largest organisms and smallest invaders. Shed light on the unexplained. Conquer challenges, study specimens and examine real artifacts. You'll have the chance to crawl through a life-size model of a gigantic prehistoric snake, measure up against the world's tallest man, pinpoint sculptures so small they fit in the eye of a needle and bend your senses with an array of illusions. This exhibit is included with general admission.

Exploration Place's Digital Dome Theater, the largest in the state at 60-foot-tall, is showing a new film. Joining "Pandas: The Journey Home," is the movie "CAPCOM GO! The Apollo Story," to coincide with the 50th anniversary of Apollo 11 and NASA's first moon walk. The film chronicles the immense challenges that had to be overcome to put the first human on the moon while giving you the point of view of strategizing with rocket designers, building with engineers, suiting up with astronauts and dreaming of the future. You do not have to pay museum admission to see a film and dome tickets range from $3-$5 per person.

The next national traveling exhibit is "Wild Weather" and runs Sept. 28 through Jan. 5, 2020. Immerse yourself in extreme weather conditions as you delve into current severe weather science, discover cutting edge technology and investigate the stories of scientists, forecasters and passionate enthusiasts. Experiences include simulated flying of a research aircraft through a hurricane, viewing the destruction of tornadoes, following turbulent cloud formations and lightning strikes, becoming a citizen scientist in the midst of a raging winter storm and meeting a researcher studying the force of wind in the lab. This exhibit is included with general admission.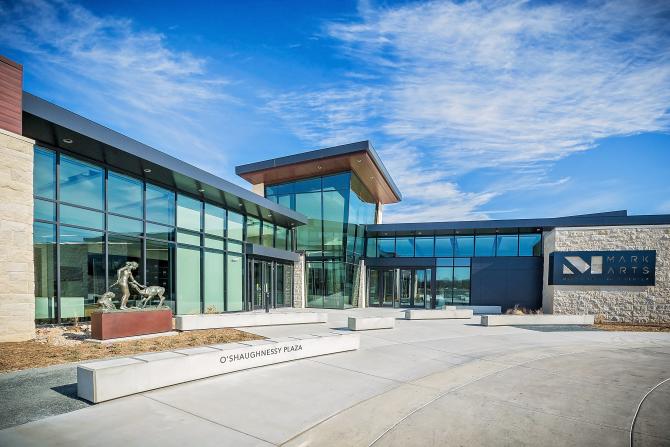 "The New Cool: Emerging Artists Exhibition" is the new show in the premier gallery, Wiedemann Gallery. It runs through Sept. 21. This remarkable exhibition highlights the work of 26 up-and-coming artists in a variety of media. Stop by between 11 a.m. and 1 p.m. on Fridays in August for Meet the Artist Fridays.
Exhibiting artists include: Steven Campbell, Emily Chamberlain, Trisha Coates, Lauren Doshier, Lauren Fitzgerald, Rachel Foster, Catherine Freshley, Kelsy Gossett, Jordan Kirtley, Antonio Martinez, Matthew Miller, Alex Moore, Honeybee O'Gee, Kristen Phipps, Chuck Purviance, Angela Rangel, Garet Reynek, Joseph Rincones, Alexis Rivierre, Dale Small, Hannah Somes, Bernardo Trevizo, Addie Wise, Nicole Woodard, Hugo Zelada-Romero and Justin Zielke.

"The Masterworks of Richard Schmid" is in the School of Creativity Commons through Aug. 10.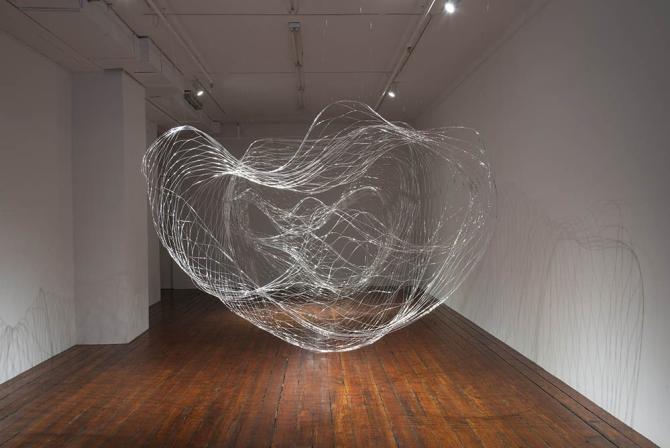 "Light & Shadow: Alyson Shotz and Kumi Yamashita" features the work of two sculptors who create work of ethereal beauty. Both artists have exhibited internationally. The exhibit runs Aug. 3 through Jan. 5, 2020, in the Louise and S.O. Beren Gallery and the John W. and Mildred Graves Gallery. Shotz strings colorless glass beads on steel thread and hangs her nets and skeins in floor-to-ceiling installations. A critic remarked that her work "approaches invisibility." The solid materials of most sculptures are replaced by air and light. Yamashita presents ordinary objects that cast extraordinary shadows. Under raking light, a wall with a seemingly random scattering of wooden numbers yields a child's monumental profile. A carved exclamation point casts a shadow of a question mark. Remove the light and the art disappears.

"Coffee and Cocktails" brings together designer clothes and elegant decorative arts objects to explore the fashionable worlds of teatime and cocktail hour in the late 19th and early 20th centuries. It opens Aug. 31 and exhibits through April 12, 2020, in the Paul Ross Gallery and Scott and Carol Ritchie Gallery. The first half of the exhibition centers on tea and coffee – two hot beverages that went from exotic imports to everyday necessities over the course of the 1800s, inspiring specialized tableware, furniture and clothing. The second half takes the visitor from day to evening and features the barware, furniture and clothing necessary for an elegant night of drinks and conversation. This exhibit draws from the collections of the Wichita Art Museum and the Wichita-Sedgwick County Historical Museum to explore this fascinating moment in design history.

Ongoing exhibits: "Dignity & Despair: Dorothea Lange and Depression-Era Photographers, 1933-1941" and "Hung Liu: Migrant Stories" run through Aug. 18; "Charles Capps: Prairie Print Maker," through Sept. 29; "Will Barnet: Timeless Visions," through Nov. 17.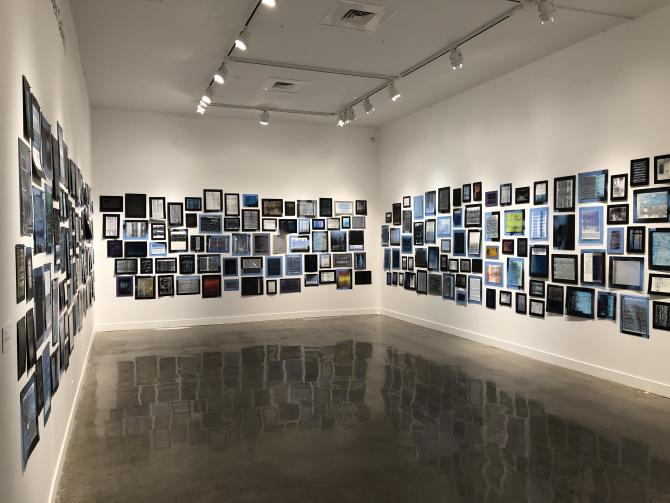 "Kevin Mullins: Fire in the Paint Locker" continues through Aug. 11. Mullins was known for producing compelling, complex, luminous, lyrical surfaces. He was at the height of his career when he passed away suddenly in March 2018. A celebration of his work and his life seems most fitting as his artistic career included 15 years at the Ulrich Museum as exhibitions curator.

"Clay Currents: The Wichita National Ceramics Invitational" opens Sept. 12 and runs through Dec. 8. Bringing together nearly 30 artists from around the nation, this exhibition showcases the versatility of clay that contemporary ceramicists are exploring and introduces the Wichita community to some of the most exciting work being done in clay today. Programs in conjunction with the exhibition will include workshops and talks by two ceramics artists, John Neely and Pattie Chalmers, as well as a public talk by the prominent ceramics collector Louise Rosenfield and a panel discussion with artists Chalmers, Trisha Coates and WSU's Ted Adler.